The Grand Asia & Australia Voyage, part 28
Friday, November 07 2008 @ 12:03 AM CST
Contributed by:

filbert

Views: 3,977
The Grand Asia & Australia Voyage - Holland America Amsterdam, September 19-November 23, 2008
Text by Snookums, Pictures by Filbert
Part Twenty-eight
(Remember to click "read more" if you're looking at this from the main medary.com page to get the whole article!)
October 25 (Saturday, Day 39, Padang Bai, Bali, Indonesia - Continued)
We rode for about 20 minutes to the snorkel site, Tanjung Jepun. Snookums put on her wetsuit even though the water was probably 85 degrees and we jumped in. The water was crystal clear and there were colorful fish and coral everywhere. Our "captain" also played snorkel guide and took us to see two submerged buddha statues and pointed out trumpet fish and other fish to us. Too soon it was time to get back in the canoe and return to the pier. The Amsterdam was anchored between the snorkel site and the pier so we got to see it, too, from a different vantage.
Snorkeling pictures 1-10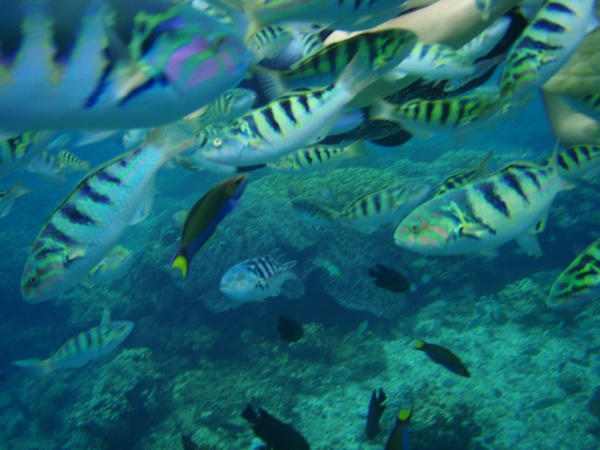 The first one's a tease . . . more after the jump!
Next post: We return to the ship! And go back to Padang Bai! So exciting!!!