The Grand Asia & Australia Voyage, part 27
Wednesday, November 05 2008 @ 11:59 PM CST
Contributed by:

filbert

Views: 3,682
The Grand Asia & Australia Voyage - Holland America Amsterdam, September 19-November 23, 2008
Text by Snookums, Pictures by Filbert
Part Twenty-seven
(Remember to click "read more" if you're looking at this from the main medary.com page to get the whole article!)
October 24 (Friday, Day 38, At sea) -
We woke up and saw a bird sitting on the partition separating the verandahs. It was there at least 15 minutes before it decided to fly off. It was overcast but the seas were calm. Many of the days at sea have been overcast and drizzly but the days at port have all been wonderful so no one is complaining.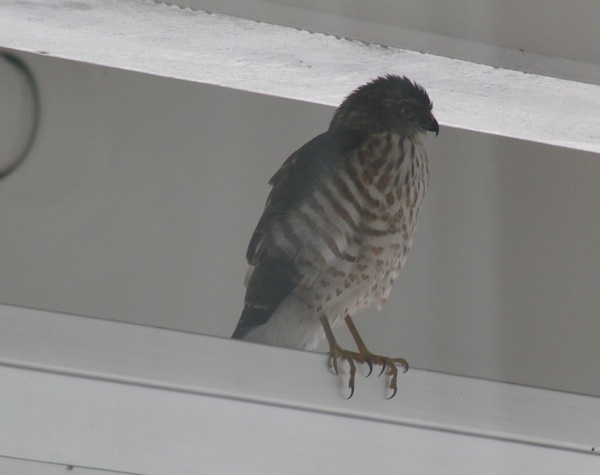 Special guest bird, on the divider between verandas
More after the jump . . . Snookums spent most of the day on the verandah reading or sleeping while Filbert stayed inside and did computer stuff. Snookums went to the basketball free throw competition in order to get a "Dam Dollar" which can then be turned in for prizes. The contest ended up being inside and it was a little Playskool hoop and foam ball. She missed her shots but ended up getting a "Dam Dollar" so all ended well.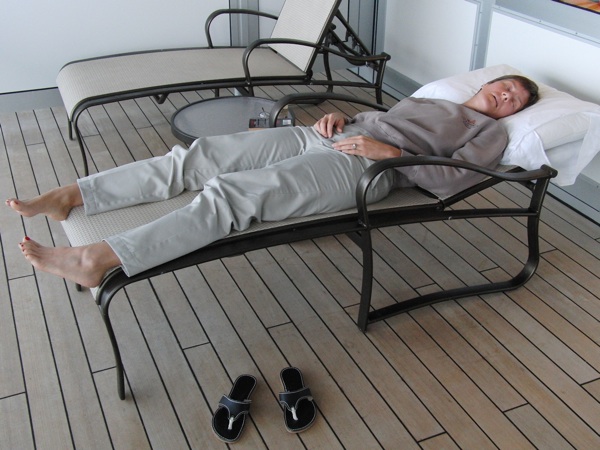 Snookums on the veranda, pretending to sleep
The highlight of the afternoon happened around 5 PM when all the lights went out and the ship's engines stopped. Snookums walked to the Neptune Lounge to see if it happened to everyone (it did). The emergency lights were one which ended up being half of the lights in the hallway so it wasn't that dark. However, at two different times ALL of the lights went out for about three seconds which made the Neptune Lounge and hallways completely dark.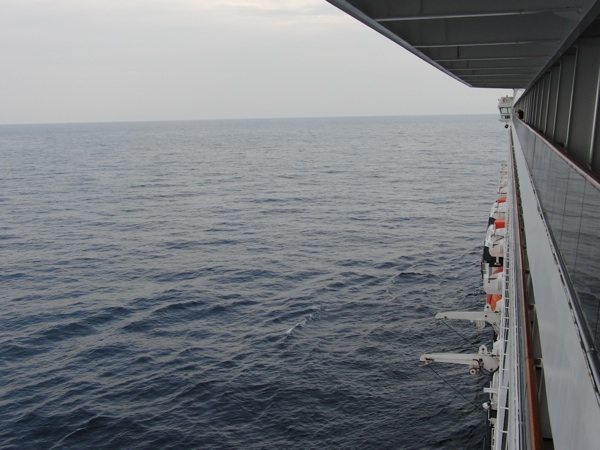 Dead in the water
Filbert stayed in the cabin and since the sun hadn't set yet, it was still quite light so he wasn't aware of the two total darkness occasions. An announcement was made saying dinner would be postponed 30 minutes but then a few minutes later an announcement was made saying that the early seating dinner was ready at its normal time. A few minutes later the ship's engines started and we continued on our way. But, we were dead in the water for about 30 minutes.
October 25 (Saturday, Day 39, Padang Bai, Bali, Indonesia - 9,845 rupiah to the dollar) -
Filbert got up really early and took a bunch of pictures of our approach to Bali.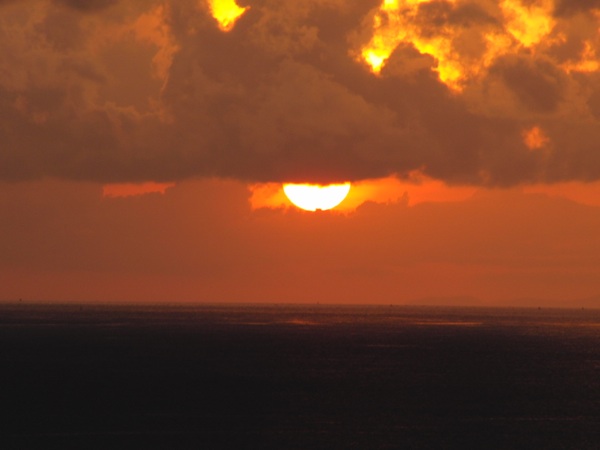 Padang Bai sunrise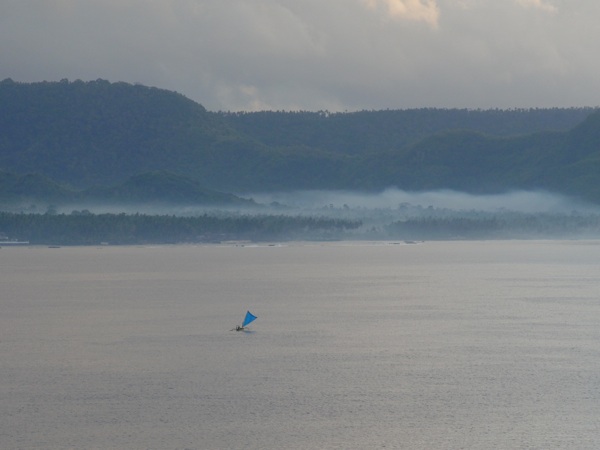 Mists over Bali
A group of three outrigger canoes collected just under our verandah to do some morning fishing (and to rubberneck the Amsterdam too.)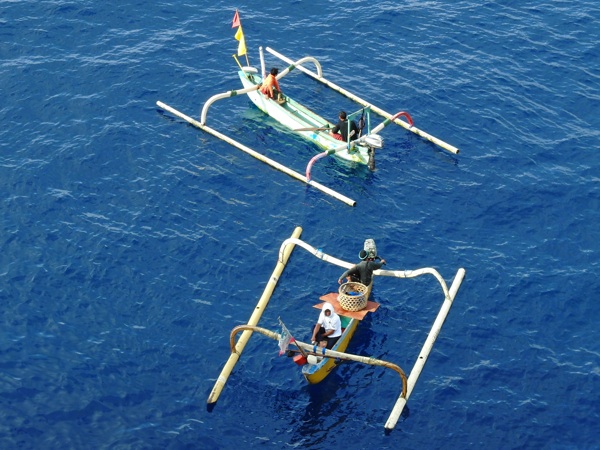 Outriggers off the port side
We decided to get off the ship as soon as possible with the idea of finding our own snorkel tour since the ship didn't offer one.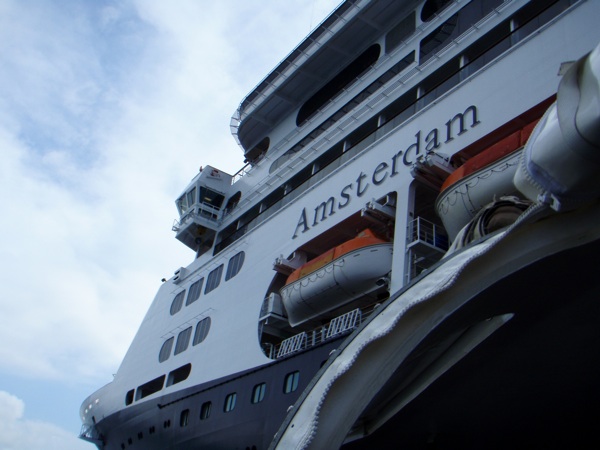 In the tender
At 8:15 we were on a tender and as we stepped off, we saw hundreds of taxi drivers and vendors standing behind the fences on either side of the pier. As soon as we crossed the boundary, we were fair game and everyone started coming at us. Women put "free" necklaces around our necks and wanted us to buy their postcards but we just kept our heads down and quickly walked away. We found ourselves walking through a parking lot and then noticed an internet café. We had no intention of using the internet right then, but decided to find out if we could bring our laptops later on and plug in. The proprietor wasn't there, but a nice man carrying a baby came over and asked if we needed help. He yelled for the internet owner and in the meantime we said we needed to find the ATM (there was one in Padang Bai) and also that we wanted to go snorkeling. He walked to another "store" (these buildings were open air, both front and back) and spoke and another man came out.
Mr. Wayan was more than willing to take us snorkeling on his boat for a total of 1½ hours. We bargained with him and got the price for the two of us down to $40 (from $70) which was all of the money we had. (We still hadn't gone to an ATM and didn't have any rupiahs.) He introduced us to his wife and daughter and told us to wait there and came back about 10 minutes later wheeling a homemade cart that contained a boat motor.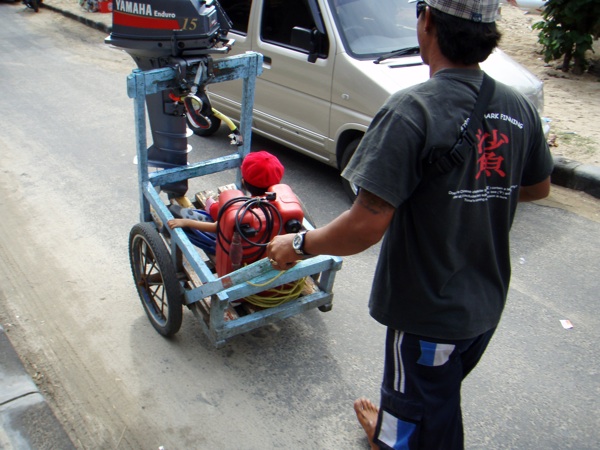 Our powerplant for the snorkel trip
We followed him to the beach and watched as he put the motor on the dugout canoe and then watched as he went and got two very long bamboo outriggers and lashed them to the canoe. He and his wife pushed it into the water and now it was time for us to get in.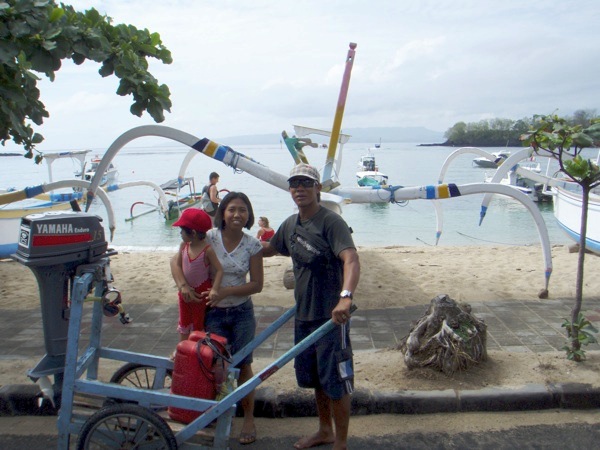 A family business
More on our Bali snorkeling adventure in the next post!