The Grand Asia & Australia Voyage, part 22
Saturday, November 01 2008 @ 10:40 PM CST
Contributed by:

filbert

Views: 4,392
The Grand Asia & Australia Voyage - Holland America Amsterdam, September 19-November 23, 2008
Text by Snookums, Pictures by Filbert
Part Twenty-two
(Remember to click "read more" if you're looking at this from the main medary.com page to get the whole article!)
October 17 (Friday, Day 31, At sea) -
We ordered room service and ate breakfast on the verandah. The sea was as smooth as glass but we still didn't see any sea life and haven't really seen any since Day Two of this cruise. Around noon it started getting dark and little whitecaps started forming.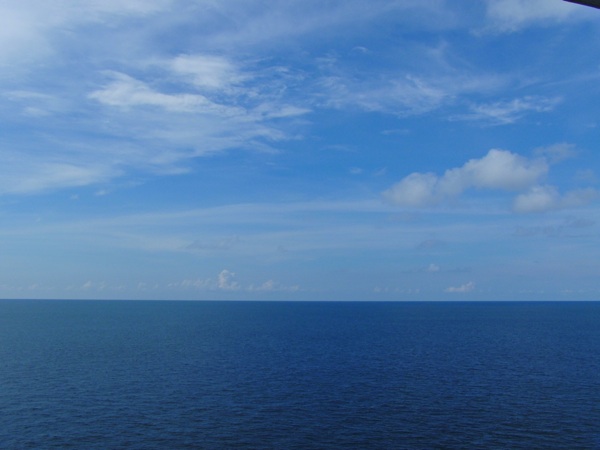 Ah, back at sea
More after the jump . . .
It was muggy, but there was a nice breeze so even Filbert was comfortable enough. It rained a lot and there was thunder and lightning and Filbert decided to take down his short wave antenna since he didn't want to be electrocuted at sea. We managed to eat breakfast, read books, listen to North Korean propaganda on short wave, watch the sea and were perfectly content for many hours.
Filbert finally took a shower around 2 PM--he had to hunt down Yvan and Alice to get their dinner choices since we were hosting dinner in our room again. Snookums finally showered around 6 PM. It was a formal night and our table decided that eating in shorts and t-shirts was a better option so everyone came around 8 PM. Five of us found the breezy, humid verandah a great place to eat but Gary, Charlotte and Filbert opted to eat inside our air-conditioned room. However, the door to the verandah stayed open so that both tables could talk to each other and the inside group still ended up sweating a lot. Snookums was so cool on the verandah that she ended up putting her jacket on. The inside folks finally shut the door during dessert and tried to cool off. The outside folks stayed outside and talked until around 11 PM when the party broke up. Everyone had a great time and we'll do it again.
We've figured out that on every formal night a gift is left in our room. We received two Dutch candy trays tonight. They are nice and although they have nothing to do with Asia or Australia (the itinerary of the cruise), they relate to Holland America's Dutch influence. There are 12 formal nights on this cruise so it will be interesting to see what we get on our six remaining formal nights.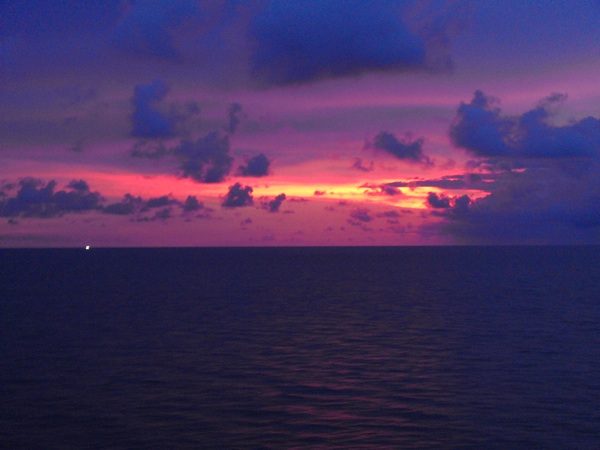 South China Sea Sunset (with fishing boat light)
October 18 (Saturday, Day 32, Laem Chabang [Bangkok/Pattaya], Thailand - 35 baht to the dollar) -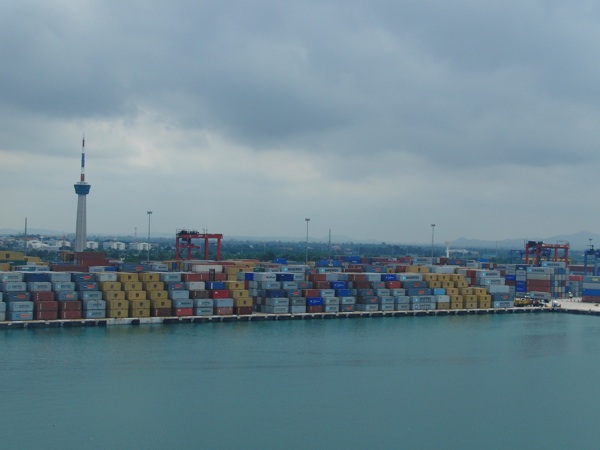 Laem Chabang Port
We took the free shuttle to Pattaya, Thailand which took about 50 minutes. Pattaya is one of the most visited beach resorts in the world but we were told to not swim in the water since raw sewage is dumped in it. The beach was very nice. Pattaya is kind of known as a party place (i.e. sex) and as we walked down the street, we realized why. The store fronts (open front, mostly non-air conditioned) were bars, massage parlors, souvenir shops (lots of luggage was for sale), internet cafes, travel agencies, hotels or restaurants. There were definitely a lot of bars. Men come to Pattaya to pick up Thai women for the duration of their vacation and we did see several older Caucasian men walking around holding hands with much younger Thai women.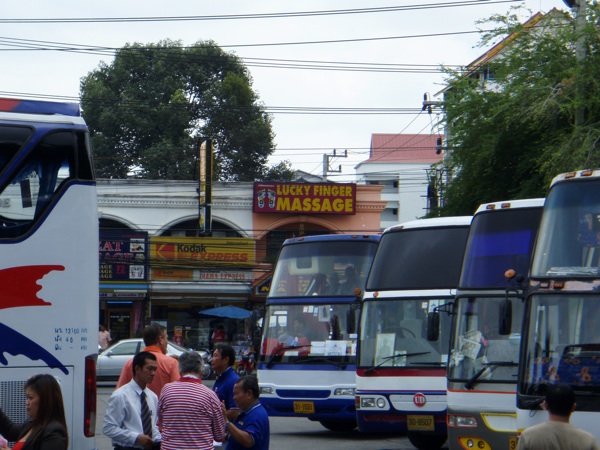 Ah, Thailand
The shuttle stopped in front of Mike Department Store. We walked through it and Filbert decided to try on Indonesian-made sandals. He ended up buying a pair for $37 that hopefully are more comfortable and fit better than his much more expensive Mephistos. He was given a free pair of "Heavy" brand socks since his sandals are "Gentleman" by "Heavy", but we gave those to our steward since they looked too small for his size 11 feet.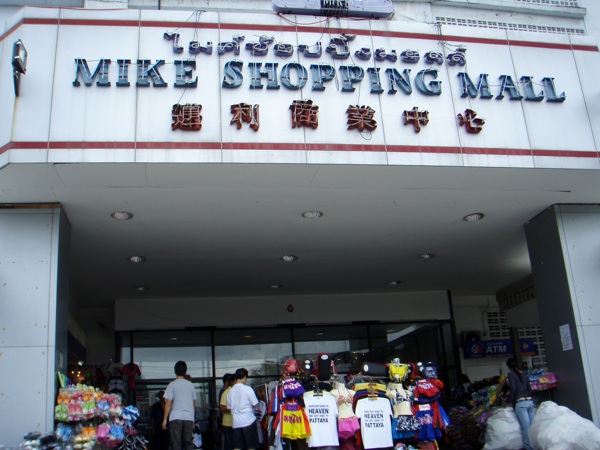 A shopping mall named Mike
After our shopping excursion in the air-conditioned fixed-price department store, we split up. Filbert went to an internet cafe and Snookums got a pedicure followed by a quick stop at an internet cafe to check email (they were everywhere). She then wandered around trying to find a place for a haircut and decided to eat lunch first. Her lunch was spicy ginger pork for $3 and was pretty good. Considering the ship charges $65 for a pedicure and $35 to cut short hair, her $8.50 pedicure and $5.50 shampoo/haircut were definite bargains.
We met back on the ship and decided we would go back to Pattaya on Sunday to see more of it since today was really spent on errands.
Snookums went to the local show after dinner that was on board the ship and watched four different Thai dances. One of them consisted of two guys portraying a sword fight and although it must have been scripted, it was still impressive to see sparks flying from the swords as they clanked against each other.
October 19 (Sunday, Day 33, Laem Chabang [Bangkok/Pattaya], Thailand) -
We slept in and got on the shuttle with the goal of eating in Pattaya. We walked along the beachfront but we only found bars, street vendors with lots of boiling pots but no English and restaurants selling spaghetti or fish and chips. We wanted Thai food! We finally found a restaurant that had an English menu posted out front. It looked like it might have been the equivalent to Denny's since it had steak, spaghetti, salads and Thai food. We each ordered two entrees since they were so cheap. Snookums ordered basil pork with rice ($1.15) and green curry with pork ($2.60). The basil pork with rice was a spicy stir-fry served with a mound of white rice. It was very tasty. The green curry with pork was served in a large bowl like soup. It had coconut milk in it and was also very tasty. Filbert ordered spicy pork with rice ($1.15) and seafood with spicy sauce ($2). His spicy pork with rice was spicier than Snookums' two dishes and he liked it a lot. In fact, it was served with two hunks of green peppercorns still on the stem (and also lots of little red peppers). His seafood with spicy sauce was kind of boring since it was just steamed shrimp and calamari served with a bowl of chili sauce. But, he ate it all and managed to drink beer to kill the spiciness. Both of our mouths were tingling and numb by the time we were done and Filbert commented that the price of the cruise was worth it due to this meal alone!!
We continued walking around and went in several internet cafes before finding one that would let Filbert plug his laptop into the internet. Snookums went shopping and bought a yellow polo shirt back at Mike's for $7 with the King's crest on it and "I love Thailand" written in Thai on the sleeve. The King of Thailand was born on the day of the week that symbolizes yellow so yellow is seen all over Thailand. She bought one of these polo shirts last year while in Bangkok but snagged it all over and needed a new one. Snookums went back to the internet cafe to get Filbert and we went back to the ship. It rained while we were on the bus. The weather for each of our days on shore has been absolutely the best so far on the entire cruise. We're hoping it stays that way.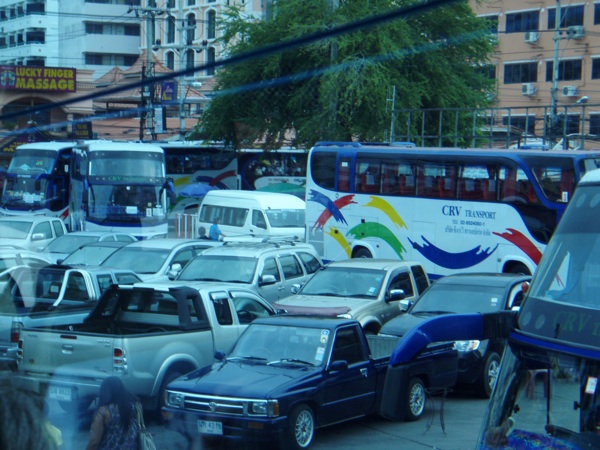 The buses queue up to take us to the ship
As we pulled out of Laem Chabang, it started raining and lightning. We were treated to a magnificent light show for about two hours and then we had to go to dinner. Some of the lightning strikes were very close to the ship and the booming thunder was almost instantaneous.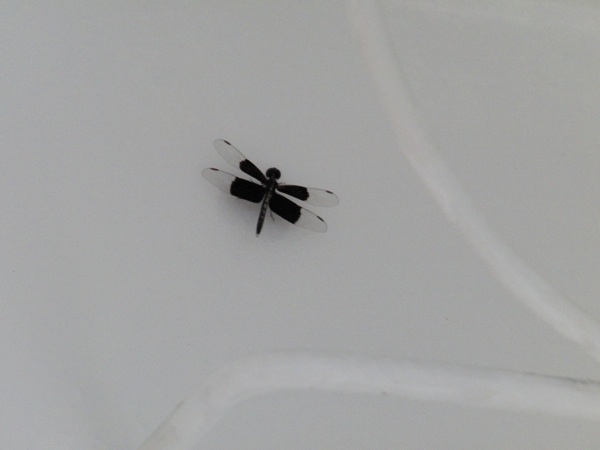 A lost dragonfly on our veranda
The Grand Palace in Bangkok was closed today in order for a rehearsal to take place for the cremation ceremony for the King's sister. She will be cremated on November 15 but the rehearsal happened today which meant a lot of people on the ship that chose a Grand Palace tour were out of luck. Several tours that went to Bangkok on Saturday had to take detours around some of the demonstrations and gunfire that were occurring in Bangkok which cut into their tour time and caused them to miss some of the sites. We're glad we went to Bangkok last year so that we weren't tempted to take the two-hour ride there from Laem Chabang where the ship docked.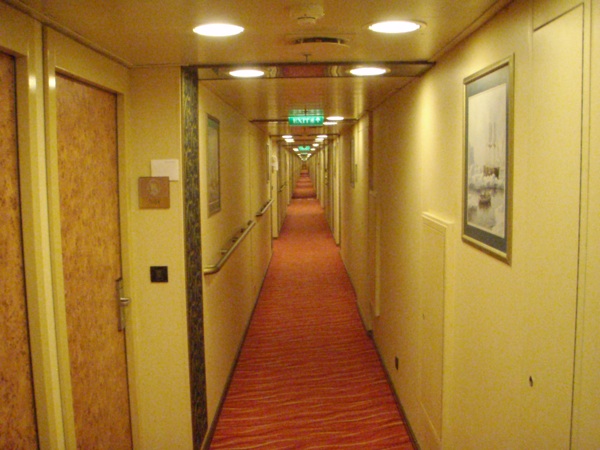 The long corridor on our deck of the Amsterdam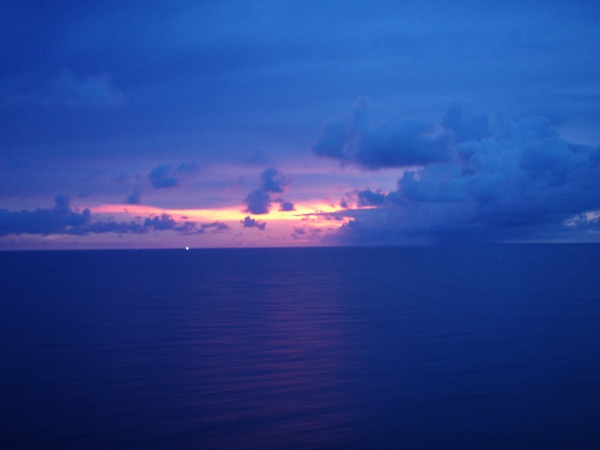 Another cloud-shrouded sunset
Next post: On to Ko Samui, Thailand!