The Grand Asia & Australia Voyage, part 19
Wednesday, October 29 2008 @ 09:06 PM CST
Contributed by:

filbert

Views: 3,456
The Grand Asia & Australia Voyage - Holland America Amsterdam, September 19-November 23, 2008
Text by Snookums, Pictures by Filbert
Part Nineteen
(Remember to click "read more" if you're looking at this from the main medary.com page to get the whole article!)
October 13 (Monday, Day 27, Cruising South China Sea) -
We used today as a catch up day after spending two days in Hong Kong. Lots of reading, napping, computing and listening to short wave radio was done. A small flock of seabirds (one person on the ship called them petrels) circled the ship, swooping to snatch flying fish being scared out of the water by the ship.
A short picture study of petrels at sea, after the jump: Petrels:
We attended the Amuse Style Luncheon for all the suite guests. Free liquor was available but Filbert opted for Diet Coke. Snookums enjoyed a virgin pina colada and a virgin strawberry margarita to go along with the skewers of venison, beef, mozzarella/basil/cherry tomatoes, shrimp puffs and other tasty tidbits that were brought to us. The chocolate covered strawberries were especially good.
The following activities happened between 11:00 and 3:00 today:
11:00 - Lecture on the TET offensive, Queen's Lounge
11:00 - Caroline Dadlani Jewelry Champagne Unveiling, Shops
11:00 - Power Posture, Spa
11:15 - Guest Chef James Mazzio presents Home Cooking Made Easy, Culinary Arts
11:30 - Casino Clinic: Texas Hold'em, Casino
12:00 - The Brain Super Team Trivia, Ocean Bar
12:30 - 1:30 - Lunchtime Music on Deck, Lido
12:45 - Voice from the Bridge Announcement
1:00 - Watercolor Class, The Loft
1:00 - Tai Chi with Roger, Crow's Nest
1:00 - Digital Workshop: 15 Minutes of Fame Blogging a Travel Journal, Queen Room
1:30 - $60 Texas Hold'em Tournament, Casino
1:30 - "Custodians of the Sea" with Environmental Officer Joe Parks, Wajang Theatre
2:00 - Duplicate and Party Bridge, La Fontaine Dining Room
2:30 - Arts and Crafts with Lola, Lido
2:30 - Mah Jongg, Hudson Room
2:30 - Basketball Free Throw Contest, Sports Deck
Snookums worked out and then before dinner we decided to visit the store. Filbert bought a Dam Ships apron and a T-shirt. (All of the Holland America ship names end in "dam" so one of the sayings is "Dam Ships".) This store is the worst store we've seen on a ship and we've seen some pretty bad ones. It has three styles of bathing suit cover-ups, four HAL t-shirts, one kind of pants for men and one kind of pants for women, various logo items like mugs, key chains and bottle openers, (but not polo shirts or t-shirts) and assorted cheap jewelry. There is also another jewelry store on board that has stuff in the $100 price range plus a very, very expensive jewelry store that no one ever enters since it sells items in the $5000 and up price range. Anyway, just about everyone that we have talked to about the store is very disappointed. They don't put new items out every day or even every week. What was in the store on Day One is still there! They sold out of a lot of the t-shirts within the first week and that's that. We've been told that they are not getting anymore items in. It's a good thing that we weren't counting on buying anything but Gary wanted to get an Amsterdam polo shirt and they had none for sale. They just have "Asia Australia 65-day cruise" logo t-shirts for sale.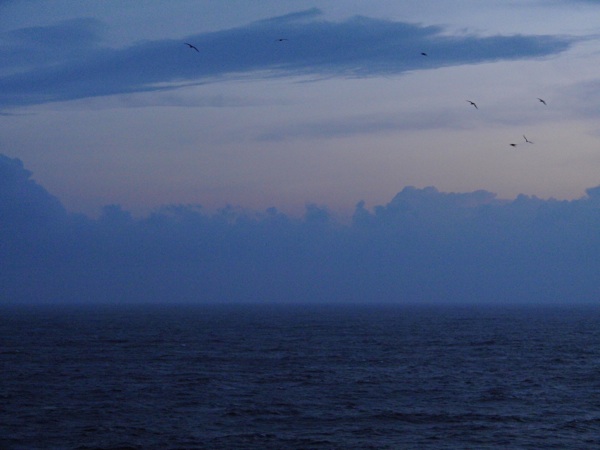 Sunset and birds
Next: Da Nang!