The Grand Asia & Australia Voyage, part 18
Tuesday, October 28 2008 @ 09:03 PM CST
Contributed by:

filbert

Views: 3,612
The Grand Asia & Australia Voyage - Holland America Amsterdam, September 19-November 23, 2008
Text by Snookums, Pictures by Filbert
Part Eighteen
(Remember to click "read more" if you're looking at this from the main medary.com page to get the whole article!)
October 12 (Sunday, Day 26, Hong Kong) - Continued
We were in the middle of our stroll through the flower market, bird market, and fish market of Hong Kong when we were so rudely interrupted by the 10-picture-per-post limit that Filbert has set in his blog hosting software. So, let's continue . . .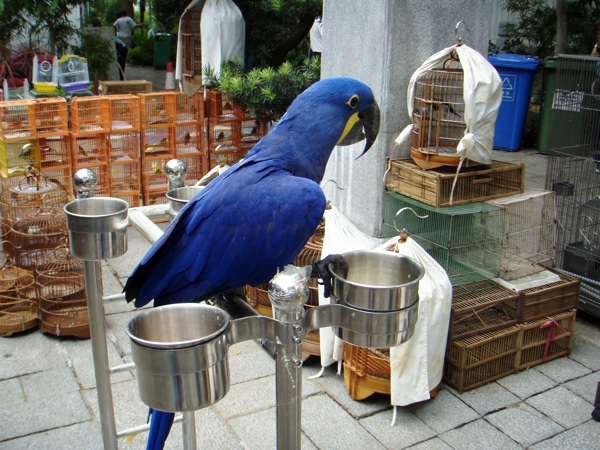 Filbert had a short conversation with this bird
More after the jump . . .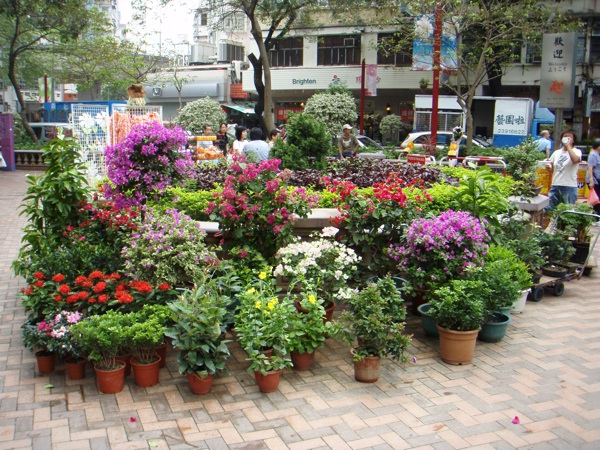 More flowers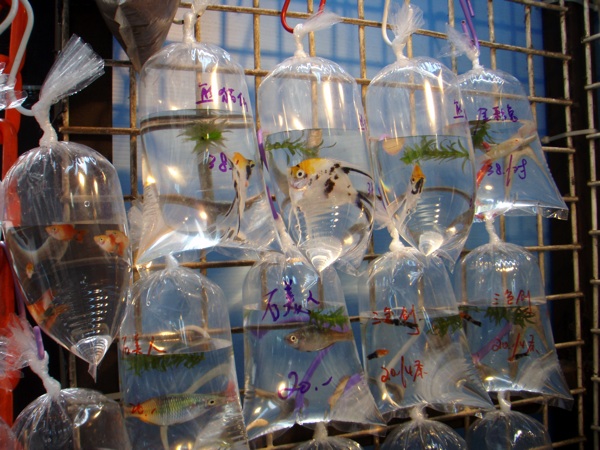 Bags o' fish
Then we took a $1.30 subway ride to Causeway Bay which is kind of on one end of Hong Kong Island. We did this in order to take a tram ride back through the city. First, though, we had lunch in the basement of Sogo Department Store which is a Japanese department store. The basement food hall was just like in Japan (but Hong Kong department stores don't have food halls in the basement). We ate at Curry Bee since Snookums wanted Japanese curry and hadn't had any while we were in Japan. Filbert ordered pork stirfry and an onion/shrimp fried appetizer. We cleaned our plates.
Filbert was burning through our stock of ibuprofen, and wanted to resupply. We weren't able to find any at the normal drugstores but we saw a pharmacy and stopped there. The pharmacist had them for sale and Filbert bought 24 400-mg tablets for $9 US. We counted out our money and made sure we had enough for the tram ride and the Star Ferry ride. We ended up being short about $0.25 US but the pharmacist still let us have the ibuprofen.
Hong Kong has six tram routes (not to be confused with the Peak Tram) that have been in existence for over 100 years. It is the largest double-decker fleet in the world. We got on the upper deck and enjoyed a $0.26 ride for about 25 minutes. Gary saw us when we passed his tram. We didn't see him, but he told us about it later and knew what Filbert was wearing and where he was sitting. The trams pass within about 8 inches of each other so he did have an up-close and personal view of Filbert and our tram! We got off the tram at Central and walked to the Star Ferry for our last ride across Hong Kong Bay. While we were on the tram and while we were walking to the Star Ferry, we saw thousands of Filipino women sitting in groups of 4s and 6s on blankets looking like they were picnicking on blocked off streets. We finally saw some kind of big banner that said something about Filipino work permits. There weren't any real protests but all of the Filipino maids and nannies turned out to show support.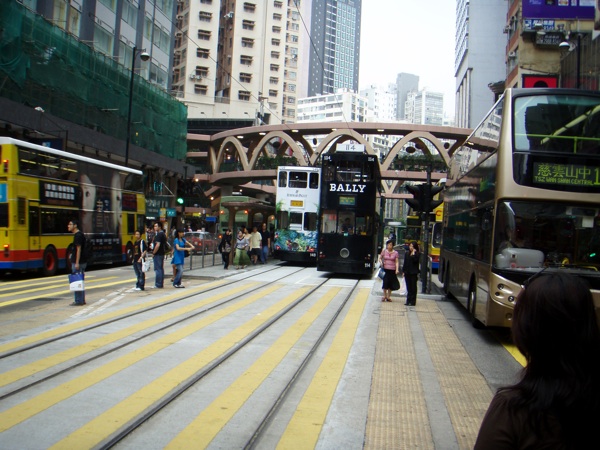 Trams
After getting off the Star Ferry we still had $2.30 left in Hong Kong money (or $0.30 US). Snookums ran into a 7/11 and bought a candy bar for $2.20 (or $0.28 US). That meant that we used all of our money except for one Hong Kong dime (or $0.02 US). That was burning a hole in Snookums' pocket so on the way back to the ship Snookums shopped at the mall and looked at Reebok tennis shoes but they only carried them up to size 9. Instead she bought two travel blouses (size Large fit perfectly) for $40 (US) each. So, she spent the $0.02 by spending $80 US! But, she really likes the blouses!!
There was a Hong Kong cultural show at 7 on the ship that Snookums attended. It was the best "local" show yet. It had four different acts. The first one was a duet of a man on a piano and a man playing the Chinese lute. The second was a dragon dance where 15 men carried poles that held up a really long dragon and they ran around the stage to make the dragon look like it was alive. The third act was performed by two women in traditional costumes who did a ribbon dance that reminded Snookums of rhythmic gymnastics with the ribbon. The fourth act was some kind of face opera that is famous in China where a man plays all of the parts and with sleight of hand changes his masks to be the different characters. It was amazing and no one in the audience could figure out how he did it.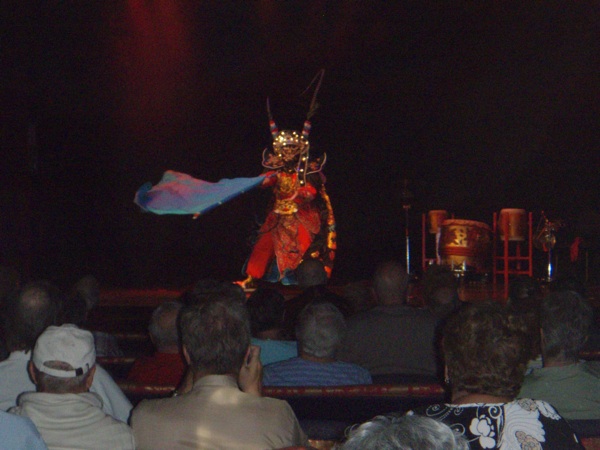 Hong Kong cultural show - face opera
Everyone at dinner shared their stories of what happened that day. Well, everyone except Alice. Yvan has had two knees replaced and can't do all the walking that his wife can do so he stayed on the ship while she went out and explored. Everyone had to be on by 10:30 PM so he wasn't worried. We all assumed she was buying out Hong Kong since she is a super shopper. The ship was leaving Hong Kong at 11 PM and there was going to be a dragon dance show at 10 PM on the roof of the pier. Our room happened to look directly at the roof of the pier (and not at Hong Kong Bay like the other side of the ship got to see – but we had the good side in Shanghai) so everyone came up to our cabin to see the show. There were about 10 teenagers playing drums and cymbals and 10 were making the dragon dance. Our friends slowly wandered off since it was loud and monotonous.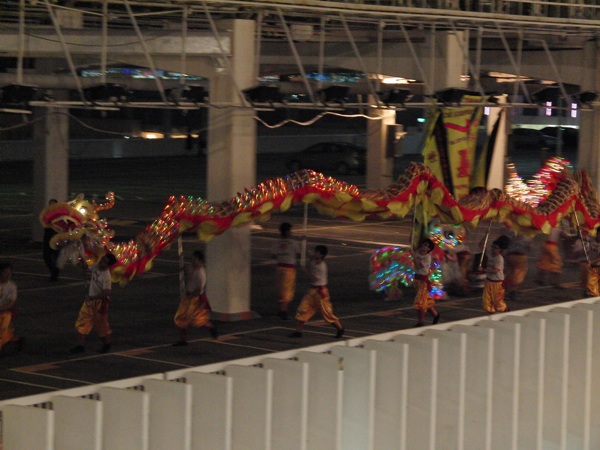 Dragon dance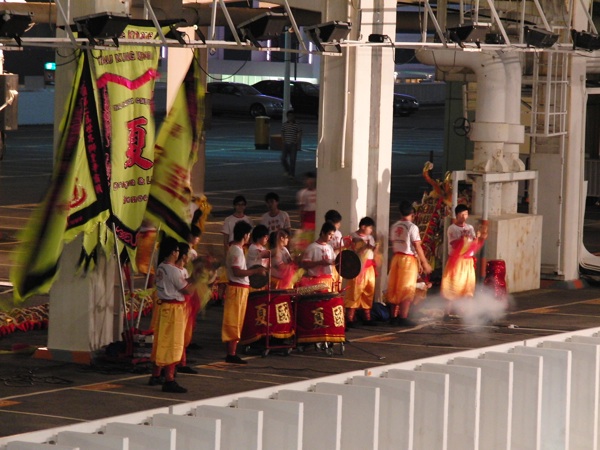 The band played on, and on, and on, and on . . .
We continued to cheer and clap since that was the nice thing to do. They ultimately quit playing around 11:05 and this was even after the ship pulled away around 10:45 PM! Filbert watched us sail out of Hong Kong Bay and Snookums went to sleep.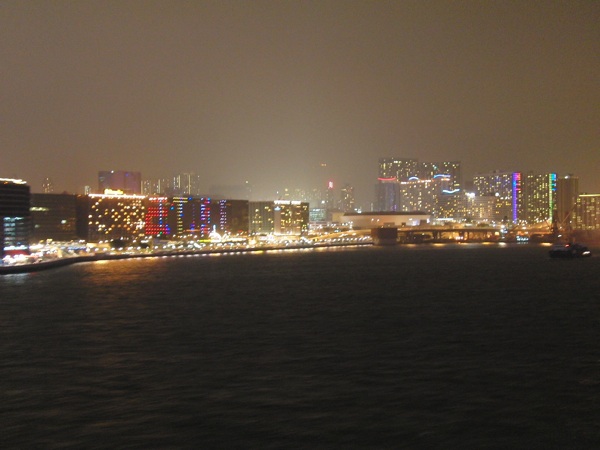 Leaving Hong Kong
Next up: At sea, headed for Vietnam!