The Grand Asia & Australia Voyage, part 14
Saturday, October 25 2008 @ 08:34 PM CST
Contributed by:

filbert

Views: 3,771
The Grand Asia & Australia Voyage - Holland America Amsterdam, September 19-November 23, 2008
Text by Snookums, Pictures by Filbert
Part Fourteen
(Remember to click "read more" if you're looking at this from the main medary.com page to get the whole article!)
October 7 (Tuesday, Day 21, Shanghai, China - 6.96 yuan to the dollar) -
We entered the Huangpu River around 4:30 AM. Snookums woke up at 6 AM and decided that Filbert needed to wake up, too. (He wasn't too happy about this, but he survived.) Our ship was navigating its way through lots and lots of river traffic. There were barges and very small fishing boats and huge container ships and some Chinese military ships.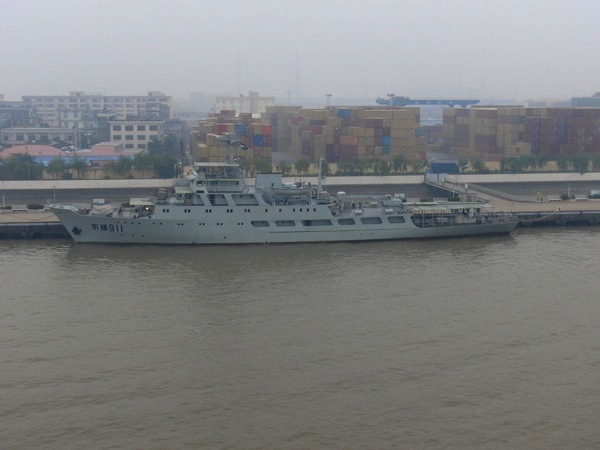 Chinese warship
More after the jump . . .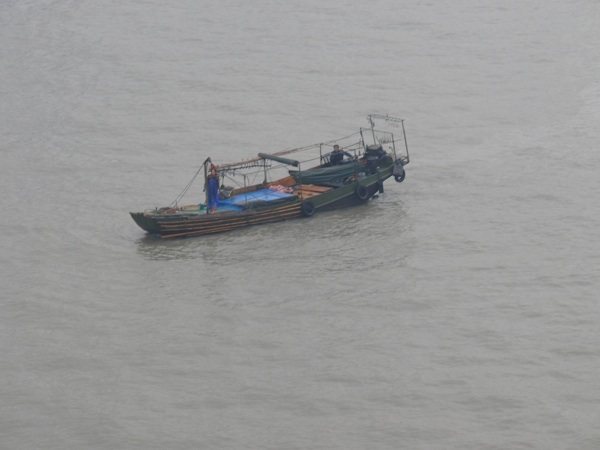 Fishing boat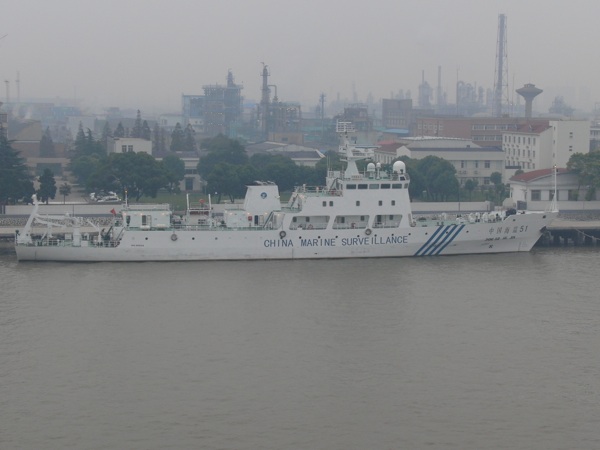 China Maritime Surveillance (Coast Guard?)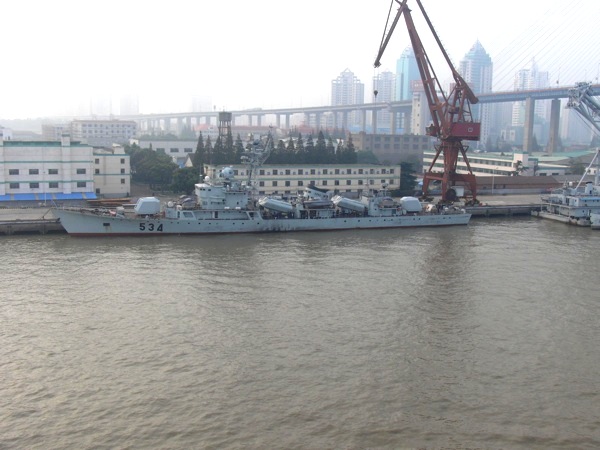 Missile warship
Samsung billboard boat - we'd get to know him well
We picked up a pilot around 4:30 AM due to the danger involved on this river. Our ship docked around 8 AM and we were thrilled to see that we were on the "best" side. Our balcony faced Pudong New District which is the on the east side of the river. Pudong New District has been in a development boom since the 1990s and this is where the glitzy skyscrapers are (including a Grand Hyatt). This is also where the Oriental Pearl TV Tower is which is the third tallest TV tower in the world. At night the tower has all sorts of different colored lights on it making it very unique. Anyway, it was a very spectacular view.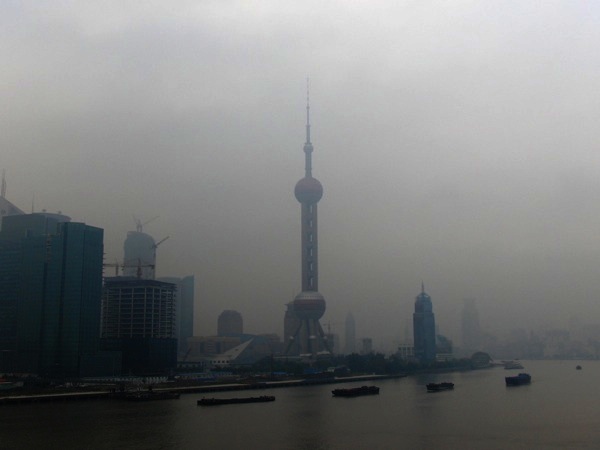 Oriental Pearl TV Tower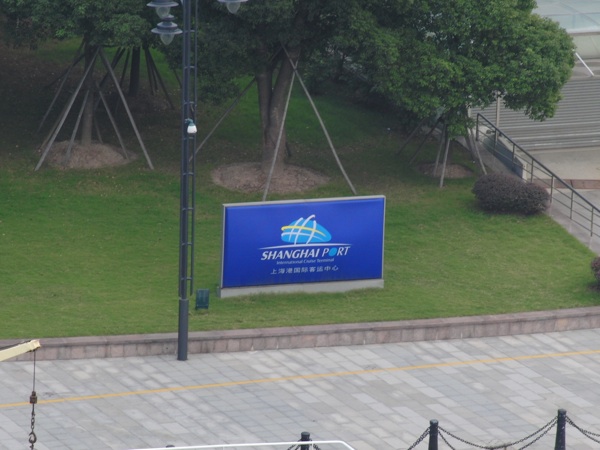 Welcome to Shanghai Port
We took the free shuttle to a silk store in downtown Shanghai but didn't even bother going in. We bought a map for $1 and then walked around in search of an ATM. After walking about a mile without finding one (after seeing one on every corner while on the shuttle bus), Snookums finally went into a convenience store armed with her Chinese phrase book and pointed to the word bank. The young woman immediately told her in perfect English where one was located! We walked a few more blocks and successfully got yuan. The exchange rate was 7 yuan to the $1.
We continued to walk with no destination in mind and found ourselves walking by a city park. We wandered through and we were amazed at the exercise equipment that was in it (and being used). The Chinese must have invented the first elliptical. There were also some ab rollers and some arm machines. None of them had any kind of weight or resistance mechanism to them, but people of all ages were using them. We weren't sure what kind of workout they gave, but we figured it was better than just having the people sit on the park benches.
By now we were hungry (what else is new?) and although we passed several and carts that were serving various dishes, we decided to eat in a real restaurant. Most of the food carts were serving food in porcelain dishes and we saw the owner then wash the dish and decided we wanted to eat off of something more sanitary. We could have eaten full lunches for probably no more than $0.71 each had we gone the route that most of the Chinese do. We saw something called Mega Bite in the basement of the Hong Kong Center (a very upscale skyscraper) and decided to investigate. It was a Chinese version of a food court and other than two restaurants selling Japanese food, the other ten or so sold different kinds of Chinese food. We decided to eat at the stir fry place (we weren't sure what region of China it was representing, but a lot of Chinese were buying from this vendor so we figured it was good). First, though, we had to figure out how to buy the debit cards that were used at all of the establishments. We asked two Caucasians (South Africans?) and they explained how to do it but offered to give us their cards to use and then to reimburse them in yuan. We would have done that, but they were almost done with their meals and had to get back to work. But, we thought that was awfully nice of them (especially when we found out that we would lose 10 yuan as a deposit). We put 50 yuan on a debit card (or $7.15) and managed to use the entire amount on Snookums' fried rice with Kielbasa sausage and beef ($2.30), Filbert's beef stir fry and white rice ($3.15) and one Tsingtao 600 ml beer ($1.70). Each of us also received a watery tomato soup which we decided must be the "beverage" since most of the Chinese didn't have anything to drink with their meals. We also noticed that the Chinese always left large amounts of food on their plates when they were done. We later learned that the custom in China is to leave some food on your plate. But, we didn't want to offend any starving children so we cleaned our plates.
We walked around some more and decided to ride the subway back to the ship. It cost $0.57 for each of us and involved transferring at Shanghai Railway Station. The subway station was like others in the world with all of its shops. We bought a China Daily newspaper for $0.22 to read back on the ship.
We managed the subway just fine and got off and walked back to the ship. On the way we passed the Shanghai Government Outlet for Tobacco and noticed it had liquor, too. (We ended up passing about four of these stores on the way to the ship.) We went in and Filbert bought five different bottles of beer. They were 600 ml each (or about 20 oz.) and cost between $0.43 and $0.79 each. The Chinese like their beer (and it's sold in the convenience stores, too).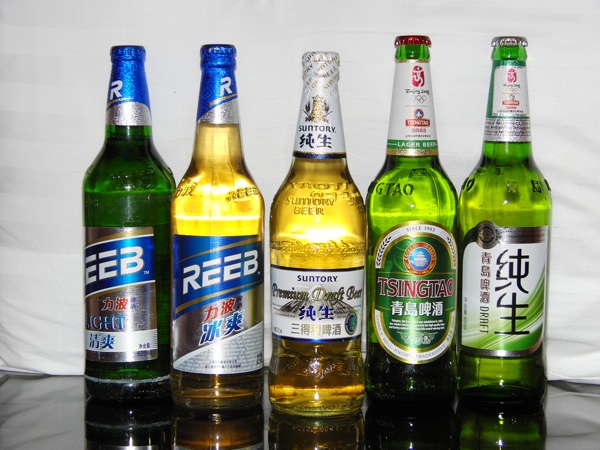 Reeb: it's Beer, Backwards!
We got back to the ship and had some time to shower and rest up for our 6:30 dinner with Snookums' friend, Elizabeth. Elizabeth worked with Snookums in Tokyo and is now living (and working) in Shanghai with her husband and two children. Prior to working in Tokyo she worked in Hong Kong so she is a "professional" ex pat!! During the cruise Snookums collected single serving boxes of Kellogg's cereals, jars of jam and packages of graham crackers to give to Elizabeth. Elizabeth was thrilled to receive American food since "corn flakes made in Thailand don't taste the same".
She picked us up in her Buick minivan (her driver was driving it) and we went to Pudong New District for dinner on the 10th floor of Super Brand Mall in South Beauty Restaurant. Elizabeth's husband was in New York on business and her two children were home with the nanny (one of two nannies they have). This restaurant was a very expensive Sichuan restaurant. She had been here once before with some Chinese colleagues. The restaurant had a gorgeous view of the Bund across the river or what is also known as the "Paris of the East". These buildings are the relics of the thriving capitalism of the early 1900s. We had seats by the windows which came with a $29 per person surcharge. (That's a LOT of money in Shanghai!) Elizabeth later found out that her frequent dining card got this surcharge waived.
Elizabeth doesn't speak much Mandarin but the menu had pictures. (Her clients are mostly CEOs and CFOs and they are all native English speakers so language isn't an issue for her work.) She ordered BBQ spare ribs, crispy shrimp, spicy shrimp, chicken lettuce wraps and spicy crab (Filbert's order). We could have easily ordered things like duck's tongues or bullfrog shred or beef part on ground (i.e. hoof), but chose the more "normal" items instead. (Translations to English are very literal.) To our surprise, the crispy shrimp had both their heads and tails still on. The chicken lettuce wraps were very spicy (and good) and surrounded a red Buddha molded out of salt or sugar.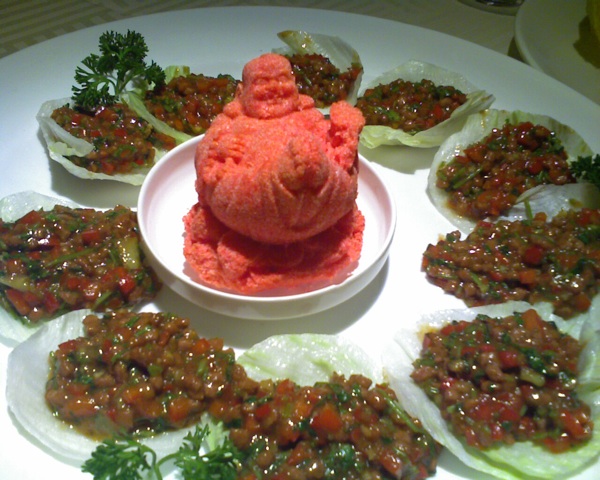 Sugar Buddha
The spicy shrimp was served on a plate that also had a wineglass on it halfway filled with red liquid and dry ice so it foamed and frothed all during dinner. Filbert's crab dish was served with the top crab shell covering the food. It was messy to eat since Filbert had to pick up lots of pieces of crab in the shell and had to get the crab out if it. Filbert ordered three Blue Girl beers since he hadn't heard of this brand. They were $4 each for 12 oz. Elizabeth had two Corona beers for $4 each. (She wanted something other than Asian beer.) Our total bill for the three of us, minus the surcharge, was around $100. According to an article in China Daily, $115 is what a person pays each month to live in a nice nursing home. Due to the cost, the number of Chinese families that were eating here surprised Snookums. She expected to see just business people, but most of the tables were full of families. We had a great time catching up.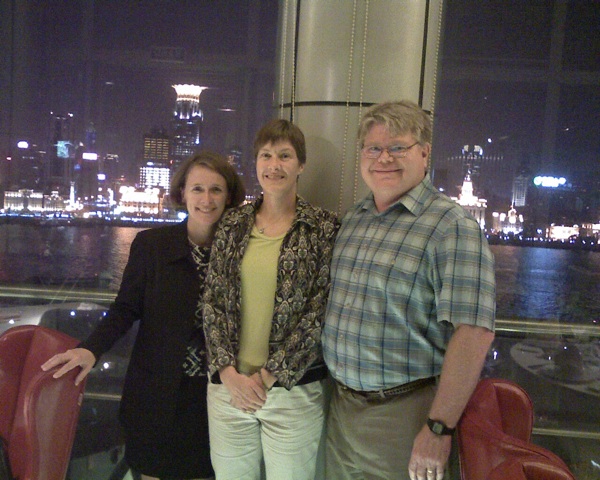 Your travelers with Elizabeth
We got back to the ship around 9:30 and said "no" to the wris*censored*ch vendors outside the secure area. Filbert went to bed and Snookums went to the Chinese acrobat show on the ship. The troupe consisted of 1 boy and 5 girls between the ages of 11 and 19. It was the typical Chinese acrobatic show with plate spinning, contortionism, unicycle riding, etc., etc. It was very good and the audience seemed to enjoy it much more than the local performances we had on the ship while in Japan.
Our stay in Shanghai continues in the next post . . .