The Grand Asia & Australia Voyage, part 13
Friday, October 24 2008 @ 02:10 PM CST
Contributed by:

filbert

Views: 4,608
The Grand Asia & Australia Voyage - Holland America Amsterdam, September 19-November 23, 2008
Text by Snookums, Pictures by Filbert
Part Thirteen
(Remember to click "read more" if you're looking at this from the main medary.com page to get the whole article!)
October 4 (Saturday, Day 18, Kobe, Japan) -
We took our time getting ready to see Kobe today since we were still feeling the effects of all the walking yesterday. The city offered a free shuttle to Motomachi Station so we decided to take it and then walk around. Our first stop was Daimaru Department Store and its food hall. For once though, we just looked and didn't buy anything!
(In preparing this, Filbert notices a definite dearth of photographs from Day 2 in Kobe. Sorry about that.)
More after the jump . . . We were toting our computers in a backpack since one of our goals was to find an internet cafe. We walked down Motomachi Shopping Street (about a mile long, covered and no cars allowed) and asked a policeman. He didn't speak English but understood enough and we figured out what he was telling us. We decided to walk to the end of the shopping street and then go to the internet cafe. We walked and we walked and we walked. We were also looking for an ATM since we had $6 with us. We decided to get off the shopping street to find an ATM and finally saw a post office and used its ATM. By now we were tired and hungry. Every restaurant we passed either didn't have the plastic food in its window or was an udon restaurant and Snookums didn't want udon. We finally saw a restaurant that said "English menu available" and decided to go in and eat regardless of food type. It was a Chinese restaurant and was the definition of a local hole in the wall. It had absolutely no atmosphere, the white walls were blank and it had 4 stools at the counter and 4 tables. But, it had locals coming in and yelling at the owner/cook. Filbert ordered the spicy prawns and Snookums ordered the pork and vegetables with mustard miso. Both were very tasty and the break was a nice one.
We went to the internet cafe and found it very interesting. It had five different kinds of booths you could rent. We were given one with a black leather loveseat in it and two PCs. We had our laptops so didn't need the PCs. We could have also rented a booth with a recliner or even tatami mats. We each used 30 minutes of WiFi and paid $4.00 total. We also saw that there were showers and tanning booths in the internet cafe. It was more like a U.S. truck stop than an internet cafe! It even sold little packets of aftershave and razors and stuff.
Snookums decided she needed to have an ice cream bar from a convenience store since she really missed Japanese ice cream confections. She bought a vanilla ice cream sandwich that was encased in ice cream cone batter (cooked) and had a chocolate bar in the middle. She used to eat them a lot while in Japan and doesn't know why they aren't in the U.S. since there isn't anything "Japanesey" about them.
We had about $20 left and decided that we would spend it on beer. That was our next expedition. Filbert wanted to buy room temp beer (not cold beer from a convenience store). We went to the department store's food hall and only found cold beer.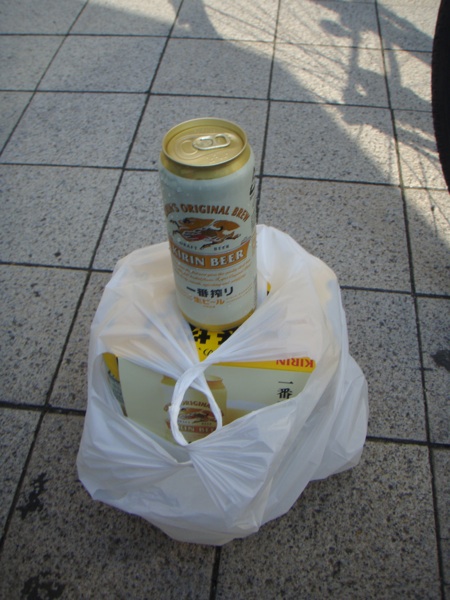 Beer!
We went to a convenience store and only found cold beer but asked about a liquor store. The convenience store clerk told us to keep walking down the street and we would find one. (Well, her English wasn't that good but that's what we thought she meant.) While walking down the street we passed a second convenience store (a 7-11) and asked that clerk. He thought about it for several minutes and finally suggested we go to a drug store. That was a classic example of a Japanese not wanting to tell us "No, I don't know" and instead came up with an answer that he knew was wrong. (Drug stores do NOT sell alcohol.) We left the 7-11 and immediately found the liquor store. It was a sake store and did sell some beer, but the Japanese brands were all cold. (The imports, like Budweiser, were room temp.) At this point, Filbert didn't care and bought as many cans of cold Kirin we could afford. We ended up with $0.77 left and went to a convenience store and Snookums bought seven items that were the same brand but different flavors. They packages are the size of a hot dog but feather-light. (She hasn't opened any of them so she doesn't even know if they are sweet or salty or what. Maybe they are Japanese versions of ChickOStix??!!) Our remaining 7 yen was donated to the container in front of the cash register. We walked back to the free shuttle and returned to the ship. Snookums went to use the hot tubs but they were closed for routine maintenance although the daily program listed them as being open. As a result, Snookums convinced the spa to allow her to use the $20/day spa treatment room. She used the sauna, the steam room, and the hot tubs and enjoyed being the only one there. She decided it definitely wasn't worth $20/day though!! (It's free if you buy a spa treatment.)
Filbert sat on the balcony and enjoyed watching the jumping fish in the bay. For some reason there are a lot of fish that jump out of the water in the morning and evening. The fish look like they jump about 1 foot high and sometimes 3 or 4 feet long. It's kind of fun watching all of the splashes.
Snookums has been watering her plants every day and today the pansy has two green plants coming up. The impatiens doesn't appear to be thriving, though.
We got ready for dinner early in order to walk around Deck 9 (outside) to see the beautiful lights of Kobe. There are three huge designs outlined in lights on the side of the mountains that could be seen from miles around. One was the symbol of Kobe, one was an anchor and one was "Kobe 2008". Kobe has a ferris wheel that lights up in different colors and a lot of the skyscrapers also light up in different colors--it is located adjacent to that park we visited yesterday that had the replica Santa Maria and the public spaces. It is very beautiful at night.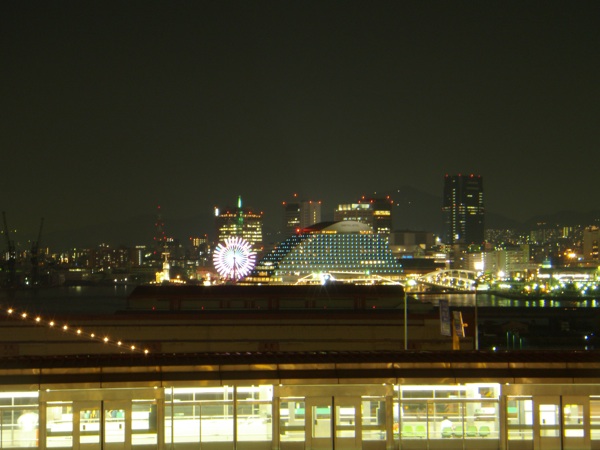 Kobe at night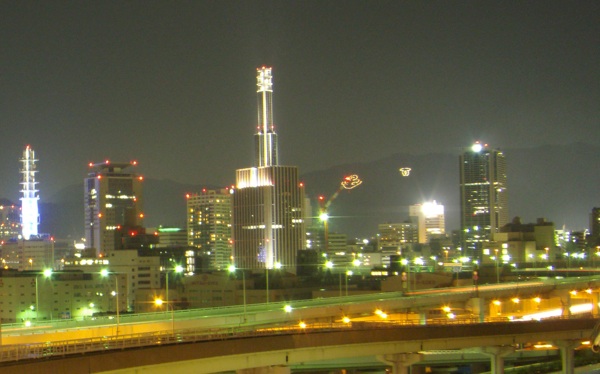 The anchor and the Kobe city logo on the hills at night
A local group was going to give a 20-30 minute folkloric show on the ship at 7:00 and we decided to attend that. It was three women in their 50s. One played a 13-string horizontal harp that the Chinese introduced in the 500s. Another one played the "banjo-type" instrument that we had seen the other night. These two women wore kimonos and the third woman wore a dress and played a synthesizer! It was a very odd combination. They played some Beatles tunes and ended with Chitty Chitty Bang Bang. It was very strange.
Japanese women play the Beatles!
After dinner Filbert stayed up until around midnight to make sure we safely left Kobe. Snookums fell asleep around 10:30 and missed saying goodbye to Kobe.
October 5 (Sunday, Day 19, At sea) -
Today was a day of rest and that's what we did. Snookums finished another paperback (probably her tenth at least) and Filbert worked on putting photos in the journal: photographs from the first three Japan stops, that is. We're behind on the whole journal entry process, but then, I guess we can either go do stuff, or we can write and compose the photos for it. Multitasking is hard when you're on a cruise.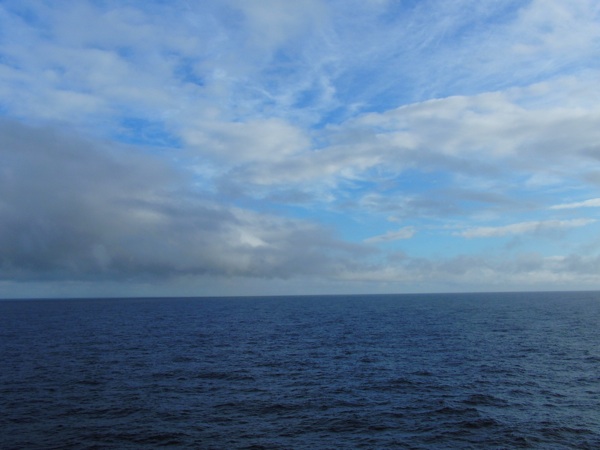 Pleasant skies at sea bound for Shanghai
While in the Neptune Lounge Snookums heard that one of the two penthouse suites is empty. Several people were called prior to the cruise to see if they wanted to pay $20,000 per person to upgrade to the penthouse suite from their current deluxe verandah suite (like we have) and they turned it down. The "owners" of the one penthouse suite that is booked didn't get their clothing until Kobe!! She also found out that one older man upgraded to our kind of suite from the suite that we had originally booked by paying $15,000 for himself and his butler. One would think that if you can afford a butler you can afford to pay the whole amount for the deluxe verandah suite at time of booking rather than waiting until a few weeks beforehand and hoping for an upgrade phone call. But, maybe he is frugal so that he can afford a butler -- who knows!
We decided to skip the Mariner reception for people that had sailed with Holland America before. Our awards were left on our beds on Saturday night. Snookums received her 100 night bronze medal (about 3" in diameter and on a long 2" wide blue ribbon, like an Olympic medal!) and Filbert received his red 50 night pin. At the end of this cruise Filbert will have 87 nights so he'll get his 100 night bronze medal on our 15-night January, 2009 cruise. We were told that there is a woman on board (in an inside cabin!) with more than 2,000 nights on Holland America.
It was formal night and even Gary and Charlotte showed up to dinner. Gary had said at the beginning of the cruise that they wouldn't come to any formal nights since he didn't own a tux and didn't want to even wear a suit. Well, he borrowed a black bow tie from Yvan and wore a white shirt and the yukata that he just bought in Japan. A yukata is a cotton robe that the Japanese wear at the onsens (hot springs) and that younger women wear in the summer to outdoor festivals. The maitre 'd let him in so we were all happy. A Japanese man in his tux and his wife in her kimono went to their table near ours but left without sitting down. Her kimono was beautiful and we don't know why they left. (Around 120 Japanese boarded the cruise in Kobe.) The wine was free tonight so everyone had a great time.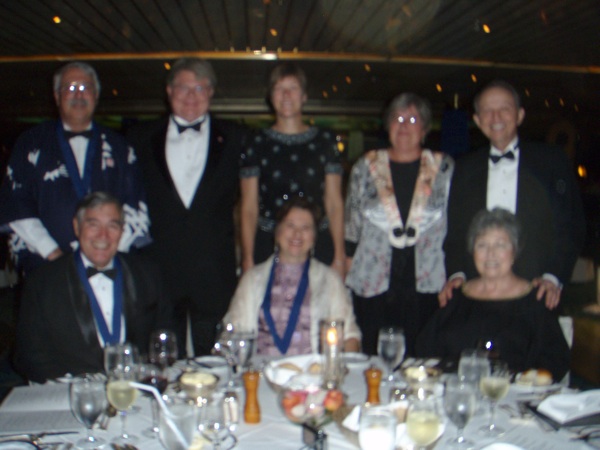 The wine was free, so the night was a blur!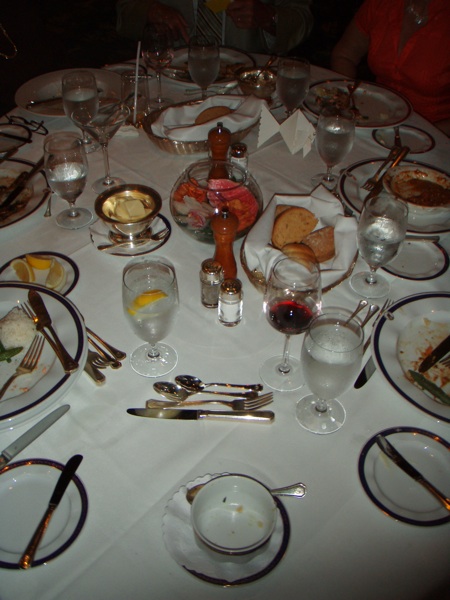 Nary a scrap left on the plates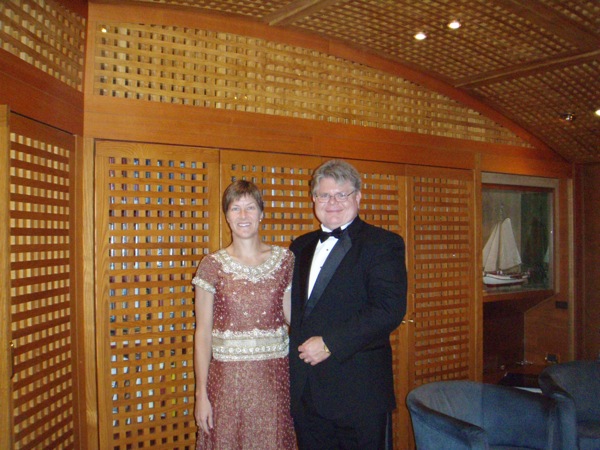 Snookums wanted a picture of her other formal outfit--here it is!
We returned to our suite and found two large commemorative serving plates on our bed with a drawing of the ms Amsterdam on them. A captain of the ship was also an artist and they put his pen and ink drawing on the plates. It was the gift for the night. We also were happy to see that we got to turn our clocks back one hour. Sleep is good!
October 6 (Monday, Day 20, At sea) -
We woke up and had the breakfast buffet. Berries and skim milk are still not available and Snookums doesn't know where the restocking port will be (and hopefully it won't be Shanghai for the milk since she doesn't want to drink melamine!!!). Snookums collected more cereal boxes, more little jars of jam and more individually wrapped graham crackers to give to her American friend, Elizabeth, in Shanghai. Snookums knows how expensive (and difficult) it was to find American food in Tokyo and figures that Elizabeth (and her two young sons) will appreciate anything she can get. Elizabeth is going to get us tomorrow at 6:30 PM for dinner.
The Chinese immigration officials were on board on this sea day and everyone had to go through a face-to-passport identification check. The officials were doing it over a 3 hour period so the line was not long.
It was mostly cloudy today and around 72 degrees F. We started to see more and more small fishing boats as the day went on.
When we returned to our cabin after dinner, we found a pocket pack of Kleenex on our bed. This was a nice reminder that there's not toilet paper in most bathrooms in China!
In our next post: Shanghai!