The Grand Asia & Australia Voyage, part 8
Wednesday, October 08 2008 @ 07:56 AM CST
Contributed by:

filbert

Views: 4,495
The Grand Asia & Australia Voyage - Holland America Amsterdam, September 19-November 23, 2008
Text by Snookums, Pictures by Filbert
Part Eight
(Remember to click "read more" if you're looking at this from the main medary.com page to get the whole article!)
September 30 (Tuesday, Day 14, Aomori, Japan) -
Aomori was added to the itinerary when Russia was removed. We docked around 8 AM and it was cloudy and even rained for a few minutes but ended up sunny and nice. We decided to stay onboard until around 10 or so shops wouldn't open until then anyway. For about an hour after docking there was a Taiko drum group welcoming us which was very nice and we could easily see and hear it from our balcony. There was also a tent at the base of the gangway staffed by English-speaking Japanese to help answer questions.
YouTube of Taiko drum group: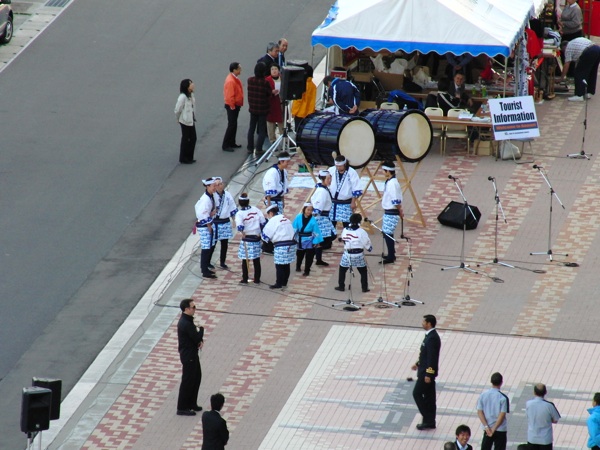 The Aomori greeting celebration
We got a map and started our adventure by seeing a dead raven in the clear water as well as (and this is not an exaggeration) a million jellyfish and several starfish.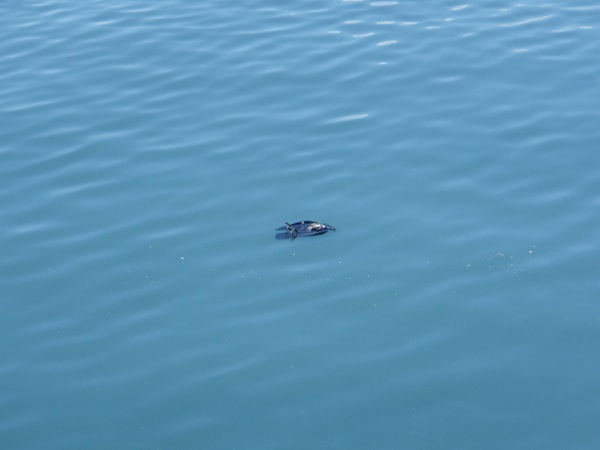 Dead raven
No swimming for us! We walked to the triangular-shaped 14-floor building near the dock and rode the glass elevators to the top.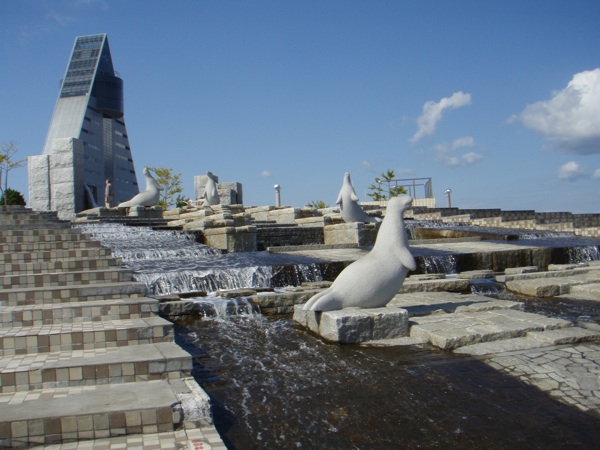 Triangular building with seal statues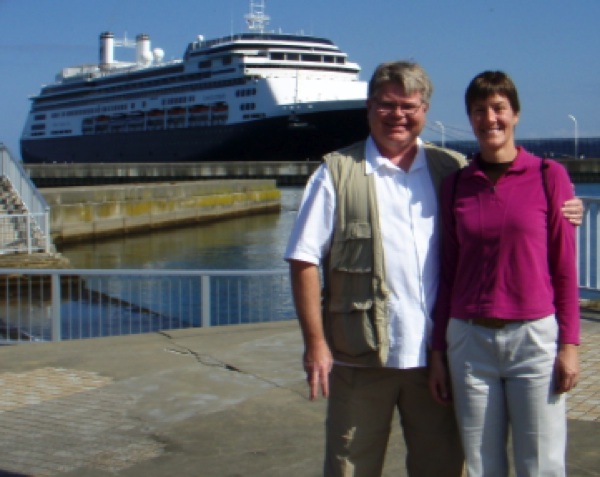 The travelers and the Amsterdam
We shopped in a few of the shops and saw the gift potatoes that cost around $30 for 11 pounds. Snookums had seen pricey melons and apples and other types of produce while living in Japan, but not potatoes. Aomori must be known for its potatoes!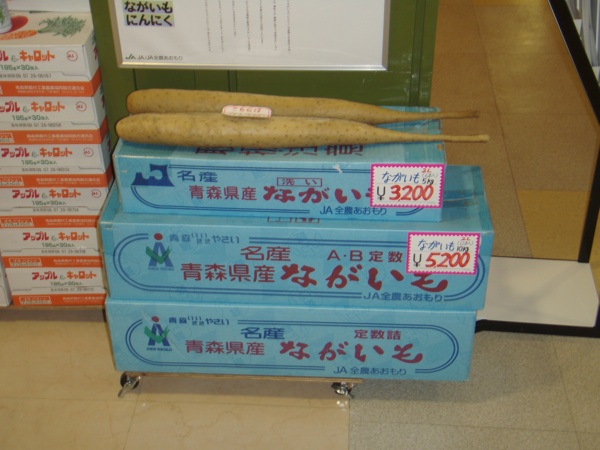 Potatoes
We walked down the shopping street and stopped at the first department store to visit its Food Hall. We tried a sample of sausage and then tried some natto. Natto is fermented soybeans and is an acquired taste that we have not yet acquired. We decided that we needed a tasty snack and bought a raisin and walnut bun to share. The bakery rang a cowbell every time fresh baked pastries were brought to the shelves and it rang several times during the 5 minutes we were there.
We proceeded to a 100 yen store ($1) and Snookums bought a lingerie bag since she needed another one in order to be more efficient using the ship's laundry service.
Then we walked to the next high-rise "mall" and went to another 100 yen store. We are hosting a sail-away party in our cabin tomorrow afternoon for our tablemates and Snookums decided we needed Japanese handkerchiefs (or sweatrags) to use as napkins and then for them to take as party favors. We found some Hello Kitty ones for the women and a cartoon Shinkansen (bullet train) one for Gary. For the other two men we found Japanese headbands/towels (think two bandanas sewn together to make a long bandana) with Kanji on them. (There were limited supplies of sweat rags suitable for men that still had a Japanese theme to them so we had to go with the headbands/towels.) Gary should especially like the Shinkansen design given his love of trains. We then went to the basement and found Aomori's fish market and wandered around it and saw sea creatures we hadn't seen before.
We were hungry for lunch and decided to go to the restaurant in the basement. It had a few pictures on its menu but had much more Japanese writing on its chalk boards.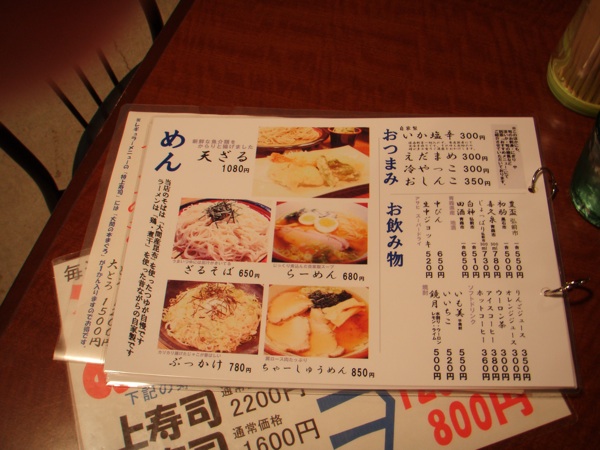 Lunch menu
Snookums pointed to the ramen and Filbert pointed to the tempura and since the tempura had two prices next to it, he pointed to the more expensive one. He also got a draft beer. Snookums's pork tempura with a boiled egg in it was delicious (or oishi-desu in Japanese!) and Filbert's tempura set meal was quite something. It consisted of tempura (eggplant, green pepper, prawn, fish, and squash), white rice, miso soup with the head of a prawn in it, raw squid with wasabi, seaweed, and Japanese pickles. We both enjoyed our meals but realized that everyone else was eating a side of crab legs with their main meals so it must be crab season and that was probably what was written on the chalkboards.
Our meals: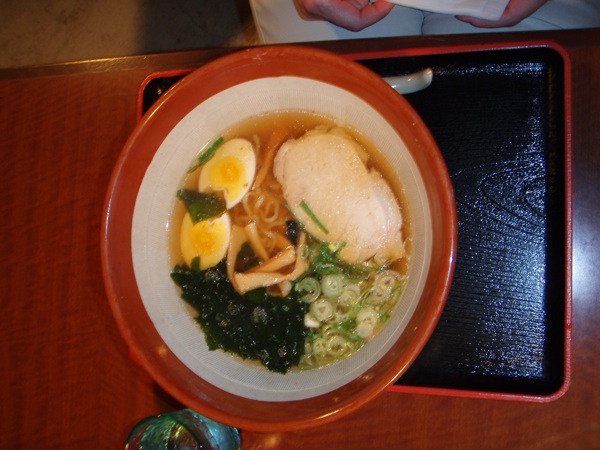 Ramen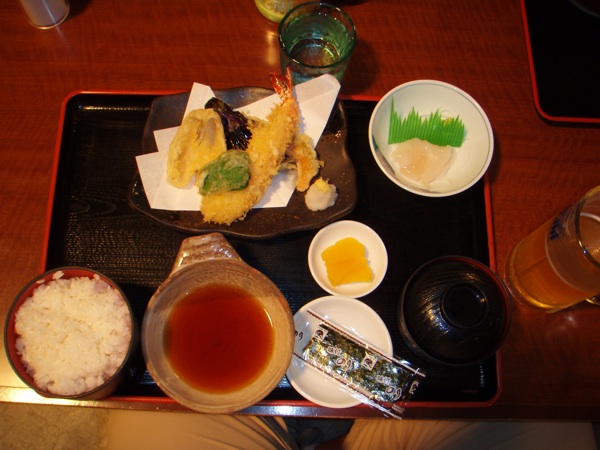 Tempura
We wandered back to the ship and stopped at a convenience store (well, two) on the way. Filbert had to buy the Guinness since the three pack came with a free Guinness glass and he also had to buy the three pack of Yebisu beer for its free little glass.
We also stopped at a big grocery store and bought potato chips for tomorrow's party since Gary has talked about his love of plain potato chips and how he likes to try different brands. We brought three bags of Calbee brand chips and the pictures all look plain (no cheese, no paprika, no other colored items on the chips) but there must be a difference since the same brand wouldn't have three kinds of plain, regular potato chips. Stay tuned -- we'll find out tomorrow.
We got back to the ship and enjoyed watching the digging going on right next to where the ship docked. We guess they are using some reclaimed land to make another dock. There were metal plates laid on the dirt to form a road for the dump trucks to drive on and a Japanese man's job was to sweep the dust from the metal plates. It really didn't make sense but it did give Filbert an opportunity to say, "The Japanese are a silly little people" in his usual affectionate (but still probably racist) way. Filbert continued to watch the dockside activity while Snookums managed to stay awake through an entire DVD of "Employee of the Month".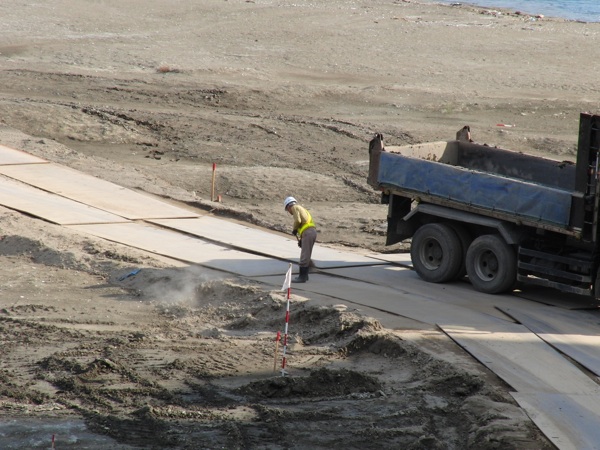 Sweeping the metal plates
As we sailed away from the dock the Taiko drum group played and the Japanese on the dock waved and waved and waved and waved. Since this port was a last minute addition, we assumed it was the first time that Holland America came here and that's why the Japanese were so enthralled. They even played a recording of "Auld Lang Syne" while we pulled away. It was very nice and we decided that we enjoyed Aomori even more than Hakodate.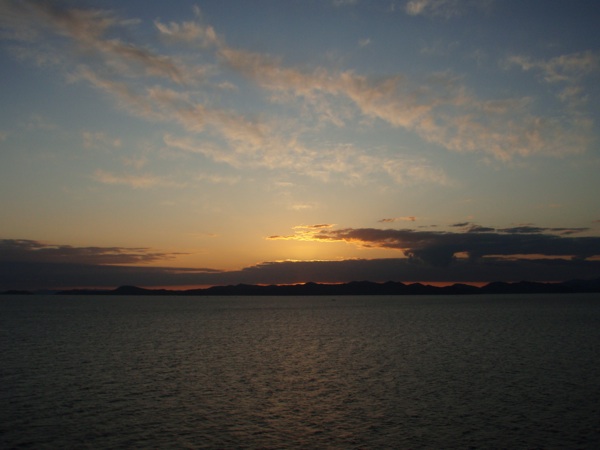 Aomori Sunset