The Grand Asia & Australia Voyage, part 7
Tuesday, October 07 2008 @ 01:52 PM CST
Contributed by:

filbert

Views: 3,618
The Grand Asia & Australia Voyage - Holland America Amsterdam, September 19-November 23, 2008
Text by Snookums, Pictures by Filbert
Part Seven
(Remember to click "read more" if you're looking at this from the main medary.com page to get the whole article!)
September 29 (Monday, Day 13, Hakodate, Japan) - Continued
We had decided to go ashore with Gary and Charlotte. Hakodate had a free shuttle bus running from the port (which seemed to be in the middle of nowhere) to the city about 15 minutes away. When we got off the shuttle bus we were greeted by a bunch of high school girls in their nautical-inspired school uniforms. They were the welcome committee and were also there to help the tourists with questions and stuff. Snookums asked one of them where the Morning Market was and she (and a friend) told us they would take us there. We followed them and after about 1 mile got to what looked like a grocery store. We thanked them profusely and started wandering around.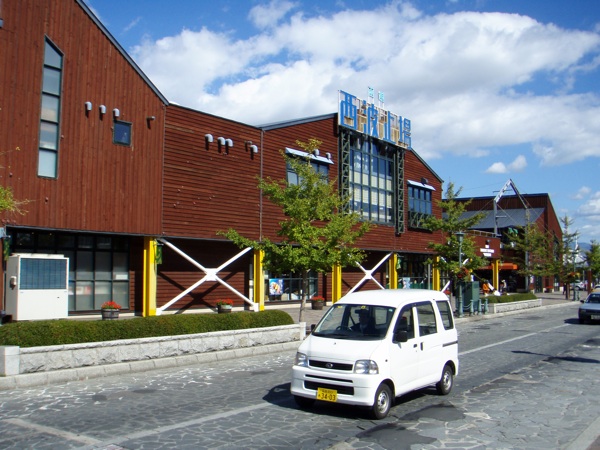 The Hakodate Morning Market?
We enjoyed sampling the dried cuttlefish and the older woman that was drying and then shredding the cuttlefish came out from behind her stall to offer us big hunks of it and her English was impeccable. Snookums was shocked since Hakodate isn't a tourist spot for English-speaking people. Anyway, the dried cuttlefish was very tasty – kind of like beef jerky in texture and not fishy at all.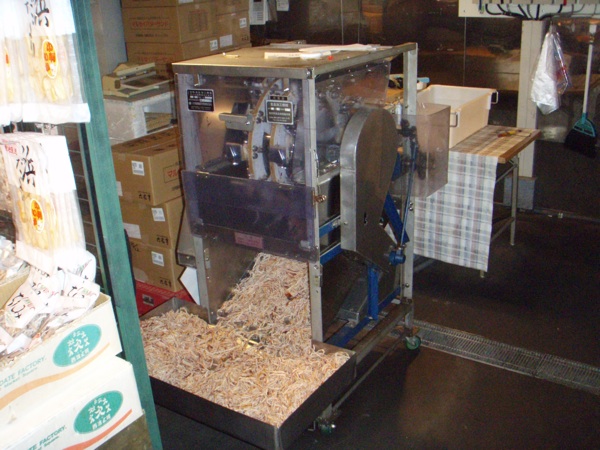 The cuttlefish jerky machine
After wandering around for a few minutes we decided that this was NOT the morning market so we looked at the maps that the school girls had given us and realized we were at the Red Brick Warehouses (kind of like a strip mall). We had about a mile to go to get to the Morning Market to see the squid and crabs and melons that Hakodate is famous for.
By now it was warming up and the men were sweating but everyone was having a great time since the day was so gorgeous. We made it to the Morning Market and immediately encountered a crab that a vendor had out of the tank that had a body about 1 foot in diameter!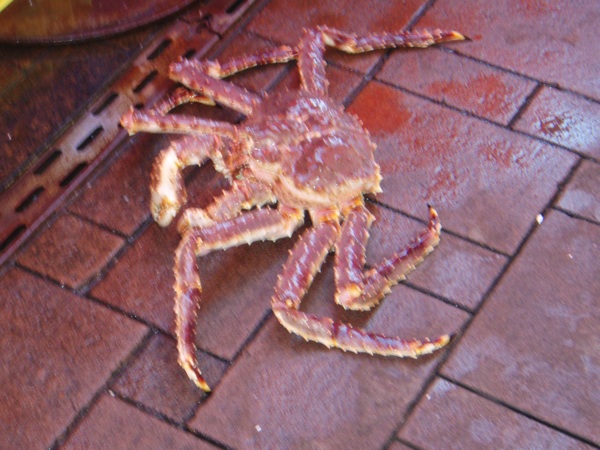 Crab Attack!
We also saw lots of live squid and squid in all forms. Melons were on sale, too, for $105 each. Gary couldn't get over the price of the gift melons (just cantaloupes) and Snookums tried to explain that the Japanese value perfection and give "perfect" melons as gifts and that they just "know" the value of them. We saw melons that were $30, $50 and $105 each and to us they all looked the same. Anyway, Gary and Charlotte were overwhelmed and it was really fun to be with them to see (and hear!) their reactions. Filbert saw all of this when we were in Tokyo in October 2007, so it wasn't shocking to him.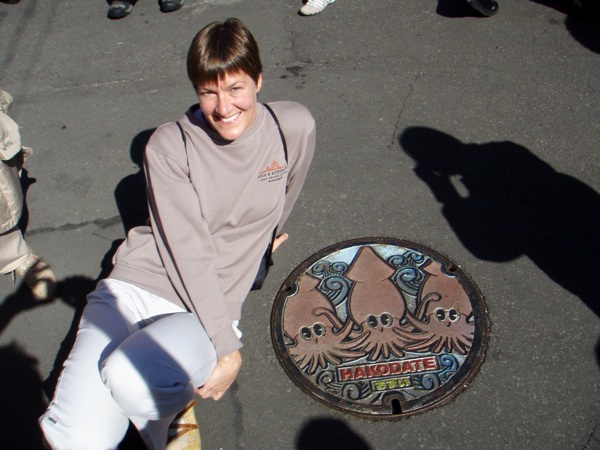 Snookums does manhole-cover cheesecake (Filbert's shadow signals OK)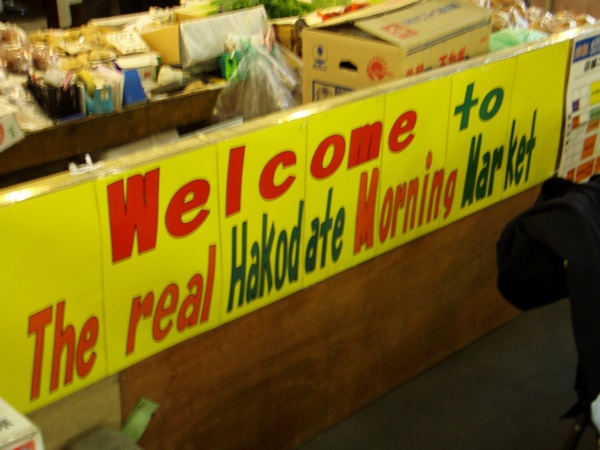 The REAL Morning Markety
We were tired and needed a break but we had to get some yen first. We went to the JR Station (Japan Railways) next door to find an ATM, a bathroom and a convenience store. We bought a four-piece pork tonkatsu sandwich to share among all of us. It consisted of crustless Wonder white bread (well, a very soft white bread) with a breaded deep-fried pork cutlet, a few shreds of cabbage and a delicious sauce. While living in Japan, one of Snookums' favorite meals was pork tonkatsu and everyone agreed that this sandwich snack was very tasty. We ate it while sitting outside in front of the JR Station. (By the way, there was a line in the women's room so when it was Snookums' turn to go, she got stuck with a squat toilet but Charlotte won the lottery and got the Western toilet!)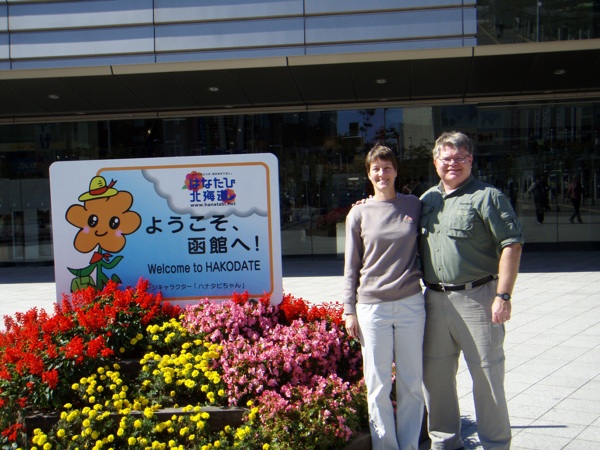 Filbert & Snookums at Hakodate Station
After our respite we decided to go to the Waku department store across the street to see the basement food hall. Well, this particular department store was going out of business and its basement and floors 4-6 were blocked off and everyone gave Snookums a hard time since she kept saying that every department store had a food hall in its basement. We managed to find another department store across the street and did, in fact, find a food hall. Gary couldn't believe all of the food items.
We left the food hall and in the hallway was a vendor selling various dried snacks and samples were provided. Gary (and Filbert) kept trying various ones and Gary ultimately bought 3 packages: huge dried peas with a sweet coating, gigantic cashew-looking things with a corn pop consistency and a bag of seaweed/soy puffs. It was just very funny to hear Gary yell "Awesome" and "This one is the best" after just about every sample. The Japanese man got a kick out of it, too.
We took the streetcar back to the shuttle bus stop in order to walk to the tram that went to the top of Mt. Hakodate. Filbert's heel was starting to hurt and Charlotte was tired so they returned to the ship. That left Snookums and Gary with walking up the steep hill to catch the tram up. Mt Hakodate is 1100 feet above sea level and the view from the top was very impressive. After taking the tram down, Snookums and Gary walked to Gary's first Shinto shrine so that was fun, too.
On Mt. Hakodate
Looking down on the city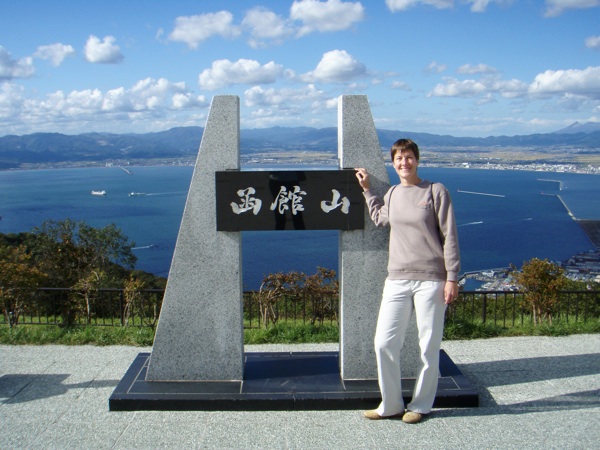 Snookums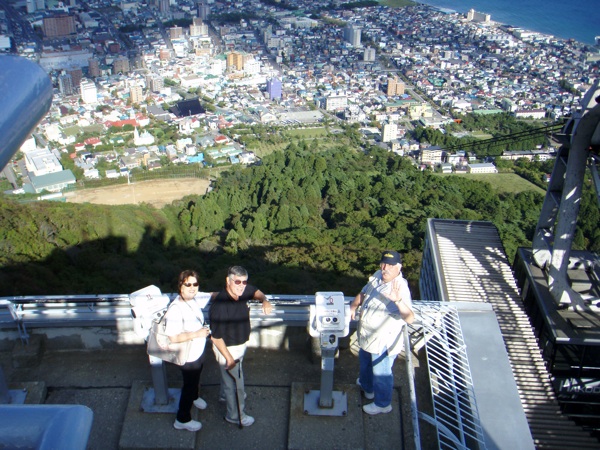 Yvan, Alice, and Gary
Snookums got back to the cabin around 4:20 and Filbert was sound asleep. She woke him up around 7:30 for dinner and he decided he was comfortable right where he was. He ultimately woke up at 6 on Tuesday morning which meant he slept for about 14 hours (without brushing his teeth or changing his clothes!). After dinner Snookums went to the show which was a performance of Japanese dance and music by a local folk group. It was very "annoying" music to the Western ear – lots of high pitched "singing" and high-pitched "lute/banjo" music. But, the performers were probably performing for free so the audience was appreciative of their time. We set sail at midnight for Aomori, about 40 miles away.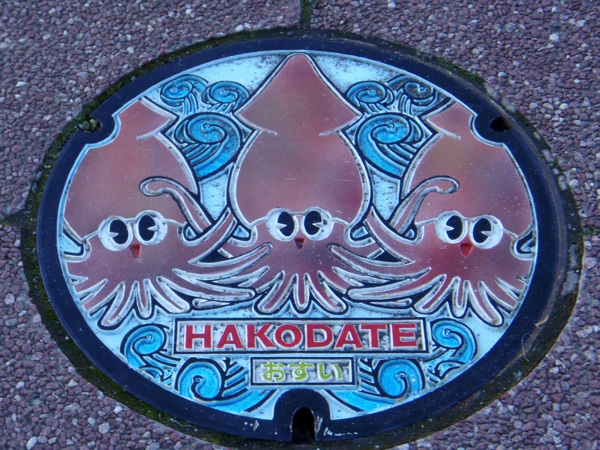 Hakodate's signature manhole squid bid you farewell