The Grand Asia & Australia Voyage, part 6
Monday, October 06 2008 @ 07:42 PM CST
Contributed by:

filbert

Views: 3,339
The Grand Asia & Australia Voyage - Holland America Amsterdam, September 19-November 23, 2008
Text by Snookums, Pictures by Filbert
Part Six
(Remember to click "read more" if you're looking at this from the main medary.com page to get the whole article!)
So, here we are, less than 200 miles out of Shanghai, China, and I'm finally getting back to posting. We had a whirlwind tour of four Japanese cities, walked a lot, and didn't have much chance for Snookums to write up the journal or Filbert to add the photos and upload them.
We've gotten all that done for the Japan portion of our trip, and wouldn't you know, the ship's Internet is down "because of the position of the ship." Sigh.
So, instead of this getting posted at about 2 a.m. on Monday, Oct. 6, it's getting posted . . . later. What the heck, we're only ten days or so behind! We'll catch up---eventually.
OK, here we go . . .
September 26 (Friday, Day 10, At sea) -
We spent the night being tossed and turned by the high waves (very rough - 12 to 18 feet per the Navigation channel). Nothing fell but it was difficult to walk around the cabin. Snookums claimed that she was airborne for an instant around 2 AM. We decided to get up around 5:30, shower and be first in line for Lido breakfast at 6:30. Well, there was a bunch of other people already there but we managed to get a table by the window. The ship was rocking and rolling but neither of us was sick. We hope it stays that way. We ended up talking with Gary, one of our dinner tablemates, until 9 AM.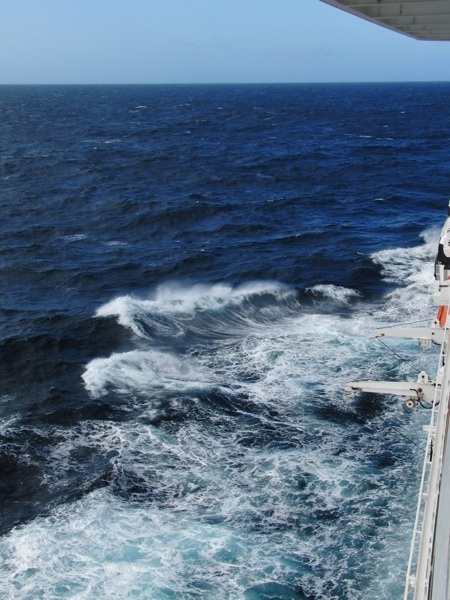 Rough seas
We went to the port lecture at 10 AM. The British man giving it was very boring and it ended up being a 50 minute history of Japan and a 10 minute port lecture. We did learn that for our first three ports we would dock right in the heart of the cities so that was nice to hear.
We returned to our cabin, took seasick pills (just in case) and then promptly took naps. When we woke up at 2:30 we decided we needed lunch. Filbert made a taco salad and Snookums had a tuna salad and Swiss panini. (The salad bar, deli and grill with the taco fixings and hamburgers and stuff were all still open until at least 5 PM. You can't even try to go hungry on the ship.)
After lunch Filbert wandered around the ship and Snookums returned to the cabin to read (and sleep). Filbert woke Snookums up at 7:30 for dinner. All told, Snookums had 5 hours of naps today!
Dinner was once again very nice and we really enjoy our tablemates. We learned that Yvan (pronounced "Ivan") signed up to give a lecture on Saturday about politics. He was a political science professor at the Canadian Royal Military College (the equivalent of Canada's West Point, Annapolis and Air Force Academy all rolled into one school). Anyway, since this cruise is such a long one, they are letting guests sign up to speak for 45 minutes about whatever topic they want to. Yvan wasn't sure he would be chosen, but we all figured he would be given his resume. He's worried that 45 minutes is not enough time so he might break it into two lectures. The rest of the table will be there to support him. He also is a member of the ship's chorus! Once again, when you are on a cruise this long, they can do things like have a chorus. He said that it would perform two times during the 65 days.
During dinner we were told that the dress code for Saturday's Black & White Ball was changed to "Formal Optional". The men immediately perked up and said they would come in black pants and white t-shirts. The daily program even suggested that women not wear high heels due to the rocking of the ship!
We went to the comedian after dinner but Filbert left midway through. Filbert was both tired and he didn't think he was any good. Snookums enjoyed the show.
We turned our clocks back again (which has happened EVERY night since we've been onboard) and promptly fell asleep to the rocking and rolling of the ship. Snookums found the source of one set of creaks and groans and wedged a cabinet door open all night which made the cabin somewhat quieter.
September 27 (Saturday, Day 11, At sea) -
Today we were supposed to dock at Petropavlovsk, Kamchatskiy, Russia but instead are continuing to sail towards Japan. It's 58 degrees F. The seas are still rough (7.5 to 12 feet per the Navigation channel), the skies are overcast and the fog rolls in every now and then. If we could just have some sun it would be a-okay!!
We woke up at 7 AM, showered and went to the dining room for a nice leisurely breakfast. Snookums enjoyed her bowl of fresh blackberries, blueberries and strawberries, fresh squeezed orange juice and her raisin French toast. It wasn't as good as Regent's raisin French toast, but it was tasty nonetheless. We are still very impressed with the service and food on this ship. No complaints at all.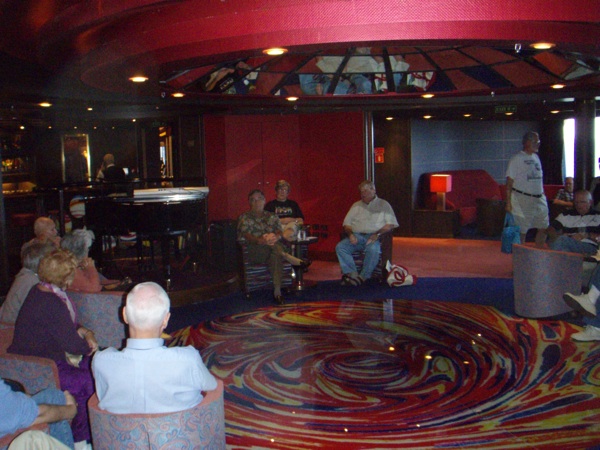 Yvan's talk
We worked out, ate lunch and then went to see Yvan give his "Making Sense of Politics...Anytime, Anywhere" lecture. It was pretty good and Filbert agreed with his ideas. After the lecture we went to the Crow's Nest to do some ocean watching since the sun decided to finally come out. Yippee!!! Snookums bought a mock margarita which was very tasty with the hand-squeezed limes and oranges, housemade sour mix and Diet Sprite. (Oh yeah, we found out that you can get free sodas in the Neptune Lounge.)
Dinner was another good one although it started getting VERY rocky about 30 minutes prior and continued throughout dinner. (Snookums took seasick pills before going to dinner.) Snookums had meatloaf and Filbert had turbot. After dinner we returned to our room and found more Grand Voyage gifts. This time each of us received a waterproof "safe" for our money and credit cards when snorkeling. We turned our clocks back for the last time for several days. We all decided that we could get used to having 25-hour days.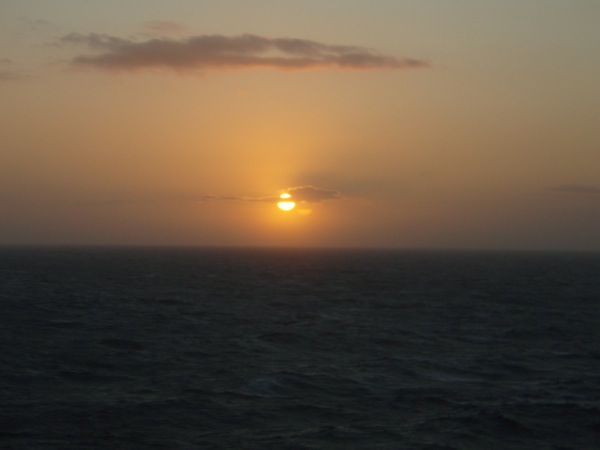 Yes, another sunset from the Crow's Nest
September 28 (Sunday, Day 12, At sea) -
We woke up to smoother seas and sunny skies. After a quick breakfast at Lido, Snookums decided to try out the free spinning class. She was so excited to see it on the Daily Program since there is only one free fitness class a day and it's always aerobics. Anyway, she went to the 9 AM spinning class and then found out it cost $10. She did her normal workout instead and afterwards went to the front desk to ask why the Daily Program didn't indicate that there was a cost. There was no good answer to that so we're waiting to see if anything is done to make up for this gaffe.
Snookums received her small sweatshirt and was very happy. Filbert was wearing his while sitting on the verandah, reading and listening to short-wave radio (and supposedly looking for sealife, too). The sun is shining but it's only 58 degrees F which is too cold for Snookums. We saw a fishing boat which is the first sign of life we've seen since September 21! Land can be seen from starboard, too.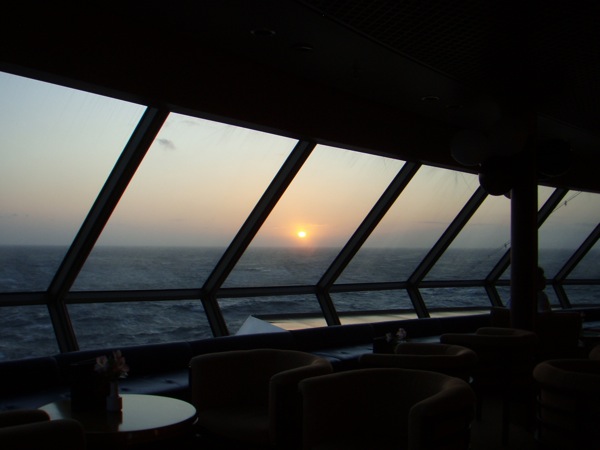 A small portion of the Japanese fishing fleet
Here is more information on our tablemates: Yvan and Alice from Canada. Yvan retired from being a professor at Canada's Royal Military College and Alice is a full-time potter. They have been married 40+ years, have 3 grown children and are bilingual in French and English. They retired abruptly after Yvan had a 107-degree temperature a few years ago which made them realize life is too short.
Gary and Charlotte are in their mid-50s and have been married for 31 years and have no children. They live in Goodyear, Arizona and have been retired for around 5 years. Gary is a model railroad aficionado and comes to Kansas City every other February for some major model railroad convention. Charlotte started doing pottery 6 years ago so is thrilled to have met Alice. Gary's undergrad degree is from Northwestern and they both have MBAs from Dartmouth. He was in the Navy during Vietnam and was stationed in Da Nang and is looking forward to seeing how it's changed since it's a port for this cruise.
Jae and Bari are from Fremont, California and have been married for 48 years and have one daughter. They are the oldest couple at our table and are probably in their early 70s. They owned a sailboat until very recently and Jae would race it on San Francisco Bay. Jae was an electronics engineer at Lockheed and Bari was a VP of Administration at various large companies in San Francisco. Bari was a woman pioneer in the field of business and didn't get much respect from the men she worked with since she was ahead of her time.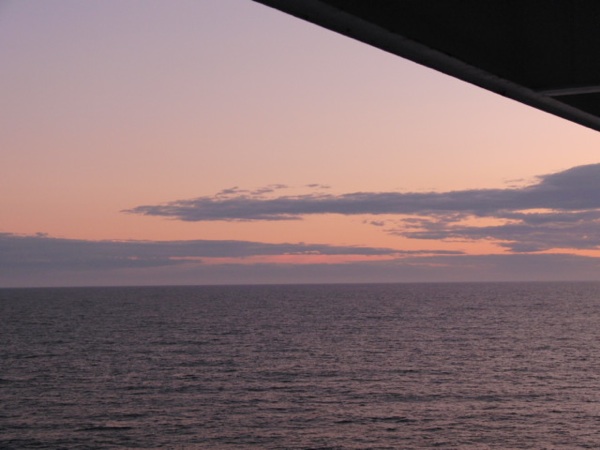 Post-sunset pink, from our stateroom's balcony
September 29 (Monday, Day 13, Hakodate, Japan) -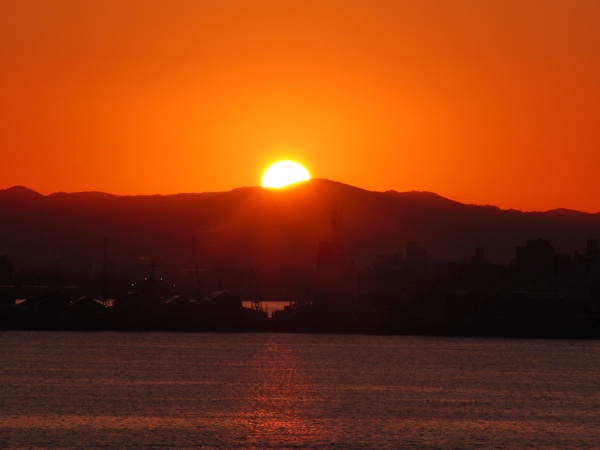 Sunrise at Hakodate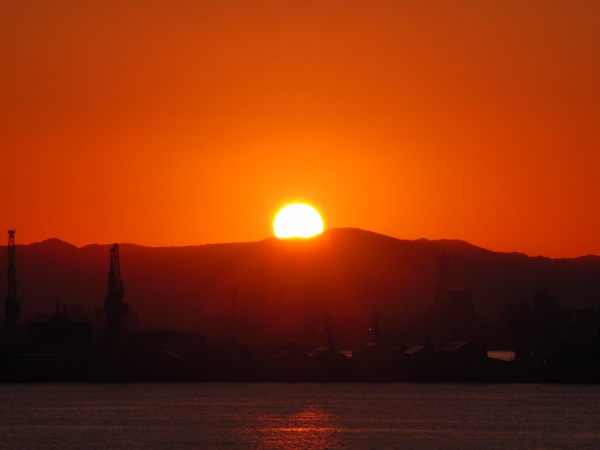 The sunrise was so nice you have to see it twice
Filbert set his alarms to go off at 5 AM to see us docking at Hakodate and promptly got up and wandered around the ship with his travel mug of coffee and his camera. Snookums woke up at 7 AM and then we both went to breakfast. A fireboat welcomed us into port—it shot multi-colored water, which we had never seen before in our travels. We later heard that the Captain received a plaque since it was the first time the ship had docked at Hakodate, so this was "big doin's in these here parts" as Filbert would say. Everyone cleared immigration and the fun in Japan began.
The Hakodate Welcome Fireboat:
Blue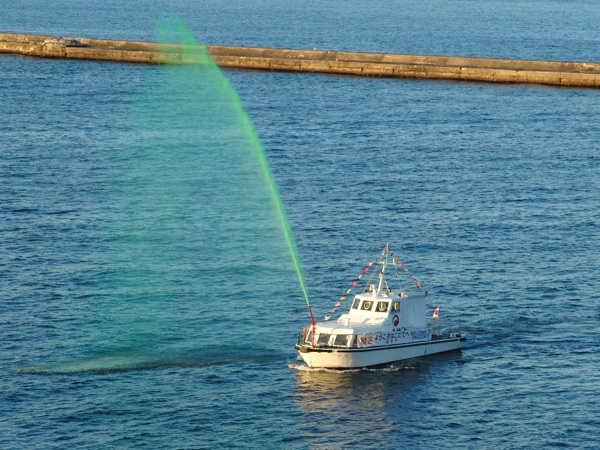 Green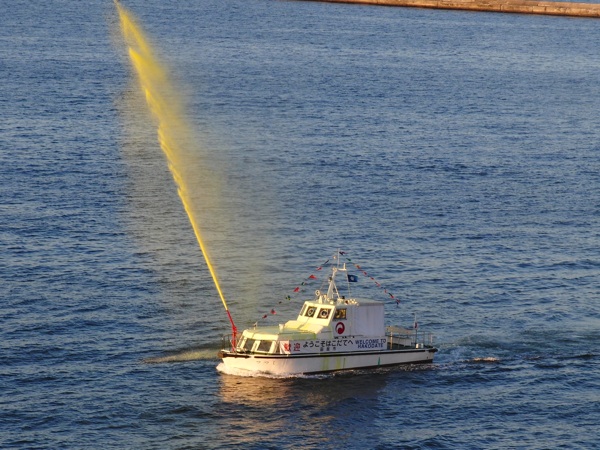 Yellow
Our visit to Hakodate continues in the next post . . .