The 21-Day Mediterranean & Atlantic Explorer Cruise (And more!), October 26-December 1, 2010, Holland America Prinsendam
Text by Snookums, Pictures by Filbert
Part Seven
(Remember to click "read more" if you're looking at this from the main medary.com page to get the whole article!)
November 16 (Tuesday, Day 22, Barcelona, Spain) -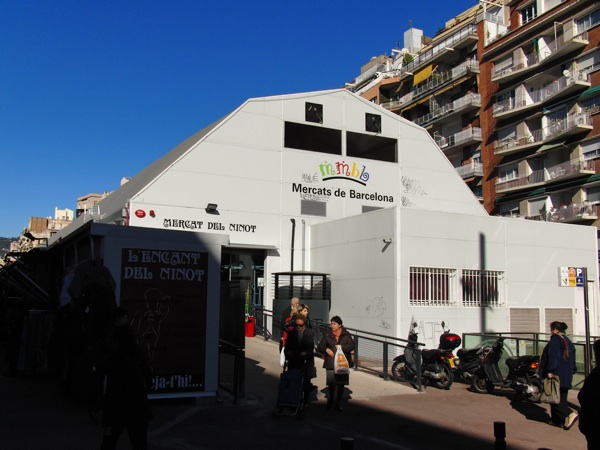 Mercats de Barcelona
We got off the ship at 9:30 AM and took the shuttle bus to the Monument Colom. The forecast was for a sunny day and around 55 degrees. We walked to the nearest metro station and paid €1.40 each for a metro ticket. We got on and rode for 15 minutes to Avda. Diagonal which is one of the main streets in Barcelona. We decided to just walk a lot today so we walked from Av. Diagonal to Placa de Catalunya and then down Las Ramblas to the shuttle. During our 4-hour walk we stopped at El Corte Ingles department store to use the bathroom. Its basement had a full grocery store so we looked there, too. Later on in the walk Snookums went in a bakery and bought a €0.80 cookie that was about 4 inches across and very flat and kind of looked like pie crust or a very thing sugar cookie. It had pine nuts sprinkled on it and was glazed with a clear glaze that tasted like citron. It was okay and like nothing she had seen before. Further on in our wanderings we found the "Mercats de Barcelona". It looked like a temporary building (but it wasn't) in the empty lot next to the hospital and it housed all sorts of independent food vendors. Lots of locals were buying the meats, fish, and produce and Spaniards certainly like tripe based on the number of butchers selling it. We bought a can of some kind of fish (salted cod?) for a Christmas present.
More after the jump . . . When we got hungry we decided to try the restaurant that we had dinner at when we were here three years ago. It didn't open until 1, though, so we kept walking. (It was 12:30.) We decided to stop at an outdoor tapas bar, Pastitu, off Las Ramblas and next to Boqueria Market, one of Barcelona's oldest food markets. Pastitu didn't have any English menus, or even pictures, but Snookums went up to the counter when she saw something waiting for the waitress to deliver to a table and managed to find out it was the €3.90 tortilla Espanol listed on the permanent menu. She ordered that and really enjoyed the three pieces of toasted baguette that had a tomato squeezed over it, a drizzle of olive oil and a sprinkle of sea salt flakes. The bread surrounded a piece of potato and cheese pie that was very rich. Filbert ordered the €10.90 calamari from the daily special menu. We knew that it was calamari, but didn't know what the other five Spanish words meant. It ended up being lightly battered and fried and was delicious. Four other tables, out of the six occupied, also had it after Filbert had already ordered it. There were at least fifteen special tapas of the day but apparently calamari was the most popular one. One man, eating alone, ordered three different items – calamari, mushrooms and mussels. Another table had two men at it and they ordered a total of five dishes. We know that tapas are "small plates" but five of them seem like a lot and they sure aren't cheap. But, we really liked the food and enjoyed eating with the locals.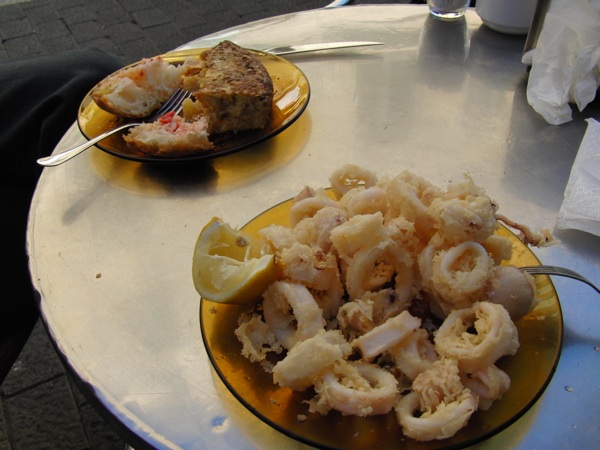 Tapas
Back on the ship Filbert listened to his short-wave while Snookums read which really meant she fell asleep for a couple of hours. It was a tiring day in Barcelona.
November 17 (Wednesday, Day 23, Cartagena, Spain) -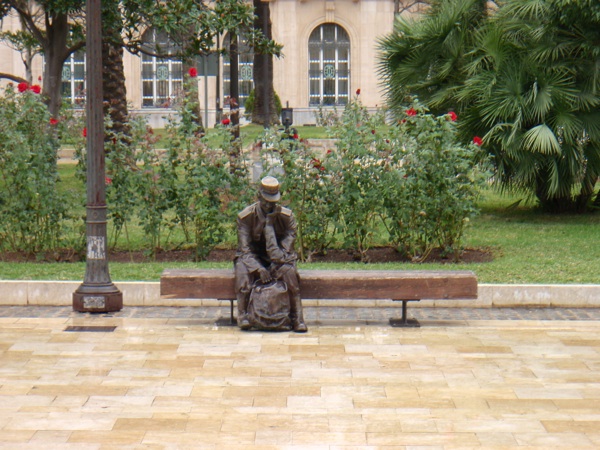 Cartagena
We docked at noon and got off the ship shortly thereafter. It was overcast and drizzly but we didn't bother with umbrellas. We walked down the pedestrian-only shopping street (Mayor) and walked by the beautiful City Hall. After about two hours we found ourselves near the Roman Theatre ruins so we decided to go up to see it. Above us was the Conception Castle and we climbed the steps up to it and its wonderful views of Cartagena. We didn't bother paying the €3.50 entrance fee and just walked around the grounds and finally walked back to the ship to dry off. (We were in Cartagena in 2008, too, on a cruise but somehow never managed to find the historic part of Cartagena so today's visit was kind of a first for us.)
Pathway down from the castle
We went to the ship's tea around 3:20 and enjoyed the little sandwiches, sweets, scones and piano music. Snookums even drank her first pot of hot tea (apple and cinnamon). She doesn't really like hot drinks but thought that this was almost like hot cider. Snookums went to the 4:00 crafts session to make a lanyard for her sunglasses. She couldn't figure out how to finish it so she asked Charlotte to finish with her beading expertise and skill.
November 18 (Thursday, Day 24, Malaga, Spain) -
Today we docked at Malaga, Spain. We had breakfast around 9:30 and then walked outside to see the temperature in order to figure out what coats to wear for our day of walking around. We saw Gary and Charlotte sitting by the pool so we joined them and talked about plans for the day. Charlotte said her knee was bothering her and she had no intention of leaving the ship (she was beading, too, while outside by the pool). Gary didn't really know what he was going to do and Filbert wasn't too thrilled with climbing up another fort, cathedral, etc. Next thing we knew, it was 12:15 so Snookums realized that she wasn't going to get off the ship, either! Plus, the ship offered a $17 per person round-trip shuttle for the two to three miles from the ship to the city. Therefore, it was kind of easy to say "no thanks" and to not get off the ship. $17 for a couple of miles?!?! Surely a taxi would have cost less, but we didn't bother to find out. Rather than getting off the ship, Snookums ended up taking a 3-hour nap and Filbert read.
We spoke to a couple that didn't get their luggage in Athens (and only two of their four bags have reached them so far and they won't get their other two bags until back in the U.S.) and the man said that they've been on 108 cruises! They are probably in their 70s or so and Gary went over to talk to them to get the scoop. They've gone on a cruise every month or so since 1995. Wow! That's a bunch of cruises and Snookums and Filbert have a long way to go to match that number.


November 19 (Friday, Day 25, Cadiz, Spain) -
We got off the ship and walked around for three hours. We were in Cadiz in 2005. Filbert remembered it but Snookums did not. Its population is around 125,000 and it is an island. It is full of beautiful cathedrals and buildings. We walked through the central market and saw HUGE lobsters and lots of sausages for sale.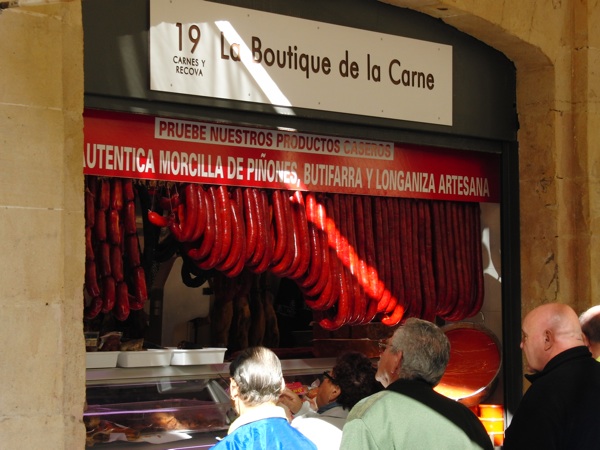 La Boutique de la Carne
Jerez, famous for its sherry bodegas, is 22 miles away. Therefore, we had to buy some sherry for a Christmas present along with some Andalucian mackerel and sangria. We also bought some Caffeine Free Coke Zero for Filbert at Carrefour (a French chain supermarket). We haven't even seen that variety of Coke Zero in the U.S. We also saw the largest ham selection we've seen to-date. By the time we got back to the ship around 1 PM, it was probably in the mid-60s and very sunny.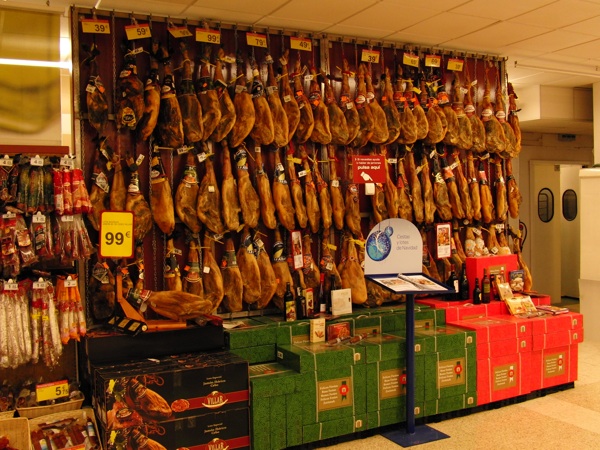 Ham
After lunch Snookums watched two movies (The Rainmaker and Searching for Bobby Fischer) while Filbert read on the shady balcony while wearing two jackets.
November 19 (Friday, Day 25, Cadiz, Spain) -
Filbert ate breakfast while Snookums read in bed. She ultimately decided to get up and went to the gym. After lunch outside on the back of the ship, Filbert read on the balcony, with his back to the sun, while Snookums read at various locations around the ship. At 5 PM Snookums attended the Tom Cruise and Cameron Diaz movie, "Knight and Day". She was glad she didn't pay to see it. (But the ship's popcorn was very good!)
We turned our clocks back an hour before going to sleep which left us with five more hours to gain before docking in Ft. Lauderdale. No jetlag for us!
Next: Sledding down a hill!