The 2011 Ultimate Northern Discovery Cruise, part 8 of 9
Wednesday, December 21 2011 @ 11:56 AM CST
Contributed by:

filbert

Views: 2,548
The 29-Day Ultimate Northern Discovery Cruise, Holland America Eurodam
Text by Snookums, Pictures by Filbert
Part Eight
(Remember to click "read more" if you're looking at this from the main medary.com page to get the whole article!)
September 3 (Saturday, Day 27, Cruising Prince Christian Sound [Ikerasassuaq]) -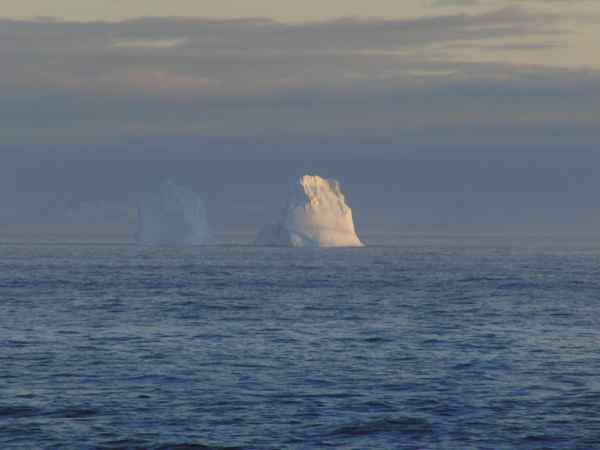 Early morning iceberg
We woke up at 5 AM since the captain said that we might see whales at the entrance to Prince Christian Sound (a channel off the coast of Greenland). Last year the ship saw 80 whales. It was cold and windy so we bundled up with all the layers we brought (including tights for under our pants). It took us several minutes and lots of stair walking to find a door open on the ship for us to get outside but we finally found one. The TV said that it was 48° and it felt colder due to the wind from the cruising of the ship. We stayed outside for about 45 minutes before calling it quits and going to breakfast.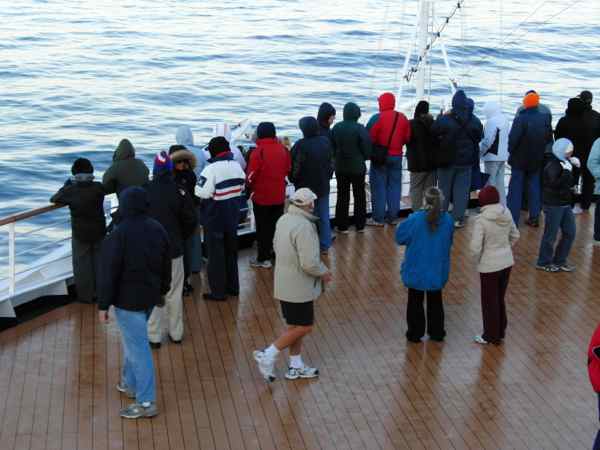 There's always one guy in shorts. No, it wasn't Filbert.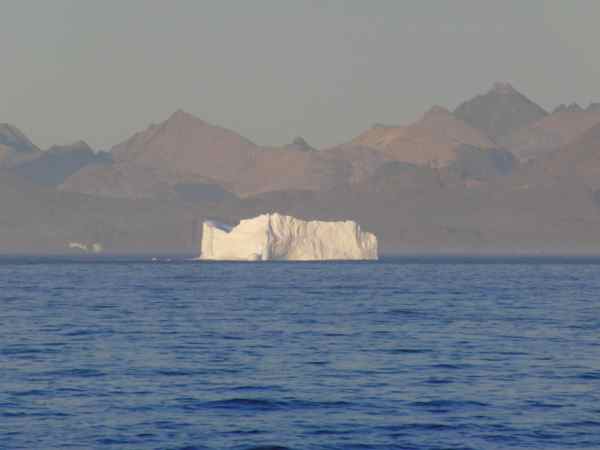 A rather larger iceberg
Snookums thought she was pretty warm but when she came inside and started taking off the layers, she got really, really chilled. After about an hour she decided to brave the cold again since Dutch split pea soup was being served on the outside decks. Nothing like eating split pea soup at 8:45 AM while surrounded by sheer rock cliffs and icebergs. From what Snookums could tell, Greenland is only green from the lichen growing on the rock. After the second time spent outside, Snookums decided that she had enough of the cold and crawled into bed and tried to get warm. Filbert finally convinced her to take a hot shower and that solved everything.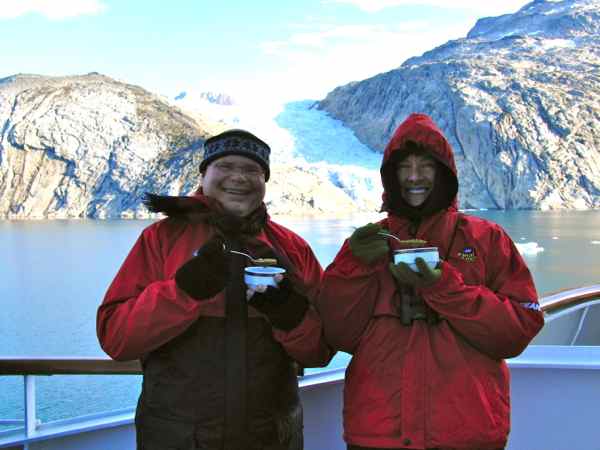 Dutch split pea soup. Yum.
We went to lunch and Lido was packed since there was a special fish bake by the pool but luckily we found Roger and Margaret and sat with them at a window table. We even saw a seal on a bergy bit (a very small iceberg), too. That was the first wildlife sighting on this entire cruise for us. The water during the entire day was extremely calm. The captain said that these were the best conditions he had ever witnessed in Prince Christian Sound. It was a bit cloudy, but very, very calm. The water was like glass and made for great photography conditions.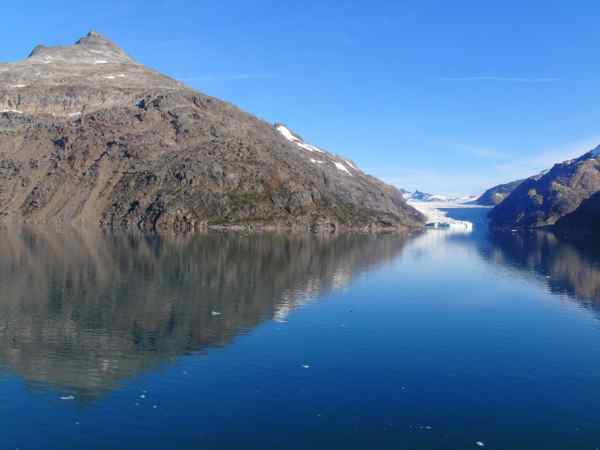 Water like glass. See? Told you so.
We went outside in the afternoon to see more of the scenic cruising and since glühwein (hot mulled wine) was being sold. Well, the daily program and the scenic cruising commentator said that glühwein was available. When we went to the outside deck, the bartender said it was all gone. It was 2:45 PM and it was supposed to be sold starting at 3 PM. Filbert said he would just have to go back to Prague to get some since it is sold on every corner in Prague in the fall.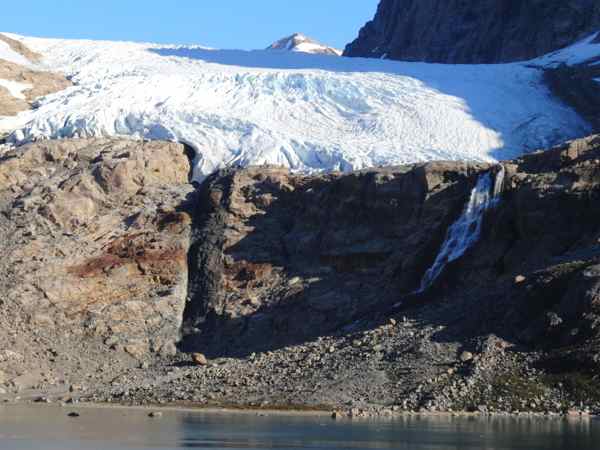 Greenland's melting ice cap. Of course, it WAS summer at the time . . .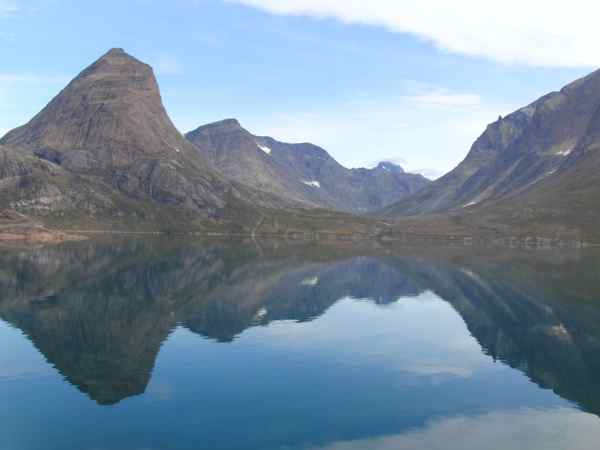 Did we mention the "water like glass" thing?
We went inside for a bit and then went outside one last time since the ship was going to stop at a settlement of 170 people called Aappilattoq. This is one of the most remote villages in Greenland and the people can walk no farther than 1 miles from the settlement without coming to a dead end of either ice cold water or the very steep rocky slope of a 3000-foot mountain. And, boats can only access this area between July and mid-September since icebergs fill up Prince Christian Sound and cut off that access route. Then only helicopters can be used. Our ship used a $500,000 fast rescue boat and the crew were wearing $2,000 survival suits in order to deliver pizzas and pasta to them! (We were told that a person would survive less than 30 seconds in the icy water without wearing a survival suit.) While the Eurodam was patiently waiting for the fast rescue boat and its crew to come back, three little motor boats from the settlement buzzed our ship and took pictures of us. One of the little motor boats had three young men in it that were just wearing sweatsuits and were standing up the entire time! Remember that a person would live no more than 30 seconds in the water. We don't know what these Greenlanders were thinking. It was interesting to see that they all had digital cameras and some of the pizza delivery crew noted that the villagers had iPhones, too. The villagers are listed in Greenland's phone book, too, on page 143. They generally live on seal and fish and there is no visible means of support. Maybe Denmark subsidizes them.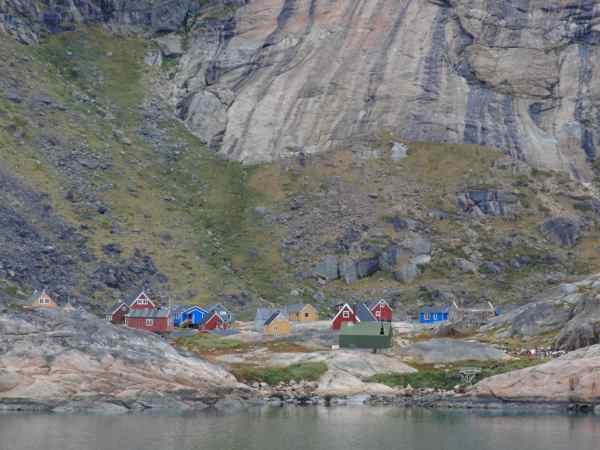 Aappilattoq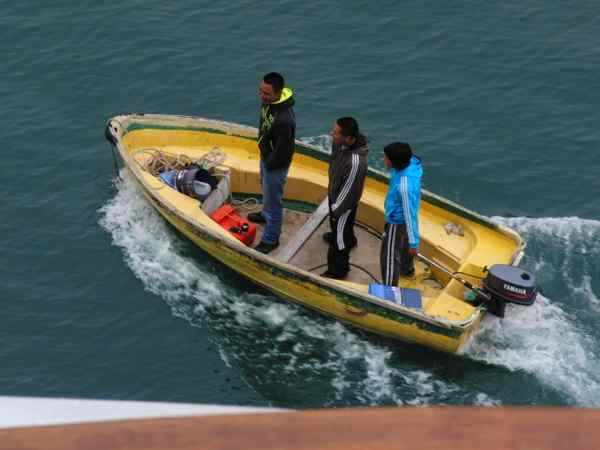 Local boys (showing off?)
When we got back to our cabin we didn't have any satellite TV. No big surprise since we were in the middle of nowhere. Snookums went to circuit training and worked up a good sweat. Then she went to the sauna to get even warmer.
We went to Crow's Nest prior to dinner to see if we could spot any whales. Right when we were leaving to return to our room Snookums saw some spouts. We ended up seeing five or six whales and their spouts but never really saw any fins. But, about 20 people in Crow's Nest saw the spouts, too, after we yelled, "Whales" so that was good. They were probably minke whales. It was a good day, but scenic cruising in Alaska is a lot more interesting since there is more wildlife, more glaciers and more vegetation. However, Greenland is different in that we saw lots of big icebergs in the Atlantic and NOT just near the glaciers. (In Alaska we only saw icebergs near the glaciers. In Greenland we saw them IN the Atlantic.)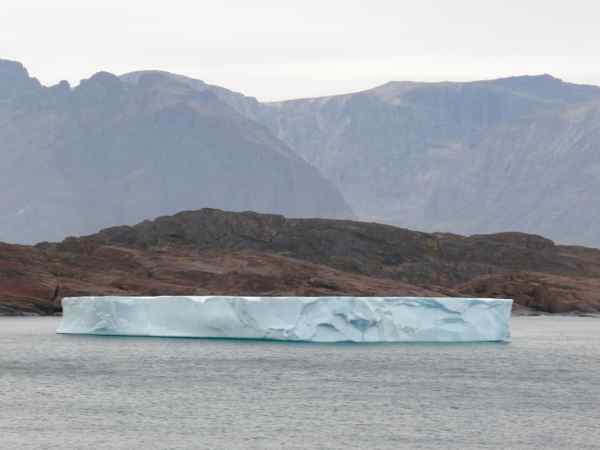 Really quite impressively large iceberg