The 2011 Ultimate Northern Discovery Cruise, part 4 of 9
Tuesday, December 13 2011 @ 11:39 AM CST
Contributed by:

filbert

Views: 2,736
The 29-Day Ultimate Northern Discovery Cruise, Holland America Eurodam
Text by Snookums, Pictures by Filbert
Part Four
(Remember to click "read more" if you're looking at this from the main medary.com page to get the whole article!)
August 18 (Thursday, Day 11, St. Petersburg, Russia; 1 ruble = $0.03; $1 = $29.14 ruble) -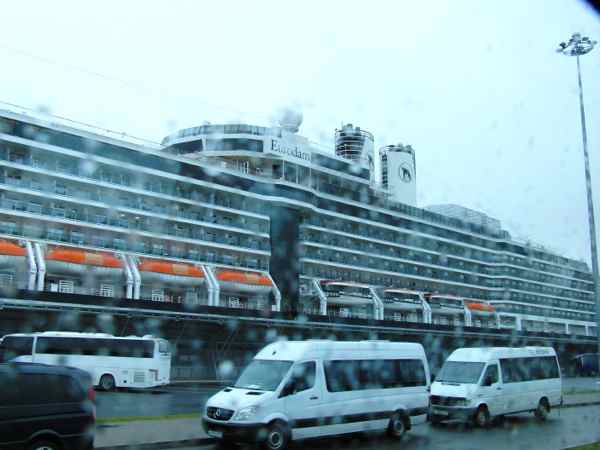 Eurodam, rain, St. Petersburg
Snookums arranged to take a tour with an independent tour company. We normally don't like tours, but Russia requires a $250 visa unless you are with a tour group and then you don't need a visa. So, we signed up for a two-day St. Petersburg tour for $256 with http://st-petersburg-tours.ru/. (The ship was charging $400 for the same thing and took people in big buses. Our tour group was limited to 16 people.) Our tour guide was Olga and our driver was Leonodis. Olga's English was excellent and she frequently used idioms and made jokes. She didn't even have a heavy accent. She studied linguistics in college and teaches during the winter when there aren't tourists.
It was raining most of the day but wasn't too cold so we all managed to still have a decent time. We started at 7:45 with a city tour with a few photo stops in the rain, including St. Nicholas Cathedral. Then we took a hydrofoil to Peterhof. Peterhof was the summer palace of Peter the Great. During our 30-minute hydrofoil ride, we couldn't see anything due to the rain so that was a bummer. We got to Peterhof and waited until 11 AM to see the fountains come to life. Even in the rain it was neat since Russian music played. We toured Fountain Park (Peterhof's gardens) for about an hour and then we went to lunch.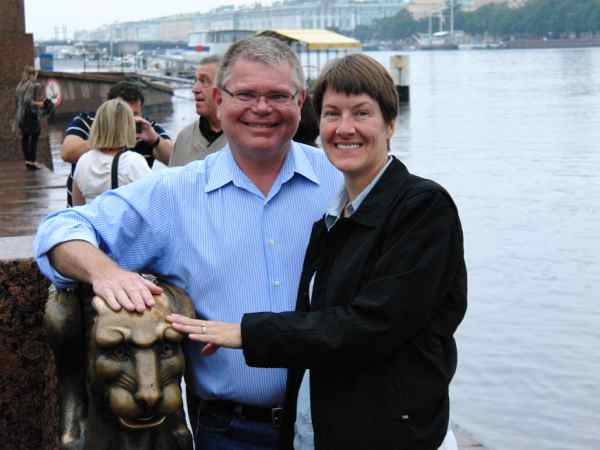 Statue-petting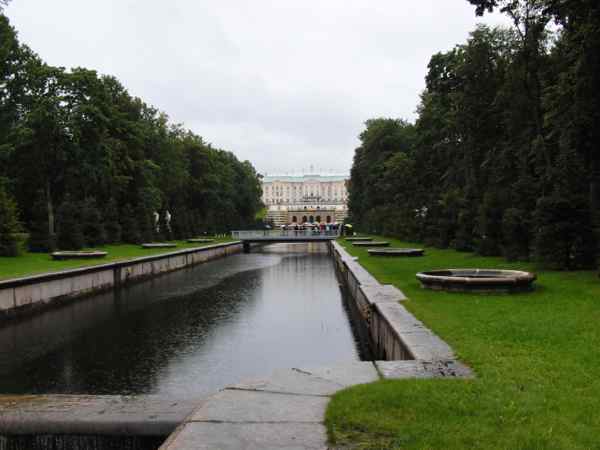 Peterhof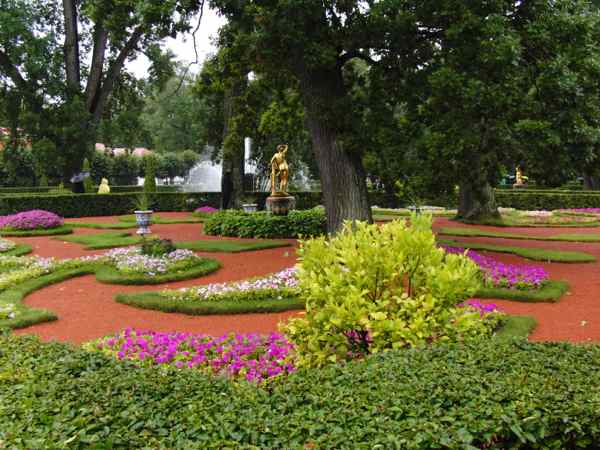 The gardens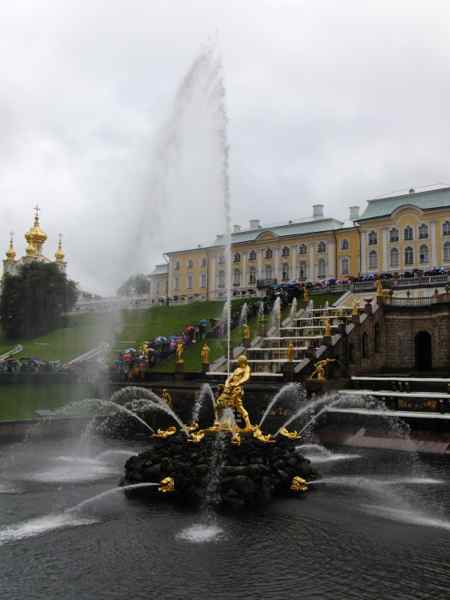 The fountains
unch was at a restaurant and consisted of a tossed salad, borscht, two crepes that contained ground meat and a scoop of vanilla ice cream with strawberry sauce. There was also a plate of white and brown bread slices. We ate it all.
The group got back on the minibus and headed for Tsars' Village. Then we had an inside tour of Catherine's Palace with its famous room completely covered in amber (the "Amber Room" – no photos allowed). Snookums was in St. Petersburg around 20 years ago and visited Catherine's Palace. At that time every tourist had to put handmade wool booties over his/her shoes in order to protect the marble inlaid floors. The wool booties were all different sizes and most of them had holes in them and barely stayed on the shoes. Russia has modernized and now every tourist is given disposable surgical booties to wear.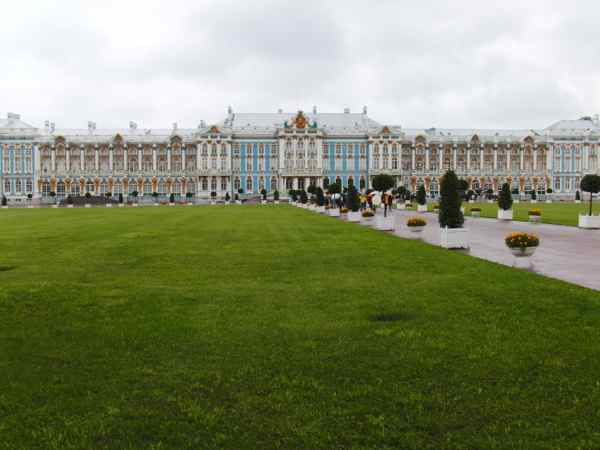 Outside Catherine's Palace
Catherine's Palace is a Russian baroque-style structure built in the first part of the 18th century. It was rebuilt by Rastrelli and is now a showcase for period art, architecture and landscaping. It looked a lot like Versailles.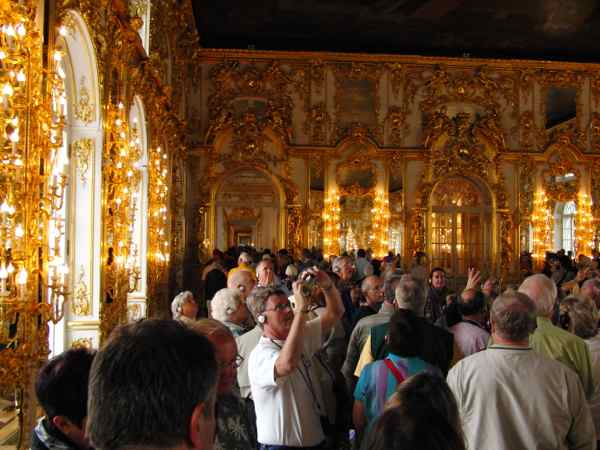 Inside Catherine's Palace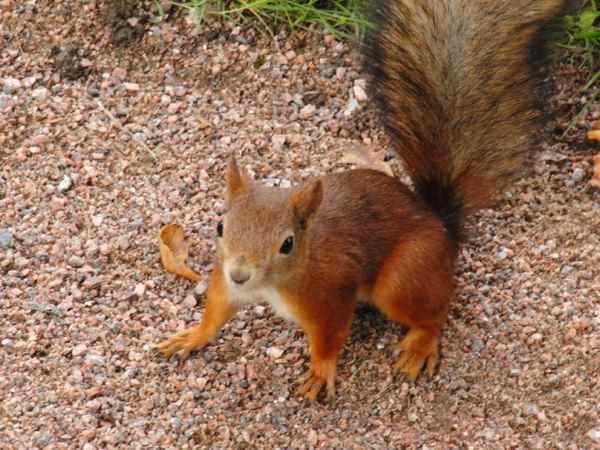 Squirrel, outside Catherine's Palace
After touring Catherine's Palace we drove to St Isaac's Cathedral and toured it. St. Isaac's Cathedral is St. Petersburg's most famous church and is one of the world's largest domed structures. It is decorated with Russian mosaics.
By now Filbert and Snookums were getting kind of tired of touring fabulous palaces and churches but there was still one more to see today and it was the best of all. By now it had stopped raining which was perfect timing. The minibus pulled up to the Church of Our Savior on the Spilled Blood and everyone went "Wow". When Snookums was last here, she bought a painting of this church since it was so beautiful and it hangs on her home office wall. At that time, her tour group only saw the outside of it. This time the tour group went inside, too, since it was renovated and open to the public in 1997.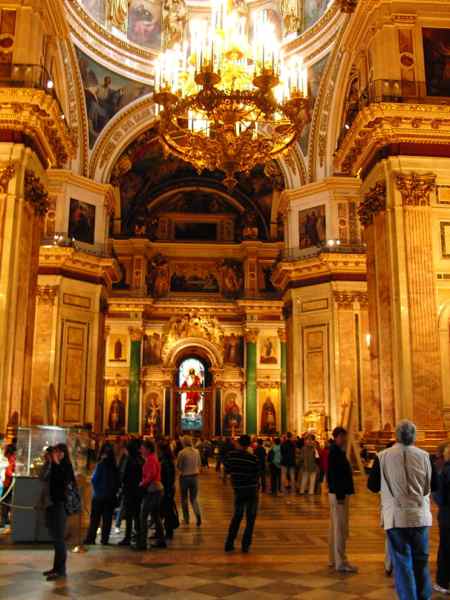 St. Issac's Cathedral, interior
The Church of Our Savior on the Spilled Blood has a bunch of onion domes on it that are bright gold or striped. The inside is even more spectacular than the outside. It is modeled after Moscow's distinctive St. Basil's Cathedral and is a museum of Russian mosaics. After this we got back to the ship around 6:45. Traffic was exceptionally bad since the Russian president was in town and many streets were closed. It was a full, tiring and wet day but a good introduction to St. Petersburg.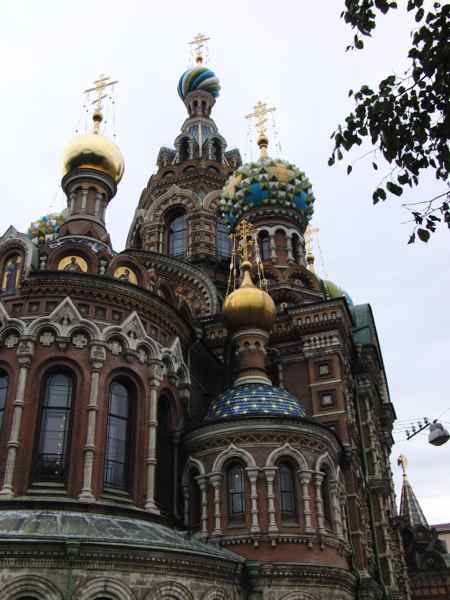 Church of Our Savior on the Spilled Blood, exterior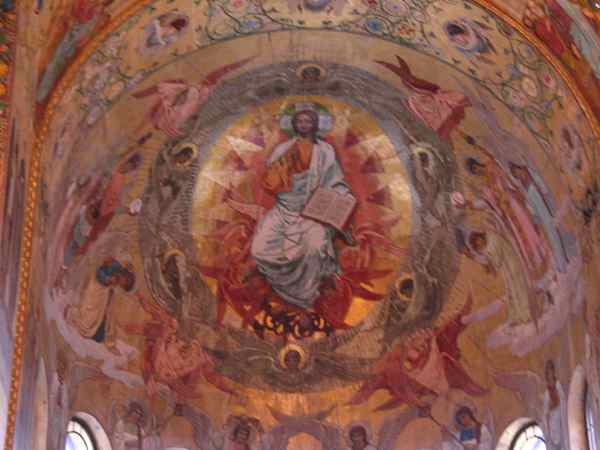 Church of Our Savior on the Spilled Blood, interior
It was around 7:30 by the time we cleaned up a bit which was perfect timing for dinner. Gary and Charlotte were there and so was Roger. Margaret attended a ballet in St. Petersburg so she wasn't at dinner. We were all very hungry and ate a lot.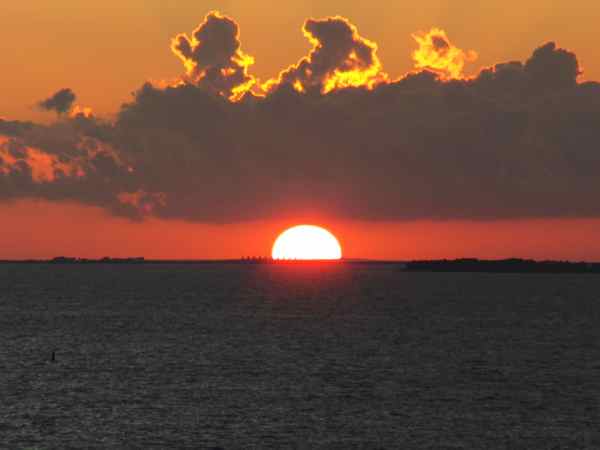 St. Petersburg Sundown