The 2011 Ultimate Northern Discovery Cruise, part 3 of 9
Sunday, December 11 2011 @ 11:35 AM CST
Contributed by:

filbert

Views: 5,695
The 29-Day Ultimate Northern Discovery Cruise, Holland America Eurodam
Text by Snookums, Pictures by Filbert
Part Three
(Remember to click "read more" if you're looking at this from the main medary.com page to get the whole article!)
August 16 (Tuesday, Day 9, Cruising the Baltic Sea) -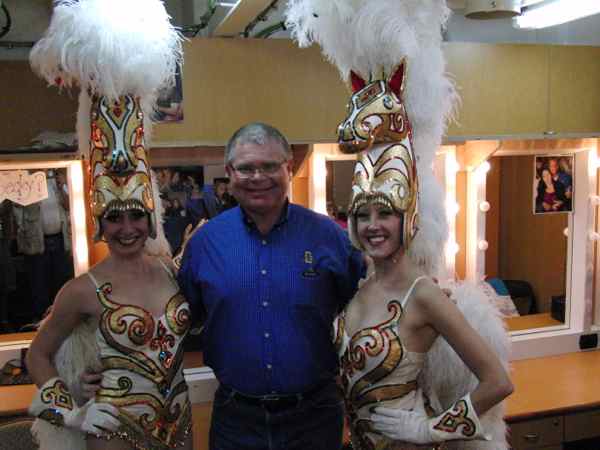 Show girls
Snookums woke at 7:15 and hustled to the 7:30 fitness class. Only one other person was there and the fitness instructor went ahead and held it. Snookums was on cruises before where the policy was that at least three people had to show up for a class to be held. Snookums is very impressed with this cruise so far. It was another 30 minutes of good torture and during the class Snookums found out that the instructor is from Zimbabwe and played professional rugby in Zimbabwe and in South Africa. Then he decided that his body couldn't take the punishment anymore and he got a degree in Exercise Science before training various Olympic athletes. Now he's on a cruise ship training non-Olympic athletes! After the 30-minute class she used the elliptical for 30 minutes and was sweating through her gray T-shirt by the time she was done. When she returned to the room after a quick breakfast, Filbert was just finishing his birthday breakfast of a ham and cheese omelet. He has been eating his high protein/low calorie for breakfast every day but since today is his 52nd birthday, he treated himself. He was also watching RedEye on Fox News. It's one of his favorite shows and is shown at 2 AM at home. However, with the time change, it's on in the morning. So, he was eating his birthday breakfast while watching one of his favorite shows and was very happy.
After Snookums took her shower, she fell asleep. When Housekeeping came in to clean the room, she went to the poolside sale of ½ price Baltic apparel and bought a Holland America polo shirt. Then she went to lunch and had a self-made taco salad. After lunch she went to the regular ship's store and was actually impressed by what was for sale. She didn't buy anything, but might have if the items were in her size. The good news about being on a repositioning cruise is that a lot of the merchandise is on sale so that they have room for the new inventory that fits the other cruise destinations but the bad news is that they are out of a lot of the merchandise.
Filbert went to a 3-hour $150 tour of the engine room and bridge. This is the first time on any of our cruises that Holland America offered this type of tour. Gary, being the retired Navy Lt. Commander that he is, joined it, too.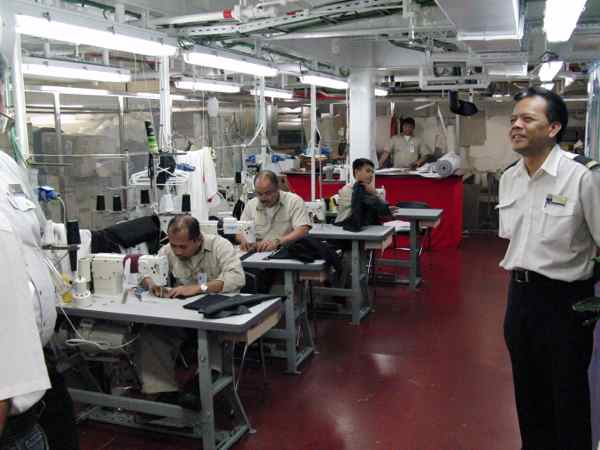 Tailors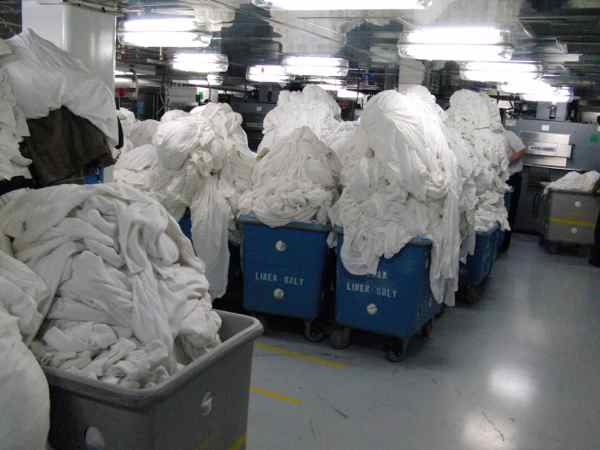 Laundry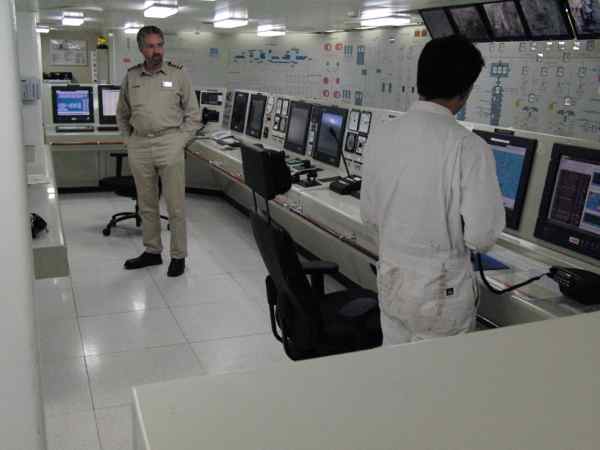 Engineering control room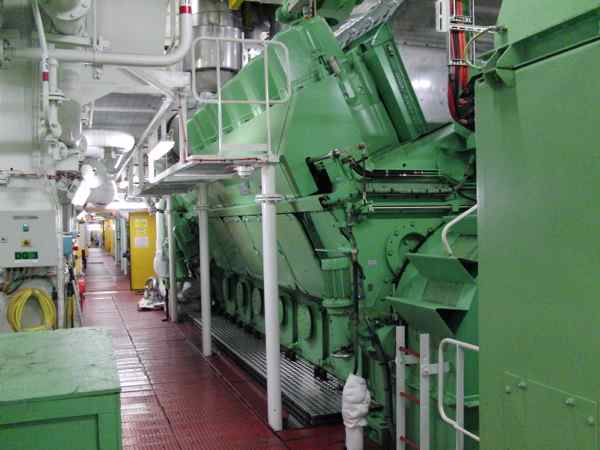 Engine room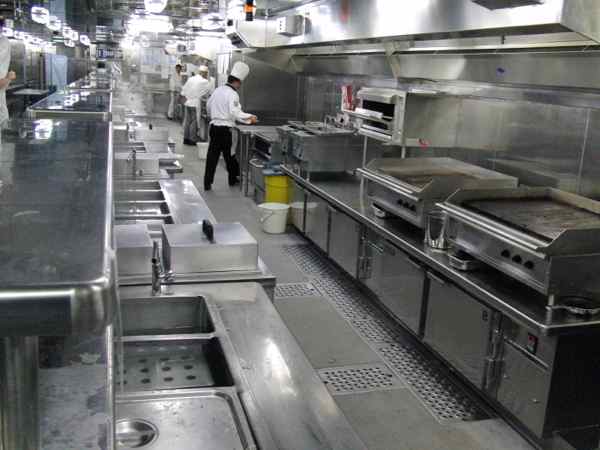 Galley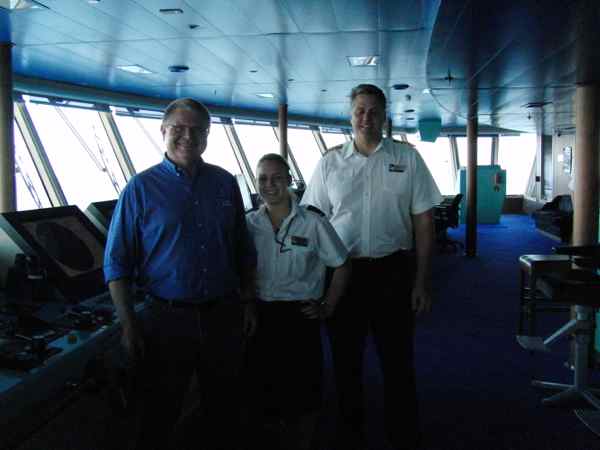 Bridge
During the afternoon Snookums finally wrote nine days of the journal. Filbert came back from the 3-hour tour at 5:30 (3 ½ hours!) and said that it was a tour of the entire ship – galley and galley store rooms, backstage, bridge, engine room, laundry, trash, and other places. Only six men signed up. Holland America didn't do a very good job of describing it since women would have signed up if they knew it was a whole-ship tour and not just the engine room and bridge. He came back with a Holland America tote bag filled with all of the dinner menus, a set of six Holland America shot glasses, a Eurodam pin and a Holland America "behind the scenes" paperback book. He had a great time and the tour ended in the Crow's Nest with free drinks for all. He enjoyed two beers. The guys were also treated to fruit skewers and champagne during the galley tour. They were also told that the current cruise has 2100 passengers on it (and 300 of these are from Australia) and 370 people will continue on from Dover to New York (like we'll do). The Dover to New York segment will have around 1900 passengers on it. They also learned that there are three full-time tailors on board in the laundry and ALL the uniforms worn by the crew are made by these three people. Stewards get measured before getting on the ship and when they board, their uniforms are waiting for them.
Snookums spent some time on the balcony since it was sunny and in the low 70s. Today was a gorgeous day at sea and the crew said that it was one of the first nice days in the Baltic they've had in several weeks. We've been pretty lucky so far with the weather ever since we landed in London. Most days have been cloudy but we only needed our umbrellas one time in London and that was for about 10 minutes. The temperatures have been in the mid-60s and jackets have been sufficient.
Dinner was fun. Gary and Charlotte gave Filbert a birthday card and a bottle of beer in a decorated paper bag. Gary used all four of his highlighters to decorate the bag. After dinner Filbert was given a birthday cake and the crew sang to him. He requested the Indonesian version of "Happy Birthday" and he got it! And the cake was delicious, in addition to the desserts that we ordered from the menu.
August 17 (Wednesday, Day 10, Tallinn, Estonia; €1 = $1.43; $1 = €0.70) -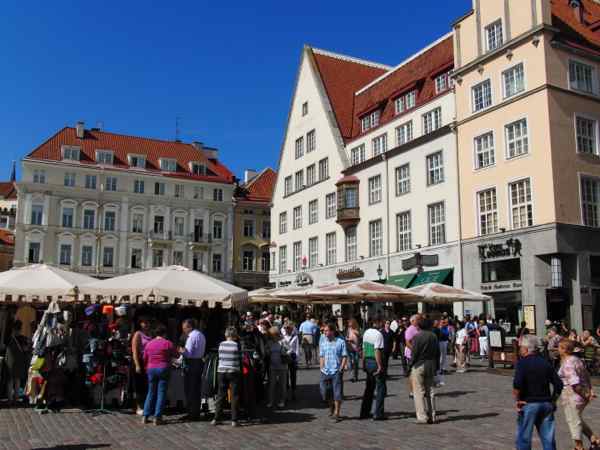 Tallinn city square
We left the ship around 10:45 and walked into Tallinn. From our balcony we could see Old Town with its many spires and onion domes. It looked beautiful from our balcony and we were not disappointed when we got there. We stopped at a few souvenir stores searching for the perfect painting for our travel wall. After seeing lots of identical items, we finally found a store selling unique paintings and bought a tiny framed painting of Viru Gate for €5. Now we had to find Viru Gate for ourselves.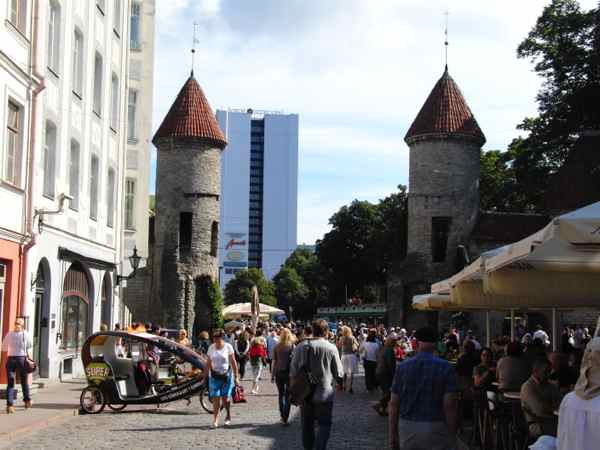 Viru Gate
We wandered around the many cobblestone streets and saw lots of sights, including Holy Spirit Church with its beautiful clock, St. Olaf's Church with its 400-foot high tower (and it used to be Europe's tallest church), Alexander Nevsky Cathedral with its many onion domes and Fat Margaret Tower. Snookums saw a babushka (an elderly woman) silently standing near a street corner holding baby booties and realized that she was trying to sell them. She didn't buy any but gave the woman €2 and got a huge toothless grin in exchange.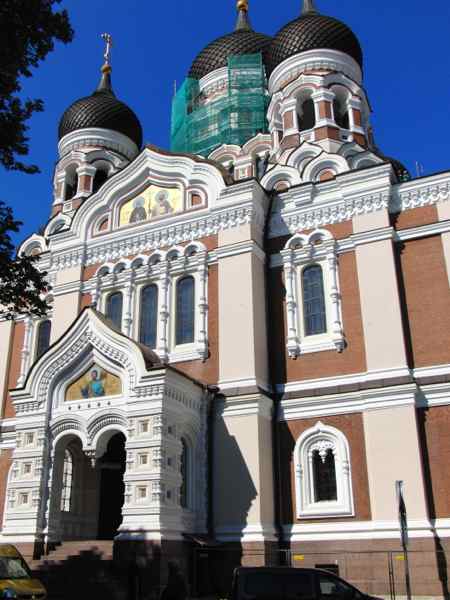 Alexander Nevsky Cathedral
Lots of people were congregating on the square in front of Jaani Church. Snookums asked a military guy what was going on and was told that the Dalai Lama was going to speak at 2:00. We walked around some more and at 1:50 walked to the top of the hill above the stage and sat on a bench and decided to only wait until 2:15. At 2:15 we got up to leave and wandered over to the edge of the hill and that's when the Dalai Lama was escorted to the stage. We DID see him and then left and continued our sightseeing! Snookums doesn't think any of our friends can say that they've seen the Dalai Lama in Tallinn, much less seen the Dalai Lama.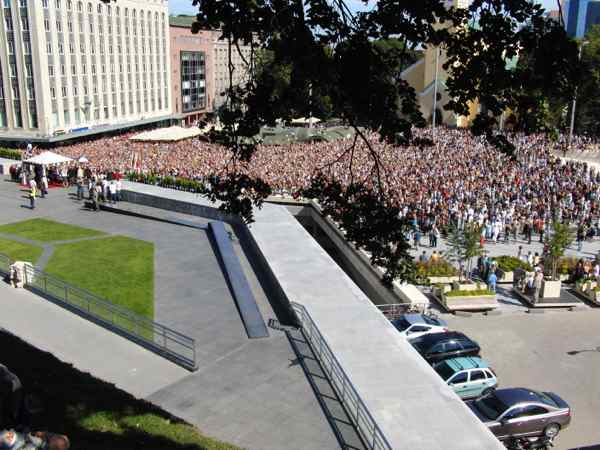 Dalai Lama pep rally
On the way back to the ship we stopped at what seemed like the world's largest liquor store. People were pushing shopping carts around and they had rolling suitcases and collapsible luggage carts in their carts in order to tote their purchases home. We only had the shopping bags that we always carry with us so we couldn't buy too much. Filbert picked out 15 cans of Estonian and Russian beer and cider (and many were actual U.S. pints) and six 2-liter bottles of Coke Zero and "only" spent $35. The cashier asked where we were from and when we said the U.S., he said "God Bless America"! That was totally unexpected, but very nice. Estonia is by far the cheapest country we've visited so far but the cars and people look wealthy and healthy.
We walked back to the ship (Filbert carried the six 2-liter bottles of Coke Zero and was sore the next day!) and on the way passed a sidewalk café where "Russian" music was playing. Two middle-aged men, just café customers, were dancing, arm in arm. One of them didn't even have his shirt on, and he should have, but it seemed like a typical folk-type dance and it was neat.
Tonight was formal night and we ate at Lido since we didn't dress up. Clocks were turned forward so it was an early night for everyone since St. Petersburg's tours were going to start early on Thursday.