The 2011 Ultimate Northern Discovery Cruise, part 2 of 9
Friday, December 09 2011 @ 11:31 AM CST
Contributed by:

filbert

Views: 3,594
The 29-Day Ultimate Northern Discovery Cruise, Holland America Eurodam
Text by Snookums, Pictures by Filbert
Part Two
(Remember to click "read more" if you're looking at this from the main medary.com page to get the whole article!)
August 12 (Friday, Day 5, Boarding ms Eurodam in Dover, England) -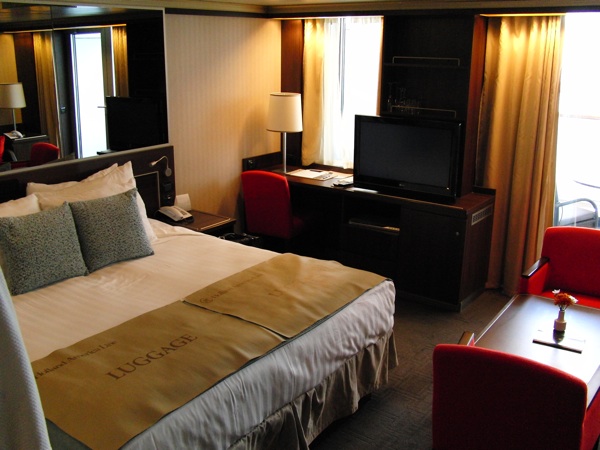 Suite, sweet suite
We woke up, packed what little we had in the roll-aboard and enjoyed our last full English breakfast. We took the tube to the coach station in order to take the coach (i.e. a Greyhound bus) to Dover for $14 per person. (Holland America's charter bus was $70 per person.) During the 2.5-hour ride we went through various parts of London that had shops with boarded up windows from the riots. We also stopped in three towns, including Canterbury. Most of the people on the coach got off at Canterbury. The people left were going to the cruise ship. The coach was supposed to drop us off in "downtown" Dover, but the driver realized that all of the passengers were cruise ship passengers so he took us directly to the ship. That saved a cab ride and got us there faster. Due to all of the Holland America cruises we've taken, we are 4-star Mariners so we get priority embarkation. We zipped through the line and boarded the ship and by 12:15 we were in our category SS Superior Verandah Suite, 6068. (We didn't get an upgrade.) Our cabin is 398 square feet with a verandah. The bathroom has two sinks, a full-size whirlpool tub/shower and a square stand-alone shower. The room has a king bed, 8-foot sofa, two armchairs and a desk chair. The verandah comfortably holds a round table with two chairs and also has two larger chairs, a footstool and a side table.
Our luggage wasn't in the cabin yet so we decided to go to lunch. After lunch we took a self-guided tour of the ms Eurodam. It's the biggest Holland America ship we've been on. It holds 2,100 guests, 800 crew and has 11 decks.
We returned to our cabin around 2 and our luggage was there. (Thanks a lot, Gary and Charlotte!) We were 99% unpacked by the time we had to attend the 4:15 safety drill.
We finished unpacking and enjoyed a little quiet time before dinner. This seemed like the first time that we had been able to totally relax since before we left KC. Dinner was at Pinnacle Grill. Pinnacle Grill is the $20 per person steakhouse but we got it free due to using a certain credit card to book our cruise. Filbert and Snookums have never had good experiences at Pinnacle Grill, but since it was free, we went. We were absolutely stunned by the great service and outstanding food. Filbert had the surf and turf and his two 6-inch prawns were huge. Snookums had the turkey and chicken kebob and it was good. The star of the night, though, was the homemade raspberry cheesecake. Snookums isn't even a cheesecake fan but when she saw this at another table, she ordered it (along with her usual Pinnacle Grill order of Ben & Jerry's Cherry Garcia baked Alaska). Both Snookums and Filbert thought it was outstanding and can't wait for their next Pinnacle Grill dinner on September 4. (The September 4 dinner will be free, too, and will be explained in the September 4 entry.)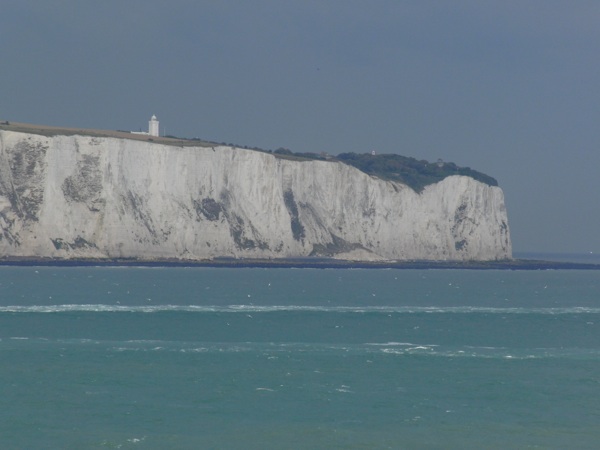 Dover, white cliffs of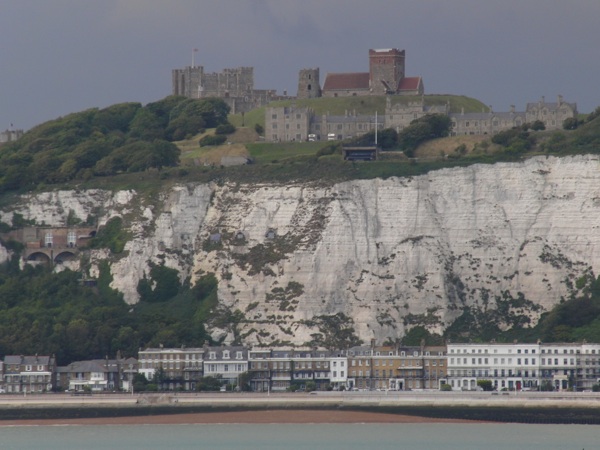 Dover Castle on top of the cliffs
The ship's captain is Captain Darin Bowland from Canada. He seems very personable and his great attitude seems to be permeating the staff and the entire ship. We're very happy and have no complaints.
August 13 (Saturday, Day 6, Cruising the North Sea) -
Filbert set his alarm for 6 AM. He went to the gym and rode the bike and lifted some weights while Snookums slept until 10 AM. Snookums showered and then napped until lunch. After lunch she read her book and napped some more. Filbert did the same.
We ordered room service for an afternoon snack and enjoyed the shrimp cocktail and cheese plate. Dinner was formal since it was the welcome aboard event. The four of us wore our Holland America medals that we got several cruises ago for cruising 100 days. We figured that we have them so we might as well show them off! Dinner was in the Rembrandt restaurant and we met our other table-mates. We had a table for six and met Roger and Margaret and hit it right off. They live in Australia and Roger is British and Margaret was born in the Filbertippines and came to the U.S. when she was 12. She has an American passport and he has a British one. Their three grown children each have three passports!
We set our clocks forward and went to sleep. It wasn't a tiring day, but we were very tired. Sea days are hard.
August 14 (Sunday, Day 7, Copenhagen, Denmark; 1 DKK = $0.19; $1 = 5.21 DKK) -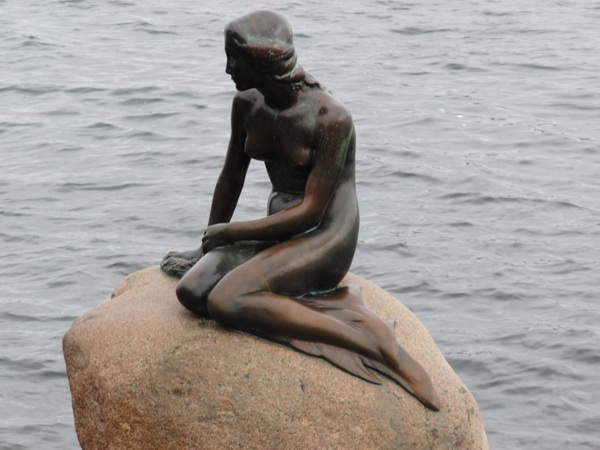 The Little Mermaid
Snookums woke up early and attended the 7:30 AM Total Body Conditioning class. It was 30 minutes of hard work and she sweat a lot and was pooped. It was the hardest shipboard workout class she had ever had. She commented that she was disappointed that there weren't any free classes on August 13 since they weren't listed in the daily program (but were listed in the fitness class schedule that she picked up at the gym the first day) and the instructor told her to go by the fitness class schedule and not what's in the daily program. After a leisurely breakfast of oatmeal and Holland America's delicious raisin rolls, it was time to get ready since we were meeting Gary and Charlotte at 10 AM.
It was around 63 degrees and the day looked like it was going to rain so we packed Snookums's backpack accordingly. We were warned that a major triathlon was happening in Copenhagen and that some of the streets would be closed. We decided to do the hop-on/hop-off bus anyway and bought a combination ticket for the bus routes and a canal cruise ($33 per person for the combo ticket). It took about 40 minutes for the bus to actually leave and when it did, the narration didn't match the sights at all since the driver had to drive on different streets. Then the bus stopped and we thought it was just a normal stop. After about 10 minutes the driver announced that everyone had to get off and walk two blocks to board the other bus. We didn't understand it, but we all got off. The other bus was fully packed (just like the one we got off) and Filbert and Snookums decided to just walk around. Gary and Charlotte boarded another bus and headed back to the ship. Filbert and Snookums went to the Info Center and found out where the canal cruises boarded and also found the location of a grocery store.
As the day went on, the weather improved and the day turned into a sunny, beautiful day. We walked to the canal cruise and in the process saw some sights, like Tivoli Gardens, the 100-year old amusement park. We also walked the entire length of Stroget, the pedestrian-only shopping street. Since it was Sunday not all of the stores were open. The cheap stores were open, but the fancy ones were not. And, the cheap stores were on one end and the ritzy stores were on the other end.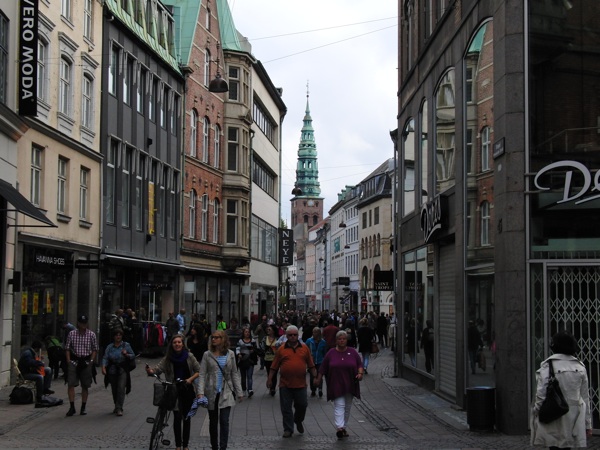 Stroget
We got to the canal cruise place and got on a boat. 10 minutes later Gary showed up and joined us! We all enjoyed the hour-long canal cruise and saw a lot of the triathletes. We think we saw the male leader two different times while he was running and we think we saw the female leader one time. Each one had a police escort while the other participants did not.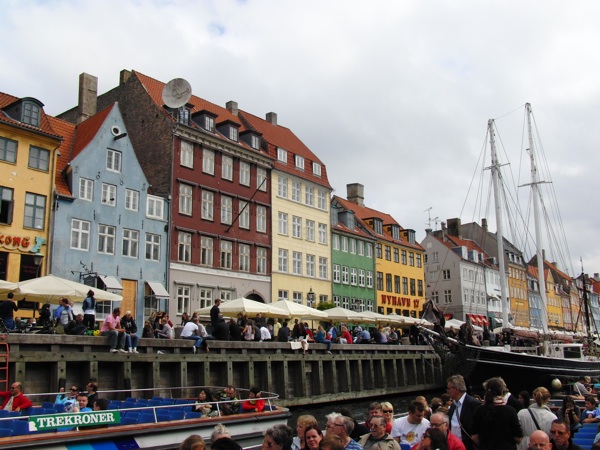 Canal boat, departing
After the canal cruise we walked back to the ship and stopped in the grocery store. Filbert bought $5 1.5 liter bottles of Coke Zero and three different cans of $2.00 Dansk beer. Denmark is ridiculously expensive. We also stopped in a bakery and Filbert told Snookums that she had to buy a Danish but we didn't see anything that looked like our idea of a Danish. We bought a $5 flat round roll with melted cheese on it, similar to what all of the German bakeries sell for $1.50.
We continued walking back to the ship and saw the famous statue, "The Little Mermaid". As soon as we boarded the ship, we went for lunch since it was 2 PM or so. The triathletes were running right by the ship so that was neat to watch while eating lunch.
More reading and afternoon napping occurred before having dinner with the gang.
August 15 (Monday, Day 8, Warnemunde, Germany; €1 = $1.43; $1 = €0.70) -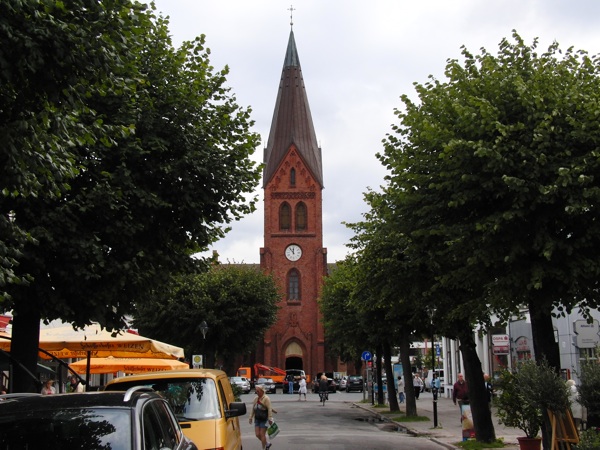 Warnemunde
Snookums woke up first and showered and had breakfast. She came back to the room and Filbert had just woken up. He showered but didn't eat breakfast and we walked around Warnemunde. It is a resort town and is known for its seaside beaches. Many fishing boats were moored in the Alte Strom. We were there too late to see any of the fresh catch being sold, but the many fish restaurants were doing brisk business selling the various fish that each restaurant smoked.
Snookums had to go to the bathroom and used one of the €0.50 units near the beach. It was clean and had a sink and a hand dryer, but it was small. Much to Snookums's chagrin, Europeans charge for toilets and don't serve tap water. But she knows this and deals with it (sort of).
We walked to the grocery store and bought liter bottles of Coke Zero for $1.30 and wanted to buy cans of beer, but the grocery store only sold bottles. Snookums visited two different bakeries and bought a $1.90 cherry "Danish" at one of them. Filbert bought a $2.85 Rostock bratwurst on a hard roll and enjoyed it. It was very mild, though. It's interesting how every German town/area has its own wurst or mustard and they really are all different. Our favorite remains the Nuremberg sausages that we had in June.
On the way back to the ship we stopped at the souvenir store by the train station since it had cans of German beer. Filbert bought seven ½ liter cans for $15.
After lunch on the ship, from our balcony we watched the Indonesian crew members participate in potato sack races and other games in honor of Indonesia's independence day (officially on August 17). After that naps were in order so as to prepare for the evening's festivities. The local brass band played for at least two hours next to the Lido pool and the kitchen staff transformed the pool deck into a beer garden. Three different wursts, various German mustards (including the famous sweet Regensburg mustard that we had in June on our Danube River cruise) and other German foods were served buffet style. There was roast pig, too, and at least two of them were consumed during the evening since we saw one of the chefs bring a new one out midway through the night. We stayed from 7 PM until the mosquitoes started biting around 9 PM. Filbert enjoyed drinking his own German beer while other cruisers bought the ship's German beer.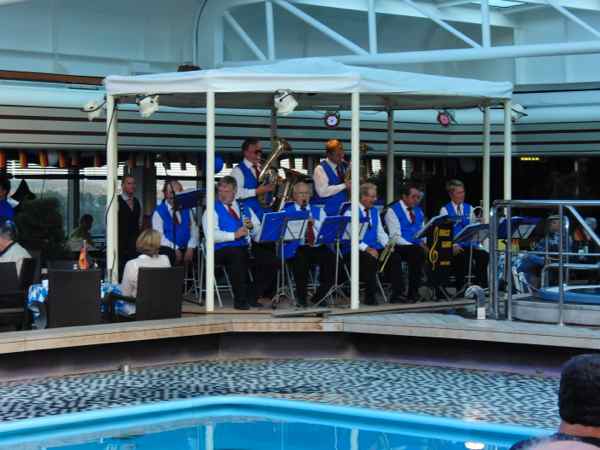 Oktoberfest at sea
When we got back to the cabin we realized that live Premier League soccer was on ESPN. Snookums called Gary and Roger's cabins to tell them since they are both soccer buffs. We saw Manchester City beat Swansea 4-0.