The 2011 Ultimate Northern Discovery Cruise, part 1 of 9
Friday, December 09 2011 @ 11:22 AM CST
Contributed by:

filbert

Views: 3,042
The 29-Day Ultimate Northern Discovery Cruise (from Holland America)

The Holland America Eurodam (from Holland America)
The 29-Day Ultimate Northern Discovery Cruise, Holland America Eurodam
Text by Snookums, Pictures by Filbert
Part One
(Remember to click "read more" if you're looking at this from the main medary.com page to get the whole article!)
August 8 (Monday, Day 1, Flying to London, England) -
We arrived at KCI just fine and found out that the flight to Chicago was delayed. We went to the American Airlines lounge and enjoyed the free sodas and chips. The receptionist made an announcement that the flight was boarding so the lounge emptied out but the gate agent then said that O'Hare was in a ground stop so we wouldn't board for another 30 minutes. Back to the lounge we went. We weren't worried since we had a 2-hour layover in Chicago. We finally boarded the flight and landed in Chicago and enjoyed 20 minutes at the O'Hare Admirals Lounge – just long enough to use nice bathrooms and get a quick snack. We boarded the 9:45 PM flight to London's Heathrow and settled in for the 7 hour and 40 minute flight. Since we've traveled so much internationally, we didn't even think this duration as being a long. And, since we knew that dinner and breakfast were going to be served, we weren't sure there would even be time for a nap!
August 9 (Tuesday, Day 2, London, England; £1 = $1.63; $1 = £0.61) -
Dinner was served and Snookums watched a movie while Filbert read his book. At some point we both slept and woke up about one hour before breakfast was served. We got off the flight, collected our luggage and around noon we found the tube station.
We took the underground the whole way for £2.70 ($4.50) each. What a bargain. We were lugging two large rolling suitcases, a roll-aboard and a duffel bag and Filbert had his camera bag and backpack but we made it just fine and dandy. There was a high-speed train we could have taken, but it was around $30 per person and still required one transfer. The tube took about an hour.
Our hotel, Andaz (part of the Hyatt chain), was located next to the Liverpool Street Station. We were given a room right away and were told that we could upgrade for our last two nights if we wanted to. When we got to our room (which would have cost $382 using the cheapest rate we could find, but it was free due to using Hyatt points), we immediately decided to take them up on the free upgrade for our last two nights in London. The room was nice, but quite small.
The Andaz is known for its eclectic/boutique hotel design. It also gives everyone free internet, free local calls and free healthy mini bar snacks. These consisted of organic local juices (apple and pear), Coke and Diet Coke (in cute little glass bottles with lids that required openers), honey roasted peanuts, sugar cookies and chocolate covered nougat. Snookums wasn't sure how any of the food items could be considered healthy, but she emptied the mini bar of them and enjoyed them and left a note for the housekeeper to restock with more of them!
We unpacked a little bit and decided to walk around since we didn't want to sleep. We left the hotel at 3 PM and walked to Spitalfields Market. We each had a jerk chicken dinner ($105.0 each) from one of the various outside kiosks and it was very tasty and quite spicy. We got back to our hotel around 6 and went to the lobby a little while later to get the free wine and canapés that are available each night. Snookums called Gary and arranged our meeting place for tomorrow. We met Gary and his wife, Charlotte, on our 2008 67-day Asia/Australia cruise and have cruised with them several times since. This current cruise was their idea, too. They took Cunard's Queen Mary 2 from New York to Hamburg, Germany in early August rather than flying to London like we did. Anyway, we arranged our scheduled with them for Wednesday and watched BBC on TV about the London riots (not close to us).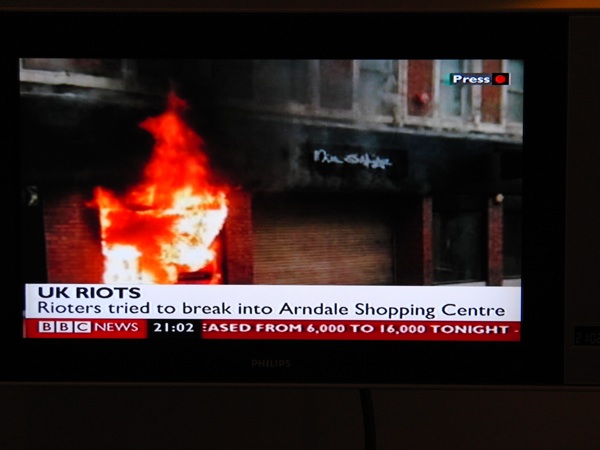 Anarchy in the UK
Somehow we managed to stay awake until 10 PM and both slept through the night.
August 10 (Wednesday, Day 3, London, England) -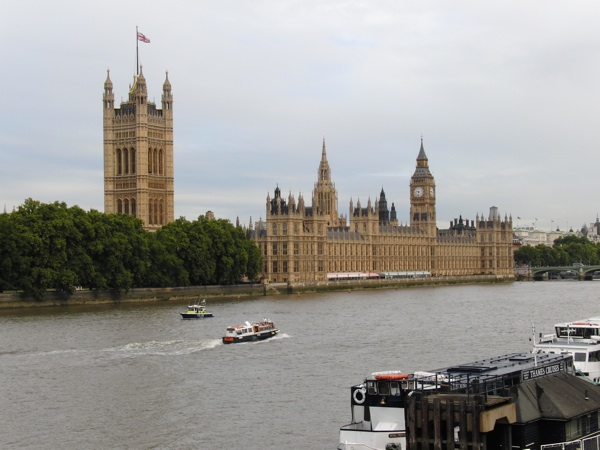 Westminster Palace
Filbert and Snookums enjoyed the $36 full English breakfast for free due to Snookums's Hyatt Diamond status. The English bacon was very salty like country ham. Neither of us had the baked beans, but the broiled tomatoes and mushrooms were good.
We took the tube to meet Gary and Charlotte at 9 AM by Speakers' Corner. We noticed that the Lamborghini showroom was empty since the cars were removed in case the riots came to central London. We had decided to spend Wednesday on the hop on/hop off bus. We rode it until 2 PM. The traffic really started getting bad around noon and we were going to get off at an upcoming stop. However that stop never seemed to come so we just jumped off when we couldn't stand it any more. We found a little restaurant/pub and all ordered fish and chips for lunch. Then we walked to the River Thames boarding point (Tower Pier) for the river cruise.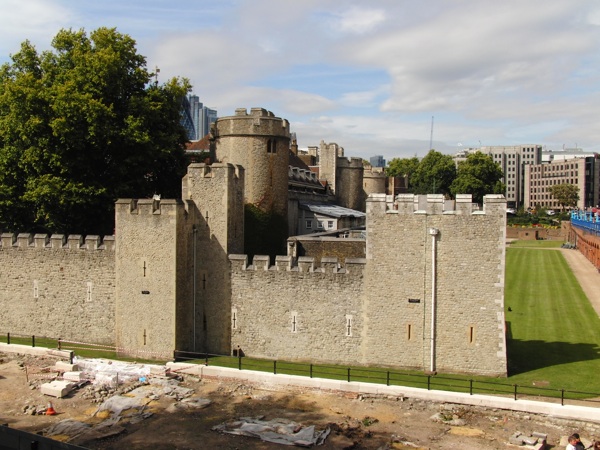 Tower of London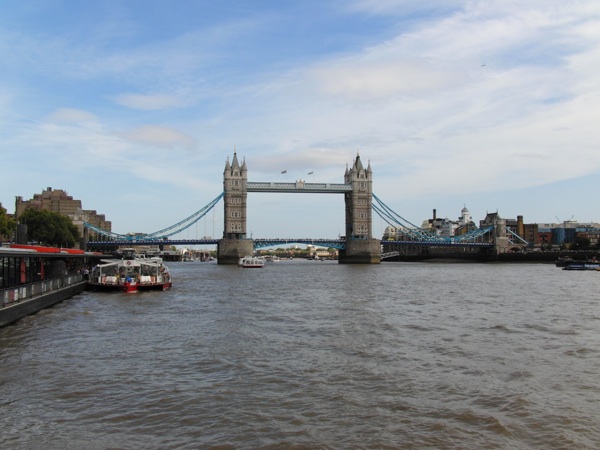 Tower Bridge
The boat had a 25-minute stop in Greenwich and Gary said that we needed to get off and see the Painted Hall at the Royal Naval College so we did. The Royal Naval College is no longer used but is a lovely set of old buildings open free to the public. The Painted Hall and the Chapel were very pretty and the Painted Hall was set up to host some kind of military dinner that night.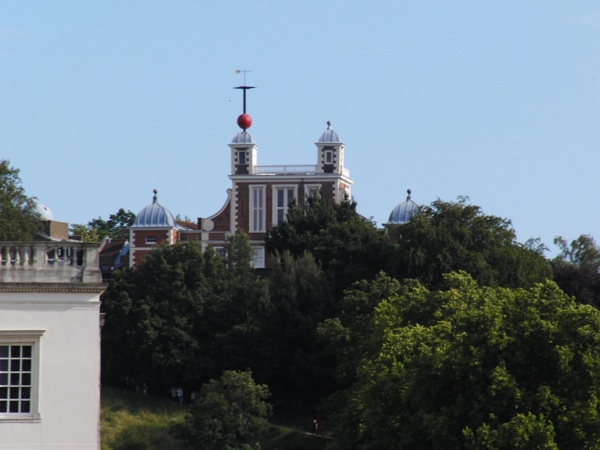 Greenwich Observatory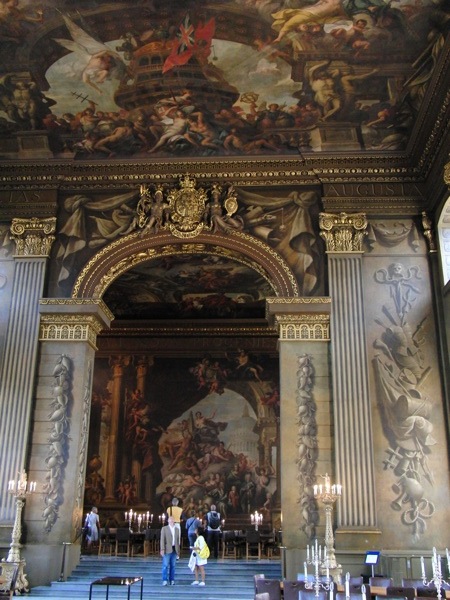 The Painted Hall
Gary and Charlotte rode the river cruise back the whole way but Filbert and Snookums got off at Tower Pier and walked back to the hotel. Snookums also found a British penny on the ground to continue her trend of finding local currency in foreign countries. We got to our upgraded room around 7:30 PM and really unpacked this time around.
We were tired so we went to the pub across the street and sat down. After a few minutes the waitress came and said that the chef was on his 30-minute break in order to break his Ramadan fast. We didn't want to wait that long so we went to the next pub down the block. (Snookums had never heard that excuse in the U.S. before about a 30-minute break for Ramadan!!) We found the next one and followed the sign upstairs that said "Food" and the waiter came and said that we could order but we would need to eat our food on a lower level since the top floor closed at 9 PM. We went to a lower level to place our order but since no bartender ever showed up, we decided to try a third pub. The third time was a charm! We ordered and paid at the bar (Snookums ordered a hamburger and Filbert ordered the steak & ale pie) and sat upstairs overlooking the bar. We enjoyed the people watching a lot. Snookums noticed that when people went to the bar to buy a pint, exact change was returned by the bartender and there didn't appear to be any tipping.
Our food arrived and we dug into it with gusto. Snookums's hamburger was well done and a coarser grind than what we have in the U.S. Filbert said that the quality of beef was not as good as what U.S. hamburger is made from. Snookums thought it was one of the best hamburgers she ever had!! It did come dripping with mayonnaise so she asked for a new bottom bun since the menu only specified aged cheddar and bacon. (The bacon was smokier than the breakfast bacon and tasted more like U.S. bacon.) Filbert enjoyed his steak & ale pie along with two pints of beer. When we were done we didn't know whether we should tip or not since we had paid at the counter. We asked two Brits enjoying burgers next to us and were told "No, it's not necessary." You don't tip at pubs where you order and pay for the food at the bar. Although the food is delivered to you, you don't tip. Snookums's hamburger was $10.50 and Filbert's steak & ale pie was $15. London is not cheap, but we knew that.
August 11 (Thursday, Day 4, London, England) -
After another filling (and free) hotel breakfast, we met Gary at 10:30 at Waterstone's Piccadilly bookstore. Filbert and Gary are into bookstores and Snookums tagged along. Filbert had a list of three of them to visit. Charlotte planned to enjoy her day at Victoria & Albert Museum. While Snookums was sitting and reading her paperback, Filbert and Gary made various purchases at Waterstone's. According to the sign on the wall, Waterstone's is Europe's largest bookstore. Then we walked to Chinatown and ate at a dim sum restaurant. Gary loves dim sum and manages to go to Chinatown in every city he visits. He was happy with his dim sum lunch and Snookums enjoyed her hot and sour soup and Filbert had a spicy beef entree.
Then we walked to Blackwell's Bookstore. It was primarily a technical bookstore and no one bought anything. The third and final bookstore, Foyle's Charing Cross Road, was another two blocks away. Snookums found a comfy chair and read her library paperback and Gary and Filbert shopped. Gary was thrilled to find the third book of a maritime artist's series and he thought this was the best bookstore of the three. According to its sign, Foyle's won "Best bookstore in London 2010".
We went our separate ways at the tube station and Filbert and Snookums hit the grocery store right by the Andaz to get various British beers for the cruise. Then we packed most of our things since Gary and Charlotte were willing to let us put our luggage with theirs since they were taking the Holland America charter bus to the Eurodam at Dover and luggage portage was included. That meant that we had to get our big bags to their hotel. We took our two large rolling suitcases and our duffel (now mostly filled with cans of British beer) to their hotel and had to transfer one time (during rush hour!). Unfortunately, most of London's tube stations do not have elevators/escalators so we had to navigate up and down stairs multiple times. Filbert didn't seem too happy about this, but we succeeded. We also noticed that the Lamborghini showroom was full of cars again since the riots weren't impacting central London. Needless to say, the walk and tube rides back from their hotel seemed a whole lot shorter.
We were tired and hungry and bought dinner to-go at M&S Simply Food., across from the hotel This is a Marks & Spencer chain that sells all sorts of ready-to-eat packaged Marks & Spencer foods. We bought sandwiches, salads and beverages and returned to our hotel around 6:30PM, just in time for the free wine in the lobby.