The 2012 Grand Asia & Australia Voyage, Part 10
Friday, October 16 2015 @ 06:45 AM CST
Contributed by:

filbert

Views: 1,967
The 2012 Grand Asia & Australia Voyage, Holland America ms Amsterdam
Text and pictures by Snookums, webification by Filbert

Part Ten

(Remember to click "read more" if you're looking at this from the main medary.com page to get the whole article!)

November 9 (Friday, Day 50, Brisbane, Australia; 1 AUD = $1.04, $1 = 0.97 AUD) -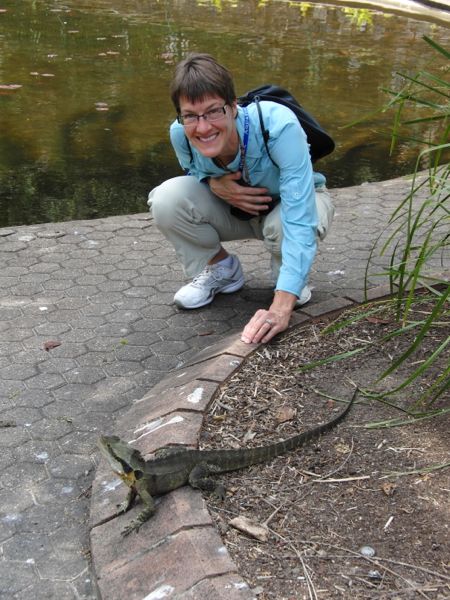 A Wary Brisbanite
Snookums went to the fitness class and after a fast breakfast, we left the ship. We took the shuttle from the Brisbane Cruise Terminal to the Treasury Casino which is in the heart of Brisbane's downtown. Brisbane has a population of 2 million. It was partly sunny and a high of 80 was the forecast for the day. We walked to and through the City Botanic Gardens which was established in 1855 and saw ibis, eel and iguanas. Then we continued walking to the bohemian West End and ate gyros in front of one of the many sidewalk cafes. Filbert went in the Avid Reader bookstore while Snookums was content to sit on a bench outside and watch the world go by. Then we walked to Queen Street Mall and while Filbert was buying books in Dymock's, Snookums bought some zip-on/zip-off pants that were on sale (and they were long enough!). After that we sat in Starbuck's and each bought a beverage in order to have 30 minutes of free WiFi. Snookums found a receipt with the passcode on it and was able to use another free 30 minutes. We also bought two boxes of different flavors of Tim Tams (cookies that Australia is famous for) for tonight's sail-away party.
We walked back to the shuttle stop and decided not to wait in the huge line of HAL passengers for the free ride back to the ship. We opted for the $5.20 CityCat boat back to Brett's Wharf. It was a great way to see the Brisbane River and the great architecture lining its banks. It started raining about 5 minutes before the boat got to our stop so we moved from our comfortable outside seats to the inside ones. There was a grocery store at Brett's Wharf so we bought some Australian beer and some milk for Laura M. since she had been craving "real" milk for weeks since the ship's milk is the UHT milk that has a distinctly different taste than what we are used to getting in the U.S.
Although our verandah looked out on the dock and not the better view across the river, we still had dinner for everyone on our verandah. It was raining pretty hard but we were able to stay dry. There was a high school prom or something taking place in one of the wharf buildings and it was fun to watch the guys in their tuxes and the girls in their fancy dresses.
At night we got poppies on our bed for Remembrance Day and Veterans Day and the daily Explorer showed a 6 AM sunrise service on November 10 since we are in port on November 11.
November 10 (Saturday, Day 51, At Sea) -
Although there was a 6 AM Veteran's Day sunrise service poolside, Snookums and Filbert slept past that time. Snookums woke up and went to the fitness class and then she and Filbert ate a quick breakfast before going to the 9 AM lecture on "Things to See & Do in Eden". Travel Guide Barbara had to stretch the lecture to last 30 minutes since it doesn't sound like there is much to do in Eden. It will be the maiden port of call for the ms Amsterdam so there will be a ceremony that day between city officials and the Captain.
It was gloomy outside and only around 69° and the sea was rough and got much rougher as the day went on. It rained off and on, too. It is only supposed to get to 71° in Sydney tomorrow. The TV channel that was used to show the Melbourne Cup is still coming in so we get ABC (Australia Broadcast Company). It's nice to watch "local" news at 6 PM. Not only do we get the weather forecast, but we get updates on Prince Charles' Diamond Jubilee tour of Papua New Guinea, Australia and New Zealand as well as cricket news. Filbert used the radio most of today, too, and got Brisbane stations very clearly.
Snookums took a nap until lunch and Filbert joined John and Laura's team trivia team at noon. They didn't win, but he came up with three correct answers but didn't push too hard on two of them so they weren't used. For a rookie, he more than held his own, though. It looks like Filbert will be busy every sea day at noon for the rest of the cruise.
After lunch we went to the "Saturday Morning Market" around the pool. Not only were various departments selling items (15% off bottles of wine, $1/minute neck and shoulder massages, $10 handbags) but there was a display of fruit and vegetable carvings and fruit was handed out and there was also a table with Indonesian coffee and hot tea. And, an officer manned a table with various navigational things on it (maps, charts, sextants) and it was next to a table that was manned by an officer (or cadet) that displayed all of the lifeboat provisions. It was the first time Snookums had seen a "Morning Market" on any HAL cruise so that was neat.
We lost an hour at 2 PM but that didn't stop Filbert from continuing his simulation on Civilization 3 (which he has been playing for several weeks now) while Snookums went to crafts and made a New Zealand Possum Fur Brooch. Possums are endangered in Australia but they are a nuisance (and officially poisoned) in New Zealand.
Snookums went to Fab Abs and Filbert went to the gym, too, and worked out hard for 50 minutes. His grey t-shirt was thoroughly soaked from his 15 minutes on the bike and his weight workout.
Dinner was different. We knew that our four tablemates had other plans so we invited the two couples that we ate with during the Pinnacle Grill Indonesian dinner (David and Mary, Roberta and Larry) to our table. We also received a complimentary glass of champagne with dessert to salute those people whose dedication and service to their country will never be forgotten. It was a good dinner and a fun evening.
November 11 (Sunday, Day 52, Sydney; 1 AUD = $1.04, $1 = 0.97 AUD) -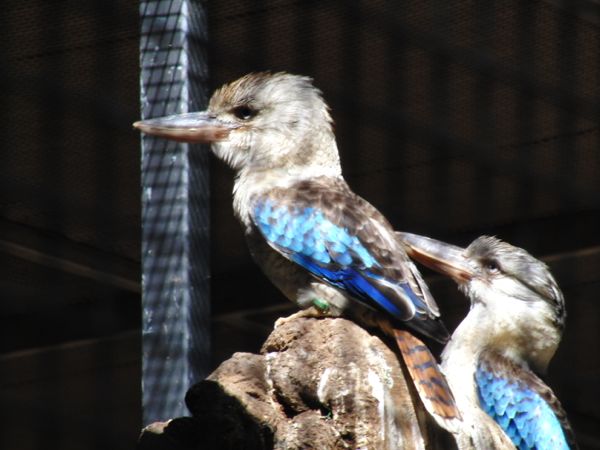 Kookaburras
Because we booked this Grand Voyage early, we were given a free shore excursion. We decided to use it on the 9-hour "Discover the Blue Mountains" for $194.95 per person.
On our way to the Blue Mountains, we stopped at Featherdale Wildlife Park. This amazing park contains a variety of Australian wildlife including kangaroos, koalas, wallabies, reptiles, Tasmanian devils, wombats and various species of Australian birds. Snookums enjoyed feeding the kangaroos and could have spent more time at this stop. But, when you are on a tour, you have to do as you are told.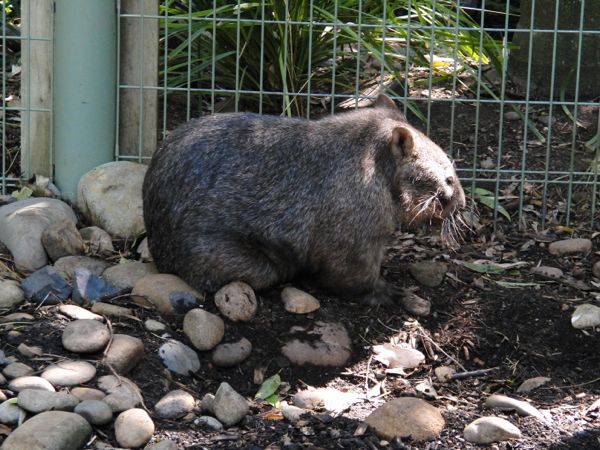 Wombat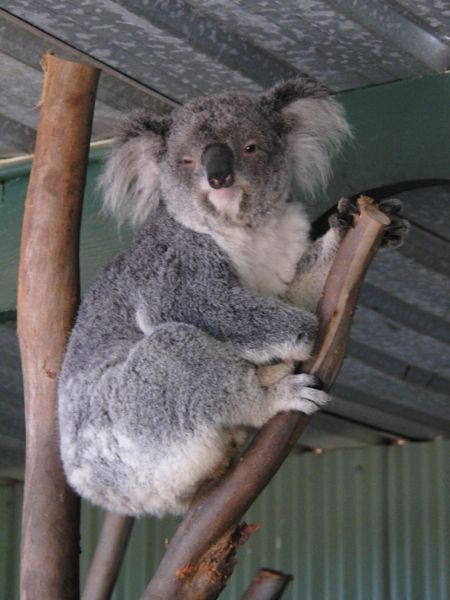 Koala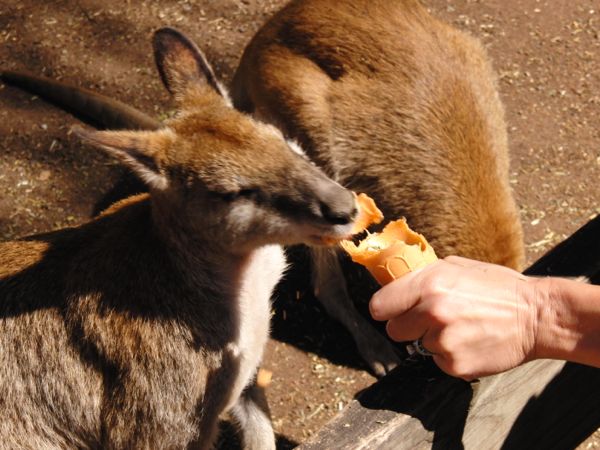 Action shot! Kangaroo eating ice cream cone!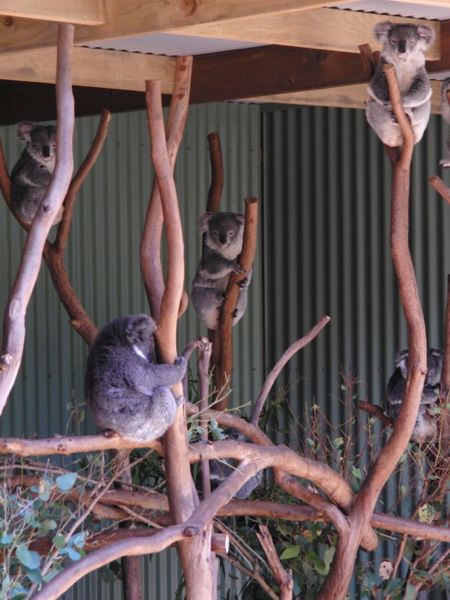 Multiple koalas
We boarded the bus again and had a two-course lunch at The Mountain Heritage Hotel. Then we boarded the bus again and traveled west to the Blue Mountains—an awesome Grand Canyon-like rock formation among deep valleys and cascading waterfalls. The Blue Mountains are a UNESCO World Heritage Site—an area of breathtaking views, rugged tablelands, sheer cliffs and deep, inaccessible valleys covering more than 2.5 million acres. We finally arrived and saw the famous rock formation known as the Three Sisters. We also got a free culture show at the Koomurri Aboriginal Centre in Katoomba. However, there were so many people in the audience that not everyone got seats, but we did. It was also difficult to hear the explanation that the Aboriginal man was giving. Oh well. Then we boarded the bus for our long ride back to the ship. Since we had been to Sydney before it was probably a good enough use of our time, but we don't need to return to the Blue Mountains anytime soon.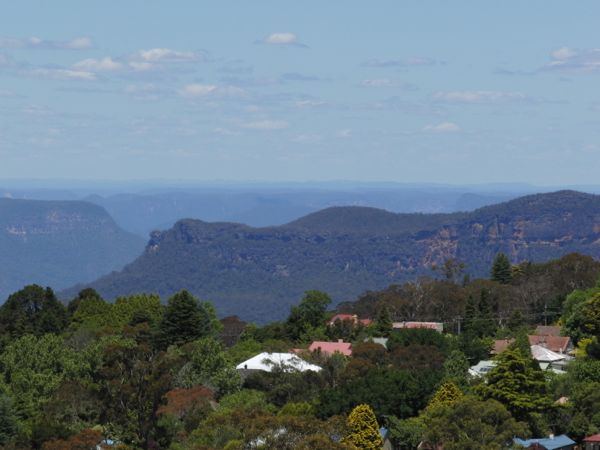 View from the hotel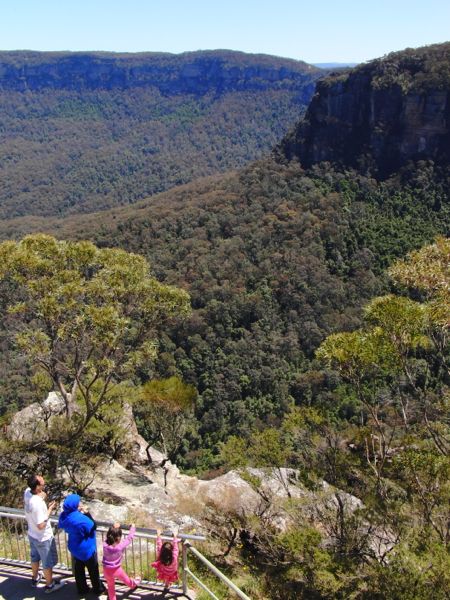 Blue Mountains overlook
November 12 (Monday, Day 53, Sydney; 1 AUD = $1.04, $1 = 0.97 AUD) -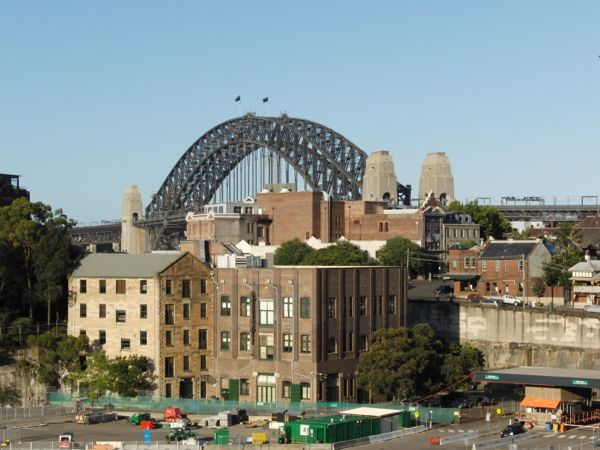 The Bridge
We got up and walked to the Sydney Bridge Climb office which was about 15 minutes away. We scheduled this Discovery Climb tour on our own for $218 per person (the ship charged $349 per person which included round-trip transportation!). Gary, our tablemate from our cruise four years ago, did the Bridge Climb and kept talking about how neat it was so we decided we had to do it, too, and booked our time slots while still home. We got harnessed up and spent the next 2.5 hours climbing the Sydney Bridge and learning how it was built. There were only six of us with the guide. Because the climbers are actually above the moving traffic, climbers are not allowed to bring anything with them other than glasses and sunglasses. Everything is attached to the jumpsuits that are worn, including handkerchiefs that are wrapped around wrists in case a nose starts to run. The climb itself was not very taxing and the views were great since it was sunny and clear. It was quite windy and Snookums got cold when in the shade, while Filbert was very comfortable. Our guide had recommended that we take our clothes off before putting on the jumpsuits since it was such a hot day. Snookums would have been more comfortable wearing that second layer, but she survived.
After our exhilarating excursion we ate lunch at the Harbour View Restaurant. Filbert had a meat pie, mashed potatoes, peas and two beers for $23 (the beer cost $13 since alcohol is so expensive in Australia). Snookums's lunch was chicken schnitzel, fries and a salad for $13. After lunch we decided to walk to the ship's shuttle stop at the Marriott Harbourside in order to use its free WiFi and on the way we bought a huge lamington using our last $4 Australian. A lamington is an Australian sweet that consists of a pound cake or sponge cake covered or soaked in chocolate syrup or chocolate icing/glaze and then rolled in coconut. It was delicious and we both enjoyed it. We used the free WiFi at Marriott Harbourside for an hour and then caught the last shuttle back to the ship. By the time the ship left Sydney at 4 PM, it had already been a full day.
November 13 (Tuesday, Day 54, Eden, Australia; 1 AUD = $1.04, $1 = 0.97 AUD) -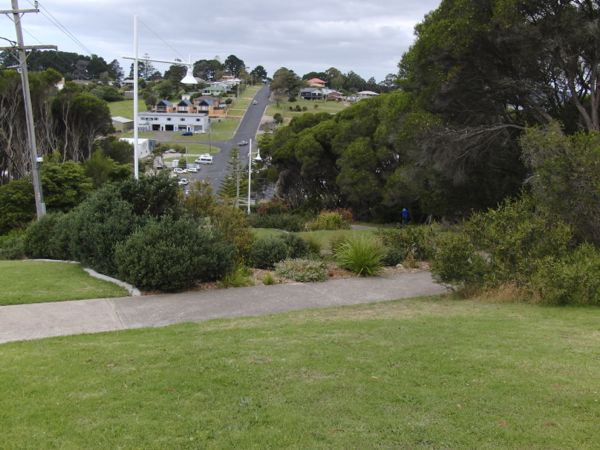 Welcome to Eden
Snookums went to Total Body Conditioning and was the only person there so Hamish worked her hard for 40 minutes doing drop sets. Her quads were dead by the time he said, "Finish with 100 sit-ups". Ugh. She did get her trophy on the face of her watch for last week's efforts, though, and is hoping to get another trophy this week. This workout should definitely help with that quest! After cleaning up and eating breakfast (which Filbert skipped), we tendered to Eden. It was cloudy and 59° which is below normal for spring. It was a nice temperature for walking around, though.
Eden has a population of 3,600 and was the first whaling station in Australia. It is 300 miles south of Sydney and is located on a deepwater bay where humpback whales are frequently seen during their southern migration to Antarctica from late September until the end of November. We didn't see any, though. It's home to one of the largest fishing fleets in New South Wales and supplies Sydney and Melbourne with fresh fish. This was the maiden call for the ms Amsterdam and there was supposed to be a plaque ceremony in the Crow's Nest for the Captain, officers and Eden city officials. Guests were not invited.
We walked up Warren's Walk which was a nice paved path that meandered up a steep hill through some nice gardens. Four volunteers were weeding it, too. Then we went to the Eden Killer Whale Museum ($9) to learn about some of its history. We saw the skeleton of the orca whale "Tom" who led a pack of orcas in the hunt for baleen whales on their southward migration each year. (Yes, orcas hunt baleen whales by herding them together and then the whale hunters could more easily kill the baleen whales and feed the tongues to the orcas. "Tom" came back year after year for this herding process.) Then we wandered around downtown, which appeared to be about five blocks long. There were nice views of the ocean and bay in lots of spots and it seemed like a very bucolic town. We enjoyed the free WiFi at the library and then it was time to catch the tender back to the ship. We had just enough time, though, to buy a 6-pack of Victoria Bitter ($15) and a 6-pack of Carlton Draught ($15). (Alcohol is NOT cheap in Australia.)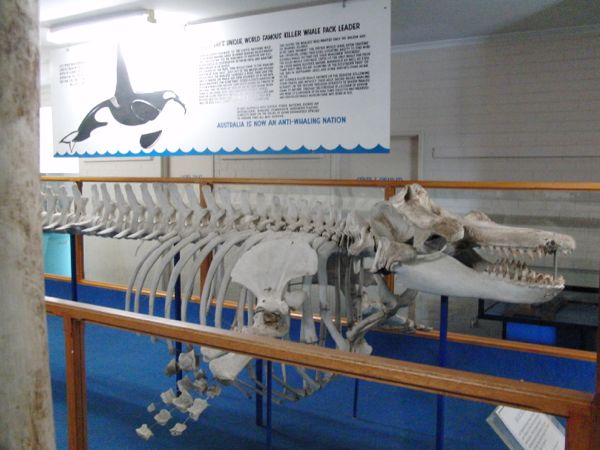 Old Tom
After lunch Filbert made two pinhole solar eclipse telescopes for the partial eclipse that we hope to see around 8 AM tomorrow by taping two empty 12-pack Coke boxes together and putting a pinhole in the end of one of them. Snookums attended Australian High Tea and enjoyed a lamington, jellyroll and cherry almond tart. Then she went to Fab Abs and tried to work them off!
We enjoyed the $69 per person Australian dinner in Pinnacle Grill and met John and Jenna since we were seated with them. They are from New Jersey and Hurricane Sandy impacted their house but they relied on their daughters to get it fixed. We started off having roasted kangaroo (tasted like a good piece of very tender beef) and emu (very tough and chewy, although it had been marinated for six hours and then tenderized) followed by shrimp on the barbie (two grilled shrimp). Then it was time for the crocodile soup that tasted just like a chicken vegetable soup. The fish course was paperbark-smoked barramundi with pineapple and riberry sauce and the barramundi was served on a large piece of paperbark (thin bark from a tree). The entrée consisted of two lamb chops served with a parsnip puree and asparagus. Dessert was an Australian velvet crumble that tasted like a strawberry streusel bar cookie. Four different wines were paired with the courses, including a dry Riesling from Eden. Kim, the Pinnacle Grill manager, delivered a boomerang to each gentleman. The funny thing was that there were stickers on the back of the Australian-made boomerangs that said "$20.00 Apple Tree Mall, Branson, MO". Kim explained that she tells corporate in Seattle what she needs and corporate does the sourcing. So, the boomerangs were made in Australia, but were shipped to the ship in Seattle from Branson, Missouri! It was a fun evening and even the Pinnacle Grill servers were able to enjoy it a bit since they were able to dress casually in tennis shoes, blue jeans, white t-shirts and cork hats (worn in Australia to keep the flies away).
When we returned to our room we had two pairs of eclipse glasses on our bed to wear for the partial eclipse in the morning.