The 2012 Grand Asia & Australia Voyage, Part 5
Friday, October 16 2015 @ 06:20 AM CST
Contributed by:

filbert

Views: 3,058
The 2012 Grand Asia & Australia Voyage, Holland America ms Amsterdam
Text and pictures by Snookums, webification by Filbert

Part Five

(Remember to click "read more" if you're looking at this from the main medary.com page to get the whole article!)

October 10 (Wednesday, Day 20, Jeju City, South Korea; 100 KRW = $0.09; $1.00 = 1,111 KRW) -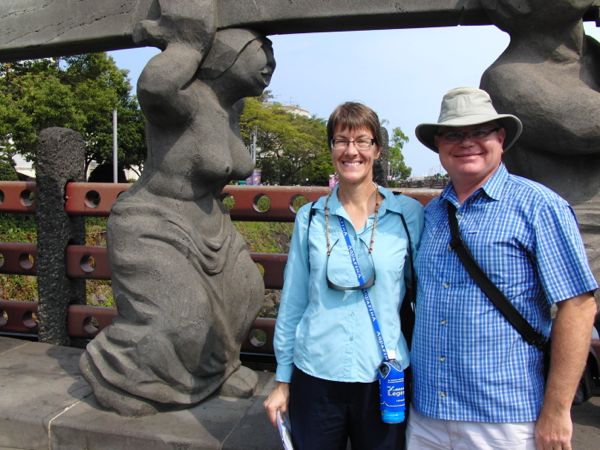 It's NOT called Jeju City because . . .
Snookums got up when her alarm went off and although she was pretty tired from yesterday's activities, she went to the fitness class. She swore off the ship's desserts as of Sunday, October 7 in order to lose some of the weight that she already gained on the cruise.
Jeju City, with a population of around 300,000, is the capital of Jeju Island, which is a resort island roughly 45 miles by 26 miles. It was partly cloudy with a forecast of a high of 72. We took the free shuttle to the Ramada Plaza Jeju Hotel. We walked around and stopped at E-Mart right away since the travel planning information that Snookums brought on the trip talked about a basement grocery store and a fifth floor food court. It took us several tries to find the various escalators, elevators and moving walkways that were needed to get to each floor, but we did it and scouted out our shopping plan for our return walk back to the Ramada. Then we continued our Jeju City exploring and stopped at the tourist information kiosk and Snookums asked where she could get a postcard and the woman gave her a pack of five. What luck, considering the two souvenir places in E-Mart didn't have any.
We continued walking and found ourselves at the Chiseongno shopping precinct which was just a bunch of fashion stores and brand-name boutiques along some pedestrian-only alleys. We looked at the map to find out how to get to Dongmun market and proceeded to it.
Dongmun market is an open-air, covered market that has specialized vendors selling raw fish, tangerines (Jeju is known for them), kimchi, produce, smoked fish, and pig parts (Jeju is also known for its black-skinned pigs) to name a few. It was one of the cleaner markets we've seen on our travels. There were no ready-to-eat food stands or restaurants, though.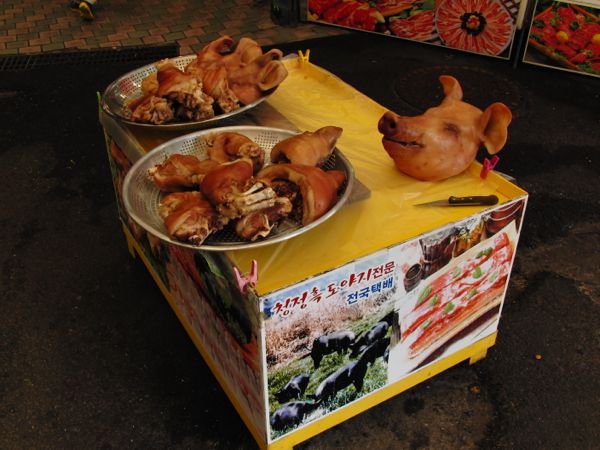 Pig parts
We were tired and decided to return to E-Mart for lunch on our way back to the Ramada. We didn't have any Korean won so we found one of the fifth floor vendors that took credit cards. It happened to be a Japanese outlet, but that was okay. Filbert had the pork and cheese cutlet and Snookums had the pork and sweet potato cutlet. Both came with kimchi, some slightly sweet sauce, daikon pickles, "coleslaw" and bread and butter pickles. Snookums paid more for udon noodles in broth but didn't eat them since they were so spongy and not like the delicious freshly made ones we had for lunch in Kobe on Sunday. We each also got a little bottle, the size of a shot glass, that contained a tangerine yogurt drink. It was very good. Our lunches cost a total of $13.50 and Filbert also bought an iced coffee (no beer available!) for $1.80.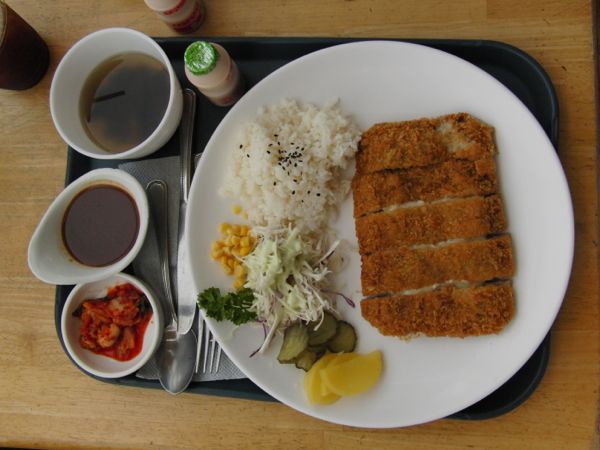 Jeju City Lunch
After lunch we went to the basement for our shopping. Snookums bought a package of 12 bean paste cookies for Kate, the Neptune Lounge concierge, since Kate didn't have time to buy any at the Nagasaki festival. (Filipinos eat sweet bean paste, too, like Japanese, Koreans and Chinese. Later in the day Kate told Snookums that she shared the cookies with the Front Desk staff and they were all gone in five minutes and were very good.) She also bought one very small tangerine ($0.75!) since Jeju is known for them. She hopes the one she bought was grown in Jeju since she couldn't read any of the signs. But it was the only display of tangerines in the grocery store and other people were buying them. Snookums also splurged and bought a sticky bun for $3.15 that had raisins, pecans and sliced almonds on it. (Snookums has a soft spot for sticky buns and kettle corn.) Snookums bought packaged vinegared red chili sauce for $0.90 to take to dinner since everyone enjoyed the homemade sambal last night. Filbert bought a 6-pack of Max Korean beer ($6.90) that came with a free single-serve size pack of "bread chips" and he also bought two cheap cans of rice wine ($0.90 each) and a bottle of ginseng liquor ($0.90). One of the cans of rice wine will be given to Sharie, our tablemate, since she really enjoys sake. One of the beers will be given to her husband since he likes beer.
We made it back to the Ramada and used the superfast free Internet on our iPhones until the shuttle bus came. The Jeju City tourist board was conducting a survey at the port and Snookums and Filbert each filled one out and were then each given two sets of two harubang replicas. Harubangs, ancient "Rapa nui-like" stone carvings that dot the Jeju countryside, are believed to have offered protection from unseen evil. They kind of look like gnomes. Snookums will give a pair to her mother for her rock garden and the other three sets will be given to our tablemates and our Korean neighbor at home who visited Jeju Island in June. Once on the ship Snookums enjoyed the sticky bun (but it needed to be much stickier) on the verandah.
Before dinner we watched two movies, "MASH" and "In Bruges". We've tried to watch "In Bruges" on our last three or four HAL cruises but the DVD was always lost. On the cruise when we visited Bruges, Belgium, we were told to be sure to see the movie since it was filmed in Bruges and shows a lot of what we saw. Better late than never!
Dinner was fun. Snookums handed out the extra harubangs to our tablemates and they were happy to receive them. Our wine steward got a set, too, since he mentioned that he wanted one for his mother and didn't get one when he did the survey. Filbert gave Sharie her Korean rice wine and John a can of Japanese Kirin beer. Sharie really enjoyed the rice wine. They gave Filbert two cans of Cass beer that Filbert saw in the grocery store but didn't buy since it didn't come with free bread chips. Filbert had noticed, however, that people were buying Cass and not the Max beer that he bought. Everyone enjoyed the red chili sauce, too, and since it's in a re-sealable container, Snookums will continue to bring it to dinner until it is used up. During dessert everyone had a section of the tangerine, too, and thought it was very tasty. Snookums still didn't think it was worth $0.75! After dinner we turned our clocks back one hour.
October 11 (Thursday, Day 21, At Sea) -
Snookums woke up early due to the time change and went to the "fab abs" fitness class. Laura, a tablemate, also attended. Filbert woke up and enjoyed his room service breakfast of soft-boiled eggs, bacon and ham. Snookums has been eating a 60-calorie yogurt, 90-calorie package of Special K and fresh blueberries all mixed together. She decided that the yogurt parfait, even with "low fat" granola, was full of calories. The homemade muesli is, too. So, since she cut out desserts, she is also cutting back on her breakfast calories.
Snookums went to the 10 AM "Things to See & Do in Shanghai" followed by the 11:15 AM "The Art of Flower Arranging" with Florist Eddy. She learned that Eddy spent six years in floral school in the Netherlands before being "certified" to handle flowers. He has worked on ships for about eight years. Flower shipments come every five to ten days and each one is budgeted at $5,000. There are 300 arrangements on the ship that he and his co-worker are responsible for. (If you count all of the little arrangements, like the one we have in our Deluxe Verandah Suite, the number is 1,000.) He made five ikebana arrangements (Japanese floral arranging that is very rules based) although he said that he literally only had two 4-hour classes on that type of design during his six years of education. They were all very beautiful and minimalistic. At the end of the demo Snookums put her name on a list to attend one of his flower arranging classes for $29. Sharie attended the first one and made a beautiful arrangement that she got to keep. She estimated the arrangement at $75 or so, plus she learned things.
Filbert and Snookums ate lunch at the "Tapas Bar". We hadn't seen this before on any HAL cruise. Where the taco bar is normally set up, next to the outdoor grill, HAL turned it into a tapas bar with many Spanish-themed small bites. Snookums liked it better than Filbert.
Snookums also attended the crafts class and made "Chinese fabric fortune cookies in an origami sampan". Only fabric cutting was involved and she finished in less than 30 minutes, a record.
Snookums had her final 4 PM acupuncture appointment. It isn't helping at all and the acupuncturist is stumped. She'll get an MRI after January 1 to find out what the problem is.
We packed our roll-aboard suitcase for our overnight in Beijing, went to dinner and called it a night. There was carrot cake for dessert that both Snookums and Filbert enjoyed. (Carrot cake is Filbert's favorite cake.) Luckily we had 490 CNY ($78) left over from our last trip to China and that will come in very handy since our overnight is starting bright and early tomorrow and there won't be time to go to an ATM for local currency.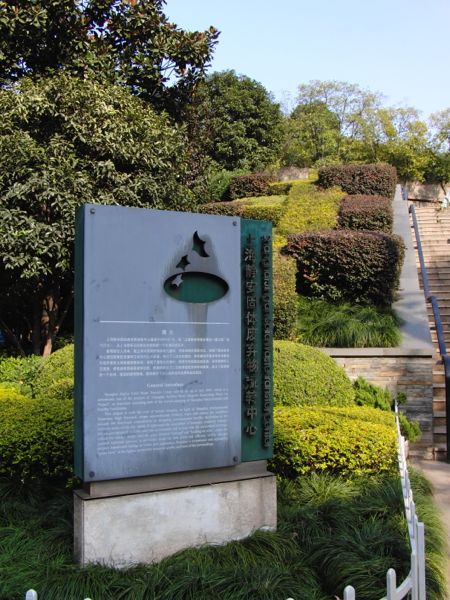 Sunset, October 5 . . . I needed a picture here, I thought
October 12 (Friday, Day 22, Xingang (Beijing), China; 1 CNY = $0.16, $1.00 = 6.3 CNY) -
Filbert woke up at 12:30 AM and Snookums woke up at 1:30 AM since the TV and lights were on. Filbert was having his second gallstone attack in 13 months. He paced the suite, twisted and turned in bed, took the three anti-nausea and pain drugs that he was prescribed 13 months ago, took a shower, violently threw everything up and at 3 AM, we visited the ship's doctor. The U.S. doctor ordered several drugs, including morphine, via an IV and Filbert continued to twist and turn on the hospital bed. At 4:30 AM he was feeling a little better and since the blood tests looked fine, the doctor agreed that it was "just" gallstones and released Filbert. We had a steward bring a wheelchair for the return trip to the cabin. Snookums also dropped off a cancellation note under the cabin door of the tour organizer. We kind of slept until 7 AM (Snookums slept better than Filbert) when the immigration announcements began. Suite passengers are allowed to go through immigration at any time so we called for a wheelchair and went. The lines weren't too long.
The port of Xingang is at least a two-hour bus ride from Beijing and is about 50 miles from Tianjin, the closest town with a fast train to Beijing. (Tianjin is the 4th largest city in China with 9,000,000 residents.) Tanggu is a 20-minute free shuttle ride away but is a smaller town. Xingang is just a port area and literally has nothing around or in it. The port terminal is a very, very new incredibly nice facility, but it's in the middle of nowhere. Several cruises do embark and disembark at this port and that's when the entire port terminal and its facilities are used. For our 850-passenger immigration needs, it was overkill. But, if 850 passengers are getting on or off a ship with lots of luggage, it would be super.
After immigration, Filbert and Snookums went back to sleep until around noon. Filbert still twisted and turned a lot from his belly pain, but he was getting better. We went to lunch (turkey barley soup for both of us) and then Filbert went back to bed. He alternated among sleeping, watching the rerun of the vice presidential debate and using his computer. Snookums took a shower and wandered the ship. Most people had gone on either overnight tours to Beijing or 12-hour day tours to the Great Wall or the Forbidden City so the ship was pretty empty. Snookums even did the Daily Quiz which was all about Beijing and although she used two China travel books, she still needed to log on to the internet for help with three questions. She better be the winner since she used precious internet minutes!!! Snookums went to the 5 PM fitness class and was the only attendee and had an intense 1-on-1 personal training session. Luckily it was only 30 minutes since she was absolutely drained (and soaked) after it. She returned to the room and Filbert was asleep so she enjoyed a nice, long, whirlpool bubble bath.
Due to pollution and possible sea haze, the visibility was awful and all day long it seemed like we were in a heavy fog. Ships were traveling back and forth pretty close to our ship, but it was difficult to see them. It was around 70°, although it felt much cooler.
We got the doctor bill and were pleasantly surprised it was only $542. The HAL "after hours" charge is only $170. We each had to see the ship's doctor on our last cruise, which was on Oceania, and each of our bills was around $550 and both visits were during the normal medical center hours. The HAL doctor is from North Carolina, too, and not Hungary like the one Snookums saw on Oceania. Filbert's emergency was the first after-hours night call the HAL doctor had received since this cruise started on September 21. That's pretty good considering the age of a lot of passengers on this 75-day cruise.
Although there was a German Oktoberfest themed dinner event happening poolside, we opted to have room service since we've attended HAL's Oktoberfests before and they consist of four kinds of grilled sausages and various salads. Tonight's dining room menu had a lot of good things on it, including Dutch split pea soup (a HAL classic, since it's a Dutch cruise line) so it was an easy decision.
October 13 (Saturday, Day 23, Xingang (Beijing), China; 1 CNY = $0.16, $1.00 = 6.3 CNY) -
Snookums woke up in time to attend the Fab Abs class and then she weighed herself and was thrilled that she only gained 1.2 pounds since boarding the ship on September 21. The extra gym sessions and no desserts did the trick! And, today the visibility was much, much better. It was windy and that seemed to blow a lot of the pollution (and sea haze?) away. There is still a haze in the air, but at least you can see all of the shipping traffic.
We went to the doctor to get Filbert's IV port removed. The doctor was happy that Filbert was now fine and suggested that fatty foods and alcohol be reduced in his diet in order to hopefully prevent future gallstone episodes. Filbert was still tired and Snookums decided to take the free shuttle to the Aeon Mall in Tanggu.
She walked around the mall which had a lot of restaurants, a Jusco (like a Super Wal-Mart) and various other smaller specialty stores. There was a huge exhibition hall nearby that had a clothing sale and a local food products sale. Snookums purchased three pashmina shawls for $1.60 each and then returned to the mall for lunch. She ate at "Cubby Food" and ordered the rice with ground pork. She received a bowl of rice with a couple of tablespoons of tasty ground pork on the top. There was also a very, very dark peeled hardboiled egg on the top and some pickled carrot and radish cubes. This tasty lunch cost $1.90 and was the cheapest thing on the menu. Then she went to Jusco and bought ten cans of Chinese beer for a total of $6.25.
When she got back to the port terminal, she spent an hour using the free WiFi getting caught up with downloads and emails and things while Filbert listened to his shortwave and heard Chinese and Russian radio. Snookums also went to the library and collected her deck of HAL playing cards for winning yesterday's daily quiz. She could have attended the Fitness Class, but decided that her muscles were still tired and a bit sore from yesterday's 1-on-1 session and decided to watch the movie, "Little Black Book", on DVD instead.
October 14 (Sunday, Day 24, At Sea) -
[image4_left]
Fishing boat
Snookums went to total body conditioning with five other passengers. We did circuit training and went through it three times and each time each exercise was slightly changed.
Snookums went to the cooking show with celebrity guest chef Kelly Liken. Kelly graduated from Colorado University with a degree in astrophysics, but worked in restaurant kitchens during college for her spending money. (She said she was not waitress material.) She realized right away that she wanted to be a chef so after she graduated from CU, she went to the Culinary Institute of America and graduated at the top of her class. She and her husband, a sommelier, are also celebrating their 8th anniversary on October 16. She talked a little bit about her experiences on "Iron Chef" and "Top Chef D.C." (She lasted 13 of the 14 weeks on "Top Chef D.C." which means she got very close to being the $150,000 winner.) After the cooking demonstration she announced that she was going to have a hands on cooking class for $29. Snookums signed up.
Snookums went to Lido for lunch and had two scoops of coconut ice cream followed by another two scoops. That means she'll have to go to the gym again in the afternoon! At crafts class, Snookums made a fabric fish shaped sunglass case. When she returned to the room, Filbert was still on the verandah, wearing two coats and gloves, listening to shortwave radio. He spent most of the day on the verandah and as the wind let up, it actually wasn't too cold.
Snookums went to "Fab Abs" at 5:00 and once again was the only person there since most of the ship eats at 5:30. She had a killer ab workout. A nice long bubble bath in the Jacuzzi tub felt great afterwards and then Snookums and Filbert got gussied up for the formal Prom Night & Ball.
When we returned to our cabin after dinner and the ball (and once again the dining room and Queen's Lounge were decorated with lots of balloons and Mylar and paper decorations), we saw that we each got a 2012 Grand Voyage cruise pin. We were hoping for a nicer gift than that, but it's better than nothing.
October 15 (Monday, Day 25, At Sea) -
Snookums woke up to a bright, sunny day. It was 66 and windy and there were some large swells in the ocean. The ocean depth is 69 feet and there are still lots and lots of tiny fishing boats all around. She went to Fab Abs and got in another good workout. And, she got a trophy again on her watch since she met her weekly goal.
Filbert and Snookums enjoyed a leisurely breakfast in Neptune Lounge and then Snookums realized it was almost 10 AM and time for her to go to the "Things to See & Do in Hong Kong". Soon after that finished, it was time for Snookums's 11:30 AM $29 hands on cooking class with celebrity guest chef Kelly Liken of Vail, Colorado.
There were eleven students and Chef Kelly Liken. The main dish was roasted duck breast on top of pumpkin puree with pickled pumpkin slices. The salad was blanched asparagus in sherry vinaigrette with parmesan sabayon on top. Dessert was Kelly's grandmother's apple crisp. (When Kelly was on "Iron Chef" the ingredient was blue cheese. For one of her five courses, she made an Asian pear crisp and used blue cheese in the streusel topping in place of butter. Although she lost the competition by one point, she was proud that her originality score was higher than the "Iron Chef" she competed against. She said that "Iron Chef" notified her five days in advance of three possible ingredients and asked for her shopping list. So, blue cheese had a 33% chance of being the ingredient for her episode.) Rather than participate in making one component of the lunch, Snookums, along with one other student, opted to watch the other nine student cooks make the lunch. Everyone took their plates of delicious food and ate in Pinnacle Grill and Kelly sat opposite Snookums. (Kelly is allergic to poultry [duck] so she didn't eat her lunch!)
Snookums found out that Kelly had surgery six weeks ago for a torn "pulley" that attaches to the bicep muscle. Her symptoms sound absolutely identical to Snookums's and Kelly recommended not getting the surgery unless it was absolutely essential. Snookums is going to get an MRI in January, 2013.
Lunch broke up since people had things to do at 2 PM and that included Snookums going to crafts to make a "Tribute to China scissor fob". (It's a "cap" to protect the pointed end of the scissors and it attaches to the scissor's handle.) Filbert stayed inside and used his laptop to create a simulation building a city to help with his book writing.
For dinner our table enjoyed a great special order Indonesian dinner. We started with delicious soup and then each diner was given a large shallow bowl that contained five different Indonesian foods, like chicken satay and beef randang. Everyone enjoyed it a lot.
October 16 (Tuesday, Day 26, Shanghai, China; 1 CNY = $0.16, $1.00 = 6.3 CNY) -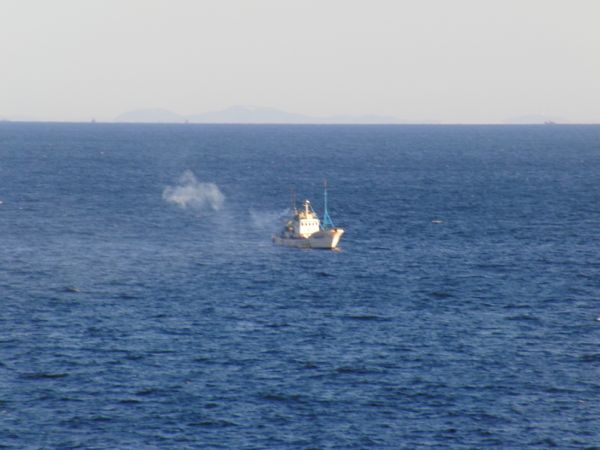 Shanghai
It is our 8th anniversary today and we started it by docking in Shanghai and for once we got the view of the river. That means we'll get to have our own sail-away party with our tablemates tomorrow night! Snookums got up and went to Total Body Conditioning and then after a quick breakfast, she and Filbert took the free shuttle to Huang Po Park on the Bund. As an anniversary present, Snookums wanted to buy prescription glasses in Shanghai since she read how inexpensive (and good) they were. Her first pair of bifocals cost around $400 so she figured getting a second cheaper pair would be a neat memory and since it was her anniversary present, Filbert went along with the folly. We took the 3 yuan ($0.48) East Nanjing Road metro to the Shanghai Railway Station and walked outside to find the eyeglasses district. After walking around for awhile, we finally found a highrise that was filled with nothing but three floors of store after store of eyeglass vendors. Many of the vendors spoke English and we entered one shop (and Snookums doesn't know why she entered it and not a different one since they really did all look very similar) and spent about an hour there with the hardworking salesman but ultimately left empty-handed since the glasses were going to cost around $300 and that discount wasn't worth the possible problems.
While we were walking around Shanghai, we noticed that everyone had iPhones and the Kentucky Fried Chicken family meal was for three people and cost $13.
After our eyeglass expedition we went to a Family Mart for lunch. It is a convenience store chain and we bought microwaveable meals. There were three little tables in Family Mart and one was available so it worked fine. We decided to take a cab to Jade Buddha Temple (14 yuan or $2.25) rather than walking quite a distance along a highway to get there. Jade Buddha Temple is one of the most venerated temples in Shanghai and was first built in 1882 and rebuilt in 1928. It is famous for its pair of white jade Buddhas. To us it was another temple!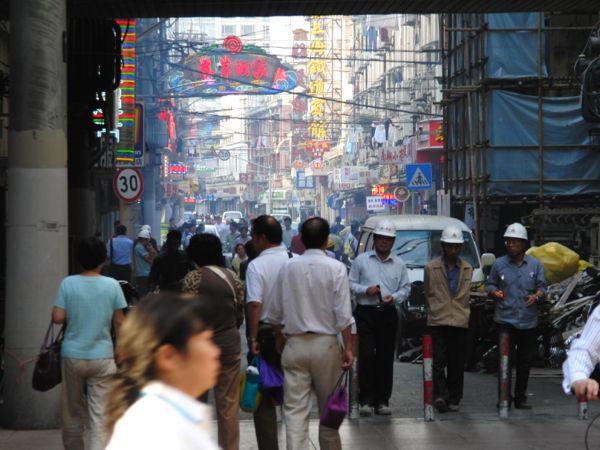 Jade Buddha
We walked back to the shuttle via the entire East Nanjing Road (3.4 miles) which is considered one of Shanghai's main shopping districts. Filbert even managed to find a 5 yean coin ($0.01) and he never finds money. Every trash can had a map on it showing the nearest public toilet and we saw a waste management monument. Shanghai is obviously doing its part to "clean up" China's image!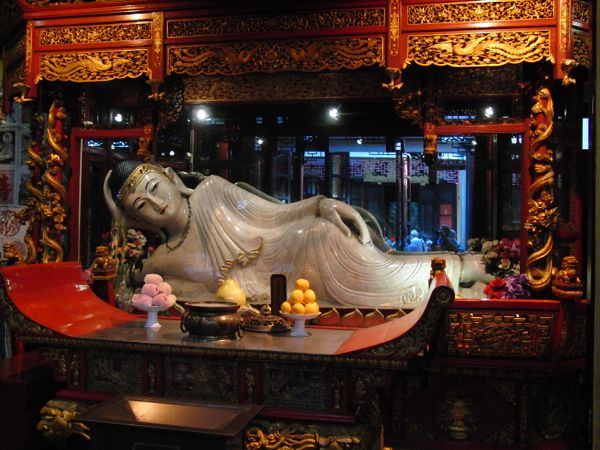 Monument to Waste Management. Drainage!
We finally got back to the ship at 5:15 and we were pooped from all of our walking. Snookums fell asleep on the verandah (with Neptune snacks) while enjoying the river traffic. Dinner was fun since we shared stories with our tablemates and Sharie gave us an anniversary card that she had painted for us in her painting class. However, we didn't receive either an anniversary cake or the signing of our favorite Indonesian song, Panjang Umurnya, so it really didn't seem like an anniversary on a HAL ship. After dinner Snookums attended the Shanghai Acrobatic Show but it really wasn't very good at all.
October 17 (Wednesday, Day 27, Shanghai, China; 1 CNY = $0.16, $1.00 = 6.3 CNY) -
We woke up and again took the ship's shuttle to Huang Po Park on the Bund. We walked along a fresh market street on our way to the Shanghai Museum and saw a lot of fruits, vegetables, seafood and meats for sale. We were near a hospital, too, since we saw many people in scrubs and whites.
The Shanghai Museum was free and we enjoyed looking at the special Faberge exhibit along with the ancient Chinese pottery and bronze work. The building was built in 1996 and was very modern and not crowded at all. Filbert bought three books at the museum's store, including one on how to swear in Chinese!
We walked back to catch the shuttle and ate lunch in Lido and then got ready for hosting our sail-away dinner extravaganza on our verandah. That just meant that we went to Neptune Lounge and picked up various hors d'oeuvres for the six of us and made sure the beverages we had collected along the way were getting chilled. Everyone had already chosen items from the dinner menu so dinner was taken care of. This is the easiest way ever to throw a dinner party!
John and Laura and John and Sharie showed up and we had a great time eating while watching the river traffic pass by. The Huangpu River has floating billboards on it as well as lots of party ships. And of course, the view across the river of Pudong with the Pearl TV Tower and the Jinmao Tower is fabulous at night since everything is so lit up. The ship started moving around 9 PM and we stayed on the verandah until probably 10:30 PM or so since by that time the ship was no longer in Shanghai and there wasn't much left to see. It was a fantastic end to a great port and a super way to celebrate the success of our first third of the cruise!
October 18 (Thursday, Day 28, At Sea) -
Filbert woke up at 12:30 AM and threw up and then had a bout of diarrhea at 1:30 AM. Snookums woke up at 8:30 AM and went to the 10 AM "Things to See & Do in Nha Trang, Vietnam" lecture. She came back to the room and found Filbert asleep but he soon woke up and wanted broth and toast. She ordered that and then went to her $29 flower arranging class. Sharie was there, too.
Eddy, the florist, taught Snookums and the other nine participants how to make a 3-sided arrangement step-by-step. First two types of greens went in the floral foam, then three stalks of purplish flowers (that bloom from the top down) and two ping pong mums (and the smaller mum should be cut to be the taller one). Then some taller greens and stargazer lilies were added. A bird of paradise was put in the middle and then roses, carnations and red berries were grouped for the rest of the arrangement. It took one hour and we each got to keep the arrangement that we made along with the apron that we wore. Sharie and Snookums then immediately went to crafts and made a "Chinese tea time" greeting card. (People commented on the flowers, too, as we were walking through the ship on our way to crafts.)
When Snookums returned to the room around 3:30, Filbert wanted to go to the Medical Center since he still had diarrhea (but hadn't vomited other than that one time). The nurse immediately pulled out a ziploc bag and handed it to Snookums. It contained Imodium A-D, powdered Gatorade, a letter from the Captain explaining that the patient would be quarantined for 24 hours from the last "episode", and a form that needed to be filled out for the CDC. The nurse took Filbert's vitals and his blood pressure was 136/84 (which isn't too bad since he hadn't taken his daily blood pressure prescription), his pulse was 112 (and it is usually 62!) and he had a temperature of 101.8°! She gave him Tylenol, too, for his fever. We returned to the cabin and he settled in for the rest of the day. He had strawberry sorbet for dinner and then the special housekeeping crew, wearing gloves and paper masks, came in to "sanitize" the cabin. This meant that the sheets were changed and most surfaces were wiped down. Snookums went to the dining room for her dinner and when she returned, Filbert was asleep.
October 19 (Friday, Day 29, At Sea) -
Snookums got ready for "Fab Abs" and Filbert woke up. He felt better and took a shower. When Snookums returned he wanted two raisin buns and hot tea and he enjoyed both things. He was still using the toilet frequently and Snookums called the Medical Center at 10 AM to ask about the maximum dosage in 24 hours for Imodium A-D. The nurse reminded Snookums that the quarantine would be extended and explained that Filbert should take two more and then no more than four more over the next 24 hours. Filbert got comfortable on the sofa with his computer. Snookums could tell that he was felling better than yesterday since yesterday he just lay in bed all day and didn't read, didn't use his computer and barely focused on the TV.
After putting it off for several days, Snookums delivered a letter to the Hotel Director, Henk Mensink, about five issues (the "cobbler of the day" in Lido is raw on top, the Asian lunch entrees are extremely greasy, Channel 44 does not play the announcements, our 8th anniversary was not recognized in the dining room, and Snookums never received a response to her September 25 letter to the Guest Relations Manager, Cristel Mensink).
Snookums went to the "Things to See & Do in Phu My, Vietnam" lecture and then after lunch she went to the Photography raffle. She was a winner of a $5 match play casino certificate. (She gave it to John M. at dinner.) At crafts class she made a cloisonné bracelet. Filbert had another "episode" and Snookums called the nurse at 3 PM and went to the Medical Center to get stronger anti-diarrhea medicine for Filbert. This also meant that his quarantine would be extended until 3 PM on October 20.
Snookums took advantage of the hot temperature and read on the verandah (finally, hot weather!). Then she went to the "Total Body Conditioning" class and once again was the only one there. Towards the end of thirty minutes, Hamish decided that Snookums should do 50 push-ups for her last exercise. Ugh! (And, in the morning's Fab Abs class, Kristina started the class with push-ups and since a lot of the participants didn't know how to do them, Snookums was doing them the entire time Kristina was teaching them and when Kristina finally counted to 10, Snookums had completed 42.)
When Snookums returned to the cabin, there was a letter from Henk Mensink, Hotel Director. He wrote that he spoke to the chef and if needed, Lido would be glad to make Snookums special cobbler and Asian entrees each day! He also arranged for the head audio engineer to come to our cabin to see about Channel 44. Of course, when he showed up, the announcement came through loud and clear. However, at dinner, our tablemates verified that they never heard the announcements on Channel 44 so we think that the problem was fixed (due to Snookums's letter) prior to the audio engineer coming to our cabin. Henk's letter also apologized for the missing anniversary song in the dining room and it also said that the Guest Relations Manager called Snookums in September in response to Snookums's prior letter but apologized for not giving Snookums a written response to her September letter. Snookums called Henk and left a voice mail explaining that special food preparation in Lido was not necessary and that she never received a phone call from the Guest Relations Manager and that a phone call response would have been sufficient, but none was ever received.
By 6 PM, Filbert was feeling pretty good but per the nurse's instructions, he stuck with a clear liquid diet (Jell-O and broth). Unfortunately the toilet was plugged and no one came for more than 90 minutes but no disaster occurred. The Neptune Lounge concierge called twice to verify that the plumber had come, but each time Filbert had to say "Not yet". Soon after the plumber came, Henk called to follow-up on Snookums's voice mail. He was puzzled by the Guest Relations Manager's response since Cristel had told Henk (and she is his wife) that she called Snookums in September. As soon as the call with Henk was done, the phone rang again and it was Cristel, the Guest Relations Manager. Cristel explained that in September she called a woman about the limited crafts supplies and after talking to the woman, the woman even called her back the next day. Cristel thought those two phone calls were with Snookums, but they weren't and Cristel literally has no idea whom she spoke with. She apologized for not getting back to Snookums and there was laughter on both ends of the phone.
Snookums went to dinner and was immediately pulled aside by an assistant maître d' (Mr. K). Snookums was worried that she was going to be told she couldn't wear her thongs (it was the first hot day so she wore them for the first time), but instead he apologized about the anniversary goof. He was going to serve the cake and complimentary champagne tonight until Snookums explained that Filbert was not present. Then he wanted to send the cake to the cabin but Snookums explained that Filbert was on a clear liquid diet. He then decided that our anniversary would be celebrated on the next sea day. He also gave Snookums the words to the peppy Indonesian birthday and anniversary song since Filbert had requested the words several days ago. (The song is very simple. "Panjang umurnya" is sung three times followed by "Serta mulia" three times. It means "long life".) When Snookums finally got to the dinner table, she explained to everyone about the letter to Henk and the five issues. That is when everyone confirmed that Channel 44 never worked in their cabins, either. Filbert was sound asleep when Snookums returned to the cabin at 9:45 PM.
October 20 (Saturday, Day 30, Hong Kong, China; 1 HKD = $0.13, $1 = 7.75 HKD) -
Snookums woke up and got ready for the gym and went out on the ship's bow for the sail in. She enjoyed a "Star Ferry" roll (a peach Danish) since they were serving coffee and rolls on the bow. She was the only one at the 7:30 AM "Fab Abs" class and Hamish worked her hard for 20 minutes and then Snookums said, "That's it". During class Snookums realized that our side of the ship would face the ugly port building and not beautiful Hong Kong harbor. At least our cabin got the "good" side for Shanghai. We received "real" postal mail, too: anniversary cards from Snookums's parents and one of her sisters that were sent to the Hong Kong port agent.
Filbert ordered hot tea, broth and Jell-O for breakfast and Snookums ate her normal Special K, fresh blueberries and plain yogurt in Neptune Lounge. Filbert felt just fine and set up shop outside on the verandah. The 21st annual Oktoberfest is directly across from our cabin and is on the top (6th floor) of the Port Terminal building. It is open from 6-11:30 PM and costs $29 which gets each person a beer mug and one serving of beer. It is advertised as the largest and longest running bierfest in Asia. It doesn't look that big.
Snookums went to the mall for a pedicure ($29) and walked around. She found a 2 HKD coin ($0.25). When she returned, Filbert had already eaten his lunch which was no longer confined to clear liquids. The doctor called him at 3:15 PM and released him and we both went to the mall and its bookstore. We walked outside for a little bit and saw lines of Chinese waiting to enter the Chanel, Hermes and Prada stores since the stores were at maximum capacity. The prices are the same as in the U.S., but the Chinese must have more money than the Americans. We didn't purchase anything and the ship was beckoning Filbert so he returned while Snookums stayed in the mall and used more of the free WiFi and talked to some other guests.
It should be noted that around 200 passengers embarked today which means that Lido will be a "served" buffet for 48 hours and we'll have another lifeboat drill tomorrow. To date, we have had 819 guests and 620 crew-members and have traveled 9,975 nautical miles (or 11,470 statute miles).
The cabin was cleaned at 7 PM by the "HazMat" team and will be cleaned tomorrow morning by them for the final time. Some kind of fogger will be used tomorrow, too. Hmmm.
Filbert enjoyed eating in the Dining Room for the first time since October 16 and after dinner Snookums went to the 9:30 PM Hong Kong Cultural Arts Show. There were four acts (man and woman playing Chinese instruments, dragon dance, two female traditional dancers and a masked dancing man) and all of them were very good. The bierfest was in full swing when Snookums returned to the cabin and the band could be heard in our cabin. Luckily the festivities closed at 11:30 PM, but Snookums fell asleep before then.