The 2012 Grand Asia & Australia Voyage, Part 4
Friday, October 16 2015 @ 06:15 AM CST
Contributed by:

filbert

Views: 1,837
The 2012 Grand Asia & Australia Voyage, Holland America ms Amsterdam
Text and pictures by Snookums, webification by Filbert

Part Four

(Remember to click "read more" if you're looking at this from the main medary.com page to get the whole article!)

October 8 (Monday, Day 18, At Sea) -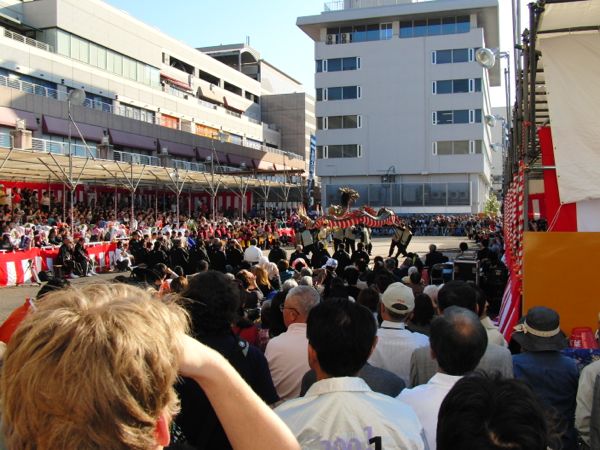 Kunchi Festival, Nagasaki
Snookums woke up in time to do 25 minutes on the elliptical prior to going to the fitness class. She got a trophy on her watch, too, for meeting her calories burned goal the prior week. She made it by 1%! It will be hard for her to get a trophy for this week's efforts since there won't be any workouts the two Beijing days.
Snookums went to the 11 AM "Things to See & Do in Xingang and Beijing". We are doing a two-day overnight tour to Beijing so she doesn't need to learn about Xingang or Beijing (and she's been to Beijing two other times), but she wants to hear about Xingang in case another cruise stops at this isolated port.
After lunch she went to crafts and made an Asian lantern greeting card. Then she had an acupuncture appointment and then went to the gym for another 30 minutes (and 280 calories) on the elliptical.
Dinner was another formal night to celebrate Canada's Thanksgiving. Snookums ordered the traditional turkey dinner and it was pretty good except the stuffing literally had the consistency of stiff paste. It tasted better than HAL's normal stuffing, though, but she didn't eat it due to the texture. The Dining Room Manager and Head Chef visited each table and Filbert suggested that HAL make savory stuffing without fruit (HAL's stuffing is always sweet) but the Head Chef didn't really understand what Filbert was saying. So, we're guessing that HAL's stuffing will continue to have raisins or apples or cranberries or all three fruits in it.
When we got back to our cabin we saw two carry-ons for our formal night gift. Four years ago we got one rolling duffel bag that was bigger. This time HAL designed carry-on bags that have wheels and that can also be placed on top of a roll-aboard. They are heavy and don't hold much, but they are free and we got two of them which we'll need on the way home to carry the things we accumulate during this cruise.
October 9 (Tuesday, Day 19, Nagasaki, Japan; 100 JPY = $1.28, $1.00 = 78 JPY) -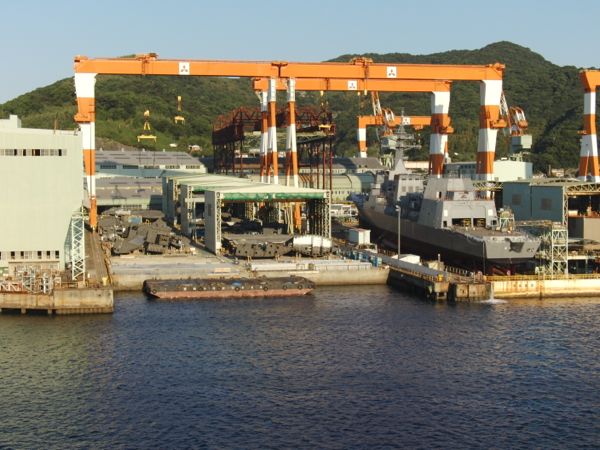 Building warships at Nagasaki
Nagasaki was celebrating the final day of its annual 3-day Kunchi Festival. It is the autumn festival of Suwa Shrine and every year five to seven groups perform, representing various city districts. However, each city district participates only once every seven years so the performances area always new. Alisa-san, Snookums's Tokyo co-worker who was flying to Nagasaki to meet us for lunch, told us about the free morning performances. Our tablemates, Sharie and John, went with us to watch them.
We got to the waterfront area around 8:30 and stood and watched a dragon dance, a dance featuring several Geisha girls and performances with floats, including a wooden ship. Around 9:45 AM the performances were over.
Kunchi Festival
During the activities, a man in his mid-20s talked to Snookums about what was going on. She gave him an Amsterdam pin that she got free from the cruise director to hand out and a few minutes later, he presented her with a $10.20 Kunchi souvenir shrine charm that he had just bought. Later, a Japanese man was talking to Snookums and she gave him a U.S. flag pin and he felt bad that he had nothing to give her back. Later when she asked him for directions to the bakery that we needed to meet Alisa-san at, he opened his briefcase and gave her a bag from the Tokyo Pompadour Bakery which also has a store in Nagasaki. He said that if we got lost we could show people the bag! Japanese tend to keep "designer" shopping bags and Pompadour is a famous Japanese bakery.
At least six streets were closed to traffic and were lined on either side with festival food stalls. Unfortunately, we ate breakfast on the ship and weren't hungry for the bean paste cookies, yakitori or other Japanese treats. There were some large balls wrapped in bacon that looked very intriguing (and they were some of the cheaper offerings), but we never figured out what was in them.
John and Sharie went their own way and we headed for Pompadour Bakery. On the way we stopped at a 100 yen store. While Snookums was shopping, Filbert bought a 500 ml beer for $1.50 at a convenience store and sat in the hall and drank it. Snookums purchased greeting cards for a crewmember's birthday (Dee Dee, a Pinnacle Grill waitress who also works in Neptune Lounge) and for our ship neighbors' 63rd anniversary (Filbert and Flory).
We met Alisa-san at 11:50 and she took us to her favorite restaurant in Chinatown. Nagasaki is her favorite city in Japan (she is from Hiroshima) since she thinks it still has that small-town feel. We had champon for lunch as well as fried noodles and an eggroll that was made out of white bread (rather than a wonton wrapper) and filled with something that looked and tasted like sage stuffing. It was good, but definitely not typical Chinese. Champon is a noodle dish that is a regional cuisine of Nagasaki. To Snookums it seemed just like ramen, but there was obviously something different about it to make it special to Nagasaki! We ate everything and enjoyed it all.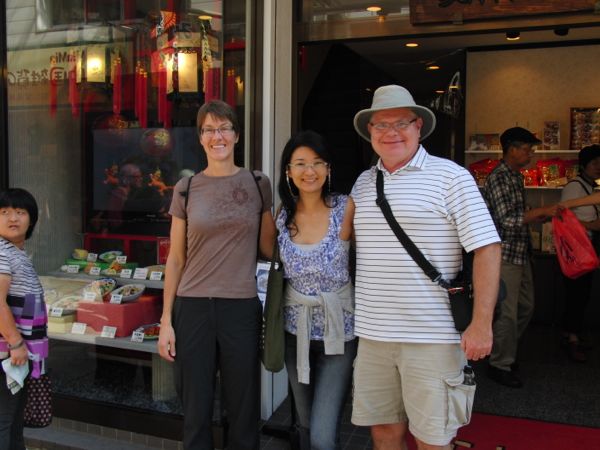 The Travelers with Alisa-San
We next visited Dejima which is a tiny island built in 1636 to house Europeans (Portuguese missionaries first followed by Dutch traders) in order to prevent the spread of Christianity. For more than 200 years, Dejima was Japan's only point on contact with Europe. It was very interesting to see such a small area of land that had such a large impact on Japan. 10 buildings have been reconstructed since 2000 which really made it come to life.
Model of Dejima, in Dejima
After our visit to Dejima, we said goodbye to Alisa-san since she had a plane to catch to Hiroshima to visit for parents and sister. It was so nice of her to spend the night in Nagasaki in order to spend part of the day with us. While saying goodbye she mentioned that it was too bad she couldn't have cruised with us from Yokohama to Nagasaki and Snookums felt so bad for not even thinking about that since HAL probably would have been happy to sell her a cabin for those several nights. Next time!
We took the tram to Peace Park (Heiwa Koen) and Hypocenter Park. Peace Park is built on the grounds of an old prison that was destroyed due to the August 9, 1945 atomic blast. In the middle is a large statue of a godlike man with one hand held out in an appeal to cease the madness of war while the other hand points heavenward to remind humanity of our place in a larger universe to hopefully contain our destructive urges. In nearby Hypocenter Park, a monument around a black pillar marks the atomic explosion's epicenter and lists the victims. Nearly a third of city residents were killed in the explosion and another third were seriously injured.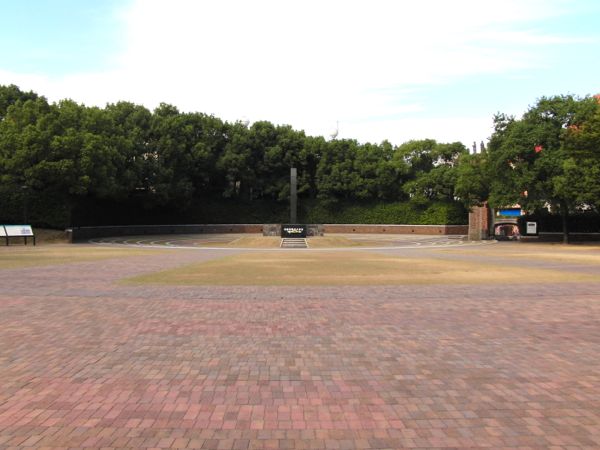 Hypocenter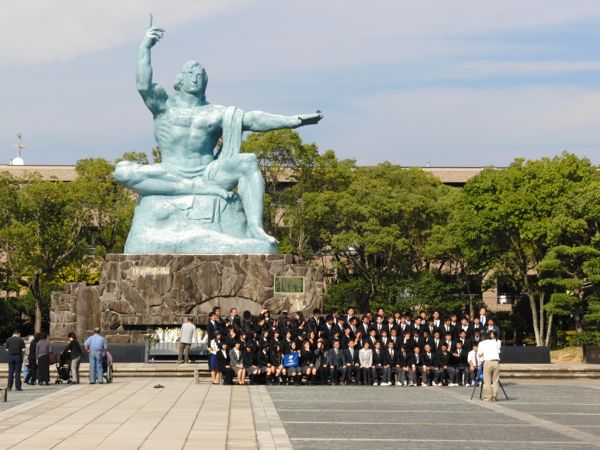 Peace Park
After that sobering visit, we took the tram back to the ship where a high school band was playing near the dock. During the day, Snookums found four coins worth 22 yen. It was a great day, to say the least!
During dinner our waiter surprised us with a small bowl of homemade sambal. Everyone at the table enjoys spicy things, some more than others, and the sambal was really appreciated. There is jarred sambal available in Lido and we had been trying to get our waiter to give us sambal (even jarred) every night, but there seemed to be a communication problem until tonight.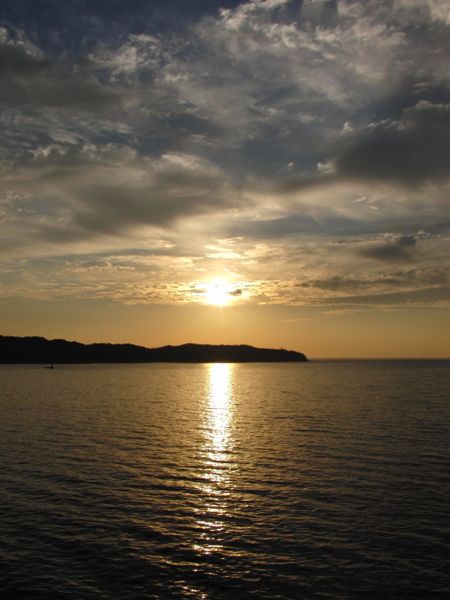 Sunset