The 2012 Grand Asia & Australia Voyage, Part 3
Friday, October 16 2015 @ 06:10 AM CST
Contributed by:

filbert

Views: 1,936
The 2012 Grand Asia & Australia Voyage, Holland America ms Amsterdam
Text and pictures by Snookums, webification by Filbert

Part Three

(Remember to click "read more" if you're looking at this from the main medary.com page to get the whole article!)

October 6 (Saturday, Day 16, Kobe, Japan; 100 JPY = $1.28, $1.00 = 78 JPY) -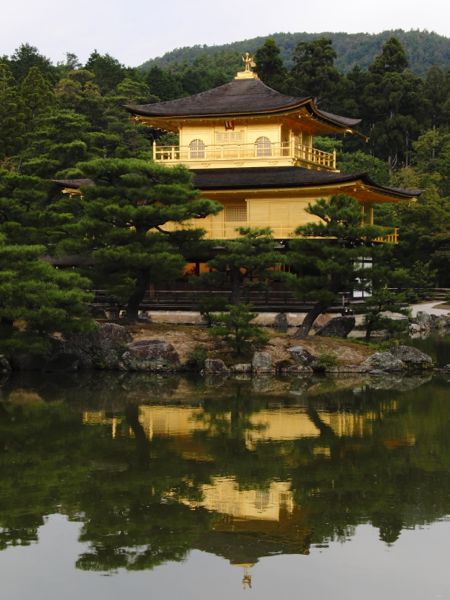 Kinkakuji
Snookums went to the fitness class and then Brooke, a woman traveling alone for the first time, joined us for our trip to Kyoto which is about an hour away via train. Kobe is the sixth largest city in Japan and has a population of about 1.5 million. In 1995 a 7.2 magnitude earthquake hit Kobe and 6,400 people died and 100,000 hones were destroyed. Kobe made a quick recovery and it is now a modern, industrialized city. Our $15.90 train took us from Kobe to Kyoto via Osaka. The entire hour-long trip was through a city and the Kobe-Osaka-Kyoto boundaries were not obvious. For some reason, Snookums thought that Kyoto was a town, but it's a large, bustling city just like Yokohama, Kobe, Osaka and Tokyo.
We got off the train and went to the information office in the Kyoto train station. Snookums didn't do any planning work at home for this Kyoto daytrip and had done limited reading about Kyoto from the ship's library so we needed a lot more information in order to get to our three chosen sites. The gentleman at the information desk was very helpful and gave us exact bus numbers and suggested that we buy the $6.40 all day bus pass which we did. Then he said that he has a son in Rapid City, South Dakota and has visited there three times so he and Filbert bonded since Filbert was born and raised in South Dakota.
We made our way out of the train station and found the right bus and then rode to Kinkakuji (Golden Pavilion, $5.10 entrance fee). This is probably Kyoto's most famous and certainly most photographed temple garden. The three-story Chinese Zen-influenced Golden Pavilion has delicately curving roofs and the walls and eaves of the second and third stories are covered with gold leaf. The top is topped with a golden phoenix. The Golden Pavilion was beautiful as were the surrounding gardens. The day was a bit cloudy but it was still very impressive. A few of the trees had started to change color, too, which added to the fantastic ambience.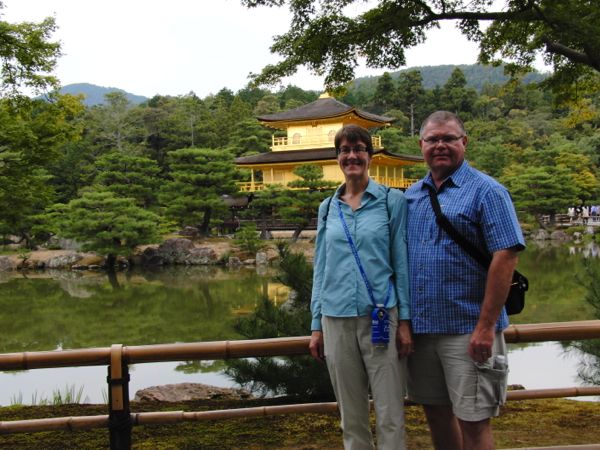 At Kinkakuji
There were vendors at the exit and after sampling several snacks, we bought overpriced (but "well-known in Kyoto" - every Japanese town has food products that they are "famous" for) chili peanuts and wasabi peanuts. Brooke bought a souvenir silk artwork "painting" depicting the Golden Pavilion that she plans on displaying in her living room.
After that it was time for lunch. There weren't many restaurants near the Golden Pavilion but Snookums remembered seeing one on the corner by the bus stop. We walked around for a few blocks looking for restaurants before going to the one that Snookums saw. It consisted of five stools and a very tiny table. A husband and wife worked behind the counter and probably had 18 inches of width to stand in. The menu had five items on it and Filbert and Snookums had the $8.90 hayashi beef and Brooke had the $8.90 curry rice. The hayashi beef was basically strips of beef in gravy and Brooke's curry rice was Japanese curry and vegetables (no beef). All the meals were served with a cup of consommé. Filbert ordered a $7.63 beer and got a can of Asahi and an icy cold metallic tumbler that had a picture of Egyptian pyramids and camels on it. He was also given two tiny triangles of white cheese. Other than the one cockroach that we saw, it was a typical tiny Japanese "mom and pop" joint. We are pretty sure that our rice and beef gravy came straight out of packages but it was food and Snookums and Filbert ate all of theirs and then finished Brooke's, too. (Brooke lost her appetite after seeing the cockroach running around the counter!)
We caught the bus to Nijo Castle ($7.65 entrance fee) which has huge walls, moats and towers. Ninomaru Palace is the main attraction within Nijo Castle and totals 35,500 square feet consisting of 33 rooms with silk paintings covering the walls and over 800 tatami mats. The wooden floors were specially built to squeak like nightingales in order to warn the shogun of intruders. Even after all those years, we could definitely hear the pleasant squeaks! We continued to explore the rest of the grounds within Nijo Castle's moat, including the gardens and the outside of Honmaru Palace.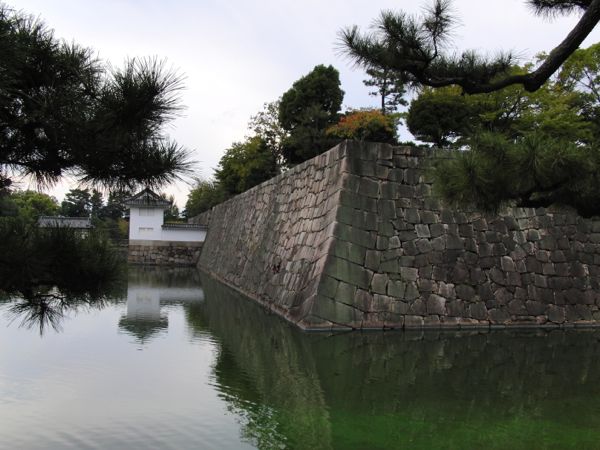 Walls and Moat of Nijo Castle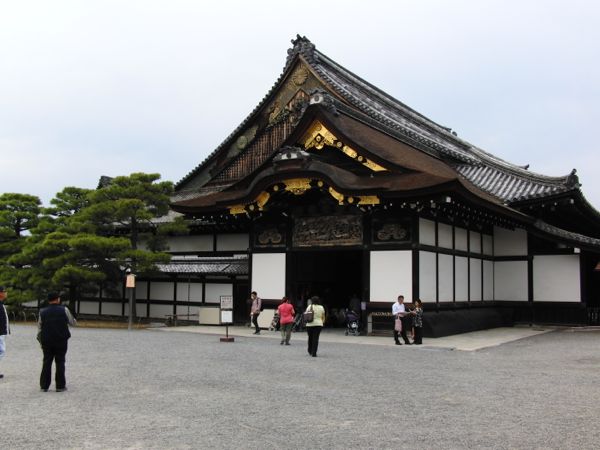 Honmaru Palace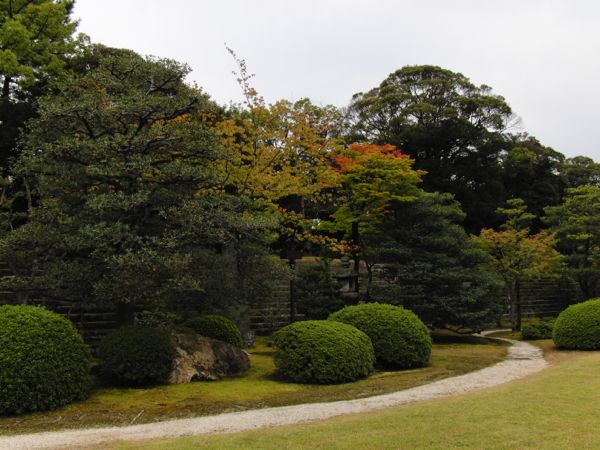 Ninomaru Gardens
By now we were pretty tired and decided to save visiting Heian Shrine for another Kyoto visit. We caught the bus to Kyoto Station and Snookums was lucky enough to get a seat for the 20-minute ride. We bought our tickets back to Kobe and made the express train with a minute to spare. Unfortunately, all the seats were taken and since we didn't want to wait thirty minutes for the next express train, the three of us stood for the first 25 minutes until the Osaka stop when most of the passengers exited. Our transportation experiences were first-rate and our longest wait for any public transportation was probably two minutes. The "worst" part was the 25-minute standing after a long day of walking.
We got back to the ship and Filbert and Snookums went to Lido for the Teppanyaki BBQ dinner. It was okay and the decoration of red honeycomb balls and red "silk" umbrellas were festive. Holland America tried to make a Japanese theme. The food was so-so although Snookums thoroughly enjoyed the vinegar daikon salad and the mushroom tempura. Snookums really wanted to attend the 9:30 PM taiko drum show but fell asleep around 8 PM and slept until 8 AM. It was a long, but good, day.
October 7 (Sunday, Day 17, Kobe, Japan; 100 JPY = $1.28, $1.00 = 78 JPY) -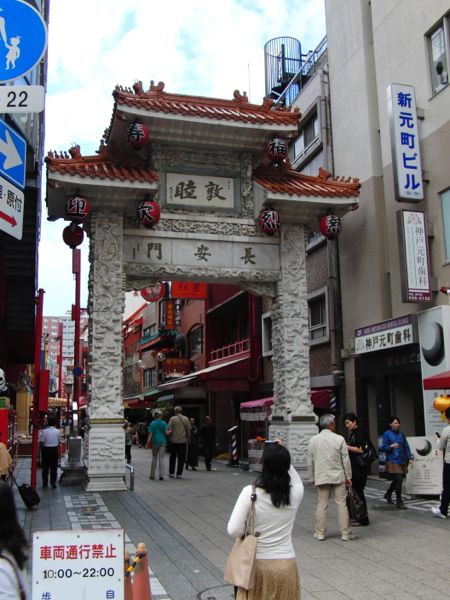 Kobe
We woke up and caught the free 10 AM shuttle to Motomachi (downtown Kobe). We walked through Chinatown and it was pretty quiet since a lot of stores didn't open until 11 AM and not many Japanese were out and about. Then we walked through some of the covered shopping streets where no cars are allowed. We both remembered Chinatown and the covered shopping streets from our 2008 visit. The same Kobe Music Festival was going on, too, that we remembered from 2008 and various musical performances were taking place. We went in a candy store and bought a Hello Kitty individually wrapped marshmallow for $0.15 for a Christmas gift and was given a single-serving bag of Frito-Lay pasta flavored and shaped chips. That will be part of the Christmas gift, too. The store lost money on that transaction!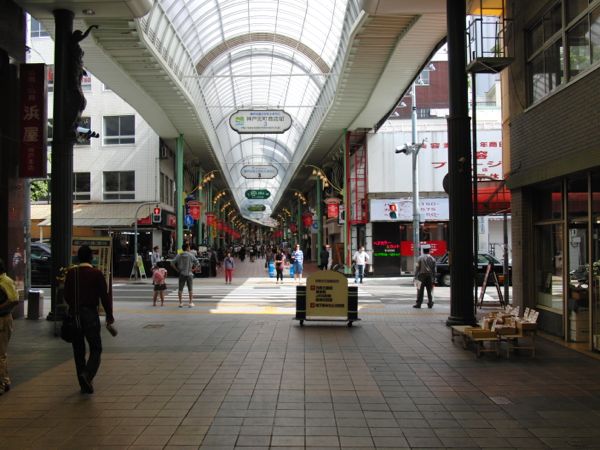 Early shopping in Kobe
After walking all over for two or three hours, we finally got hungry and checked the restaurants in Daimaru, a major department store. However, everyone in Kobe had the same idea and there were long lines. We left the department store and hunted for restaurants and decided a Kobe beef one would make sense. We walked in but immediately left since three men at the small counter were smoking cigarettes. We saw a tiny restaurant that had a glass window showing the chef making udon noodles and although there were no pictures of the food (and no plastic food models) we decided to go in. There was a table for four at the front but it was occupied so we sat at the counter with five stools. There was also a Japanese table for six but Filbert's knees don't bend well enough to sit on the floor so we sat at the counter. And we were happy we did since we could watch the two chefs do their magic. The waitress came to us and we found out that there were no English menus. She was flustered and got the udon noodle-making chef. He asked "Hot or cold noodles?" and we both said "Hot" and then he asked "Tempura?" and we said "Hai" (yes). We were each given a large bowl of udon noodles (like thick, but spongier, spaghetti noodles) in a delicious broth and the shrimp, shiso leaf and squash tempura were on top. Filbert also ordered a beer and he was given a 500ml (17 oz.) bottle of Kirin. We had no idea what the cost of our lunch would be, but we saw that the most expensive item on the menu was $14 so we weren't worried. Snookums assumed that since we were gaijan (foreigners), we would be served the most expensive item but when we got the bill it was only $26. And the big beer was only $2.50! Japanese people were coming in, too, but no one ordered the exact entrée that we were given. We were very happy, though, and it was fun watching the udon noodle chef make the noodles while the other chef was preparing the tempura and other dishes.
After lunch we went to a convenience store to buy cans of Japanese beer ($1.75 and $2) and Snookums bought her favorite Japanese ice cream treat ($1.60) that is a vanilla ice cream bar with a hard, thin stick of dark chocolate in the middle and then the entire bar is covered in a regular ice cream cone crispy batter. Then it was back to the ship. We went to the sail-away (our cabin still hasn't faced the dock, yet, in order for us to host a sail-away party on our verandah) and enjoyed the taiko drumming but were perplexed by the 30 young women all wearing different costumes that appeared to be bikini swimsuits with very ruffly miniskirts (like old fashioned hoop skirts and petticoats) and head pieces. Snookums thought it kind of looked like a Brazilian samba school since the colors were so bright and there was quite a bit of skin showing (especially for Japan). It looked like Miss Kobe was there, too, wearing a light blue knee-length coat, matching hat and white gloves. Maybe the 30+ women were beauty pageant contestants wearing their "swimsuit" outfits. Anyway, the taiko drumming was outstanding (and incredibly loud and we were pretty far away since the drummers were on the balcony of the terminal building and we were on the ship).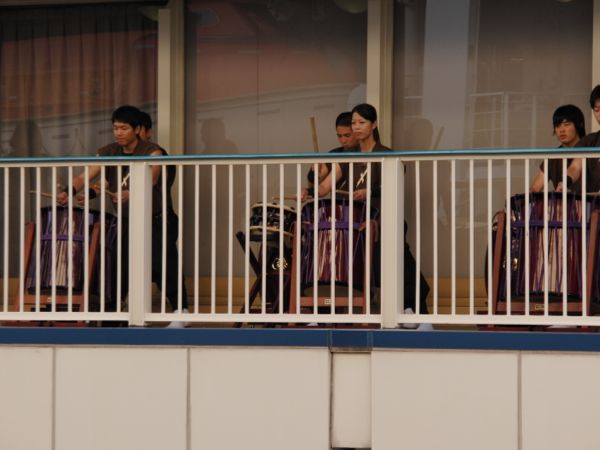 Taiko Drummers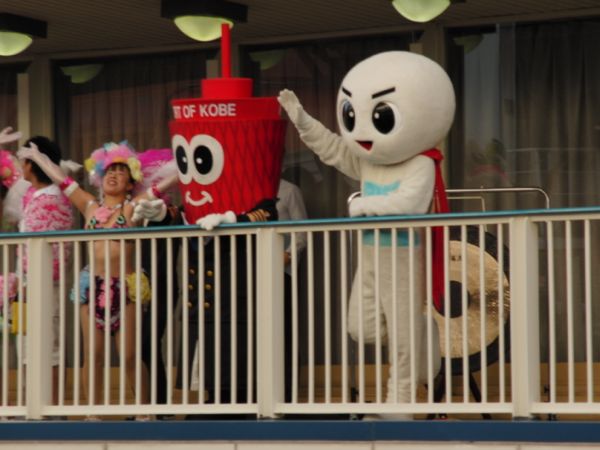 Kobe Says Goodbye
Deluxe Verandah Suite passengers were invited to cocktails in the Officer's Bar located on A-Deck and consists of two small rooms. It was packed with the guests and a lot of the officers. Snookums and Filbert sat on wobbly bar stools and enjoyed talking with other people, although it was very loud due to the number of people in such a small place. When it came time to leave for dinner, Snookums steadied the bar stool for the woman sitting next to her and then when it was time for Snookums to get down from the bar stool, she managed to tip it backwards and fell down with it! Other than her pride, Snookums was not hurt at all and luckily no one was standing behind her since the bar stool was very, very heavy and it would have definitely hurt. Officers and crew rushed over to make sure Snookums was okay and all she wanted to do was pick up the chair and go to dinner. She managed to do both and the rest of the night was uneventful. Filbert said that the reason Snookums fell was because she didn't drink and that the wobbly bar stools were easier to maneuver when a bit tipsy. We went to dinner and enjoyed a festive dinner with our tablemates whom we didn't see last night. It was a good day.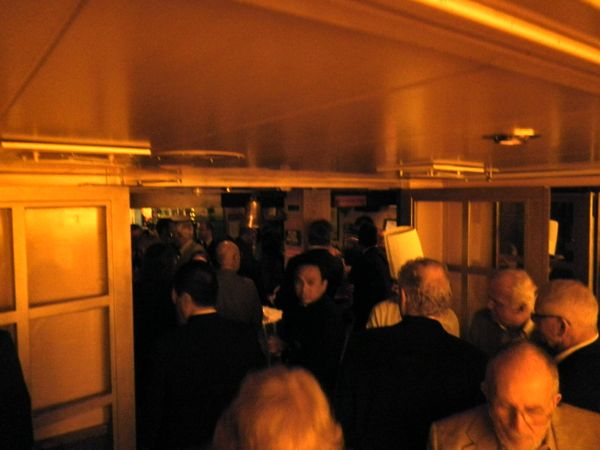 Only known photo of a wild party in the Officer's Bar