The 2012 Grand Asia & Australia Voyage, Part 1
Friday, October 16 2015 @ 06:00 AM CST
Contributed by:

filbert

Views: 6,476
The 2012 Grand Asia & Australia Voyage, Holland America ms Amsterdam
Text and pictures by Snookums, webification by Filbert

Part One

(Remember to click "read more" if you're looking at this from the main medary.com page to get the whole article!)

September 20, 2012 (Thursday, Day 1, Flying to Seattle) -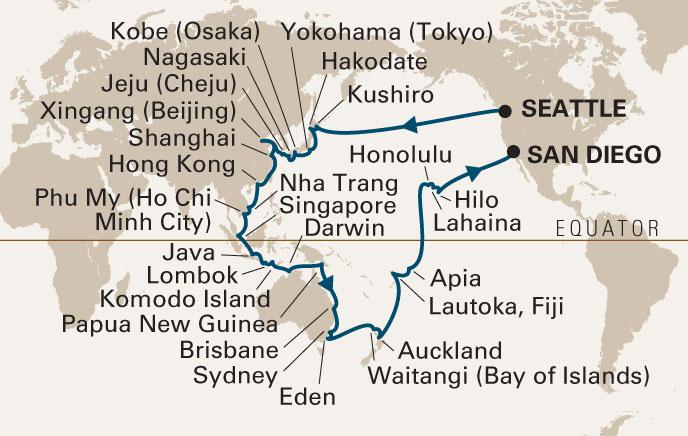 The Itinerary
Our Alaska Airlines non-stop flight to Seattle left five minutes early and landed 30 minutes early. The trip got off to a great start. We took the $2.75 Link Light Rail to the Hyatt at Olive 8 and were upgraded to a corner room suite and were also given a bottle of red wine and a 7.5 oz. bag of chocolate covered dried cherries for our anniversary. The trip is off to a really great start and it's only 8 PM! After waiting 90 minutes for our Hyatt Diamond amenity to be delivered and making two phone calls, the bottle of wine and cheese and crackers were finally delivered. A slice of chocolate cake was also delivered as an apology.
September 21, 2012 (Friday, Day 2, Boarding ms Amsterdam, Seattle) -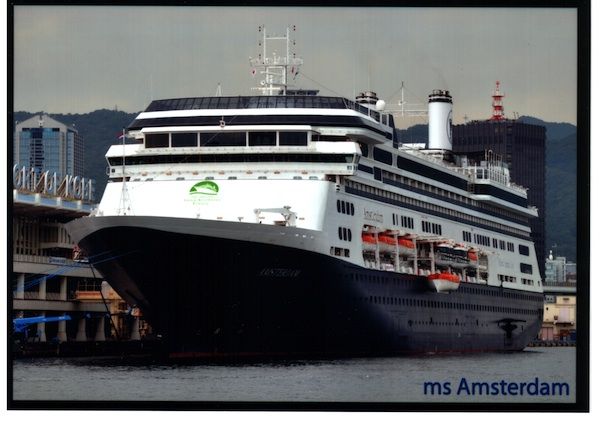 MS Amsterdam
We enjoyed our free breakfast in the hotel restaurant. Snookums had the $14 goat cheese scramble and Filbert had a $16 ham/cheese/bacon omelet. We were ready to go to the ship and left the hotel around 10:30 AM. We immediately checked in and got our ship key cards, but had to wait 15 minutes or so until boarding started. The port terminal was decorated with all sorts of flags and passport stamps. These decorations were not up for our Alaska cruise from the same port two months ago.
Around 11:30 AM we boarded the ship and went to our Deluxe Verandah Suite (7028). We originally booked a verandah cabin and received an offer to pay for an upgrade to a Deluxe Verandah Suite. We initially said "no" and after a week we finally received our cabin assignment and when we saw that it wasn't for a Deluxe Verandah Suite (we were hoping for a free upgrade like we received in 2008), we went ahead and paid a lot of money to upgrade to a Deluxe Verandah Suite (7028). Our suite was ready and we dropped off our roll-aboard, freshened up and went to lunch in the dining room. We met six other people, two of whom are down the hall from us (Phil and Barbara).
When we got back to our room after lunch, some of our bags had been delivered. We shipped seven suitcases/duffel bags via Fed Ex for free (an early booking perk) and four of these were in the room. We started unpacking and found that one can of Diet Sprite (clear and sugar-free) leaked. We sent out five bags of laundry since those clothing items were wet from the Diet Sprite. Nothing was ruined, though.
While waiting for our other four pieces of luggage we stopped by Neptune Lounge and said "hi" to Kate, the front desk employee assigned to the Neptune Lounge for the duration of this 75-day cruise. She also worked Neptune Lounge in July during our 14-day Alaska cruise and remembered us and asked about Snookums's parents. We met Dee Dee who is the Pinnacle Grill server assigned to taking care of the food in the Neptune Lounge. We went to the gym, too, and weighed ourselves.
Our final four pieces of luggage were delivered and we unpacked until it was time for the lifeboat drill. The day was cloudy and cool, but it wasn't too bad outside. We unpacked some more and then we went to the sail-away party where there was free alcohol which was a perk of being on a Grand Voyage. (Holland America does special things for Grand Voyages [cruises longer than 40 days] like giving guests gifts throughout the cruise, having more cocktail receptions, and hosting more special events like themed lunch buffets. Our ship even has a huge 2012 Asia/Australia Grand Voyage logo decal on the front of it.) We met Linda and Muriel, widows from California, at the sail-away.
Before we left for dinner we ended up with five bottles of champagne. We're not quite sure where the fifth one came from but we'll take it. (When we entered our suite for the first time there were all sorts of envelopes with cards in them saying things like "Compliments of your travel agent", "From the Captain", etc. It took us awhile just to open up all of the envelopes with our "gifts", most of which were things we purchased prior to the cruise [like internet time, distilled water, a shore excursion, etc.].)
It was time for our 8:00 PM late dinner seating that we selected (compared to a 5:30 PM dinner seating). We were assigned to a table for six but we were the only ones that showed up so dinner was pretty quick. Neither of us had dessert, either. Let's hope that lasts!! Every woman was given a beautiful long stem rose which was another little thing that differentiated a Grand Voyage from a normal HAL cruise.
When we returned to our room after dinner, we had a ~$75 collection of full-size Molton Brown London toiletries on our bed with a note saying it was for Deluxe Verandah Suite guests. It's a good thing we have free luggage shipping back to our house in December! We turned our clocks back and went to bed. It had been a very full day and we felt very good about being 98% unpacked/settled in.
September 22, 2012 (Saturday, Day 3, At Sea) -
Snookums went to the free 7:30 fitness class. Every day it is called "Total Body Conditioning" but the instructor said it would be different each day. Today was a class using light weights. Snookums and Filbert ate breakfast in Neptune Lounge (a yogurt parfait for Snookums and cheese and "deli" meats for Filbert) and then attended the cruisecritic.com Meet & Greet to put faces to people that had been posting things about this cruise. Snookums also used this time to collect money from the 32 people on the Komodo Island dragon trek and snorkel tour that she organized. Then she returned to the cabin and finished the little things that needed to be done to really get settled in and totally unpacked.
Filbert attended John Palmisano's "Oceanography & Biotic Interactions" lecture in the morning and Warren Salinger's "World Affair: Globalization One" lecture in the afternoon. Snookums went to the standing room only movie "Best Exotic Marigold Hotel" but was disappointed since the popcorn was gone five minutes before the movie started. (She brought a chair into the theatre and was very comfortable.) Next time she'll have to get there earlier in order to get a seat and popcorn.
We received our November U.S. election ballots via email and printed those off, voted, put them in envelopes and gave them to Kate to mail from Japan. We thought we would receive the ballot via mail while we were docked in Yokohama, but email is much simpler. The man at the Jackson County Election Board told us that we didn't qualify for email but that Missouri was working on changing the rules and he would try to get the ballots to us via email. Talk about easy! We don't know if our ballots will really be counted or not, but we've done all we can do.
Prior to dinner we went to the suite cocktail party hosted by Captain Fred Eversen and Hotel Director Henk J. Mensink. Captain Eversen remembered us from the July Alaska cruise. Paul, the Food & Beverage Manager, told us that there were 820 guests on board and we would max out at 850 during the entire cruise. That is great since the ms Amsterdam can hold 1,300 passengers.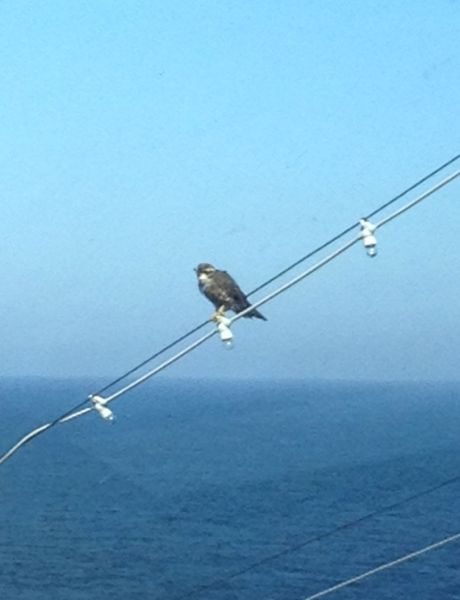 Bird on a wire, outside the cocktail party
We went to dinner and our tablemates still didn't show up. We were asked if we wanted to move and we said "yes" and were seated at a table with two other couples – John and Laura from near Washington, DC and John and Sharie from a Vancouver suburb. We all got along and it seems to be a great table.
After dinner we returned to our room and our five sets of laundry were back and only one thing needed to be re-washed due to dirt that the laundry managed to get on it. No problem. We set our clocks back again and went to sleep. Captain Eversen is navigating the ship way north to avoid a storm but the ship was still rocking quite a bit.
September 23 (Sunday, Day 4, At Sea) -
Snookums went to the fitness class but since the ship was rocking so much, it was mostly floor work. Two people left half way through since they were starting to feel sick. After class Snookums rode one of the stationary bikes but quit after five minutes since she had been looking at the ocean too much and was starting to feel seasick. Filbert took some Dramamine and Snookums was going to take some but never got around to it and ended up feeling fine. After a leisurely breakfast in Neptune Lounge while chatting with Mary and David, passengers from Florida, Snookums and Filbert attended Travel Guide Barbara Haenni's Kushiro lecture.
After a lunch of make your own taco salad (one of the many things we like about HAL is the daily taco bar), it was time for naps! It was rainy, yucky and cold outside and the ship was rocking and rolling so naps were definitely a good idea.
Due to our VIP status (HAL gave us a VIP package (?) since Snookums wrote a letter after one of our cruises with some constructive criticism) we were invited to a Merabella jewelry event and since it fit nicely with our formal night schedule, we went. Filbert passed on the free champagne and Snookums looked at the four Fabergé eggs and talked to the manager about them. She was told that more will be coming for a three-week period during the cruise and was also told that during the Baltic cruise season, he averaged selling $150,000 of Fabergé eggs during each 12-day Baltic cruise!
After the jewelry event, we attended the formal Captain's Welcome Champagne Reception. Most of the passengers are eating during the 5:30 PM seating which meant that very few people attended the 7 PM Captain's Welcome. There was plenty of free alcohol for everyone. Captain Eversen told the crowd that along with the 820 guests on board, there are 600 crewmembers. That's almost a 1:1 ratio! The other night Snookums asked Paul, Food & Beverage Manager, if all of the crew were working and getting paid and was told that their contracts have a minimum amount of money they are guaranteed and that they know to expect to earn less on Grand Voyages but it is a different type of work environment and they get to see different ports. When we got to dinner, Laura and John weren't there since Laura was seasick but John and Sharie were there and we had a nice dinner. The dining room was decorated with flags from all nations and huge globes were hanging from the ceiling. Filbert wanted one of the globes but realized that it wouldn't physically fit in our house.
When we got back to our cabin, we were surprised to see two leather journals embossed with the 2012 logo and two matching leather key card cases. And instead of getting the gold foil wrapped cheap milk chocolates that we get every night, we each got a red foil covered Leonidas chocolate. We turned our clocks back and went to bed.
September 24 (Monday, Day 5, At Sea) -
Snookums went to the fitness class and Filbert and Snookums ate breakfast in Neptune Lounge. We attended the Hakodate lecture and then Filbert stayed for the "Marine Reptiles" lecture. We managed to take naps again, and Snookums actually took two. She took a 45-minute one before lunch and a 2-hour one after lunch! The weather was cold and rainy again. Snookums went to her 4 PM free acupuncture consultation for her left shoulder and was surprised to actually get a full treatment. She ended up buying five more treatments for $600 ("reduced" from $750 since she bought the package!). She's been going to the chiropractor twice a week for three months (at $40 each) and hasn't noticed any improvement so she figured she didn't have anything to lose (other than money). And, she had already resigned herself to seeing the orthopedic surgeon at the beginning of 2013 when her $5,000 deductible resets. Here's hoping for some shoulder pain relief.
After dinner we returned to our cabin and enjoyed watching the rest of Monday Night Football, including the replacement ref's blown last call that enabled the Seahawks to win. We turned our clocks back and Snookums fell asleep around 10:30 and Filbert went to sleep around 12:30.
September 25 (Tuesday, Day 6, At Sea) -
There was lots of rocking throughout the night and we both woke up around 6:30 AM. (Turning the clock back every night for four nights in a row might be the cause!) We both went to the gym and after showers and breakfast, it was only 9:30 but felt like it should be around 1 PM.
During the Captain's 12:45 PM update from the bridge daily announcement, he said that the winds would pick up tonight and get to gale force 8 or 9. (Gale force 10 is a hurricane.) It should be fun tonight!!
Filbert attended the "Amazing Lives of Sea Birds" lecture at 2 PM and learned that some albatross will be at sea for three years before returning to land to nest. That's a lot of time spent just flying around and never landing! Snookums went to Arts & Crafts at 2:30 PM to make a Japanese kimono card. She got there at 2:25 PM and the instructor was already well into her spiel about temples and shrines. At 2:27 PM the instructor said that the kits were all gone and that not everyone would get one. Snookums didn't get one so she left and wrote a letter to Christel Mensink, Guest Relations Manager, asking that if events are going to start early that should be clarified in the daily Explorer and that if there is a limit on the number of participants, that should also be clarified. Snookums is waiting to see if there is a response. Since she couldn't do her craft project, she wrote the journal and watched hour-long dramas on TNT. (The two ESPN channels are now off the air due to loss of satellite.) Snookums had thought about going to the Mission Impossible – Ghost Protocol movie at 2 PM, but decided to do crafts instead. She should have gone to the movie…
Next year Laura and John are thinking of doing the identical 35-day Oceania cruise that we did in April and May in order to complete their own "around the world" cruise by segments (which is why we did that cruise) so Snookums is going to give them a copy of the journal at dinner. They should learn a lot about Oceania and the ports from reading it. It will be interesting to hear their comments about Oceania. Snookums reread the journal and it reminded her of the things that she disliked about Oceania and made her appreciate Holland America that much more.
The Dining Room Manager spoke to our table for at least five minutes last night and made sure to know that whatever we wanted, we could have it with 24 hours notice since we're on a Grand Voyage. We learned that most of the cooks are from the Philippines so our table is going to request a Filipino dinner one night. It should be good!
September 27 (Thursday, Day 7, Cross International Date Line, At Sea) -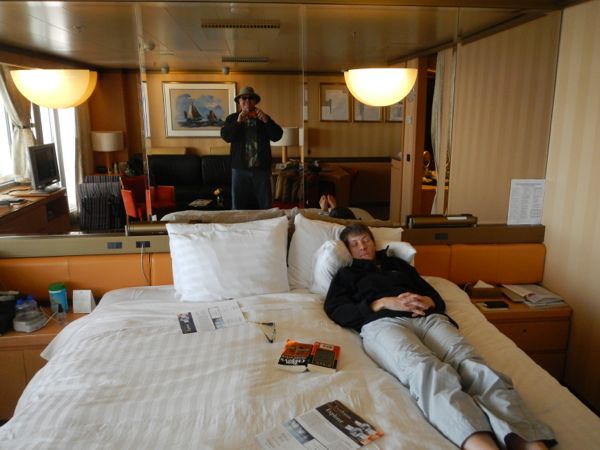 Long, arduous days at sea
There was some rocking and rolling early in the night, but it wasn't too bad. Last night's 10 PM show, featuring the singers and dancers, was cancelled since the ship's movement was too great. And, we skipped Wednesday altogether since we crossed the International Date Line (which had nothing to do with the rocking and rolling!).
We both woke up around 6 AM since we turned our clocks back another hour last night. Snookums went to the gym and rode the bike for 20 minutes, worked up a good sweat during the 30-minute fitness class and then did the stair climber for 15 minutes. We lost a day so she is thinking she needs to make up for that. And, she has been enjoying chocolates from the Neptune Lounge so the extra work shouldn't hurt.
While Snookums was in the gym Filbert went up to Lido and was going to have some eggs but saw sticky buns first and got two of them for Snookums (and none for himself) and forgot about his eggs. Since we crossed the International Date Line, free Borderline drinks (aka Mimosas) were passed out at breakfast but Filbert didn't want any so we ate in Neptune Lounge. Snookums greatly enjoyed the sticky buns. They were outstanding and some of the best she's tasted. It's a good thing they are in Lido and not Neptune Lounge! After Filbert ate his Neptune Lounge breakfast of cheeses and meats, he helped Tessie with accessing her email. Tessie and Bert are an elderly couple that live in Honolulu and Tessie hadn't been able to get her email since embarkation day. She picked the absolute slowest time to try since the satellite isn't working the best. We've lost several TV channels since we are so far north, but she was able to get to her email thanks to Filbert's help.
Snookums attended the 11 AM raffle of leftover Alaska items but didn't win any of the four prizes. A few Alaska things were for sale at 75% off, but although she had just been on an Alaskan cruise in July, there was nothing of interest. While Snookums was not winning anything at the Alaska raffle, Filbert was wasting his time at the "Japan" lecture. Per Filbert, Warren Salinger is not a good speaker and Filbert will not be attending any other of his lectures.
At 11:40 AM, there was a 6.4 earthquake 18 miles SSW of Tanaga Volcano, Alaska which was about 50 miles away from the ship. The ship shuddered for three seconds or so. When the ship hits a wave just right (or wrong, as the case may be), it shudders for one second. This shudder, though, lasted much longer. Snookums was sitting in Neptune Lounge while it happened and was trying to figure out if the engines were directly under her (and she knew they weren't). During the Captain's daily announcement, he said that it was an earthquake and that no tsunami warning had been given and that it was the first time he had experienced an earthquake at sea and he could now cross that off his bucket list. Cool!
After lunch, Snookums attended the crafts class and made an "elegant daffodil pouch". It involved hand sewing three inches of fabric and threading some ribbon through the casing. After 45 minutes, a woman approached Snookums and asked her if she wanted her to finish it. Snookums readily accepted her help and the woman was done in 10 minutes. Snookums's problem was that she was stitching about 50 stitches per half inch and that was taking too long. Anyway, the finished product is rather cute, looks "Japanesey" and is big enough to hold a bracelet.
Then it was off to Snookums's 4 PM second acupuncture session. She got nine needles this time as compared to the three she got during the first session. Then she went to the "Fab Abs" class at 5 PM. There was only one other participant, the lead male singer who is from Jefferson City, MO and has lived in Kansas City for the past four years. The first dinner seating is at 5:30 PM and most of the cruise passengers are eating during the early seating which means that very few people are available for the 5 PM class. The only people in the gym were the singers and dancers. It was a killer class!
For the first time ever on a cruise, Snookums took advantage of the whirlpool tub in the suite and soaked in warm, bubbly water for 20 minutes. It was decadent. While Snookums was making a craft, getting poked, doing crunches and bathing, Filbert was busy on his computer enjoying a day at sea.
During dinner we ordered a special meal for the entire table for Friday night of Filipino dishes. We don't know what we'll get, but it should be good. We turned our clocks back and went to sleep.
September 28 (Friday, Day 8, At Sea) -
Snookums woke up a little after 7 AM and turned off her alarm and slept in. The day was sunny and the seas calm. After showering, we got to Neptune around 8:30, our normal time, and had breakfast. Filbert left at 11 to go to the "Coral Reef Fishes of the North Pacific Ocean" lecture. Snookums continued sitting in Neptune talking to Geanne (pronounced "Jan") until Filbert came back around noon. That's a record for Snookums to sit in Neptune Lounge – 3 1/2 hours of talking!! Geanne is traveling with her elderly mother.
Lunch was special today since there was a Mongolian BBQ by the pool. It was nice to pick your own vegetables, meat and spices and have it cooked on a wok just for you. Snookums's was spicy (and just right) but Filbert's was bland so he had to spice it up with some wasabi dissolved in soy sauce. After lunch Filbert sat on the verandah with just a fleece jacket on while listening to his short wave radio. Snookums went outside for just a second and saw a pod of small whales (or dolphins, but she thinks they were whales due to the spouts) and chastised Filbert for not doing a better job of sealife spotting!
For those of you wondering what there is to do during a day at sea, the following activities happened between 11:00 and 2:30 today:
- 11:00 – Explorations Speaker Series, Queen's Lounge, 4 & 5
- 11:00 – Onboard Games, Ocean Bar, 5
- 11:00 – Spa Seminar: Eat More to Weigh Less, Greenhouse Spa, 8
- 11:15 – Cooking Show: Flavors from Pinnacle Grill, Culinary Arts Center, 4
- 11:15 – Beginner's Bridge Instruction, Hudson Room, 5
- 11:30 – Cruise Classics: Football Toss, Sports Court, 9
- 11:30-2:00 – Mongolian Cookout, Lido Poolside, 8
- 12:30 – Complimentary Gaming Lessons, Casino, 5
- 1:00 – Lifestyle Show: For the Love of Chocolate, Culinary Arts Center, 4
- 1:00 – Watercolors Class, Club HAL, 9
- 1:00 – Introductory Photo Editing II, Digital Workshop, 5
- 1:30 – Cruise Classics: Wii Challenge, Crow's Nest, 9
- 1:30 – Texas Hold'em Tournament, Casino, 5
- 1:30 – Game Players Meet, La Fontaine Dining Room, 5
- 1:45 – Duplicate Bridge Play, Kings Room, 5
- 2:00 – Explorations Speaker Series, Queen's Lounge, 4 & 5
- 2:00 – Ask Your Travel Guide Barbara, Upper Promenade, 5
- 2:00 – Qi Gong, Hudson Room, 5
- 2:30 – Techspert Time, Digital Workshop, 5
- 2:30 – Arts & Crafts: Water Bottle Leash, Lido Restaurant, 8
Snookums attended crafts again and made a water bottle leash. It took Snookums one hour and 20 minutes to complete the project and most of the other crafters were done in around 20 minutes max! The instructor was still there since she was leading an optional crafts class so there wasn't any pressure on Snookums to get it done fast. Her red thread hand stitching lined up with the thin red line on the grosgrain ribbon perfectly so that the stitches couldn't be seen. The final product looked professional but unfortunately the rubber "O" ring is too large and doesn't snugly hold the neck of a water bottle so the water bottle leash craft is useless!
Snookums went to the gym and did her own hard workout and was finished at 5 PM. She was dripping wet, very red and out of breath due to her intense bike session, but stayed for the "Fab Abs" class since the instructor encouraged her to stay. That was probably a mistake since she was so beat to begin with, but oh well. She ended up soaking in the suite's whirlpool tub for at least 30 minutes and felt like a new woman afterwards!
While Snookums was in the gym, Filbert power walked around Deck 3 for an hour and saw two whale spouts.
Our dinner was an authentic Filipino meal that we had specially ordered the night before. (Most of the cooks on the ship are Filipino.) Our table was given two large bowls of rice, some shrimp soup that was very vinegary, sour and absolutely delicious, chicken adobo and a noodle dish with chicken on the top. The noodle dish reminded Snookums of ramen noodles. She and Filbert really enjoyed the shrimp soup the best, but it was all great. Everyone ate everything and we only had empty serving bowls to send back to the kitchen. We're going to order an Indonesian dinner next week! After turning our clocks back yet again, we went to sleep.
September 29 (Saturday, Day 9, At Sea) -
Snookums woke up at 4:30 AM. (We have one more night of turning our clocks back.) She ultimately went to the 7:30 AM fitness class. Then she attended the 10 AM "Things to See & Do in Kobe, Osaka & Kyoto" travel lecture and decided that she and Filbert would take the bullet train to Kyoto when the ship docks in Kobe. Kobe was a port on our 2008 Grand Voyage cruise so we've already explored it.
Filbert tried to write but after around 30 minutes he gave it up and instead played his computer game, Civilization 4. Then he went to the "Sea Otters – Pillars of the Nearshore Environment" lecture and learned how the sea's smallest mammals alter communities by eating sea urchins that harm the kelp. He followed that with a 50 minute power walk around Deck 3.
Snookums went to crafts and made the eco-friendly fabric coin purse and then she went to the gym and rode the bike for 45 minutes since she is still eating a lot of chocolates from Neptune Lounge! On her way out of the gym she spoke to Hamish, one of the two fitness instructors, and asked if he would do a circuit class tomorrow morning since that is the best workout (in her opinion). Dripping sweat, she then went to her second of five acupuncture appointments. She isn't noticing any improvement in her shoulder, but is giving it time. Christopher, the acupuncturist, wants to see her next on October 8 since he wants to give it time, too.
Dinner was the formal Black and Silver Dinner followed by the Black and Silver Ball. The dining room looked amazing with black and silver Mylar decorations hanging all over the place and the Queen's Lounge was equally decked out. Both the dining room and the Queen's Lounge looked the most spectacular Snookums has ever seen on a cruise ship. The entertainment staff started decorating the Queen's Lounge at 5 PM for the 9:30 PM ball. There were lots of helium-filled black and silver balloon centerpieces on each cocktail table, too, in the Queen's Lounge as well as glitter and flat little black plastic top hats and silver stars strewn all over the carpet which added to the bling. The vacuuming process will NOT be easy! We forgot to bring a camera…
When we got back to our room at 11 PM (our latest night so far!), we saw the gift of the logoed green messenger bag and first aid kit that each of us received. They are very nice, but we probably won't use them since we have our own favorite bags to use while walking around port. The battered women's shelter at home that Snookums donates items to will get great use from them, though. We got out of our formal clothes, turned our clocks back and went to sleep.
September 30 (Sunday, Day 10, At Sea) -
Snookums went to the fitness class and enjoyed Hamish's circuit class while sweating a lot and breathing hard. We were eating breakfast in Neptune Lounge when the Captain came on and made an announcement stating that Typhoon Jelawat will be hitting Kushiro on Monday with 60+ knots wind gusts and that is unsafe so the port is cancelled. Free wine and soft drinks will be served at Monday's dinner instead. Another day at sea…
Snookums attended the 10 AM Nagasaki lecture and Filbert attended the 11 AM "The Salmon Problem" lecture and learned that wild Pacific salmon were on the decline but now they are coming back and no one really knows why.
We ate lunch with one set of our neighbors, Phil and Flory (suite 7026). They are in their late 80s and Flory has very bad osteoporosis and uses a wheelchair a lot of the time since she is doubled over. We met in Lido for lunch, but her special type of wheelchair didn't fit under any of the tables so then we went to the dining room and had a very nice lunch there. They were both born in Amsterdam and immigrated to the U.S. a long time ago. Flory was an anesthesiologist and Phil was an ophthalmologist. Flory said that in her Amsterdam medical school, 25% of the students were women but when she came to the U.S., there were very, very few. Phil now writes "The Discerning Traveler" column for International Travel News which is a monthly travel magazine that Snookums has a lifetime subscription to! We introduced them to Mary and David and since Mary was also born in the Netherlands, she immediately started speaking Dutch and the three of them went to town in Dutch. They decided to meet for lunch another day but Snookums saw them in Neptune on Monday, October 1 during breakfast and the three of them were in deep discussion in Dutch. (David was conversing in English with another passenger.)
Snookums went to crafts class and learned the Japanese art of furoshiki fabric wrapping. Only a square piece of fabric is needed – no needle, scissors or glue. Snookums walked away with a set of directions and a pink bandanna. It was definitely a crafts class she could handle! While at crafts, some women started pointing out the windows and Snookums figured there were dolphins outside. Nope, just land. But, since land had not been seen in nine days, it was a big deal. And, the two cloud shrouded "mountains" were quite pretty. People were taking pictures and everything. Back in our suite, Filbert also took photos of them and determined that it was Russia.
Snookums then read her book which led to a three-hour nap before dinner. Upon returning to our room after dinner, for the first time on the cruise we did NOT have to turn our clocks back an hour.
October 1 (Monday, Day 11, Kushiro, Japan – cancelled due to Typhoon Jelawat) -
Our tenth day in a row at sea! Filbert and Snookums woke up around 6:30 AM and decided to have breakfast in Lido (for the first time on this cruise) rather than Neptune. Snookums ate three outstanding sticky buns along with her oatmeal. After quick showers, we left the cabin and hung out in the library (aka Explorations Café). Snookums submitted her answers to the "Daily Quiz" which was focused on Kushiro. She checked out two Japan travel guides, but only one of them had any information on Kushiro and that was only three paragraphs.
Filbert attended the "Killer Whales & Humpbacks" lecture and Snookums went to crafts and made a postcard using "zentangle" technique. It's black and white drawing using a fine point marker and filling in an outline (in this case, a sun with rays) with patterns. Then Snookums went to the gym for a 45-minute workout. It wasn't her hardest workout, but she went and did it and that's what counts.
Snookums was very happy that her Polar heart rate monitor achieved the trophy this morning. The watch face gets a trophy on Mondays when the prior week's goal of calories burned was met. Snookums knew her ship workouts aren't as rigorous as her three times a week ones at home so that is why she made sure to go to the gym every day. And she got her trophy so it worked. Her goal for the cruise is to get the trophy every Monday.
Each of our shipboard accounts was credited $11.04 in port taxes since Kushiro was canceled.
October 2 (Tuesday, Day 12, Hakodate, Japan; 100 JPY = $1.28, $1.00 = 78 JPY) -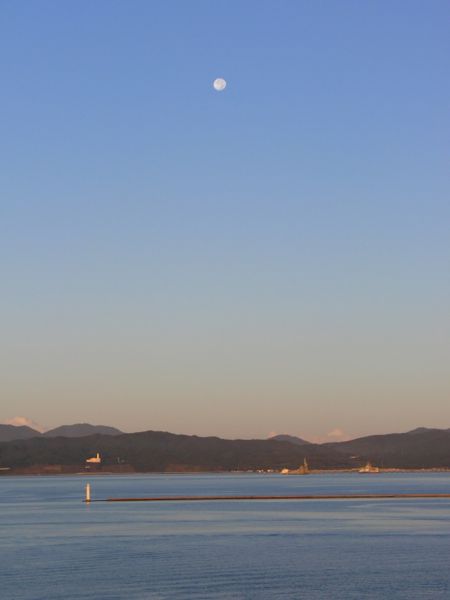 Moon over Hakodate
We woke up to sunshine and a temperature forecast in the mid-70s. Snookums went to the 7:30 AM fitness class but was the only one there so it wasn't held. She did a lame 20-minute workout instead. She also weighed herself and she gained 2.6 pounds since September 21. Yikes!
While walking through the library to go through Japanese immigration, we saw that Snookums was the winner of yesterday's quiz because she got 5.5 out of 15 correct! She'll have to pick up her prize later. Then we caught the free shuttle to Hakodate Station. We went to the ATM in the train station for our Japanese yen and then went to the Morning Market which is the largest public fish market in Hokkaido. (Hokkaido is Japan's second largest island and makes up 20% of Japan's land mass.) Hakodate is known for its squid and crab and we saw plenty of each and in all forms – live, cooked, pickled and even squid ice cream.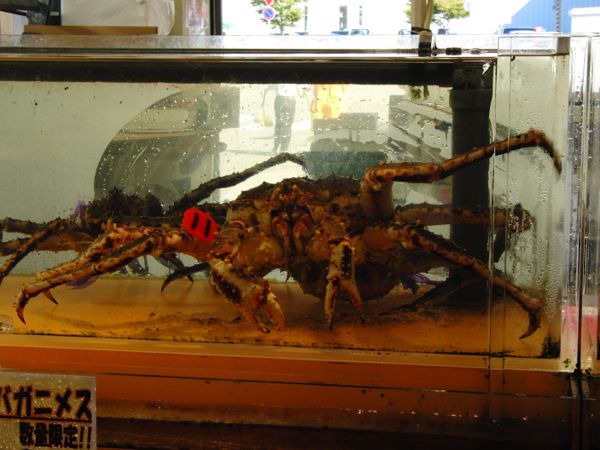 Morning Market: Really Big Crab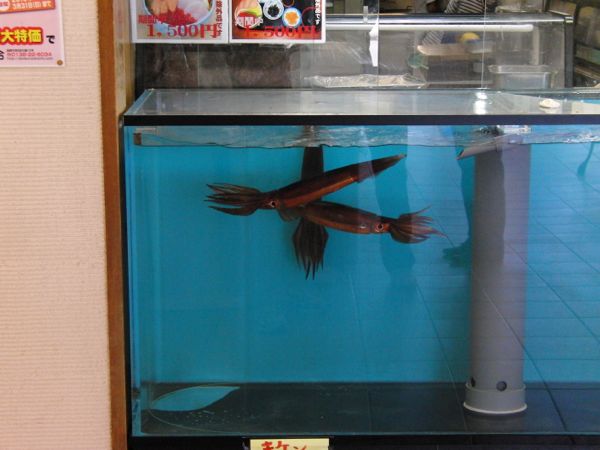 Morning Market: Squid on the hoof
We kept walking and managed to see the 1916 Eastern Orthodox church, the 1924 Catholic church, the Episcopal church, some Shinto shrines and a Buddhist temple. Filbert bought a small can of iced black coffee for $1.67 and a package of Hokkaido ramen (for a Christmas gift) with really absurd English on the package. We kept walking and came upon Hakodate Park which was a very nice park and had children's amusement rides and a very small (free) zoo with some ponies, various birds, goats and deer. Then we walked the two miles back to the train station but first had to find Japan's oldest concrete utility pole which was built in 1923. (It was actually highlighted on the map and since it was so absurd, we had to find it.) We found it and then realized that we literally had walked right by it two hours earlier and had even talked about it before then!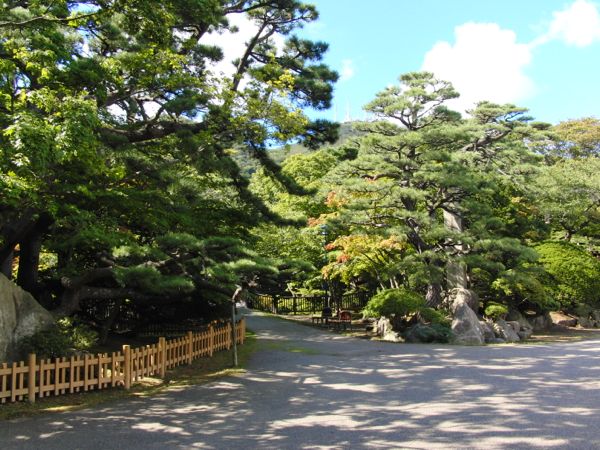 Hakodate Park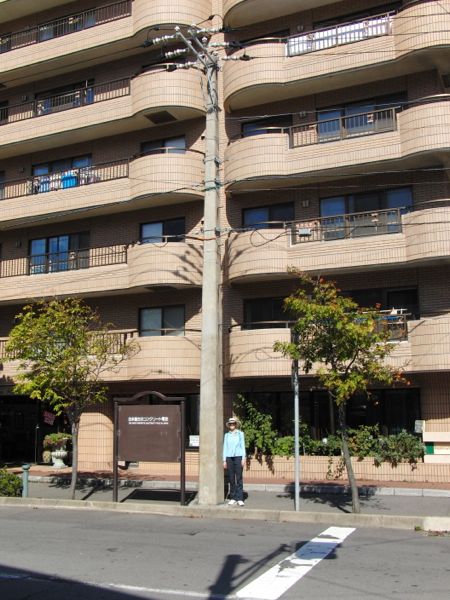 The First Concrete Pole in Japan
When we got to the train station, after walking for about four hours, we decided to have lunch and ordered the $10.90 pork cutlet, brown gravy and white rice meal. When it was delivered to us we were surprised to see that we also got a bowl of broth (not miso soup), a small portion of potato salad and about seven or eight French fries. A fried green pepper was placed on top of the pork cutlet and the plate did look quite nice. We were starving and ate everything.
After standing in line for 25 minutes, we took the free shuttle back to the ship. We had walked for four straight hours before sitting down for lunch! Filbert immediately took a shower since the day had been so nice and sunny. Snookums read her book on the verandah and then we went to the sail-away party on Deck 3 since our side of the ship was NOT facing the dock. There were a bunch of kindergartners in a long line that did several dances and there were also older adults (like grandparents?) that did the same dance with them. Even the people in the audience (like the parents), knew the dance as did the high school girls that were the hostesses for our visit. Ika Odori is a dance that Hakodate citizens learn at an early age and then do at festivals. The whole thing was kind of weird, but in a good way.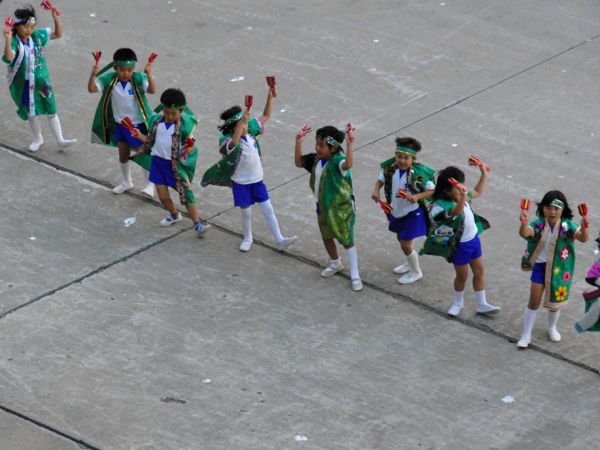 Ika Odori dance
Filbert was groaning and moaning about how tired and sore he was and Snookums suggested going to the hot tub and that felt very good. At dinner everyone at our table was tired from the long day at port and we adjourned around 15 minutes earlier than normal. Snookums immediately fell asleep while Filbert watched the 2012 International Cricket Competition between Pakistan and Australia. ESPN has been showing this cricket tournament for the last three days or so and we've been watching a fair amount of it. We still don't understand most of cricket's rules, but it's making a little more sense.