The 2013 Alaska HAL CruiseTour, Part 3
Wednesday, December 30 2015 @ 04:00 AM CST
Contributed by:

filbert

Views: 2,251
The 19-Day Holland America Line Alaska CruiseTour, Holland America ms Statendam
Text and pictures by Snookums, webification by Filbert

Part Three

(Remember to click "read more" if you're looking at this from the main medary.com page to get the whole article!)

July 27 (Saturday, Day 8, Motor Coach to Dawson City, Canada) -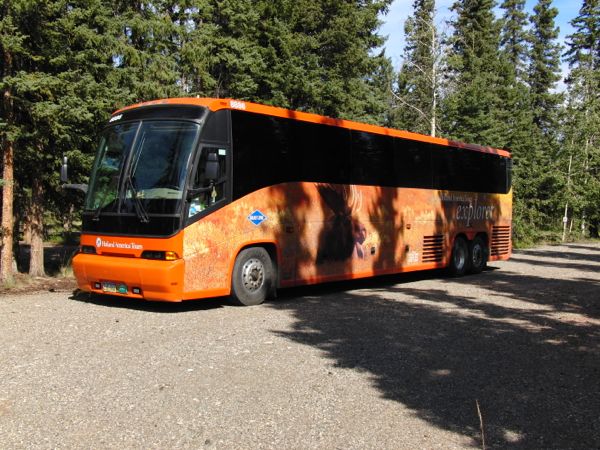 The Bus
Our luggage had to be outside our hotel room door by 6:30 and the bus departed at 7:45. We saw a fox within the first hour of the trip and a moose, too. For the next 7 hours, though, we only saw around 10 houses and 20 RVs and cars. The bus stopped every two hours and our first stop was at Braeburn's. This little store, with Cinnamon Roll Airstrip across the road, sold $10 cinnamon rolls the size of a paper plate and 4 inches tall. Snookums was in line to buy one but when she saw it was $10, decided not to. Our lunch stop was at Minto which consisted of a dining hall, a few cabins and a bathroom with showers and laundry facilities. Our bus driver and tour guide served us chili and soup and there was also tossed salad and coleslaw and Nanaimo bars for dessert. Two First Nations people were seen in the kitchen, but they stayed mostly behind the scenes. Our next stop was at Moose Creek Lodge which is owned by a German woman. It was a tiny store, several cabins and a toilet house. Snookums bought one of her tiny strawberry rhubarb tarts. It was pretty good. Filbert bought one of her sausage rolls and enjoyed it. He also bought a book called "Klondike" by Dawson City author Pierre Berton. (Jack London and Robert Service also lived in Dawson City.) When John saw Filbert's book, John ran back into the tiny store and bought a copy. They are both book lovers and history buffs.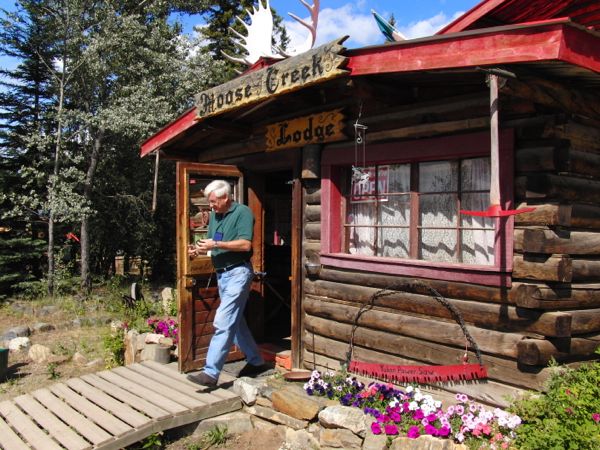 John exiting Moose Creek Lodge
After Moose Lodge our next stop was at a scenic overlook that also had long drops (outhouses). It was a very clear day and the scenery was beautiful. Our guide said that the other times she had been to this overlook it had always been foggy.
We finally pulled up to our Dawson City hotel. Dawson City is 8 hours from Whitehorse and has a population of 1,800. There is nothing between the two cities (other than Braeburn's and Moose Lodge) and we didn't see much all day other than maybe 10 houses and 20 RVs/cars! When we were at Whitehorse we were at the edge of nowhere and now that we are in Dawson City, we are in the middle of nowhere!! In 1898 at the height of the gold rush, Dawson City had a population of 30,000.
As soon as we got to our Dawson City Westmark room, which was MUCH nicer than the Whitehorse Westmark, Snookums found two empty washers and did laundry. After the clothes were dried, we went to the Drunken Goat for Greek food. We each had a $16.95 gyro with Greek salad and it was fantastic. Filbert also had two pints of draught beer at $4 each since there was a special. We had been warned that food in Dawson City was very expensive and we did see some exorbitant prices at the grocery store, but for the most part prices seemed to be around 30% more expensive.
After dinner we wandered to the Downtown Hotel since Filbert wanted to join the sourtoe cocktail club. (Sourtoe is a takeoff of sourdough and you can read more about it at
the Downtown Hotel
web site). Laura had said she wanted to become a member, too, after they watched the $10 show at Diamond Tooth Gerties Gambling Hall. When we got to the bar, we saw a notice saying that Discovery Channel's
Gold Rush
series was being filmed. Since we are not on any country's wanted list, that didn't stop us and we walked in and saved seats. Sure enough, the cast of
Gold Rush: Alaska
was there since Parker Schnable turned 19 on Monday and was celebrating tonight since Canada's drinking age is 19. He was going to three bars in Dawson City with the Downtown Hotel being one of the three. (Gerties was another bar and we don't know the third.) Parker drank his sourtoe cocktail and then it was Filbert's turn, while the cameras were still rolling.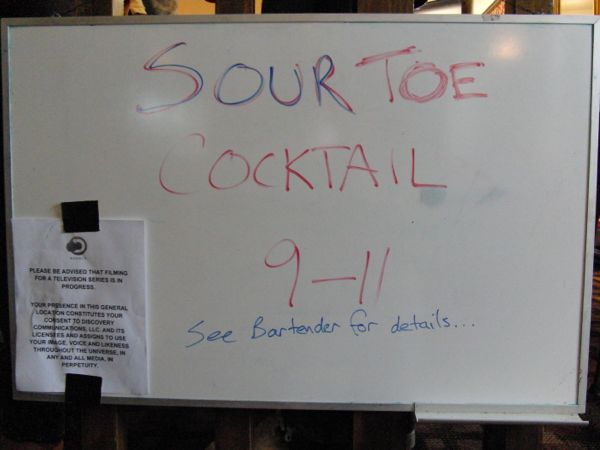 Do you really want to keep reading?
For those of you that aren't interested in going to the link to read about a sourtoe cocktail, suffice it to say that some man lost a toe many, many years ago to gangrene and saved it under the porch of his house since that is where you put valuables back in the day. The man that found the saved toe under the porch of his newly purchased house then made money by drinking drinks that had this toe in it. Now the preserved, black toe is offered to visitors to "enjoy".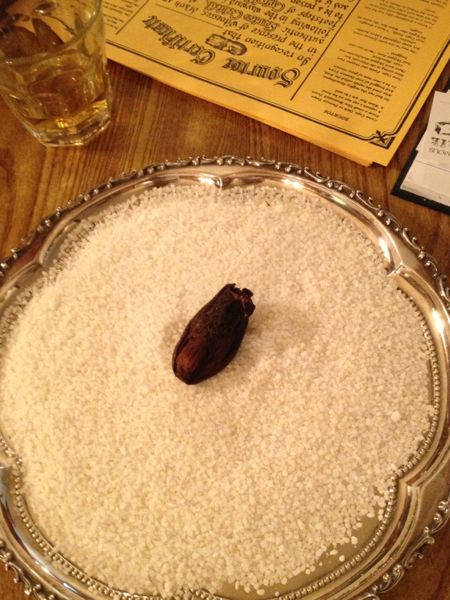 The Toe
First you pay $5 for a shot of Yukon Jack (a sweet whiskey) and then you pay $5 to Captain Dick (a grizzled old man) to put the amputated toe in your drink. He reads the proclamation and fills out the official certificate and wipes the toe off with Lysol wipes between drinkers. After the ceremony is done, it is time for the drinker to drink the alcohol while making sure that the toe touches the lips or else it doesn't count.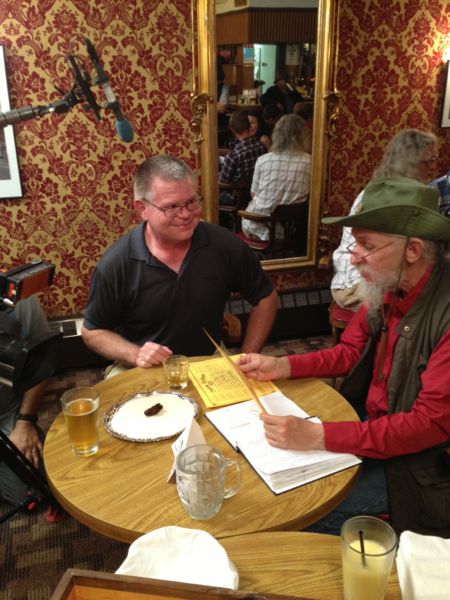 Filbert with Captain Dick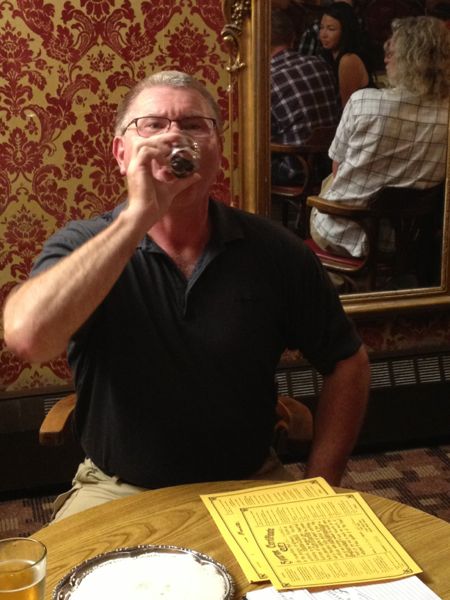 He didn't!
When Filbert turned his glass upside down to get it to touch his lips, the entire toe fell in his mouth and he then proudly swished it around before spitting it in his glass. And, to make it more dramatic, he spit something out afterwards. (Snookums thought he was just being dramatic but Filbert said that there was definitely a piece of something in his mouth that he spit out!) After he was filmed and he signed his waiver, he realized that he didn't have to pay the $5 to Captain Dick since Discovery Channel took care of it. What a deal!! The episode is scheduled to show in January 2014. Next it was Laura's turn and the fact that she wanted to do it at all absolutely stunned her husband, John.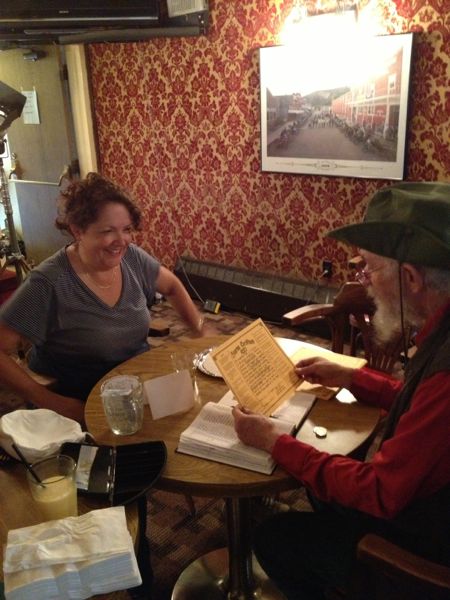 Laura with Captain Dick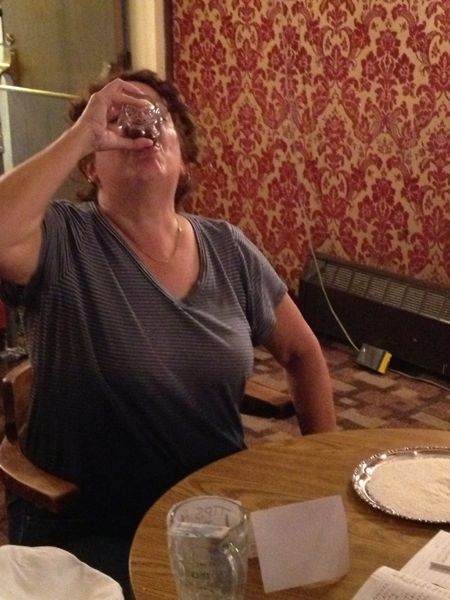 She didn't!
Filbert is definitely a bad influence on her. Up until two years ago non-drinkers could participate by putting the toe in a glass of water and then drinking that but the health department stopped that. As a non-drinker, Snookums was crushed to hear that. (Yeah, right!) Our tour guide, Kim Booher, also enjoyed a sourtoe cocktail, her fifth over the years! After all that excitement, the group called it a night and went back to the Westmark for bed. Filbert kept saying he wanted to use about two gallons of Listerine, but he managed to survive by thoroughly brushing his teeth.
July 28 (Sunday, Day 9, Dawson City, Canada) -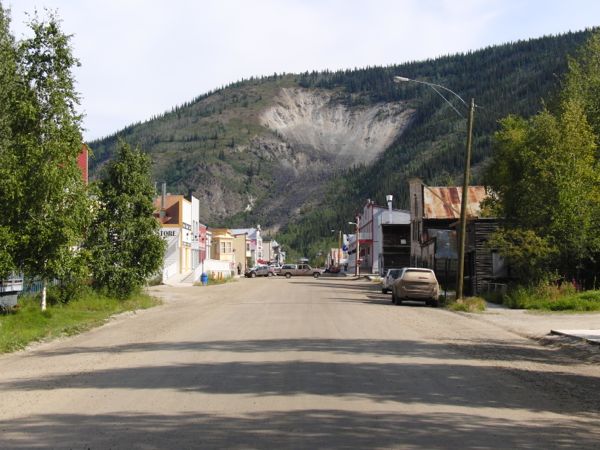 Dawson City
After a very good late breakfast at Belinda's Restaurant in the Westmark we walked around Dawson City. Dawson City has only one paved road and the others are gravel. There are boardwalks for sidewalks and several of the buildings are intact from 1898. However, the builders back then didn't know how to deal with permafrost and the buildings are buckled and not square. Some of them have been made safe while still looking rickety while others have been condemned.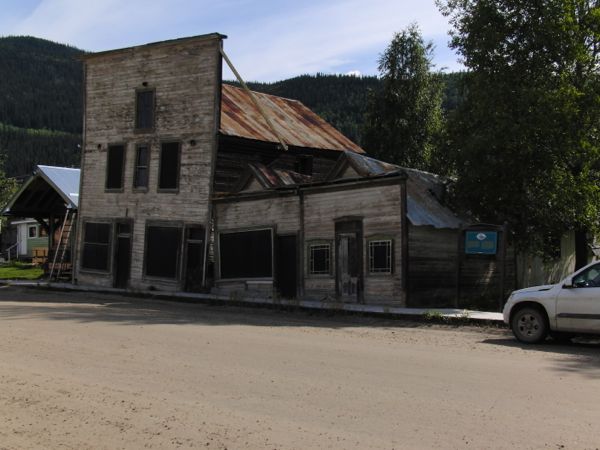 Old buildings
It was dusty and surprisingly, many of the places were closed since it was Sunday. Given that it's such a small town and gets 99.9% of its tourists in the summer, Snookums expected that the businesses would have been open while tour groups were in town. It was soon time for our included Klondike Spirit paddlewheel ride along the Yukon River so we did that. It was hot inside the boat where the chairs were so everyone was standing along the rails during the 1.5 hour ride and there wasn't that much to see. The guide that had the microphone was no good, either, and no one was sure why Holland America decided to add this to everyone's package.
On the Yukon
After we got off the boat, we were going to have dinner at a restaurant but it was closed on Sundays so we ate at Belinda's again. We were surprised to be served an amuse bouche prior to dinner and our meals were very tasty. We turned in early since there wasn't anything else to do in Dawson City.