The 2013 Alaska HAL CruiseTour, Part 2
Tuesday, December 29 2015 @ 04:00 AM CST
Contributed by:

filbert

Views: 2,308
The 19-Day Holland America Line Alaska CruiseTour, Holland America ms Statendam
Text and pictures by Snookums, webification by Filbert

Part Two

(Remember to click "read more" if you're looking at this from the main medary.com page to get the whole article!)

July 24 (Wednesday, Day 5, Vancouver, Canada) -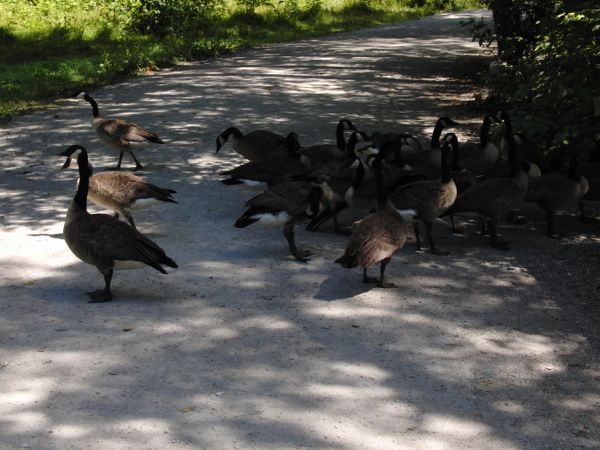 Stanley Park Geese
After last night's late night, we woke up and made it to the Regency Club before breakfast stopped being served. We were just hanging out on the balcony when John and Laura showed up around 10:35. We watched a film being filmed on the top of a building down the street and then decided to walk to Stanley Park together. After they ate a quick breakfast at Tim Horton's, we met in the lobby at 11:15 and walked to Stanley Park in order to walk along the seawall. We took a path through the park to get to the seawall and saw a raccoon. We also saw ducks, geese, swans, birds and squirrels. We saw low tide at 1:34 PM and found out that the water temperature was 67º. There were lots of people enjoying the nice beaches, the park, the walking/biking paths and the swimming pool. It looked more like a weekend than a Wednesday afternoon, but it must be the laid back West Coast culture. It was a beautiful day.
We started walking back to the Hyatt and stopped at Vera's Burger Shack for lunch. Snookums really enjoyed her fried salami with sautéed onions and mustard and Filbert liked his bunless double bacon cheeseburger. It was a nice rest after a couple of hours of solid walking and we finally made it back to the Hyatt at 3 PM. For the first time during this stay, we had time to visit the Regency Club in the afternoon and picked up some cookies, trail mix, wrapped granola bars and nuts.
The four of us met in the Hyatt lobby at 4 PM and shared a cab to the Fairmont Vancouver Airport Hotel. After a quick check-in, Filbert enjoyed watching the planes from our upgraded room with its runway view. The four of us ate dinner in the Fairmont bar and made an early night of it. Sunset was around 9 PM.
July 25 (Thursday, Day 6, Fly to Whitehorse, Canada) -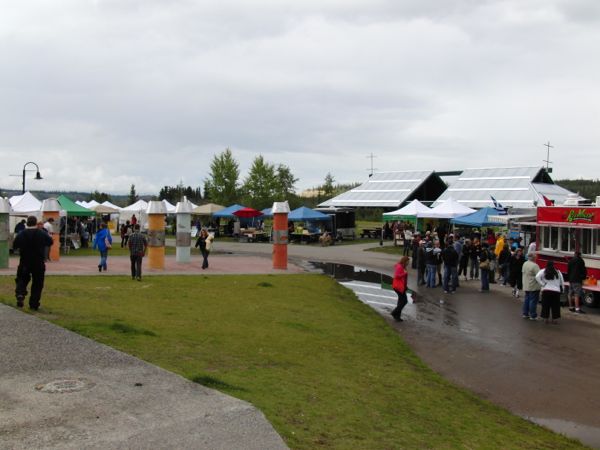 Whitehorse Community Market
Snookums realized that there was a lounge near Air North that she had (expired) access to so she and Filbert managed to get in and enjoyed free scrambled eggs, sausage and bacon. Snookums also had a Nanaimo bar which is an unbaked chocolate and custard bar cookie that supposedly originated in Nanaimo, British Columbia. We also loaded up with free cans of Coke Zero. It was a nice way to start the travel day. Our Air North flight was great and included a good sandwich and fresh baked chocolate chip cookies. We even had an empty seat between us.
After tagging our luggage at the Whitehorse airport, 44 of us loaded on the tour bus and after 10 minutes arrived at the Whitehorse Westmark and we quickly got our hotel room key and luggage. Whitehorse has around 25,000 people in it and is the capital of the Yukon Territory. The entire population of Yukon Territory is 33,000! There was a welcome dinner at 6:30 and since it was free, we definitely wanted to attend. For 2 ½ hours prior to dinner, we walked around Whitehorse and went to the Fireweed Community Market that occurs each Thursday. It was a small farmer's market and Snookums bought a large bag of kettle corn and Filbert bought a cup of coffee. It was overcast and raining, but we were prepared so it didn't deter us. We walked along the Yukon River which is a beautiful shade of greenish blue and only saw a few mosquitoes. We went to a local sporting goods store and bought mosquito jackets and Filbert also bought mosquito pants and regular zip-on/zip-off pants. The mosquito garments are made of fine see-through mesh that are worn over clothes to keep the mosquitoes away. Filbert also bought three Yukon and Alaska Rand McNally maps at the local independent bookstore (open until midnight during the summer!).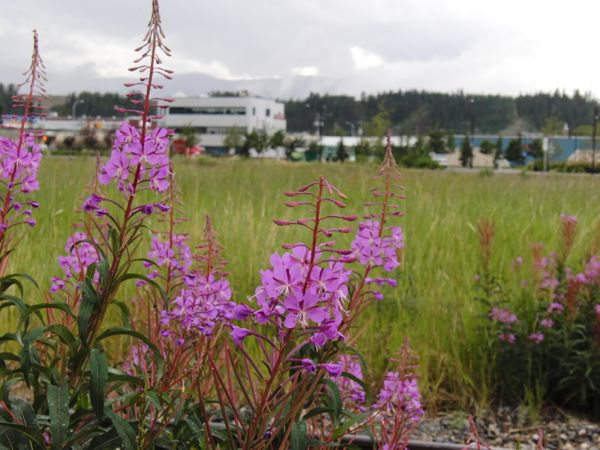 Flowers along the Yukon
Dinner was uneventful and afterwards, we called it quits and enjoyed a quiet night in our (rather dingy) hotel room. Sunset was at 10:50 PM.
July 26 (Friday, Day 7, Whitehorse, Canada) -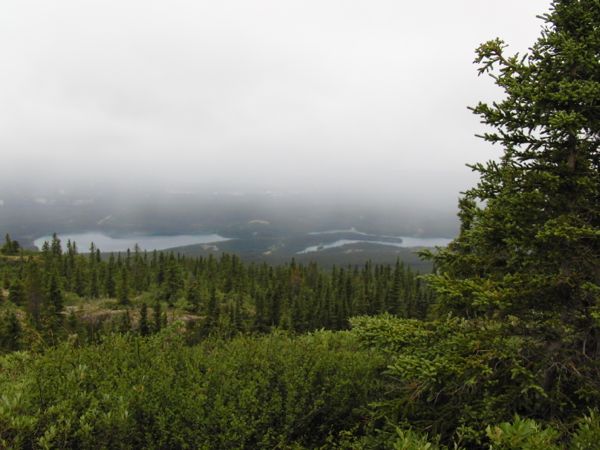 Rain on Grey Mountain
We had a nice breakfast at Burnt Toast Café and had plenty of time to get organized for our 10 AM "Day in the Mountains" hike with Boréale Explorers. It was lightly misting when we got picked up and were driven to the cell phone towers on the side of Grey Mountain. We got out of the van and quickly realized we needed to put on our mosquito netting. Our guide didn't think the mosquitoes were bad, but they were buzzing all around. We've seen them worse when we were in Anchorage two years ago, but since we had the netting, we used it!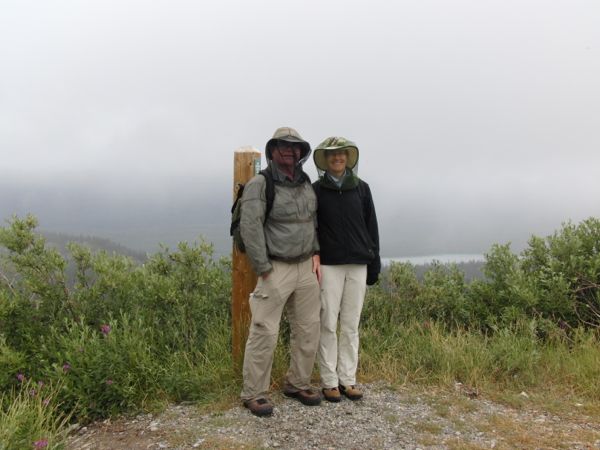 Mosquito Netting
We hiked up the mountain and there wasn't much to see since it was so cloudy. We did notice that the vegetation changed as we got higher and the trees were non-existent. The 360º view from the top was nothing for us since everything was clouded over. We did see two chipmunks and some bear scat. We turned around and made our way down to the van and our guide said that we got farther than any of his other trips and that made us feel good. Our legs were feeling the climb up and down, but we did it just fine. After we got in the van he took us to Miles Canyon which is another part of the Yukon River that is very pretty and we walked across the suspension bridge and did another little hike. (And it was little! He was going to take a Holland America tour group on this little hike tomorrow.) He was then going to take us to the free paddlewheeler that is now a museum, but we were just too tired and wanted to go back. We got to our room at 3:30 and changed shoes and then went to dinner.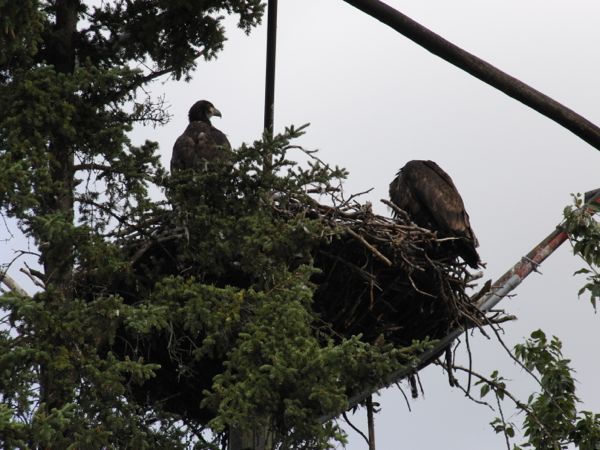 Eagles in the nest
We ate at Klondike Rib & Salmon, which was next to the hotel. The restaurant is housed in the two oldest buildings still in use in Whitehorse. The dining room started as a bakery around 1900. We ordered the grilled vegetables ($16.95) and the salmon and rib dinner ($32.95) and it was a lot of food, but we managed to eat all of it except for the huge bed of rice pilaf the salmon and ribs were sitting on. John and Laura walked in after we placed our order and sat with us and after they were done eating, Snookums and John split a piece of bumbleberry pie (rhubarb, apple, blueberry, blackberry) with vanilla ice cream. It was great!
After a few minutes to let dinner settle, it was time to get with John and Laura for our 6 to 10 PM 4x4 tour. We piled into the jeep and our guide drove us up to the top of Mt. McIntyre which is the ridge between Fish Lake and Whitehorse. When we finally got to the top we had a spectacular view of Whitehorse and Grey Mountain that we had climbed earlier in the day. We saw several ground squirrels and caribou tracks, but that was all. The ride up to the top was very interesting since it was off road and our driver had to dodge boulders, potholes, deep puddles and all sorts of bad terrain. But, the driver is the owner of the jeep and maintains the "roads". He said he came out in mid-May to get rid of three feet of snow in order to take his first tourists of the season! It was an adventure and during our stops prior to getting to the top, the mosquitoes were out and about. At the top, however, it was very windy and cold and there were no mosquitoes (and no trees, either). Snookums only managed to get bit by one mosquito today and it got her on the back of her hand.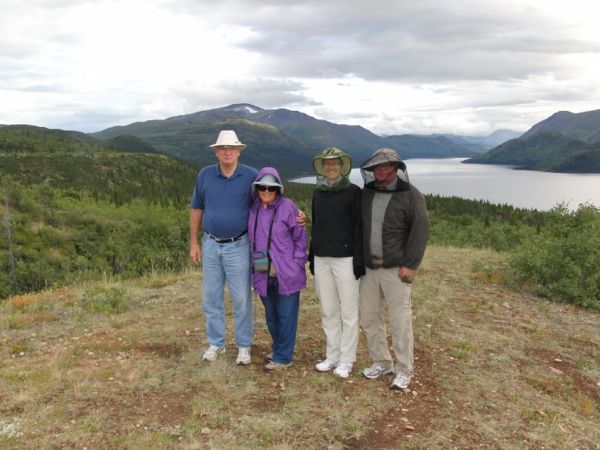 On Mt. McIntyre
Although the sun was up until 10:50 PM, we all slept well!