The 2013 Alaska HAL CruiseTour, Part 1
Monday, December 28 2015 @ 04:00 AM CST
Contributed by:

filbert

Views: 2,150
The 19-Day Holland America Line Alaska CruiseTour, Holland America ms Statendam
Text and pictures by Snookums, webification by Filbert

Part One

(Remember to click "read more" if you're looking at this from the main medary.com page to get the whole article!)

July 20 (Saturday, Day 1, Fly to Vancouver, Canada) -

Our first travel day was very uneventful. We left our house at 2:25 PM and everything was smooth sailing. We had an almost two hour (scheduled) layover in Seattle which gave us plenty of time for a sit-down dinner.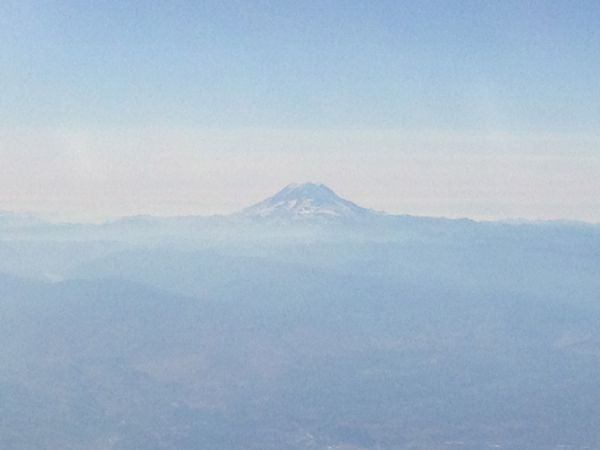 Mount Rainier
Soon after, it was time for the 42-minute flight to Vancouver. (Yep, 42 minutes!) We landed in Vancouver on time at 9 PM and then managed to pass through Immigration, get our luggage, clear Customs, hail a cab, check in to the Hyatt Regency Vancouver and get to our room by 9:58 PM!! We even had time for a quick visit to the Regency Club before it closed at 10 PM but all that was available were sodas, water and fruit. We stocked up, returned to our room and sat on our nice 23rd floor balcony while enjoying the refreshments. After awhile we decided we needed to unpack a bit and go to bed. What an incredible totally relaxed travel day!
July 21 (Sunday, Day 2, Vancouver, Canada; $1CAD = $0.97, $1 = $1.03CAD) -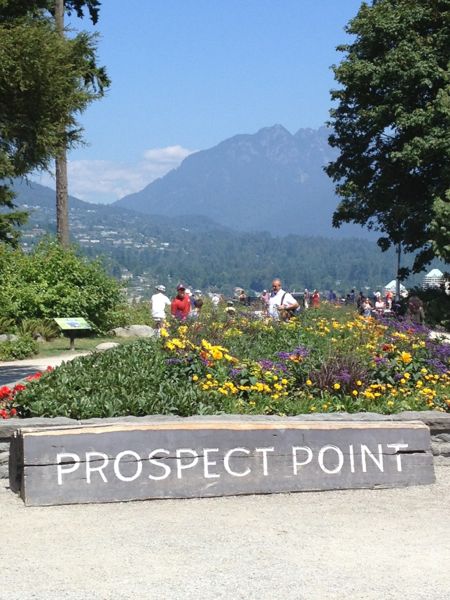 Prospect Point, Stanley Park
After a leisurely Regency Club breakfast, it was time for the day to commence. We went to the back of the Hyatt to catch the Gray Line Hop-On/Hop-Off bus, but when it pulled up it was full. We decided to walk to the main office in Gastown about a mile away. Snookums purchased a half-price Groupon a week ago for around $20 per person, so it was a good deal. We got seats in the open-air back of the bus and enjoyed the first hour or so of the city tour. When the bus arrived in Stanley Park, we decided to get off and wait for the Stanley Park Loop bus for the in-depth Stanley Park tour. It took about 45 minutes to arrive, but it was worth the wait.
Stanley Park is a 1000-acre urban park bordering downtown Vancouver that is a natural West Coast rainforest. It was opened in 1888 in the name of Lord Stanley of Preston, the Governor-General of Canada. The Stanley Cup, given to the NHL champion, is also named after Lord Stanley. Stanley Park has scenic views of water, mountains, sky and majestic trees along a famous seawall. There are trails, beaches, wildlife (mostly raccoons), restaurants, natural, cultural and historical landmarks. It seemed like all of Vancouver was enjoying the beautiful day at the park along with us. Among other things, we saw the 9 O'Clock Gun that has been shot every night since 1894 at 9 PM to allow chronometers of ships in port to be set.
After the Stanley Park tour, we had to wait for the normal Hop-On/Hop-Off bus to arrive to continue. Then we saw some more of Vancouver before getting off at Granville Island, a peninsula and shopping district which includes a spectacular fresh food market. We ate Thai for lunch and our lips were happily tingling from the spices. Snookums followed lunch with an apple sticky bun that looked great, but really wasn't that special. While walking around we were fortunate to see three river otters in the water. They had long tails and definite legs/feet which was why we decided they were river otters and not sea lions or seals. They were much larger than the river otters in the Kansas City zoo and we were very pleased with our first wildlife sighting of this vacation. After walking around Granville Island we decided to get back on the bus and ride it all the way to the Hyatt stop since we were tired and just wanted to relax. Unfortunately, it was so late that we had to transfer to another bus at one of the stops but ultimately we made it back. We were pooped and immediately went to the Regency Club for a delicious dinner of beef skewers, seared ahi tuna, mushroom bites, roasted vegetables, raw vegetables, feta cheese and olives. We enjoyed sitting on the balcony and had it all to ourselves. The raspberry cheesecake and pastry swans were served at 8 PM. We left a little after 9 PM and realized that the boom we heard at 9 PM was the 9 O'Clock Gun. It was a full day.
July 22 (Monday, Day 3, Vancouver, Canada) -
While eating breakfast on the balcony of the Regency Club, we were greeted by our friends, John and Laura. They booked this Alaska cruisetour first and we decided to join them. Their flight was three hours late last night so we didn't get to see them until this morning. Snookums booked their Hyatt room for them so they get to enjoy the Diamond perks including Regency Club access and free WiFi. Snookums also had an expiring suite upgrade certificate to use and they really like the huge, well-designed suite. We enjoyed a long breakfast re-living "old" times from the 75-day HAL 2012 Grand Asia and Australia cruise before doing our own thing for a few hours. At noon we were picked up by Sharie, another friend from the 75-day cruise that lives in a suburb of Vancouver, and we commenced our day of touring. (John, Sharie's husband, isn't big into touring and since their car only seats five, he decided to stay home. Luckily we'll see him Tuesday night at their house since it wouldn't be the same without seeing him!)
Our first stop was the Tap & Barrel for lunch and to meet Sharie and John's two sons. It happened to be Liam's 32nd birthday so that was fun. The Tap & Barrel is a pub that serves a large selection of local craft beer and "gourmet" comfort food. It is located next to the former Athlete's Village of the 2010 Winter Olympics. It was nice putting faces to two people we heard so much about during the 75-day cruise. Snookums really enjoyed her tavern cheeseburger, served with a deep fried pickle and sautéed onions, while Filbert continued on his quest to lose a few more pounds and ate a Cobb salad without any dressing. Filbert didn't even order any beer while Liam and Reaon ordered the Howe Sound Blueberry Wit beer which looked like foamy blueberry juice! They've had it before and really enjoy it.
After lunch Sharie drove us to Vancouver Lookout for a bird's-eye view of Vancouver. After taking the 40-second elevator ride up 550 feet, Sharie did a great job of telling us about all of Vancouver and its surroundings. We all marveled at her knowledge and she simply said that she knows about the city where she lives!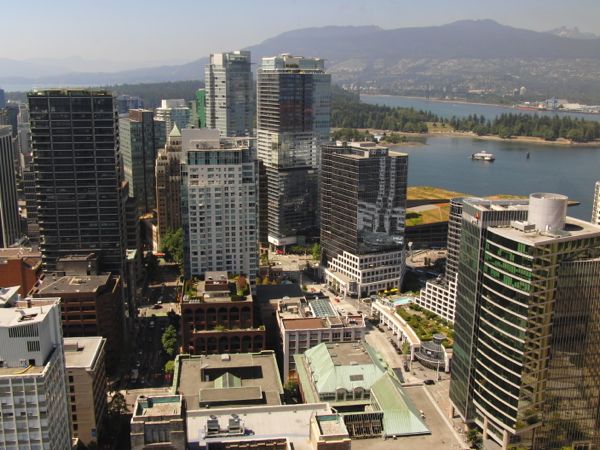 Vancouver skyline from the Lookout
Then we drove by the Point Grey beaches on our way to the University of British Columbia Botanical Garden and Greenheart Canopy Walkway. The garden was founded in 1916 and not a lot of items were blooming, but the trees and greenery were very impressive. We made our way to the canopy walkway and had fun walking on seven or eight aerial trails through the coastal rainforest. The bouncing suspended walkways were a lot of fun.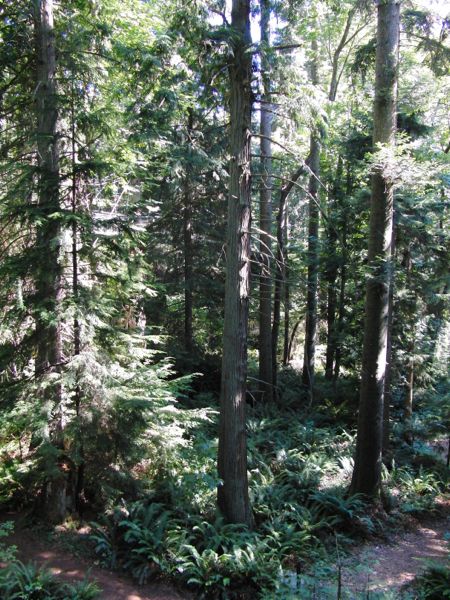 Rain forest!
On our way to Steveston, we drove along SW Marine Drive which is known for its huge mansions. Most homes in Vancouver have huge boxwood hedges in front of them that provide a lot of privacy and this was the case on this road, too. The hedges are all so nice and trimmed and Sharie says they need trimming about once a year. There are other varieties of hedges, too, and some really don't need much trimming. Nothing like having your own natural four to ten foot fence in front of your house!
We soon found ourselves in Steveston village which is an historic salmon canning center in the Vancouver suburb of Richmond. It was originally inhabited by mostly Japanese Canadians and some of the architecture reflects this. The Gulf of Georgia Cannery was at one time the largest plant in British Columbia. While walking along the water's edge, we found a bunch of wild blackberry bushes. While on the 75-day cruise, John regaled us with stories of picking blackberries and then eating blackberry pie. Most of them weren't quite ripe, but we managed to find a few that were and enjoyed them. We continued our walk and Sharie took us to the RBC branch office (Royal Bank of Canada) that she managed in the early 1970s. It was full of good memories for her. We ate fish and chips on the dock at Pajos and although none of us thought it was that good, it was a lot of fun and the atmosphere was great. By the way, the weather all day was sunny and in the mid-70s – perfect!
It was after 7:30 PM when we left Steveston for Queen Elizabeth Park. On the way there, we drove by Sharie's blueberry farm in Richmond that she sold about eight months ago. She picked blueberries for 12 hours a day during the blueberry season until she was 15 when she lied about her age to get a "real" job! (You had to be 16.) Her parents had other full-time jobs, but owned and worked the blueberry farm, too. She did NOT enjoy picking blueberries back then, but doesn't mind it now that it is no longer forced upon her.
We arrived at Queen Elizabeth Park right before sunset. Queen Elizabeth Park is a municipal park in Vancouver on Little Mountain (550 feet above sea level). Its surface was scarred at the turn of the twentieth century when it was quarried for its rock, which served to build Vancouver's first roadways. It is Vancouver's horticultural jewel and is a major draw for floral display enthusiasts and view-seekers. It is the highest point in Vancouver and makes for spectacular views of the park, city, and mountains on the North Shore. We walked amidst the many beautiful flowers and landscaped areas and enjoyed the spectacular views of Vancouver. We all decided it was the perfect ending to a great day.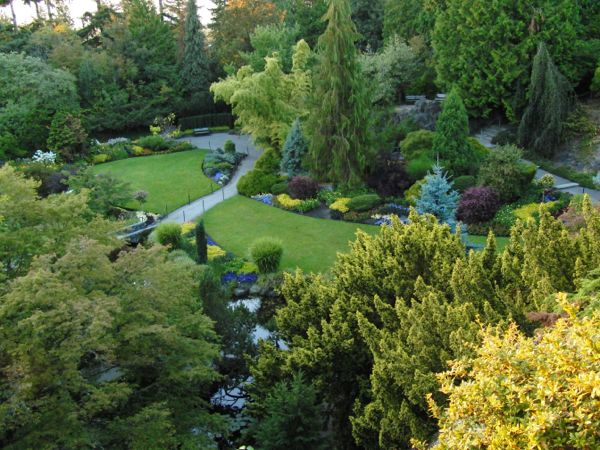 Queen Elizabeth Park
Sharie drove us back to the Hyatt around 9:30 PM and we all agreed to meet again at 11 the next morning for more touring.
July 23 (Tuesday, Day 4, Vancouver, Canada) -
We took the SkyTrain to the stop where Sharie wanted to meet us. It was kind of funny since we bought our tickets at our outbound station and realized that all of the gates said "No Entry" even though there weren't any barriers at the gates. We finally decided to just walk through and made our way to the correct platform. When we got off the SkyTrain and saw that Sharie wasn't yet there, Snookums talked to a SkyTrain employee to find out why there wasn't anywhere to swipe the tickets in order to gain entry (or to exit the SkyTrain station). The employee said that it is still on the honor system and by January 2014, the gates will actually be working and will have barriers that are closed until a passenger swipes a valid fare card. We all had a good laugh since after buying our fare cards we just kept looking around and couldn't figure out what to do and finally just walked through. Well, that was the right thing to do!
Sharie arrived at 11:15 and drove us by her childhood home in East Vancouver and then her and her husband's first home that they purchased for $25,000 and sold for much more later. We made it to the Lynn Canyon Park suspension bridge and enjoyed walking across the swaying bridge 160 feet above the canyon's floor. After crossing the bridge, we hiked through the woods to the 30-Foot pool. We opted to not get in the water, but we could see many people playing in it. The outside temperature was around 75º but the water was much colder. After spending a few minutes balancing on the rocks, we hiked back to the suspension bridge only to find a large husky pulling its owner away from the bridge. The dog was scared to death to cross back over it, but that was the only way out. After awhile the owner picked up the dog and carried it. Halfway across the suspension bridge, the owner put the dog down and it took off like a shot to the other side. When it made it off the bridge, the dog patiently waited for its owner and in a few seconds was happily wagging its tail. We waited until the dog was completely off the bridge since we didn't want to have to deal with some kind of crazed dog on the bridge. There was a table with various berries and cherries for sale and Sharie bought 10 pounds of blueberries for $22 for the quinoa salad she wanted for our dinner.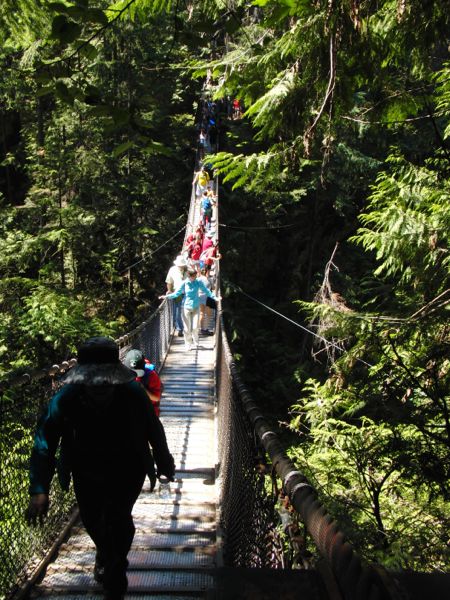 Suspension Bridge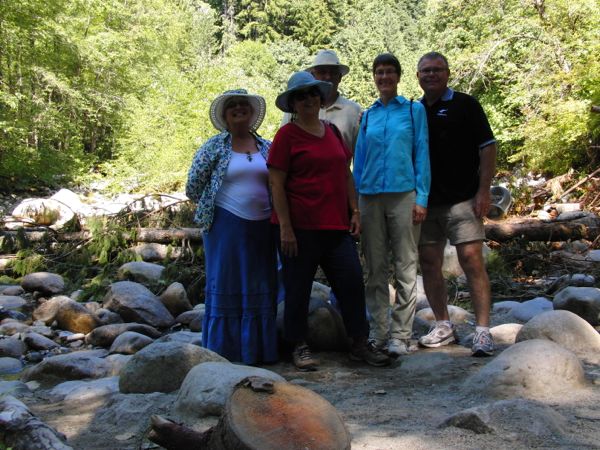 The Vancouver Expedition Members
Next we drove to Burnaby Mountain which is 1,214 feet above sea level. We had spectacular views of Indian Arm fjord, downtown Vancouver, the North Shore Mountains and the ocean. There were many beautiful landscaped flowerbeds and a large (25 feet tall?) ivy sculpture of two herons. We also saw a collection of Ainu totem pole-like carvings which commemorate the goodwill between Burnaby and its sister city, Kushiro, Japan.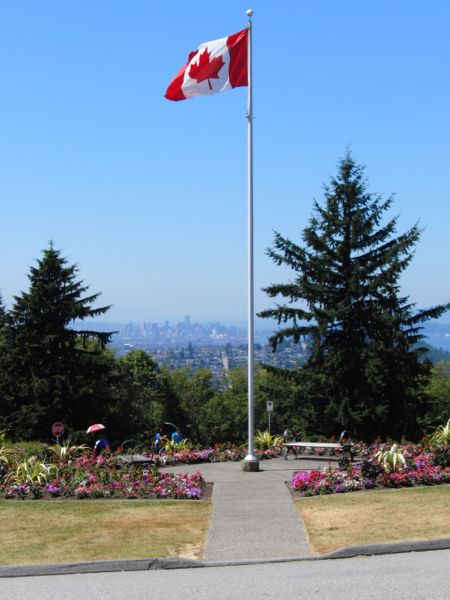 Flag over Burnaby Mountain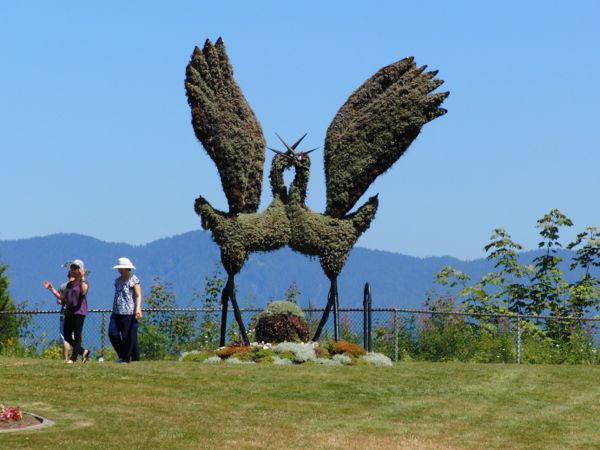 Dancing Herons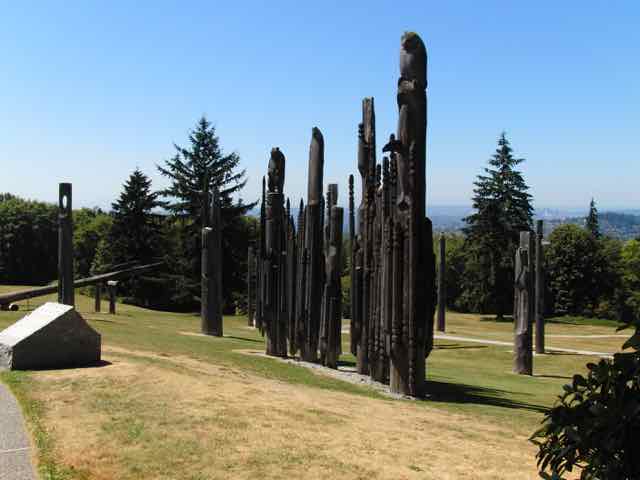 Totems
We made a small detour to go to Sharie's house to drop off the blueberries as well as to say a quick "hi" to her husband, John, who was also on the 75-day cruise with us. When we left their beautiful house, we stopped on the side of the street so that Laura could take a picture of Mt. Baker. She and her husband drove to Vancouver from Seattle for a day trip a few years ago and on their drive back to Seattle they kept seeing a beautiful mountain in the distance that slowly got closer and closer. They never knew what it was until now – Mt. Baker.
We were starved and on our way to Fort Langley so we had lunch at Beatniks where Filbert enjoyed his wings and chicken skewers and Snookums enjoyed her grilled chicken baguette. Then we drove another three blocks to Fort Langley National Historic Site of Canada. Fort Langley is where, a century and a half ago, a huge fur trade organization called the Hudson's Bay Company established a small post to trade with the First Nations of the West Coast. The enterprise grew, evolved, and influenced history, leading to the creation of the colony of British Columbia. Today it is made up of reconstructed buildings and interactive displays and it was interesting (and hot!) to explore.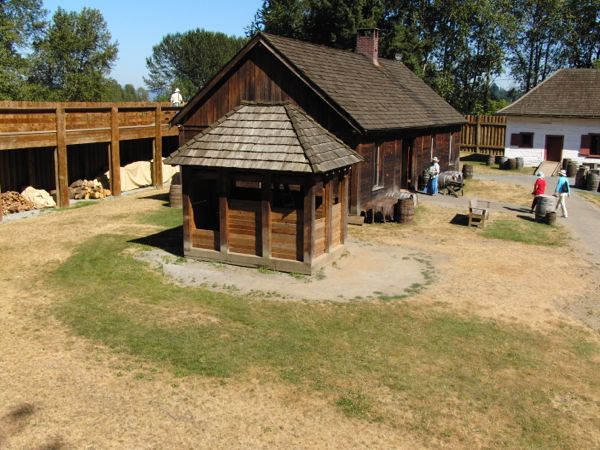 Inside Fort Langley
We piled back into Sharie's Hyundai Santa Fe (which does hold five adults, but there isn't a lot of wiggle room!) and went to Rocky Point Park which is situated along Burrard Inlet in Port Moody. It is almost 10 acres and has a swimming pool, skateboard park, free splash park, boat launch, hiking trails and wildlife viewing. One again we were all amazed at how beautiful and plentiful the parks are. There is a bandshell that is used every Sunday and the donations that are given for the music are given to the hospice that Sharie and John support.
Sharie had told John that we would be home for dinner around 6 and we pulled up at their house at 6:15. After making several delicious salads, the six of us enjoyed a great grilled dinner outside on the patio and it felt just like we were back on Holland America's ms
Amsterdam
! Sharie's apple streusel pie was a definite hit as was the four kinds of grilled protein, salads, baked beans and corn on the cob. We stuffed ourselves and finally decided we needed to call it a night around 10:30. Sharie drove us to the nearest SkyTrain station, about 15 minutes away, and 35 minutes after that the four of us were back in our Hyatt rooms. It was another great day with friends.