The 2010 - 14-Day Alaskan Adventurer Cruise, Part 7
filbert
Thursday, September 23 2010 @ 02:20 PM CDT Views: 1,176
The 14-Day Alaskan Adventurer Cruise, August 22-September 6, 2010, Holland America Amsterdam
Text by Snookums, Pictures by Filbert
Part Seven
(Remember to click "read more" if you're looking at this from the main medary.com page to get the whole article!)
September 2 (Thursday, Day 12, Cruising Hubbard Glacier) -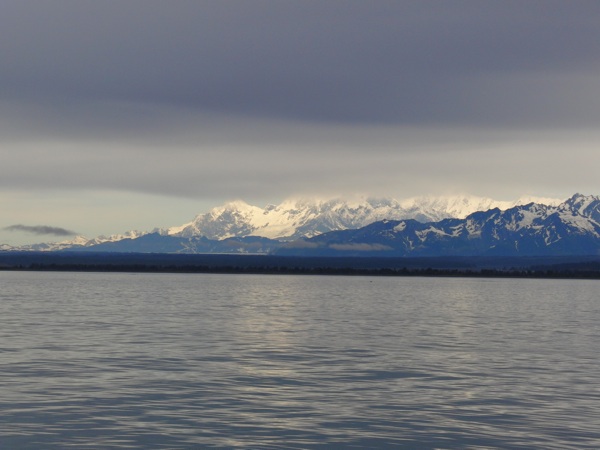 Approaching Disenchantment Bay
Snookums and Filbert ordered room service breakfast of a bowl of mixed berries, a bowl of mixed fruit and two raisin buns for Snookums and hot water and coffee for Filbert. Then it was time to go out on deck and watch our approach to Hubbard Glacier. At its widest point, it is six miles wide and towers 500 feet about Disenchantment Bay. It is 75 miles long! We bundled up and headed for the bow of the ship.
More after the jump . . .

This was the second time during the cruise that access to the bow was allowed. (The other time was when we were cruising in Glacier Bay.) We immediately realized it was raining so we didn't stay on the bow for long. We were still a couple of hours from the glacier anyway. We decided to go up to the Crow's Nest to watch for whales and to watch the glacier get closer and closer. Soon it was time for the seafood chowder to be passed around. Snookums ate two bowls of it while sitting in the Crow's Nest! Filbert had one. Filbert liked the split pea soup served while cruising in Glacier Bay while Snookums liked the seafood chowder better. Don't let anyone tell you that 10:30 AM is too early for seafood chowder!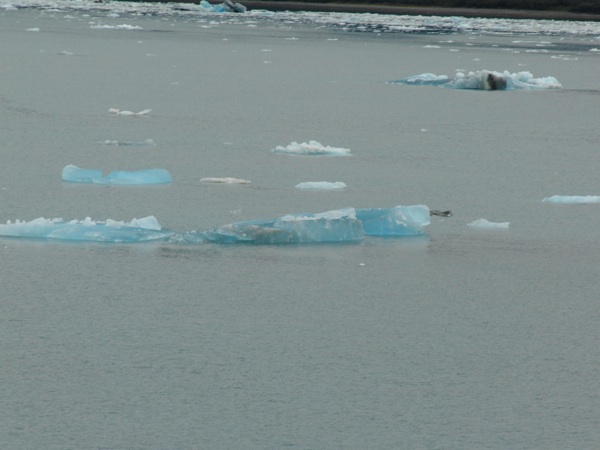 Blue ice
We finally got bored in Crow's Nest and wandered around the ship and went outside on the bow and the Promenade Deck. From the Park Rangers on board the ship spoke over the PA system and we learned that icebergs are generally taller than 15 feet. Shorter pieces of ice are called growlers or bergy bits. These smaller chunks of ice floating in Disenchantment Bay were bigger than the ones we saw in Glacier Bay. There were also a lot of seals lying on the chunks of ice, too. They didn't move at all until the ship got a little closer than they liked and then they would get in the water and disappear. Otherwise, they were black lumps.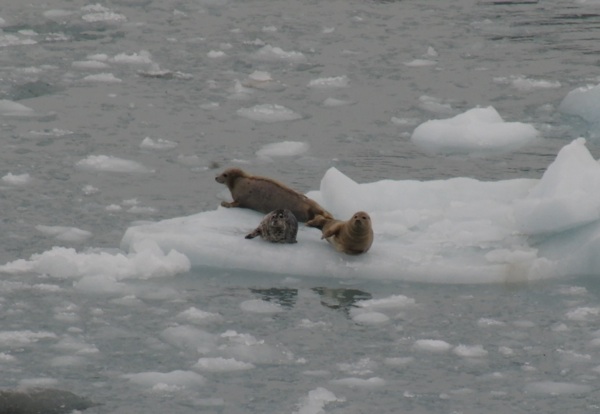 Seals on the ice floes
In general there was much more ice floating in the water here than in Glacier Bay the other day. The weather wasn't as nice as in Glacier Bay on August 28, but the blue color of the Hubbard Glacier was spectacular. It was an awesome sight.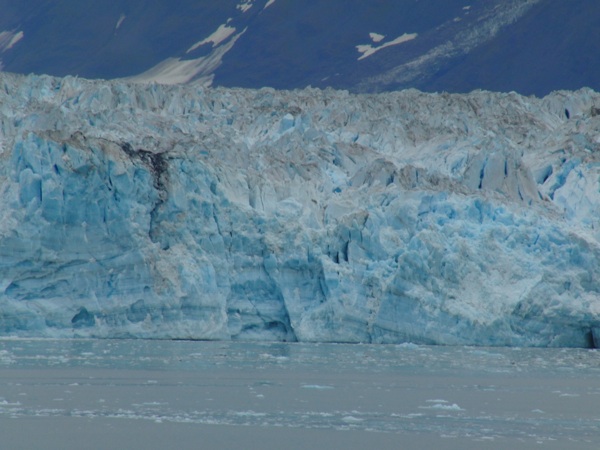 Blue glacier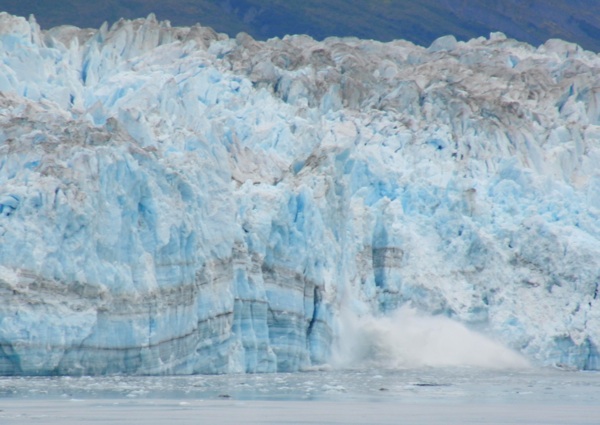 Splash
After dinner Mom, Dad, Judy, Snookums and Filbert attended their invitation-only cocktail party. We determined that it was for suite guests and since the ship knew that Snookums and Filbert were traveling with suite guests, they were invited, too. Captain Olav van der Waard, Hotel Manager Henk Mensink and Cruise Director Jayme McDaniel were there to greet us. Everyone enjoyed the free alcohol and Snookums managed to get three cans of Diet Coke to take back to the cabin. She also took the little bottle of mixed nuts for snacks on our next shore excursion. That was Judy's idea.
The first fall color
Next: Juneau!