The 2010 - 14-Day Alaskan Adventurer Cruise, Part 3
filbert
Sunday, September 19 2010 @ 01:59 PM CDT Views: 787
The 14-Day Alaskan Adventurer Cruise, August 22-September 6, 2010, Holland America ms Amsterdam
Text by Snookums, Pictures by Filbert
Part Three
(Remember to click "read more" if you're looking at this from the main medary.com page to get the whole article!)
August 26 (Thursday, Day 5, Sitka, Alaska) -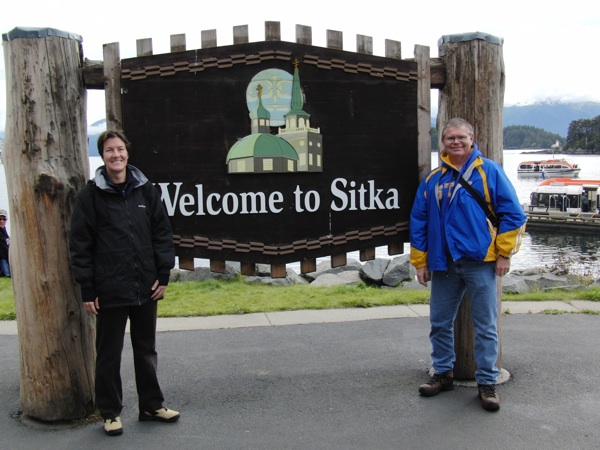 Welcome to Sitka
Today we did the Sea Otter and Wildlife Quest with Gary and Charlotte. Sitka is a tender port but our tour catamaran picked us up at our ship. Snookums wore many layers, including tights and two pairs of socks. We knew that the catamaran had indoor seating, but you have to be outside to really experience wildlife viewing. Within five minutes our boat's captain said that three orca whales had been seen so he was going to try to find them. The naturalist onboard had been doing this tour for thirteen years and had only seen orcas in Sitka one other time. We did see three of them and watched them for probably 30 minutes. This was a big deal!! Then it was on to seeing if we could find other wildlife.
More after the jump . . .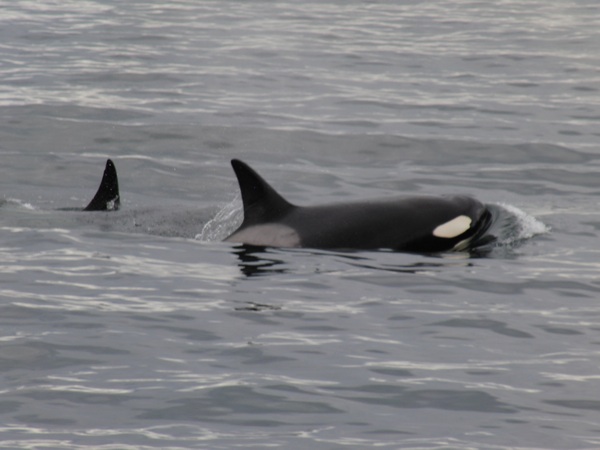 Orca-a closeup
We found a pod of humpback whales and watched them for another 30 minutes or so. They were doing a lot of surface feeding so they would surface a lot. They did ultimately do some deep dives and we got a lot of close-up views of various flukes and could really see the different designs. Each whale fluke is unique. We saw one that was almost all white and then we saw one that was almost all black and then we saw some that were made up of black and white striations.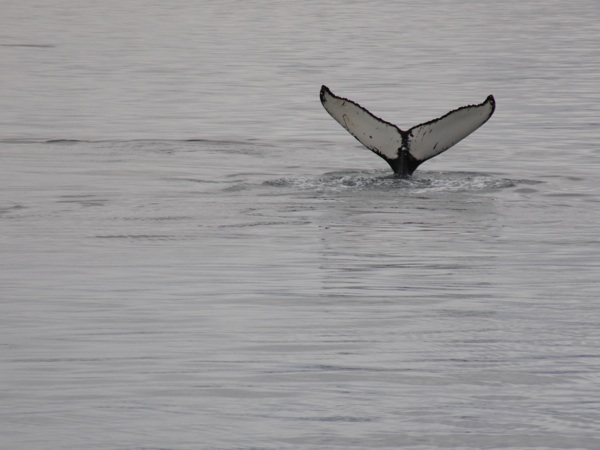 White fluke bottom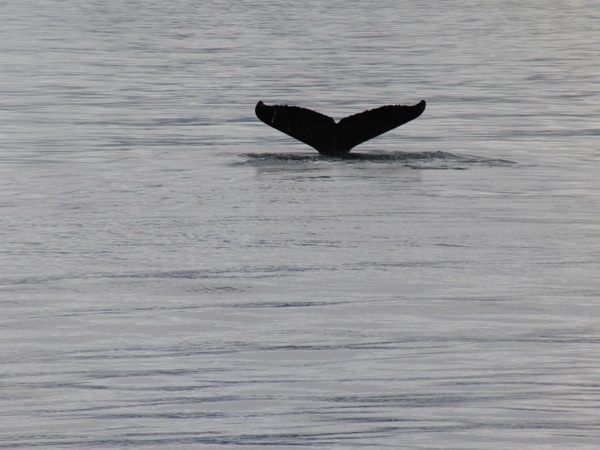 Black fluke bottom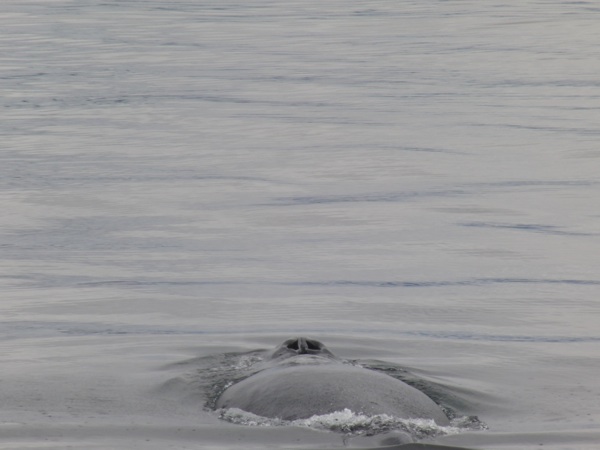 Close encounter with a humpback
We left the whales in search of other wildlife and saw several eagles in trees and a raft of around 30 or so otters. The captain told us that lots of days he sees groups of one (!) otter so the fact that we saw a bunch together was also very special. That, combined with the orcas, and the humpback flukes, made for a full day. On the way back to the dock we also saw Steller sea lions and huge strings of bull kelp. Snookums even bought some kelp marmalade for Judy's birthday since she likes marmalade. Snookums was able to taste it first and it was okay, if you like marmalade. It also had oranges and lemons in it.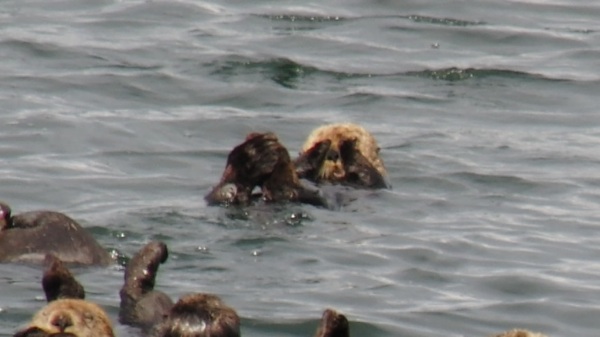 Otter, napping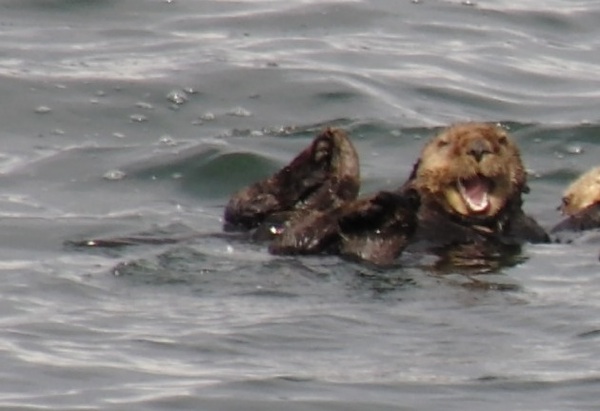 Otter, yawning
Charlotte is nursing a bad knee so she decided to take the tender back to the ship while Gary, Snookums and Filbert explored Sitka. Judy was returning to the tender dock right when we were starting our walking "tour". We saw Pioneers Home, which was built for pensioned gold prospectors.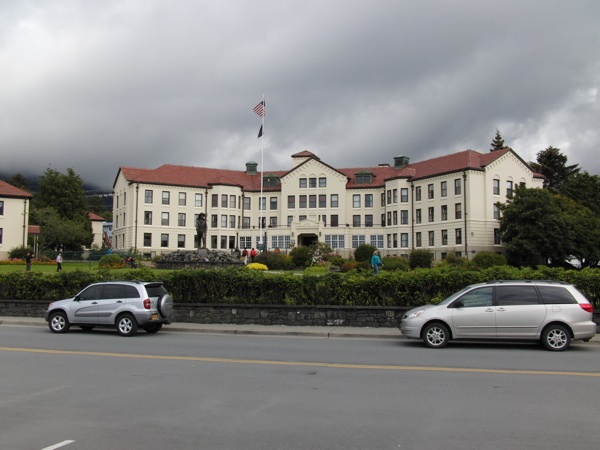 Pioneers Home
Then we went to Two Chicks and a Stick and ordered salmon, black cod and halibut kabobs from their lunch wagon restaurant. Today was actually the last day they were going to be open for the summer and we felt fortunate to eat their food. So far the weather on the cruise has been very nice and today was no exception. We joined two women from our ship at their picnic table and talked about how to get the cheapest cruise. It was nice and sunny and we had to put on our sunglasses since it was sunny. It was probably in the high 50s or low 60s.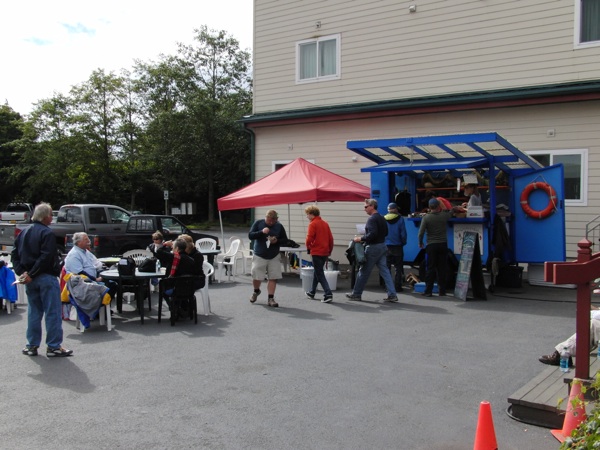 Two Chicks and a Stick
After lunch we went to St. Michael's Cathedral since the $2 admission was included in our sea otter tour. It was built in 1844 and is a traditional Russian Orthodox structure that houses priceless Russian icons and is considered to be among the world's finest. Judy later told us that she went to the cathedral and was sorry she paid the $2 for it since it really wasn't that impressive unless you liked Russian icons. We agreed with her assessment.
In St. Michael's Cathedral
We continued to Ben Franklin and then to the grocery store and purchased some sodas for our cabins. Then it started raining but we were ready with our layers of clothing. After a couple blocks the rain stopped. We stopped in a local gallery and purchased a picture of an otter made out of paper made from Alaska moss for our travel wall at home. The gallery owners have lived in Sitka for 20 years and have only seen orcas three times. And, they commute to work via their 12-foot boat since they live on a neighboring island. Gary continued back to the ship while Snookums and Filbert climbed up Castle Hill for its sweeping view of Sitka Sound.
Dad spent part of his day talking for two hours to Roland and that wore him out so he was a no-show for dinner. The rest of the group enjoyed seeing Filbert's slide show of his photos from Seattle through the sea orcas, humpbacks and otters of Sitka.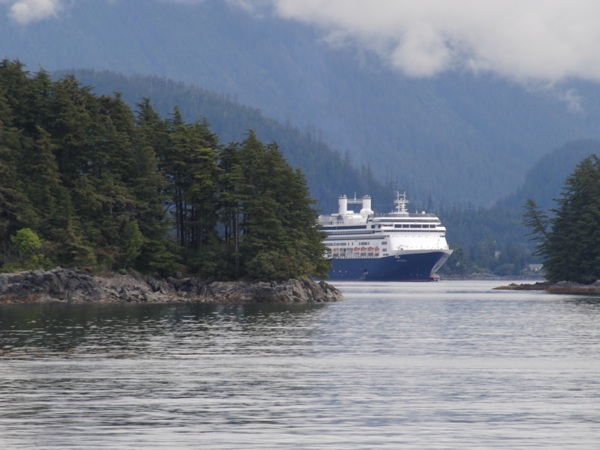 Amsterdam in Sitka Sound
Next: Skagway, and more!