The 2011 Danube River Cruise, part 4 of 4
Tuesday, July 05 2011 @ 08:11 AM CST
Contributed by:

filbert

Views: 7,643
The Legendary Danube, May 26-June 8, 2011, AMA Waterways Amadolce
Text by Snookums, Pictures by Filbert
Part Four
(Remember to click "read more" if you're looking at this from the main medary.com page to get the whole article!)
June 5 (Sunday, Day 11, Budapest, Hungary, 182 forint to the dollar) -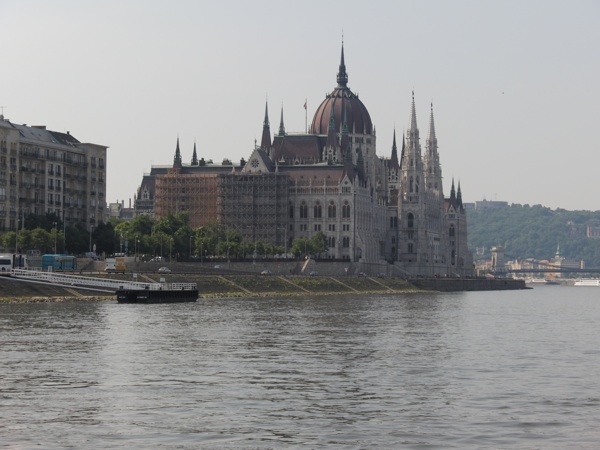 Hungarian Parliament Building. Very spikey.
We cruised into Budapest in the morning and everyone went to the skydeck to see Budapest's beautiful architecture. Budapest, population 2 million, used to be two cities, Buda (the hilly side) and Pest (the flat side), separated by the Danube. So, it really is ON the Danube and seeing it from a ship is quite a neat experience. We docked literally across the Danube from the Budapest Intercontinental which would be our hotel for our final two nights in Budapest.
More after the jump . . . It was a hot, sunny and humid day and we had a 3-hour bus and walking tour. We drove up the hill to Buda Castle where we were able to have great views of the twin cities spread over both banks of the Danube. We also climbed the stairs to Fisherman's Bastion.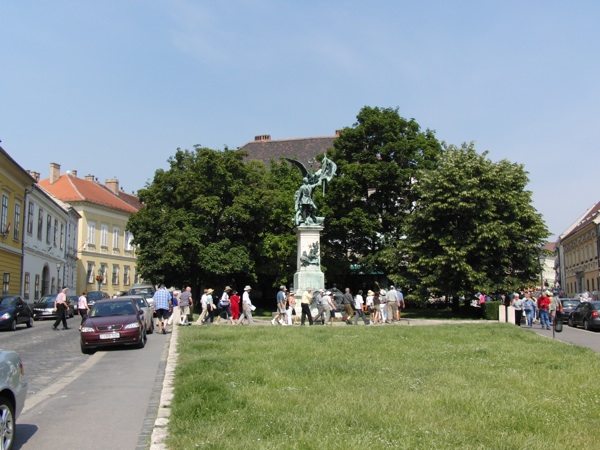 Inside Buda Castle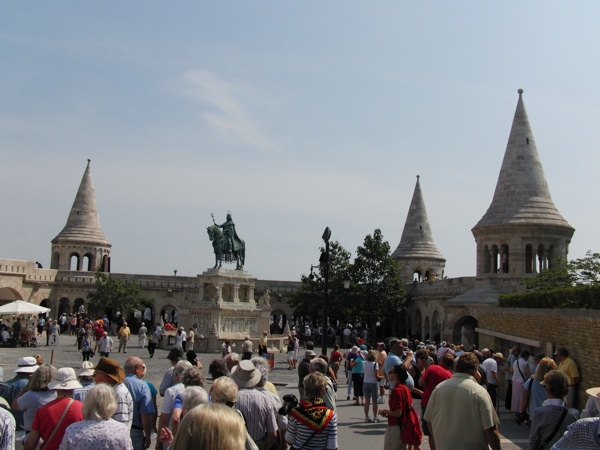 Fisherman's Bastion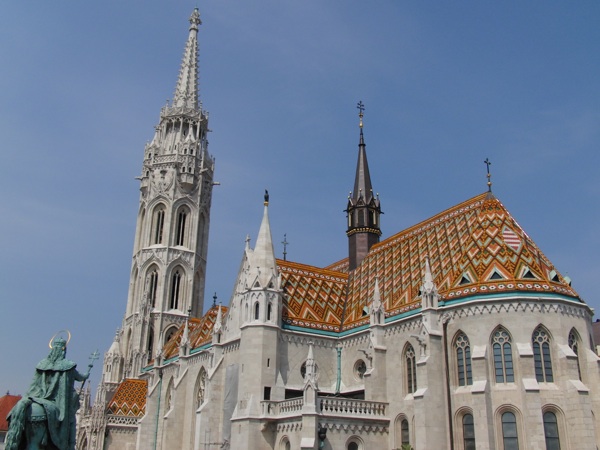 Cathedral within Buda Castle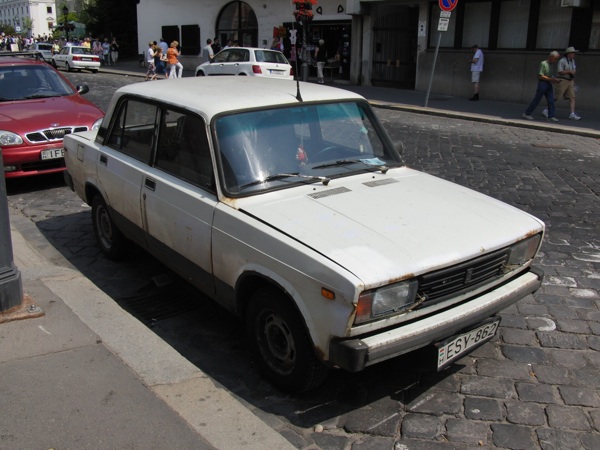 Old car. In castle. With headlight wipers.
Then we got back on the bus and drove by the Royal Palace, Parliament and St. Stephen's Basilica. During the last 15 minutes of the bus tour, it started pouring rain. The tour guide said that was normal and that it would quickly stop and no one would even give it a second thought. Sure enough, locals used umbrellas or stood under awnings and after the "monsoon" passed, continued their walking. Everyone got back to the ship just in time for the 1:30 lunch. Lunch was a Hungarian lunch and Snookums really enjoyed the cabbage soup and pork goulash. The food on this cruise has not been very special or creative and this themed lunch was much appreciated.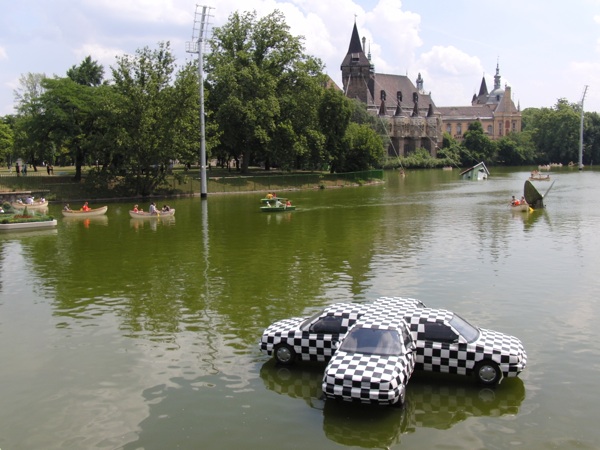 Old cars. Painted in a black and white checkerboard pattern and welded together. In a lake.
Most passengers, including us, stayed on the ship the rest of the day since the heat zapped everyone's energy. We spent time on our PCs and watched the French Open Men's Final "live" which was nice. We finally decided to pack our luggage. That was easy since most of our clothes were dirty. (The ship didn't have any self-serve laundry facilities and charged by the piece [$5.10 for a pair of pants]).
Snookums spent $70 in the gift shop since we had that much shipboard credit remaining and unlike ocean cruises, AMA Waterways will not give cash back at the end of the cruise. She bought an incredibly overpriced rayon pashmina-type shawl, a Murano glass cocktail ring, a tea towel with the map of Germany on it, a German wooden musical Christmas tree and three postcards to use up all of the credit. (The wooden Christmas tree on display was broken and didn't play any music so Snookums is not too hopeful about this decoration.) Snookums tried to get Filbert to choose something, but just like on ocean cruise ships, the Amadolce's gift shop really didn't have anything of interest for men.
After the stressful shopping trip, we continued to relax until Roland, the cruise director, annoyed us with yet another announcement. This time it was, "Sooooooooooooo, make sure to pick up your passport at Reception." That was followed by another announcement 30 minutes later with him saying, "Sooooooooooooo, the gates to paradise are open", which meant it was time for dinner. Obviously the clocks in the cabins were not sufficient for people to know when it was 7 PM.
Speaking about the announcements, Roland told all the cruisers at the beginning of the cruise that to hear the announcements in the cabin, turn the TV to channel 1. Otherwise, they wouldn't broadcast in the cabin. The problem with this was that the cabin doors were paper thin and EVERYTHING that happened in the hallway within 20 yards of the cabin door, we easily heard. This included the hallway speakers that seemed to be everywhere. Not only did he make announcements regarding the start of lunches and dinners (which were always printed in the daily program) but he also would do at least two announcements per tour to make sure people knew how many minutes were left until the tour left. His announcements always started with "Sooooooooooooo" and that was really, really, really annoying. Filbert really wanted to go up to him and say "Sooooooooouuuuuuuuullllllll Train", but he never did.
Besides having paper-thin walls and doors with a cruise director that made constant announcements, there was another thing that bothered us about AMA Waterways. The dining room service was inconsistent. The dining room seemed short staffed since the wait staff was constantly hustling. Given that this cruise was 50% more expensive than our ocean cruises, we expected good service (and good food). Lunches were a variety of cold salads and a hot dish on the buffet as well as a menu that had two soups and two entrees listed that the waiter would deliver. On three different days, we were never given menus for lunch. This wasn't that big of a deal since we could easily consume enough calories from the salads, but the menus should have been presented to us. A waiter didn't even show up during these three days. Our water glasses were filled when we were at the buffet and other than that, we never had a waiter stop at our table. Dinners were somewhat similar in that we would get menus and get our food delivered, but after the entrees were delivered we noticed that the wait staff would walk around and offer the steamed vegetables. However, there were three nights when the vegetables were not offered to us. And, if one of the three steamed vegetables ran out before the pan was offered to you, it was not refilled. Snookums had brussels sprouts one night and since Filbert was the last person at the table to have the vegetables offered to him, he didn't get any since they were all gone. We didn't even realize this until a few days later when we were talking about brussels sprouts and he commented that he never saw them at any dinner. There definitely needed to be more waiters.
Dinner was a Hungarian dinner and Filbert thought it was the best meal of the cruise. Snookums still thought this afternoon's lunch was better. The appetizer was a pancake stuffed with minced meat that had a paprika gravy on it and a dollop of sour cream. It was kind of like a Hungarian burrito covered in salsa. The soup was a fish soup that looked like a thin cream of tomato with some fish stock flavor. The entrée was pork loin on a sauce made from red and yellow peppers, onions, paprika and tomatoes served with mashed potatoes. Dessert was mousse mixed with pieces of cake and the red wine was from Hungary.
During this dinner, the table next to us had four people at it. We were talking and realized that they are two other couples that signed up for this cruise with our friend, Carl. One of the couples has cruised with Carl several times before and said that if Carl had been on the ship, he would have made sure that all of the couples would have had at least one dinner together and some happy hours. We all traded "Carl stories".
Although the ship was overnighting in Budapest, the captain gave us a 45-minute cruise of Budapest at 9 PM when it was dark. The beautiful buildings are lit up at night so this gave us another nice memory. Filbert went to sleep during this evening sightseeing cruise, but Snookums enjoyed the sights.
Hungarian Royal Palace at night
June 6 (Monday, Day 12, Budapest, Hungary) -
After breakfast the cab that was ordered for us came. Although our hotel was directly across the river, the cruise director said that we should take the pre-arranged $21.65 cab to the hotel rather than flagging one down and haggling over a price since we would definitely get ripped off. It seems ludicrous that we couldn't have negotiated a better fare for the 5-minute drive, but whatever. At that point all we really cared about was getting away from AMA Waterways.
We got to the Budapest Intercontinental around 9:45 AM and our upgraded room wasn't ready yet. After a short 25-minute wait, it was. During the wait Snookums looked on the Priority Club website using the hotel's iPad to find the rules about getting Lounge access for having Platinum status. She thought that Lounge access was a Platinum perk, but the front desk clerk said that only the room upgrade was. The iPad flustered her and she couldn't find what she was looking for and settled for just the room upgrade.
We loved our 8th floor room. The huge picture windows had the best view imaginable of the Palace and Chain Bridge. We unpacked and stopped at the Concierge before leaving the hotel for a lunch recommendation. We made that restaurant our goal and headed out of the hotel, umbrella in hand. It started to rain quite heavily right then so we stood under the hotel's awning and watched all of the police motorcades. We later found out that the many, many motorcades with lots of police cars with flashing lights was because Hungary is the president of the EU and a conference was being held at various locations around the city, including the Budapest Intercontinental. The motorcades were going the wrong way down streets and one of the motorcades was probably going around 75 MPH on the rain-slicked road behind the hotel. That was actually scary to see. The hotel was also hosting some kind of NATO meeting for doctors and we were in the elevator with some doctors (colonels) from Bulgaria in uniform.
The rain let up and we continued our walk to the restaurant while stopping at several little convenience stores along the way. Downtown Budapest has a bunch of super markets and even more 24-hour stores that are smaller, but still sell all of the essentials. Normal sized cans of vegetables were around $1.25 at all of the stores which is much more expensive than in the US. We also noticed a ton of liquor stores.
We found the restaurant that is family owned and specializes in Hungarian food and sat outside under the umbrellas. We decided to order an appetizer of the pancake stuffed with minced meat that we had on the ship last night to compare. We ordered chicken paprikash and cabbage rolls for our entrees and split them. The chicken paprikash was not very flavorful but the cabbage rolls were very tasty. However, the $80 bill made us realize that we should never ask a hotel Concierge for recommendations. (We knew this, but obviously lost our mind momentarily when we asked for restaurant recommendations!) We would have been happier eating at one of the dumpy little places we passed.
We decided to walk to the train station since we needed a destination. Along the way we saw St. Stephan's Cathedral. We stopped at a super market and Filbert bought a Coke Zero and Snookums bought a puff pastry danish (it looked like a burrito) filled with a heavy, curdly cream cheese-like filling that was topped with wonderful cherry preserves. It was delicious.
After reaching the train station, we headed back for the hotel. We stopped in a super market to buy paprika. Snookums asked a man for advice and he explained the different types and suggested the correct brand to buy. We bought two packages of spicy paprika and Filbert bought some beer.
We continued our walk and then it started raining a lot. We decided to go into an office building and wait in the lobby on the nice leather couches. There were even copies of a weekly English-language Budapest business newspaper for us to read! We read for about 30 minutes while it rained. When it stopped, we continued back to the hotel and came upon a large protest march. A man told us it was one of the police unions protesting since the Prime Minister recently suggested that the retirement age be increased as well as the pension decreased. It was a large and loud (and orderly march) and made the front page of the paper the next day.
We got back to the hotel at 5 PM and Snookums talked to the front desk clerk about using points to get lounge access. He had the manager deal with her. The manager said that we could buy lounge access at the reduced rate of $30 per person per night (from $60 per person per night) due to Snookums's Platinum status and Snookums had her hopes on the Lounge so she agreed! (For those of you who know Snookums, she is the cheapest/thriftiest person around and this was totally out of character for her.) Therefore, we went to the 1st floor Lounge and enjoyed the free Internet (which would have cost $20/day/person). With her PC, Snookums searched for the wording that gave free lounge access to Platinum level people. She found it in the Member's Guide. It stated that Platinum guests would be upgraded to THE best room type. She accessed the hotel's website and pretended to book a room that included lounge access so she was confident in her assertion that Platinum members should get lounge access for free. She spoke to the lounge receptionist and a meeting with the hotel manager was scheduled for the next morning to discuss getting complimentary access.
While in the lounge Filbert enjoyed the red wine during happy hour. We ate dinner there, too, of pork meatballs, mozzarella sticks, fried zucchini, vegetable soup, raw vegetables, potato salad, little sandwiches, and small pieces of various cakes. The floor to ceiling windows offered great views and we stayed until 9 PM, just relaxing after our 6-hour walk (and lunch) around Pest.
When we got back to our room, we were pleasantly surprised to find a bottle of Hungaria brand sparkling wine and a small bottle of merlot. We're not sure why they were delivered, but we didn't complain. We sat in the window seat and gazed out at the lights on the palace, the castle and Chain Bridge. We walked a ton and looked forward to the king bed after having the queen bed on the ship.
June 7 (Tuesday, Day 13, Budapest, Hungary) -
We woke up and made sure that we were in the lounge for the meeting with the manager. We also ate a large breakfast there. The manager explained that lounge access is not considered a room type so that is why a Platinum member doesn't get free lounge access. Snookums decided not to pay for another night in the lounge.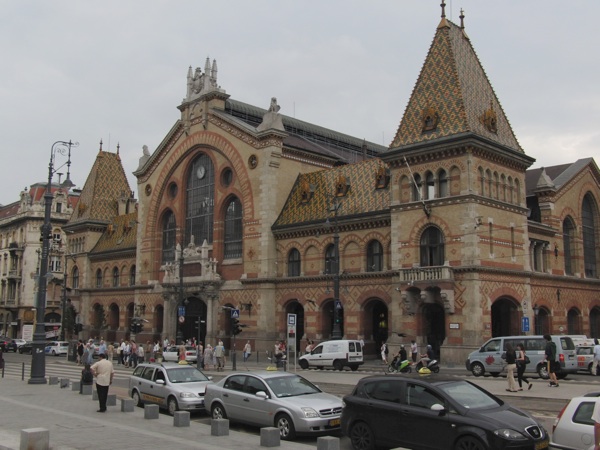 Budapest Great Market Hall
After breakfast, we walked to the Great Market Hall which is the biggest indoor market in Budapest. Most of the people buying things were locals. There were stalls selling sausages, produce, fresh meat, caviar, liquor, fish, cheese and then tourist items like tablecloths, tshirts, and pictures. We bought a handpainted print of the palace for our travel wall at home. Around 11 AM, Filbert enjoyed a Freher Bak (a dark Hungarian beer) and he wasn't alone. There were five groups of Hungarian men drinking that early, too!!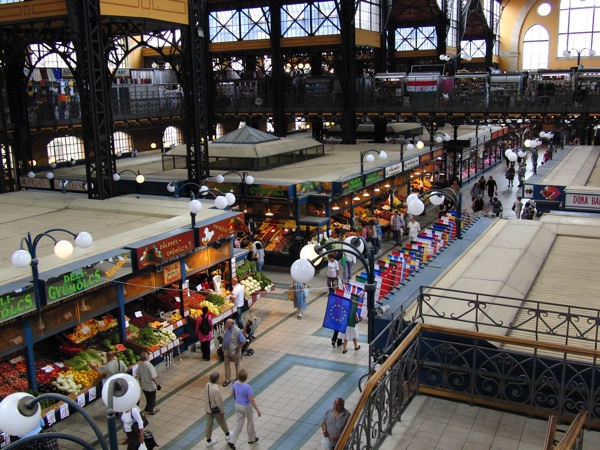 Inside the Great Market Hall
We left the market and wandered around Budapest for another four hours. At 3 we returned to the hotel and went to the lounge. The manager said we had access until 4 PM so we figured we needed to get our money's worth. We drank a lot of Coke Light and ate the various little nibbles that were out. We were hoping to be able to stay for happy hour/dinner at 6, but at 6 the receptionist asked us if we had changed our mind and wanted to pay for another day. We left!
We were hungry and tired and decided to walk until we found a restaurant that looked good. We ate at one of the many outdoor restaurants at Vörösmarti ter, a large and lively square near our hotel. Snookums ordered beef paprikash with noodles and egg (it seemed like a beaten egg was stirred onto the homemade cooked noodles [kind of like spaetzle]) and Filbert had bacon wrapped turkey which came with five small scoops of mashed potatoes. We were happy with our orders (and the bill!). On the way back to the hotel, Snookums wanted to see the desserts at Cafe Garbeaud which has been around since 1870 and is famous for its plum pie. Fortunately (or unfortunately) nothing jumped out at her.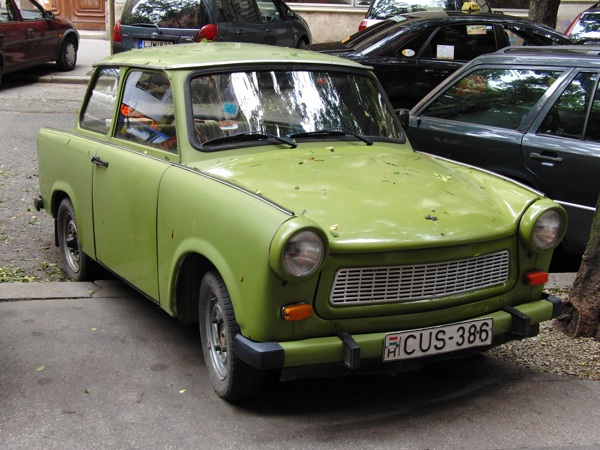 Old car. Green. Without headlight wipers.
June 8 (Wednesday, Day 14, Trying to get home) -
We bought the hotel's buffet breakfast at the reduced rate of $17 per person due to our Accenture room rate. It was a very bountiful spread and even had miso soup and congee for Asian appetites.
Our airport shuttle arrived promptly at 10 AM and we got to our gate with plenty of time for our 1 PM flight to Munich. There was a lounge right next to the gate that we were entitled to use from having a certain credit card. It had every liquor imaginable plus all sorts of individually wrapped candy bars and cookies and had free wifi and three different English language papers. We happily settled in for our wait.
We went to the gate only to be told that there were mechanical problems and an update would be given in 30 minutes. That led to a 2-hour delay. The lounge receptionist was used to seeing us come and go. We finally decided to stand in line for new tickets and were given business class tickets to Frankfurt. We were told that we wouldn't be able to get a flight to the U.S. from Frankfurt today, but to get new tickets to the U.S. after landing in Frankfurt. We were just happy to leave the Budapest airport.
It was now 3:45 PM and although we had candy bars and junk in the lounge, we hadn't eaten any lunch since there was no time between all of the delay updates. Snookums was really looking forward to the business class food. It ended up being smoked tuna (raw), two pieces of Brie cheese and a tiny fruit cup. It was definitely a pricey lunch, but Snookums hates raw tuna and Brie cheese. The flight attendant came by with various rolls and Snookums took two. She ate some of the candy bars that she took from the lounge, too.
We landed in Frankfurt at 5 PM and found the right place to go for Lufthansa re-ticketing. We were given a hotel and dinner voucher as well as new flights on Thursday through Washington, DC. We tried to sweet-talk our way into business class tickets, but could only get exit row seating in economy. We walked to another part of the huge Frankfurt airport for our toiletry kits. (When you get stuck overnight, you are not allowed to get your checked baggage. So, we needed toothbrushes and toothpaste and stuff from Lufthansa.) Filbert realized he needed distilled water for his CPAP so then we went to the full-size grocery store in the basement of the Frankfurt airport. He also bought beer there. Our toiletry kits contained white t-shirts in them so we had clean shirts for tomorrow but Filbert also wanted clean underwear. We went to several stores looking for men's underwear and finally found them in the Levi's store. One pair of Levi's underwear cost $31.70. Our cruise insurance will come in handy…
We exited the airport at 8 PM and waited for the shuttle bus to the hotel. We had just spent three hours in the airport walking all over it and were very tired and hungry. We got to the hotel and dumped our stuff in the room and went to dinner. Snookums was hoping to order some German food, but it ended up being a buffet. It was a good buffet, but the only German thing on it was the potato salad. Oh well. We enjoyed dinner and returned to our room. Snookums called the front desk to ask how to use the air conditioning and was informed that a room with air conditioning would cost an extra $30. We decided to stay where we were and opened the window instead.
It had been a long day and we went to sleep in the hot room.
June 9 (Thursday, Day 15, Flying home) -
Neither of us slept well due to the stuffy room, but we survived. We showered and put on our thin white t-shirts, compliments of Lufthansa, and went to the breakfast buffet. To access the dining area you had to swipe your room key in the turnstile reader and then go through the turnstile. This system was not used for dinner, but the hotel must have a problem with people coming in for the breakfast buffet so they installed the turnstile. It was strange, but it worked. We caught the shuttle to the airport and got to the gate about an hour before the flight left.
We boarded the plane and enjoyed our exit row seats that literally had no seats in front of them. We had plenty of leg room. Snookums watched four films on the 8-hour flight and Filbert watched several Discovery nature shows. The two meals were okay, too. We landed at Washington and only two of our three pieces of luggage were there. Oh well. We went through Customs and went through security again and Snookums found one Chinese yuan ($0.15). We looked at the Departures board and saw that our flight to KC was delayed two hours. United lounge, here we come! Filbert enjoyed a beer and got the snacks of cheese, crackers, cookies, yogurt covered raisins, trail mix and fresh vegetables while Snookums called Mom. We had free wifi, too. Life was good and then Snookums noticed that our flight was no longer delayed two hours and was getting ready to board.
We went to the gate and boarded the flight to KC. It was a regional jet with a total of three seats across and we were in the very last row and the lavatory was behind us. A little boy had a difficult time getting out so the flight attendant came and got him out. We learned that on every airplane, the lavatory doors have a little silver plaque above the area that says "Occupied" or "Vacant". If you lift up this little plaque, you can unlock the door from the outside! After flying all these years, that was new information for Snookums. Later on in the flight, the flight attendant locked the door (while the lavatory was empty) and we couldn't figure out why until the pilot walked down the aisle to use it. On such a small plane, no one gets up to use the lavatory until it is vacant so if it says "Occupied" then the pilot can use it without any wait. That makes a lot of sense.
Our flight ultimately landed a little more than a hour late and our third piece of luggage wasn't there so we had to file a delayed baggage report. We got home around 6 PM, unpacked, showered and went to bed around 10 PM. We left the Budapest Intercontinental 39 hours before finally making it home!
Note: Our third piece of luggage was delivered on Saturday afternoon after Janet was told to replace required items. United reimbursed her $125.45 for the required items that she bought Saturday morning.