2010 Panama Canal Cruise, part 3
Thursday, May 13 2010 @ 05:58 PM CST
Contributed by:

filbert

Views: 2,359
The Panama Canal-Ft. Lauderdale to San Francisco-20-night Voyage, May 6-26, Regent Seven Seas Navigator
Text by Snookums, Pictures by Filbert
Part Three
(Remember to click "read more" if you're looking at this from the main medary.com page to get the whole article!)
May 9 (Sunday, Day 5, At sea) -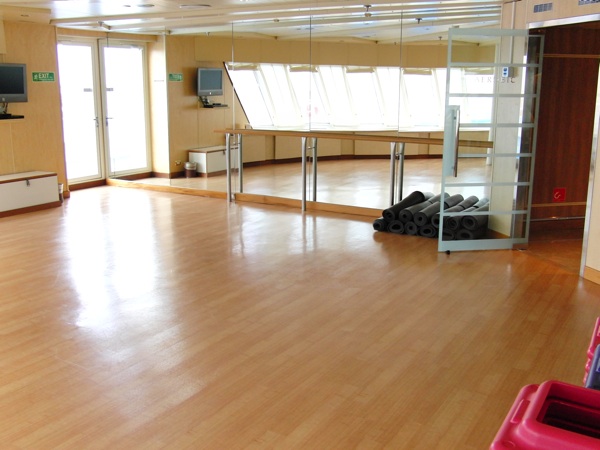 Aerobics room
Snookums attended "Body Sculpt" which consisted of 8 different stations where you lifted free weights or did push-ups or crunches for 3 minutes at a time. Amazingly enough, a 5-pound weight in each hand gets very heavy after you do a million reps of one exercise for 3 minutes! Filbert walked around the deck for 45 minutes and had a great workout fighting the wind for half of every lap.
More after the jump . . . Mom and Dad enjoyed the caviar and champagne breakfast which is a Regent tradition every Sunday.
We ate lunch in La Veranda since it was rather hot and humid outside. The headwaiter made sure everything was okay (and it was). We saw one guest walk at full speed smack dab into the automatic glass door. He thought it was open and it wasn't. Snookums saw the whole thing since her chair faced that way and Filbert heard the loud "smack". A waiter immediately gave him a cloth napkin full of ice and he appeared to be okay after a few minutes, but it had been a very hard collision into the clear glass automatic door, which failed to open--probably because the man was walking so fast. He drew a lot of attention and even the ship's doctor came to see him. Strangely enough, the door does NOT have any kind of decal on it (like an "R" that is on the sliding glass door to the balcony in every cabin) and other guests have probably done the same thing since the glass is always spotless.
Filbert and Snookums took naps this afternoon and then attended the 30-minute "Core Conditioning" class. It consisted of 8 stations that we had to do for 1 minute each. 1 minute is a lot shorter than the 3 minutes that Snookums had to do in this morning's "Body Sculpt" class. However, "Core Conditioning" was still a good workout and we both needed our second shower of the day.
Regent's "Block Party" occurred at 6. This is where all the guests meet in the hallways and the stewardesses pour wine and serve hors d'oeuvres and the captain, cruise director and other muckety-mucks dash around the decks to meet everyone. We met our neighbors from Montreal, Quebec. Then we went to dinner at Prime 7. Prime 7 is Regent's reservation-only steakhouse and Bill joined us so we had a table for six. At the end of dinner Mom was given a gift bag by the maitre' d that contained a Mother's Day present from Judy and greeting cards. (We gave the gift bag to the maitre' d prior to dinner.) It was a surprise to her, that's for sure. On the way out every woman was given a long stemmed red rose for Mother's Day and Judy and Snookums gave their roses to Mom so that she has three in her cabin to enjoy. (Snookums and Filbert already gave Mom their stem of orchids from their cabin so that she has two stems of orchids in her vase in her cabin.) Now she has their vase with three red roses in it.

May 10 (Monday, Day 6, Cartagena, Colombia; 1,953 Colombian pesos to the dollar) -
Filbert stayed behind to make a phone call for a trust issue from his aunt's estate while Snookums, Judy, Mom and Dad went on the shopping and historical highlights tour. We got on a little bus and stopped a couple of places for photo stops. Then we went to the newer part of Cartagena and were let out at a strip of emerald stores for 40 minutes. Rather than go into the emerald stores, we walked a few blocks down the street and back. The sidewalks aren't really conducive to wheelchairs, but we managed. Then it was back on the bus and we went to the Old City for another 30 minute shopping stop. Snookums got out and took some photos of the Old City and climbed up the wall of the Old City. Judy got out and bought a $10 reversible leather belt for Dad since his had just split while on the cruise. After this short little shopping stop, the walking tour of the Old City started. It was not a place for wheelchairs at all so Dad, Mom and Judy stayed on the bus while Snookums walked around. It reminded Snookums a lot of old San Juan but much nicer and much bigger. Most of the old little houses are now bed and breakfasts and it didn't really look like any of the old houses had tourist stores in them which made it nice and not so tacky. We got back to the ship in one piece. Snookums was very happy that Filbert didn't come since it was around 85 degrees with very high humidity. He would have been miserable. Photos from the Cartagena historical highlights tour: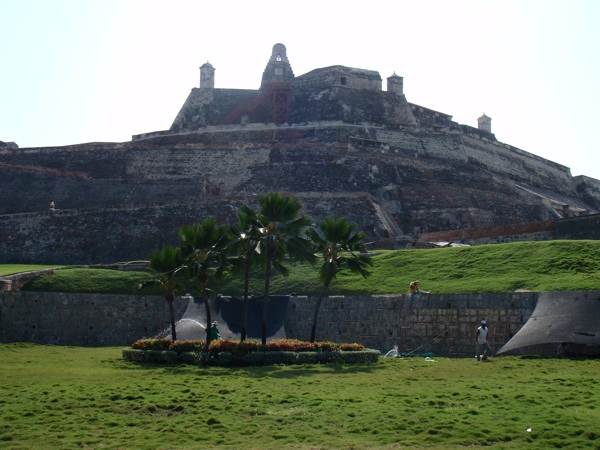 Fortress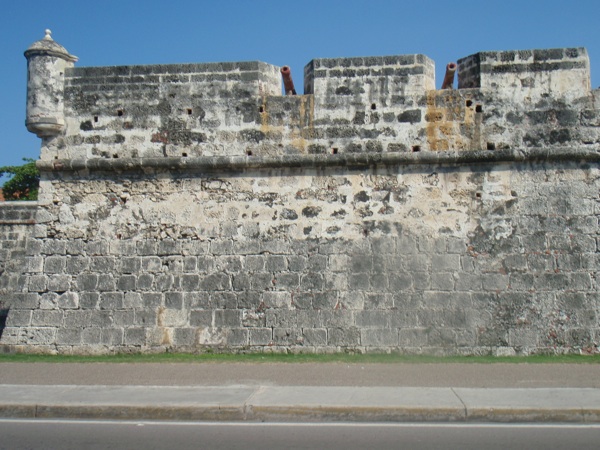 City walls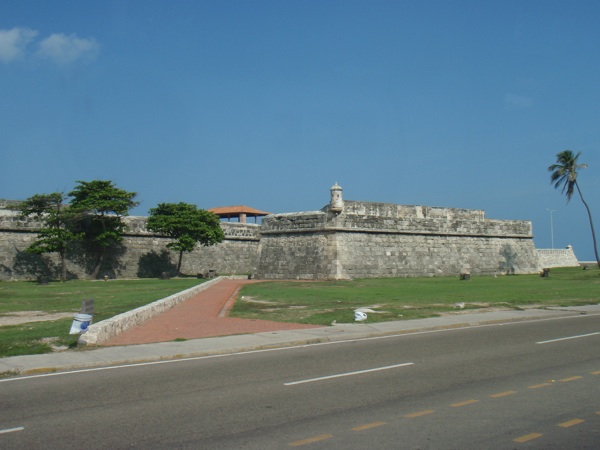 Another view of the walls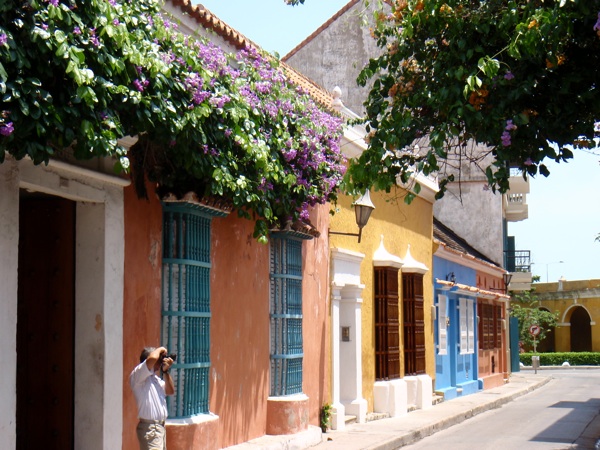 Row houses/i>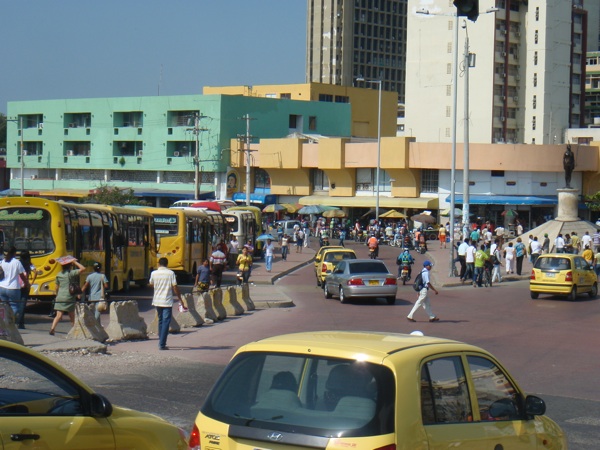 Cartagena bustle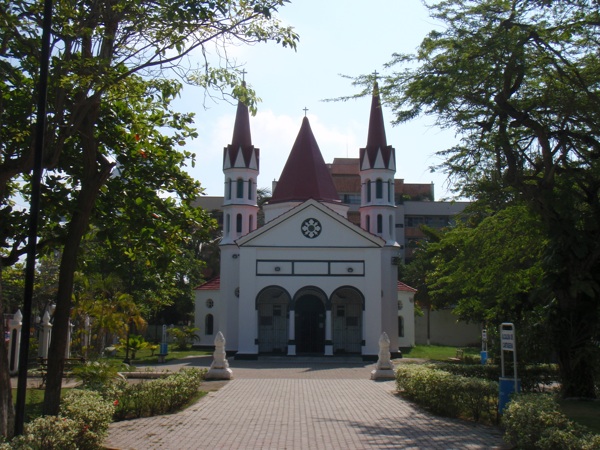 Church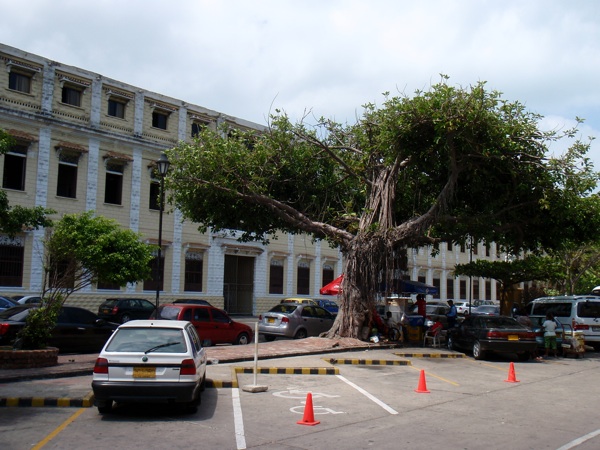 Banyan tree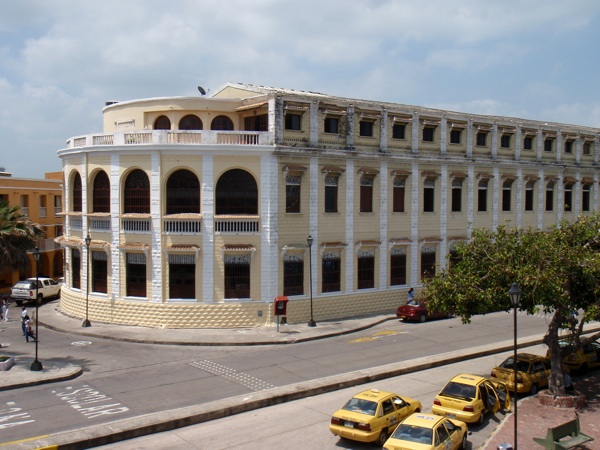 Neat yellow building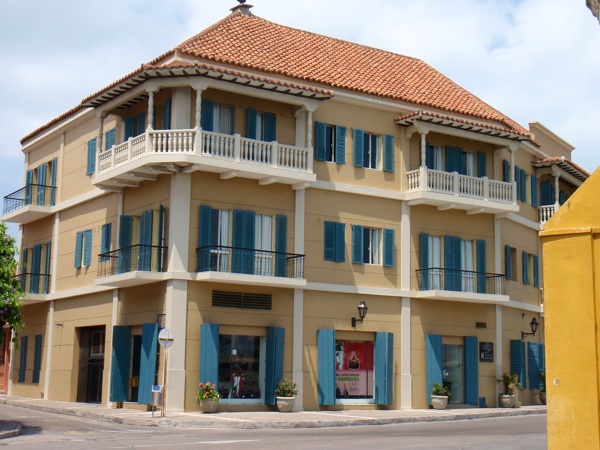 Blue-shuttered house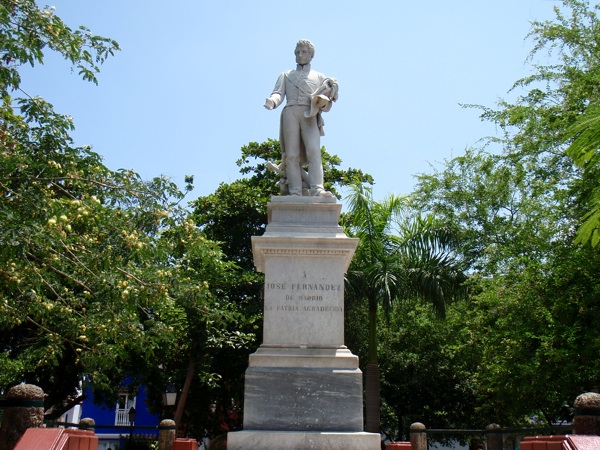 Statue of Jose Fernandez, who was important enough to have a statue of him erected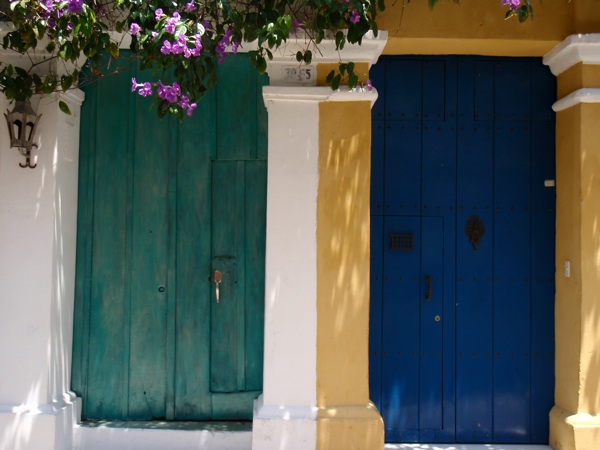 Some Cartagena doors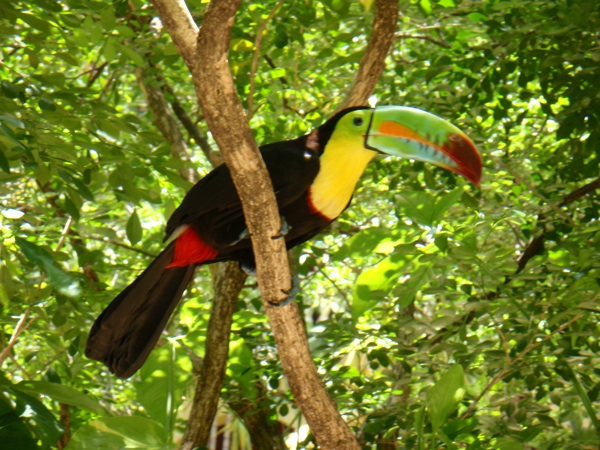 Cartagena Toucan says toodle-oo!
Next: Board a Spanish galleon, maties! Hoist the mainsail!