2010 Panama Canal Cruise, part 2
Tuesday, May 11 2010 @ 04:58 PM CST
Contributed by:

filbert

Views: 2,312
The Panama Canal-Ft. Lauderdale to San Francisco-20-night Voyage, May 6-26, Regent Seven Seas Navigator
Text by Snookums, Pictures by Filbert
Part Two
(Remember to click "read more" if you're looking at this from the main medary.com page to get the whole article!)
May 8 (Saturday, Day 4, George Town, Cayman Islands) -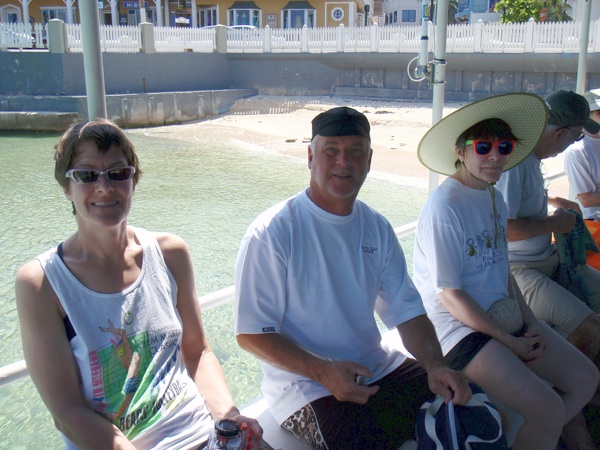 Snookums, Bill, Judy
Judy, Snookums, Filbert and Bill went on the snorkel excursion this morning. This was Bill's first snorkel experience ever and the water could not have been any better. It was very smooth, very clear and very warm.
More after the jump . . . And the fish were good, too! Our first stop was at Cheeseburger Reef (named for the Burger King on shore) and we saw a variety of fish and coral and even a sea turtle.
Fish, possibly happy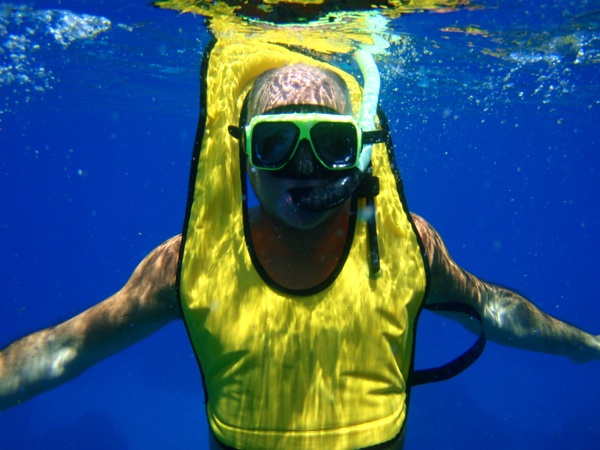 Bill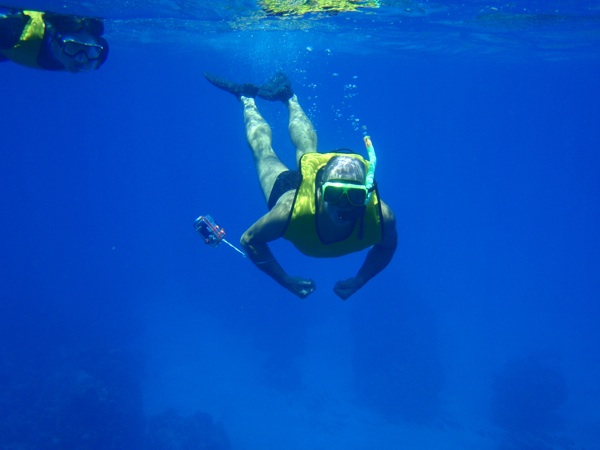 Snookums making sure Bill doesn't drown or something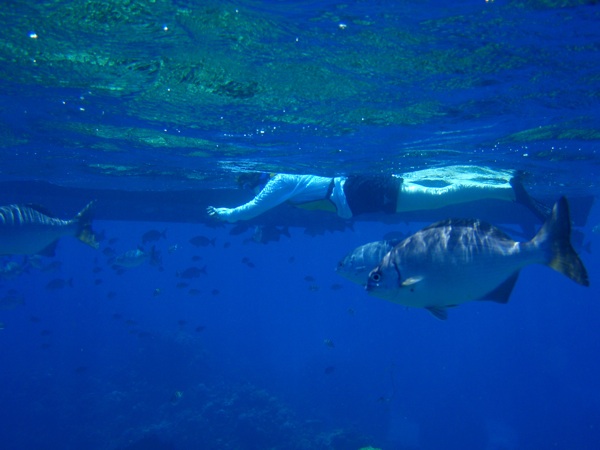 Judy swimming with the fishes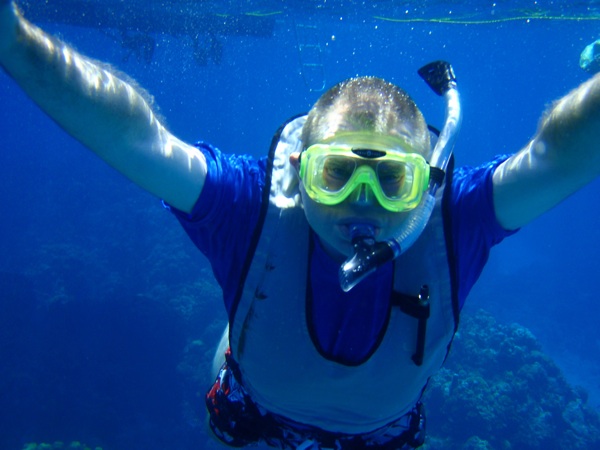 Filbert, doing "superman stretches" underwater (actually, just trying to stay beneath the surface for the photo)
The second stop was at the wreck of the Cali which was a cargo ship that got grounded in the 1960s and was ultimately blown up by the British Navy in order to sink it. It didn't have many fish swimming around it, but it was neat to see the steel hull and other pieces in 15 feet of crystal clear water.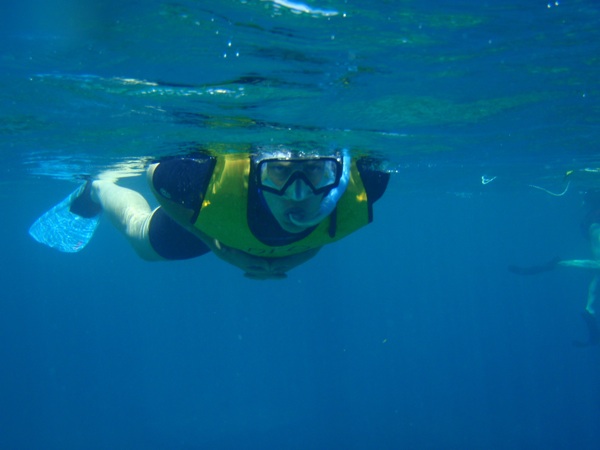 Snookums always looks just a bit more intimidating under water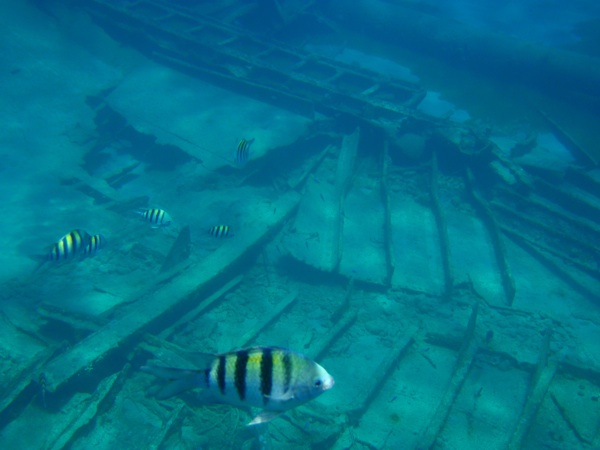 Stripey fish, and wreck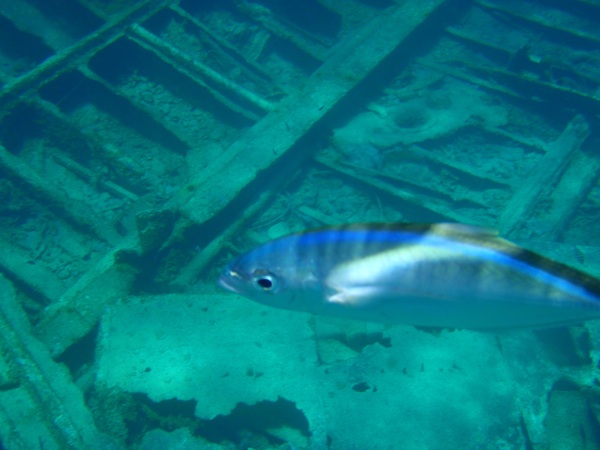 Bluish fish, and wreck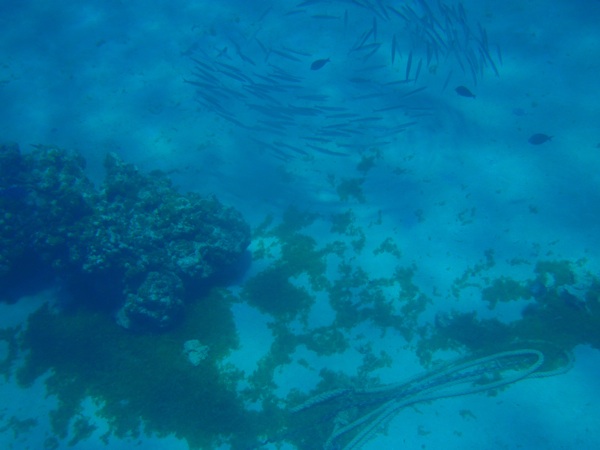 Fish swimming around in circles
After we snorkeled we walked around town for a few minutes in order to buy a hat for Dad since his was left at home. Bill found the perfect one and for $15.99 it was a bargain, to boot.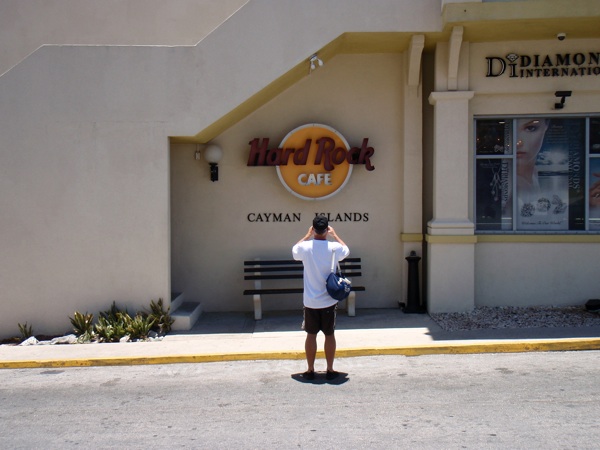 Bill, playing tourist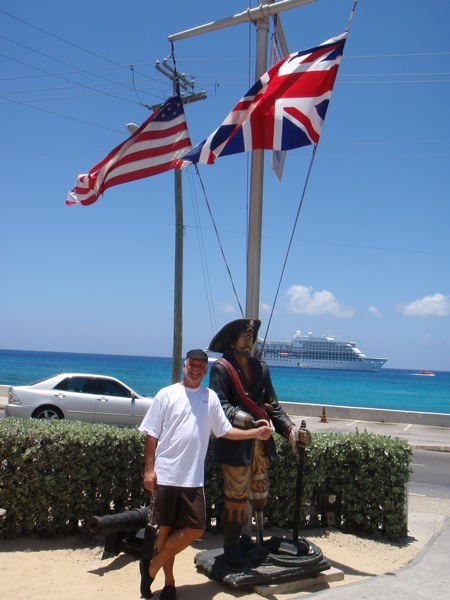 Bill, wooden friend, flags, and Navigator, with world currently listing slightly to starboard.
Judy, Snookums, Filbert, and Bill ate lunch outside on LaVeranda. Snookums was enjoying her glass of Caffeine Free Diet Coke (with a straw) and noticed a huge chip on the top of the glass. It was the size of a pinky fingernail. She pointed this out to the waiter so that the glass could be thrown away when she was done with it and she didn't think anything else about it.
We had a nice dinner in Compass Rose and the wait staff was very attentive. The headwaiter came up and apologized for the chip in the lunch glass and so did the maitre d'. Towards the end of dinner the headwaiter asked if the head sommelier had spoken to us yet since glassware was her responsibility. We said "no". Snookums doesn't care about the chip in the glass. She just didn't want someone to drink out of it. At this point, it appears that everyone in any kind of "power" position in the Food and Beverage Department knows who we are. That's okay with us since it might get us an additional reservation at Prime 7 or something like that.
After dinner Mom, Filbert and Snookums went to Randy Cabal's show. It was billed as "juggling, comedy and other useless skills". We all laughed a lot and Mom even had to use her inhaler since she was laughing so much. Randy kind of did "stupid human tricks" and said silly things. His three-paddle-ball act is . . . well . . . hard to describe in strictly polite terms. It did nearly cause Mom to die of asthmatic asphyxiation complicated by uncontrollable laughter, however. He's going to do one more show before he leaves the ship and we'll go to that one, too. We'll put the ship's medical staff on stand-by.