2010 Panama Canal Cruise, part 1
Monday, May 10 2010 @ 02:53 PM CST
Contributed by:

filbert

Views: 2,190
The Panama Canal-Ft. Lauderdale to San Francisco-20-night Voyage, May 6-26, Regent Seven Seas Navigator
Text by Snookums, Pictures by Filbert
Part One
(Remember to click "read more" if you're looking at this from the main medary.com page to get the whole article!)
May 5 (Wednesday, Day 1, Flying to Ft. Lauderdale) -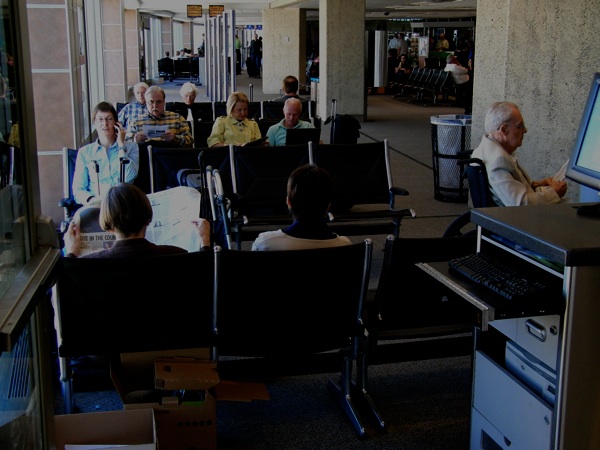 The traveling party in their usual positions: Snookums on the phone, Mom and Dad reading, Judy doing something mysterious and inexplicable (or at least not visible from this angle), and Filbert (not shown here) taking pictures of the foregoing . . .
We left our house at 8:30 AM and stopped at Mom and Dad's to get them and Judy for the trip to the airport. Our flight to St. Louis was delayed since the co-pilot seat was broken.
More after the jump . . .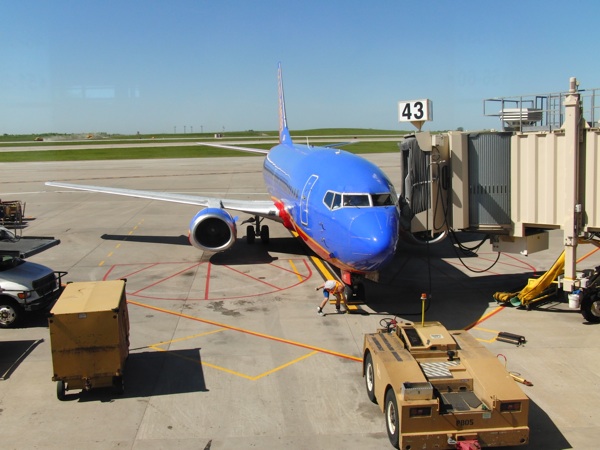 Southwest plane with the malfunctioning co-pilot's seat
The Southwest gate agent made the announcement that another plane would be commandeered, but how long we would wait was unknown, so everyone settled in. Mom started eating her lunch and then the announcement was made that the seat was fixed. We only landed 15 minutes late in St. Louis which didn't impact our layover at all. We boarded the flight to Ft. Lauderdale and landed 20 minutes early.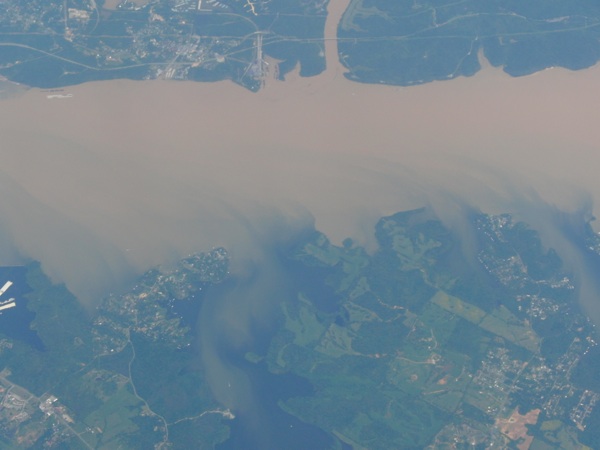 We flew over the flooded Tennessee River in western Kentucky--this was the water that put Nashville's Opryland out of business for months.
After a short wait for the hotel's free shuttle, we got to our rooms and then ate in the hotel restaurant. I think everyone went to bed kind of early. It was an uneventful day (thank goodness!), but tiring nonetheless.
May 6 (Thursday, Day 2, Boarding Navigator) -
We got to the port at 11:30 AM even though we knew that Regent's Seven Seas Navigator wouldn't start boarding until noon. We thought it was worth the gamble. Well, we had to sit in the port terminal until noon. Oh well, it didn't kill us. Our friend Bill - we met him on our Regent Hawaii/Tahiti cruise and cruised with him on another Regent Panama Canal cruise, too - managed to show up during the wait so we all boarded together. We knew that the suites wouldn't be ready until around 2:30 so we headed for the pool area and enjoyed a leisurely lunch (including free champagne and beer since all alcohol is free on Regent).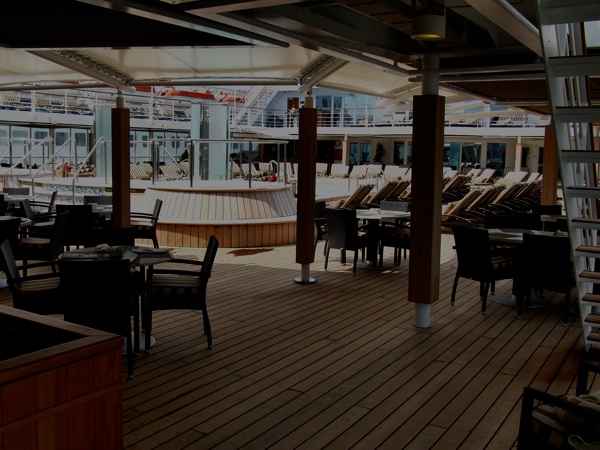 The pool deck (on a port day--that's why it's so empty . . .)
The daily schedule that we were handed when we checked in at noon stated that tea would be served from 2 until 4 so at 2:00 we made our way to Galileo's Lounge for teatime. Well, it was a typo and tea didn't start until 3. The announcement that the rooms were ready was made around 2:30 but we decided to stay for tea, avoiding the rush of people towards their rooms. The ship is sold out and has 500 people on it (and 345 crew). It really isn't crowded, but when a bunch of people are trying to get to rooms with their carry-on luggage, it can be kind of crazy!
We enjoyed our tea and by the time we got to our suites (every cabin is called a "suite" on Regent), our luggage had arrived. Filbert and I got 95% unpacked by the mandatory 4:15 lifeboat drill. Mom, Dad and Judy were almost unpacked by then, too. Our suite had the Coke Zero, Caffeine Free Diet Coke, Captain Morgan and Absolute Vodka we had requested while the other suite had three bottles of Jose Cuervo Margarita Mix and a bottle of tequila. The obligatory bottles of champagne on ice were in each suite, too. We're going to be just fine…..
We enjoyed our first night's dinner in Compass Rose at 6:30 and finished around 8:45. Snookums managed to do two loads of laundry during dinner since two machines were available.) Service wasn't very good since Snookums never received the milk she ordered and had an empty water glass for over 10 minutes. After the meal the headwaiter asked how things were and Snookums told him. He apologized. If someone asks, she'll tell him! Mom, Dad and Judy went to the 9:15 Jennifer Aniston movie (and stayed awake for all of it) while Filbert and Snookums returned to their suite and hit the sack. Everyone enjoyed turning the clocks back an hour.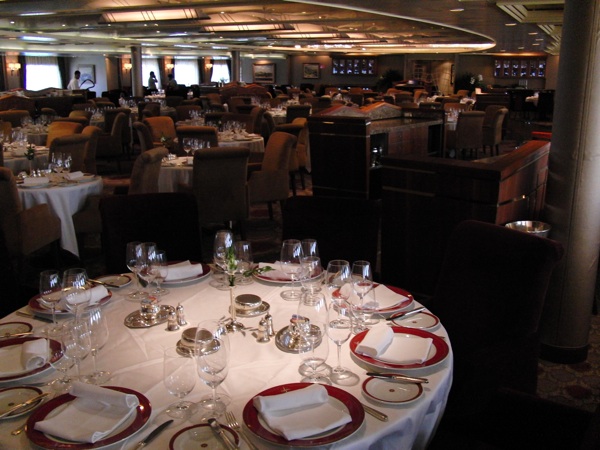 Compass Rose Restaurant (again, on a port day, between meals . . .)
May 7 (Friday, Day 3, At sea) -
Filbert woke up and walked around the deck while Snookums attended the "Boot Camp" class. She managed to burn 700 calories in 50 minutes and her max heart rate was 180 and her average heart rate was 140. It was a hard, but good, workout. Then Filbert and Snookums went to LaVeranda's outside seating area. And that's when one of our patented "service fumble" stories begins:
Snookums ordered her traditional Regent breakfast of French toast and mixed berries. Just like the first time she requested this on the last Regent cruise, she was told to order her mixed berries from inside. So, she went inside and found the head waiter that she had talked to last night about poor service and told him that she ordered mixed berries from the outside waiter who told her to come inside and order them. He knew this wasn't proper and said he would take care of it. She later saw the waiter being scolded. And, the restaurant manager came outside and wanted to know what had occurred. Filbert was there and heard the waiter tell her to go inside for her own berries (which were NOT on the buffet line which was why she placed an order for them). At this point most of the staff started falling all over themselves making sure we were taken care of. Let it be noted that Snookums did NOT cause any of this (not that she's defensive about it or anything). She was doing what the outside waiter told her to do – go inside and place her order for her mixed berries. Towards the end of our breakfast session, Filbert spotted the unfortunate waiter again receiving "coaching," this time from the Food & Beverage Manager--the top dog in the restaurant chain of command on the Navigator. Waiter guy was having a very, very bad day at that point, we think.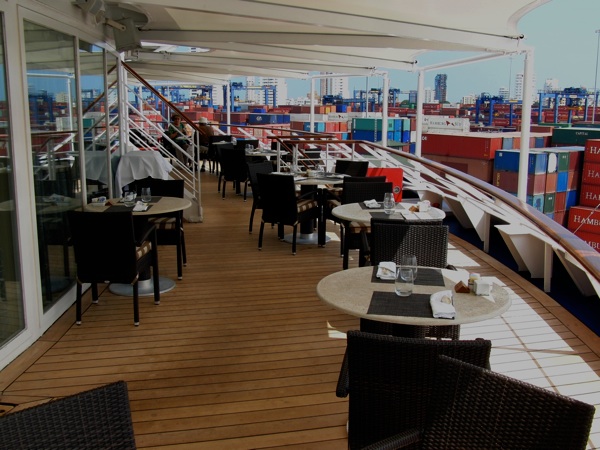 The veranda of La Veranda
Mom and Dad attended the 10:30 photography lecture since this cruise is a "spotlight on photography" cruise and has professional photographer David Burnett onboard in order to give lectures about photography. They both enjoyed it very much. Judy went to Pilates class. So, everyone found something to do of interest.
The afternoon was spent doing laundry (Judy), talking to other veterans (Dad), reading on the balcony (Mom), doing different "errands" around the ship (Snookums), or reading the internet (Filbert). The Navigator is a very small ship and it takes no time at all to go from one end to the other or from deck 8 (where our suites are) to the top deck (12). And, all the guests are very friendly and will stop and talk at any time. We keep running into Bill all the time, too!
Mom and Dad attended the after dinner show with vocalist Brandi Chapman and said she was very good and very, very energetic. She has performed many times in Branson, Missouri and Mom didn't know how she was able to have so much energy on stage. They really enjoyed her.

Next: George Town, and snorkeling!