Pictures from the 9/12 Rally at the U.S. Capitol
Sunday, September 13 2009 @ 07:17 PM CST
Contributed by:

filbert

Views: 4,573
These photos are of the crowd basically on the Capitol Circle and just inside--that's as close as I could get. I caught glimpses of the video board that was set up on the Capitol steps, and could hear the speakers well enough, but I was never close enough to actually see any speakers. Pictures are after the "read more."
I found myself southwest of the Capitol, by Garfield Circle, with a view of the south set of steps. Unfortunately, the speakers and video boards were set up on the north steps of the Capitol.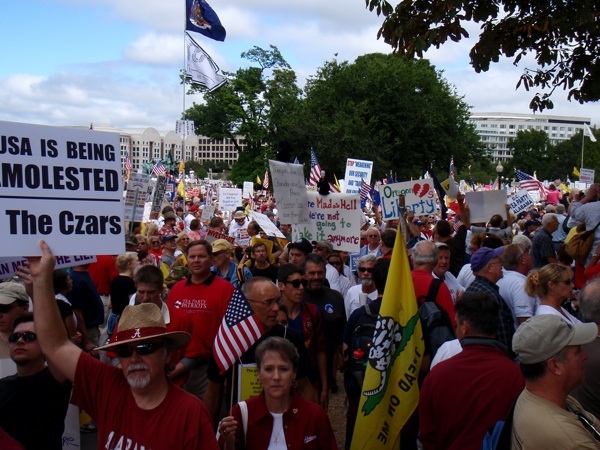 These people were even farther away than I was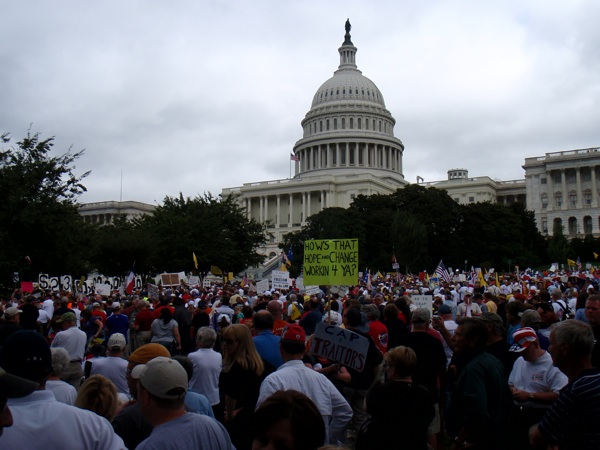 Eventually, I worked my way inside the wall running next to Capitol Circle.
Still on the wrong side of the Capitol, though.
These folks had clambered on top of the Grant Memorial to get a view.
Snookums called on my cell phone and suggested that we meet back at our room at the Hyatt Regency Capitol Hill--a couple of blocks north and west of the Capitol. It took me about a half hour to work through the crowd on Capitol Circle. The edge of the people was between Pennsylvania Avenue and Constitution Avenue.

View Larger Map
I couldn't get any closer than the path that's running parallel to the curved road in front of the Capitol--Capitol Circle. The speakers were on the Capitol steps, and the police weren't letting people get closer than that path--it was full with people from there up to the Capitol building. I don't honestly know how far around the Reflecting Pool the crowd stretched, but there were a lotmore than the 60,000 people that the news media keep insisting were there.
I'm quite sure it was over 250,000--as judged by this USA Today graphic from Obama's inauguration (via a reader of Michelle Malkin:
I think it's fair to say a good time was had by all who were there--except for the small smattering of would-be infiltrators and counter-demonstrators who found themselves overwhelmed by the turnout of just plain folks from around the country.